Some dear friends hosted a small get-together on New Year's Eve.
I volunteered to bring a dessert because a.) I love any excuse to bake something fabulous and b.) I try to stock up on baking staples whenever I see them on sale so my baking cupboard is always ready to go.
I had seen some yummy-looking cakes in a few different magazines, but none of them were exactly what I had in mind (or used the ingredients in my pantry.)  Since my main goal on New Year's Eve day was to stay in my pajamas for as long as possible,  I decided to just improvise using what I had on hand.
I'm not gonna lie, it took the better part of the day to make, but as far as cakes go, my Mile-High 4-Layer Coconut-Chocolate cake with a Chocolate Grand Marnier Ganache filling and Cream Cheese Coconut Buttercream Frosting (aka Chocolate Coconut Dream Cake) was quite possibly my greatest baking accomplishment to date.  (And if nothing else, it was certainly the most calorie-laden dessert I've ever made.  I gave myself extra points for the fattening factor.)
Mmmmmmmmmmm……
I started with just a box of Coconut cake mix.  But a box cake by itself seemed a little dull and definitely not fabulous enough for New Year's Eve.  So I added about a cup of coconut to the mix.
While the coconut cake was baking, I made the ganache filling.  I first melted 2 bags of chocolate chips, then added 3 cups of heavy cream and 1/4 cup Grand Marnier.  I prepared an ice bath and cooled the mixture for about 15 minutes, stirring frequently, then covered it and chilled it in the refrigerator for several hours.
The next step was making the chocolate cake layers.  I didn't have any boxes of chocolate cake mix, but it is very easy to make from scratch using basic pantry staples.  I chose to use butter rather than oil, and because I had used up all my solid chocolate making the ganache, used cocoa powder instead.
I forgot to take pictures of making the cream cheese frosting, but it is a breeze to make.  Just mix 1 stick softened butter with 2 packages softened cream cheese, a tablespoon of vanilla, and 4 cups of powdered sugar.
For a normal 2 layer cake, I usually just turn the 2 tops to the inside and level it with the filling.  However, since this was a 4 layer cake, I used a cake leveler to level the coconut layers.
The chocolate layers were extra moist and therefore less stable than the coconut layers.  Luckily they were completely flat and didn't need to be leveled.
Once the ganache had chilled completely, I whipped it for approximately 30 seconds, until soft peaks formed.
I then assembled the layers, spreading a generous amount of ganache in between each layer.  I spread a thin under layer of cream cheese frosting around the sides, which blended in with the ganache, and let the cake chill in the refrigerator for 90 minutes before frosting.
After spreading a generous layer of cream cheese frosting on the whole cake, I covered the frosting with coconut flakes.  It was a very big cake, so this took a while.
It was slightly more labor-intensive than your run-of-the-mill cake, but totally worth the effort.
Here is the recipe:
Chocolate-Coconut Dream Cake
Coconut Cake
1 box coconut cake mix (+ eggs, vegetable oil, & water)
1 cup sweetened coconut flakes
Grease and flour two round cake pans; prepare cake mix as instructed, adding coconut flakes to mixture.  Pour into pans; bake as directed.
Chocolate Cake:
1 stick unsalted butter, softened
2 cups sugar
1/4 cup packed brown sugar
3 large eggs
8 oz sour cream
2 cups flour
3/4 cup unsweetened cocoa powder
1 tsp baking soda
1/2 tsp salt
1 tsp. vanilla extract
1 cup hot brewed coffee
Preheat oven to 350 degrees.  Grease and flour two round cake pans.  Line bottoms of pan with lightly greased parchment paper.   Beat butter and sugars using until light and fluffy, about 3 minutes.  Add eggs, 1 at a time, beating just until blended each time.   Add sour cream, beat until just blended.   Sift together dry ingredients.  Slowly add dry mixture to sugar/butter mixture, mixing at low speed until just blended.  Add vanilla to coffee, then slowly pour coffee into batter, mixing at low speed until just blended.  Pour batter into pans.  Bake for 40-50 minutes, until toothpick inserted in center comes out clean.  Cool on wire rack for 15 minutes.  Remove from pans onto wire rack and let cool completely.
Chocolate Grand Marnier Ganache Filling:
2 12oz bags chocolate chips
3 cups heavy cream
4 tablespoons Grand Marnier
Melt chocolate chips in double boiler.  Stir in heavy cream and Grand Marnier.  Remove from heat and cool rapidly in an ice bath for 15 minutes, stirring frequently.  Chill for at least 2 hours.  Whip mixture using whisk attachment until soft peaks form, about 30 seconds.  Do not overmix!  Use immediately.
Cream Cheese Buttercream Coconut Frosting
1 stick butter, softened
2 8oz packages cream cheese, softened
4 cups powdered sugar
sweetened coconut flakes
Using paddle attachment, beat butter and cream cheese until smooth.  Add in powdered sugar.  Chill in refrigerator until ready to use.  Spread onto cake.  Press flaked coconut directly onto frosting, covering cake completely.
Happy Baking!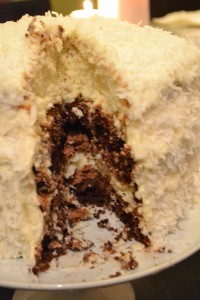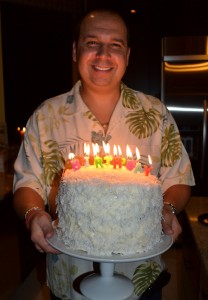 Affiliate links may be used in this post. Printing a coupon or ordering a product through this link may result in a commission, which helps pay for the cost of running this site and keeps the content free. Read my full disclosure policy here.