First of all, I just want to thank all of you for your super-kind comments yesterday.  It was actually a very hard day, and when I sat down at my computer I was overwhelmed by all the sweet things you had to say.  You may not know this, but your comments mean the world to me.  I read each and every one, and although I can't always respond, it doesn't mean that they go unnoticed or unappreciated.  So thank you!
Yesterday was my very first coupon class and I also need to thank everyone who attended and made me feel like you were actually learning something and I wasn't just babbling.  Your questions were awesome, and I hope you enjoyed attending as much as I enjoyed teaching.  Please feel free to leave comments or shoot me an email if you have any questions about your assignments!
And finally, while I'm gushing with gratitude, I need to thank those of you who continue to vote for me regularly on TopMommyBlogs.com.  You are so sweet and your daily votes have continued to keep LWSL #1 in the Frugal Living category and in the top #25 overall.  You guys rock!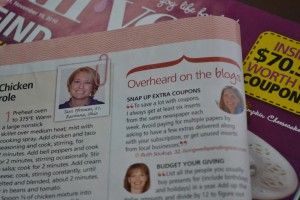 So guess what?  I'm famous!
Did you see me on page 12 of this month's All You magazine?
That's okay, don't feel bad.  No one else did either.
Well, that's not exactly true.  A few people did.  They read my quote:
"To save a lot with coupons I always get at least 6 inserts from the same newspaper each week.  Avoid paying for multiple papers by asking to have a few extras delivered with your subscription or get unused inserts from local businesses."
And they thought I was encouraging people to steal coupon inserts from newspapers.  So they contacted me, very concerned (and rightly so) by this seemingly unethical behavior.
For the record, I DON'T advocate stealing coupon inserts from newspapers.
I pay for 6 of the SAME newspaper each week.
It costs me $9.
This doesn't bother me because the money I save with coupons each week is SO significant that it is worth spending $9 a week on newspapers.
But there ARE a few ways to get coupons for FREE (without stealing them!) if you want to work a little harder:
1.  Ask friends, neighbors, and family members who don't use coupons to save their Sunday inserts for you.
Chances are there are a few people in your life who can't be bothered with coupons.  They might not mind helping
2.  Ask local businesses for their unused inserts.
There are a lot of businesses (oil change places, hair salons, barber shops, restaurants & coffee shops) that subscribe to the Sunday paper and might not mind giving you their inserts each week.
3.  Check out your local recycling center.
The vast majority of newspaper readers don't bother with the coupon inserts.  It might require a little "dumpster diving," but you might manage to find dozens of inserts at a time this way.  This is not something I have personally ever done, but "Mr. Coupon" Nathan Engels made a little video about it if you want to check it out.  I think it is pretty funny:
4.  Contact the subscription manager at your local newspaper and try to work out a deal.
For instance, you could offer to pay for two Sunday subscriptions if they will include some extra inserts.  You could even offer to accept them on Monday instead of Sunday–no one wants a day-old paper, so they might be willing to work with you.  You'll never know until you ask.
5. Use only printable coupons.
There are some couponers who choose not to bother with Sunday inserts at all and just stick to printable coupons, which are always free (except for the cost of paper and toner).  This is a perfectly valid option if you are willing to accept missing out on some deals that will only work with newspaper coupons.
You will find that saving money with coupons is a lot like anything else in life.  You have to strike your own balance between how much time you are willing to spend working at it, and how much money you want to save.  To me, the time saved by just going to the store and buying my newspapers is worth $9 a week.  Finally, just remember that it doesn't have to me all or nothing–saving a little money on your groceries is better than not saving anything!
Affiliate links may be used in this post. Printing a coupon or ordering a product through this link may result in a commission, which helps pay for the cost of running this site and keeps the content free. Read my full disclosure policy here.