To me the hardest part of all this coupon shopping by far is trying to figure out what the heck to make for dinner.
I am a planner, and I like to cook, so back in my pre-coupon days, once a week I would sit down with my recipes, figure out what we were going to eat all week, and then make my list.  These days, in order to maximize my coupon savings, I make my shopping list based only on what's on sale.  Figuring out what we're going to eat comes later.
Sometimes we just order pizza.  (Those $5 Hot & Ready's from Little Caesars are just too tempting.)
But getting my stockpile back in order last weekend has finally inspired me to work a little harder at coming up with delicious dinner ideas using the items I have on hand.
Because what is the point of saving all this money on food if we're not going to eat it?
And chances are, if I'm having this problem then some of you are too.
Do I smell a series?
As a matter of fact, I do, and this week's installment smells a lot like tacos.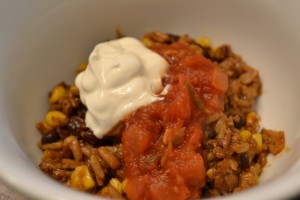 It's Taco Rice.
One of those necessity-is-the-mother-of-invention meals.
And at the risk of tooting my own horn, it rocked!
Ingredients:
1 box low-sodium Zatarain's Black Beans & Rice
1 pkg frozen vegetable protein crumbles (like Boca or Morningstar, or use 1 lb. lean ground beef)
1 pkg. low-sodium taco seasoning
1 can corn, drained.
1 can Rotel or diced tomatoes, drained.
olive oil
sour cream
salsa
1. Prepare Zatarain's according to package directions.
2. Meanwhile, heat oil in pan over medium-high heat.  Brown "ground beef," then add taco seasoning with 1/2 cup water.  Simmer for several minutes, then add corn and tomatoes (if desired).  Reduce heat to low, stirring occasionally.
3. When rice has finished cooking, let stand for 5 minutes.  Add corn/beef mixture to rice mixture.
4. Serve with sour cream and salsa to taste.
So easy.  So fast.  So good!
What are your favorite stockpile meal ideas?
Affiliate links may be used in this post. Printing a coupon or ordering a product through this link may result in a commission, which helps pay for the cost of running this site and keeps the content free. Read my full disclosure policy here.