Two days in and my head is already so full of new people and new information that it feels like it might explode. 
My biggest revelation of the conference so far are the wonders of Twitter.   I have had a Twitter account for some time, but until now my Tweets have been limited to well, pretty much nothing. All those @ & #'s are a whole new language I was a little afraid to learn…until now.  So I may be a little late to the party, but if you are on Twitter be sure to come follow me @RuthSoukup.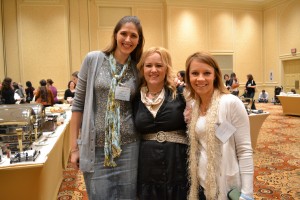 The Wisdom Workshops at Blissdom yesterday were incredible, as were all the fabulous women that I met.   I was a little starstruck when I met some of my favorite bloggers like Jenny from SouthernSavers.com, Nathan from WeUseCoupons.com, Jenn from BeautyandBedlam.com, and sweet Edie, from LifeinGraceBlog.com (I have to admit, I got a little emotional when I met Edie–her story has touched my life in a way that I can't fully describe.  She couldn't have been any nicer.) 
I also discovered lots of new (to me) bloggers and blogs, and when I get home I will dedicate a post just to sharing all my new favorites with you.  In the meantime, check out Valerie's adorable blog at MomStreetStyle.com (and her equally adorable other blog at CharmedValerie.com).  Fashion on a budget, right up my alley!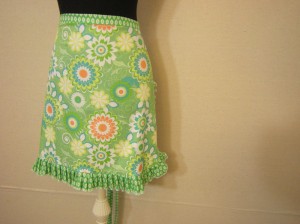 On a totally different subject, you may remember this adorable retro apron by Nissa Lynn Designs that I gave away during 30 Days of Holiday Cheer.  Everyone wanted it, including me!  If you were not lucky enough to win one, Miss Nissa has a proposition for you all.  She is looking for new inspiration and new craft supplies, so she is willing to trade your choice of apron from her etsy shop for a box of your old craft supplies or fabric.  I don't know about you, but I am thrilled to clear out some of my craft drawers in exchange for one of Nissa Lynn's gorgeous apron creations!
So being here at Blissdom,  I obviously didn't do my normal Thursday shopping today.   I–gasp–didn't even bring my coupons along with me!  It's a little like being without my security blanket, but so far I'm coping.  Seeing how everyone else did is always the highlight of my week, so please feel free to link up your savings here and I will live vicariously through your frugal coupon adventures!
Affiliate links may be used in this post. Printing a coupon or ordering a product through this link may result in a commission, which helps pay for the cost of running this site and keeps the content free. Read my full disclosure policy here.