I am ashamed to admit it, but sometimes I feel a little sorry for myself when I see all those fantastic Mega Event deals at Kroger or the Super Doubles at Harris Teeter, or realize that most other areas of the country have at least 5 or 6 grocery chains to choose from (and compete.)  And while I'm whining, let me add that stores in Florida don't even double coupons, for goodness sake!
There, I've said it.  I suffer from coupon envy.
But really, honestly, I have nothing to complain about.  Publix, where shopping truly is a pleasure, (their motto, for those of you who don't live in the South), has been so good to me.   Most weeks I love only needing to visit one wonderful store, where everyone knows me by sight and most even remember my name.  Behind my back they may call me the crazy 6'2″ coupon girl, but to my face they are nothing but nice.  And I'll take it.
This week was no exception.  I was in and out  of the store in about 45 minutes, even with a brand new cashier–Cassandra–who handled my stack of coupons like a pro.   It was another week of big Italian Days savings and I was especially excited to be able stock up on whole grain bread and lots of fresh produce. The $10 off Sweetbay coupon didn't hurt, either!
Here is what I got: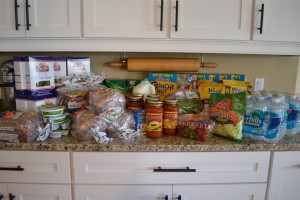 At Publix I spent $23.68 for $153.40 worth of groceries, a savings of 85%.

Detailed Purchase & Coupon Breakdown:
$10 off $40 purchase (Sweetbay coupon,
printable here
)
4 packages Wheat Thins Toasted Chips (BOGO @ $3.39 = $1.70 each)
(2) $1 off 2 Nabisco Crackers (Guy's Big Game Coupon Book,

final price: $1.20 each

)
6 loaves Pepperidge Farm Whole Grain Bread (BOGO @ $3.89 = $1.95 each)
(3) $0.75 off 2 Pepperidge Farm Bread (Smart Source 2/13,

final price $1.57 each

)
1 pint Strawberries (Sale price: $1.67)
1 lb. Green Beans (Sale price: $1.45)
1 bag Idaho Potatoes (Sale price: $2.99)
1 32oz. bag Carrots (Regular price: $1.79
2 bags Fresh Express Salad mix (BOGO @ $3.69)
(6) $1.50 off any produce WYB Pepperidge Farm Bread (Healthy Beginnings booklet)
(2) $1 off Fresh Express Salad Mix (printable here)
(1) $1 off Produce (Publix Baby Club coupon, received in mail)
(final price for all produce: $-0.41-moneymaker)
6 boxes Kellogg's Crunchy Nut Cereal (BOGO @ $3.99)
(6) $1 off Kellogg's Crunchy Nut Cereal (Red Plum 1/23 or
printable here
,

final price: $0.99 each)
6 jars Classico Pasta Sauce (BOGO @ $2.69)
(6) $1 off Classico Pasta Sauce (Peelie found on Ronzoni pasta last week,

final price: $0.35 each)
10 boxes Mueller Pasta (BOGO @ $1.43)
(10) $1 off Mueller Pasta (
printable here (register)
,

final price: $-0.28 each-moneymaker)
4 boxes Keebler Club Crackers (BOGO @ $3.89)
(2) $1 off 2 Sunshine or Keebler Crackers (Red Plum 1/30,

final price: $1.45 each)
4  Athenos Greek Yogurt (Sale Price: $1.00)
(2) $1 off 2 Athenos Yogurt (
printable here
,

final price: $0.50 each)
2 bottles Infants Advil Drops (Regular Price: $5.39)
(1) $5 off 2 Advil products (Publix Green Advantage Flyer)
(2) $2 off Children's or Infants Advil (found flyer at pediatrician's office,

final price: $0.89 each)
2- 12 packs Zephyrhills Bottled Water (BOGO @ $3.79 each)
(2) $1 off Zephyrhills water (
printable here (facebook)
,

final price: $0.89 each or $0.074 a bottle

)
(1) Gallon Publix Milk (Regular Price: $3.35)
(Since so many of you have asked for more detailed pricing information, I decided to do my breakdown a little differently this week.  Items purchased are in black, manufacturer's Qs are in blue, store Q's are in green, and competitor's Qs are in purple.  Hopefully it makes sense to you all!)
Combined with my Sunday totals, this week I spent a total of $34.18 for $304.92 worth of groceries and drugstore merchandise, an average savings of 89% for the week.
Now it's your turn!  Seeing others' examples is one of the best ways to learn new couponing strategies, hints, and hot deals.  If you have a blog, pleas link up your coupon savings here.  If you don't have a blog, feel free to share your shopping experiences in a comment below.  There were some pretty amazing shopping trips posted last week….I can't wait to see how you all did this time around!
Affiliate links may be used in this post. Printing a coupon or ordering a product through this link may result in a commission, which helps pay for the cost of running this site and keeps the content free. Read my full disclosure policy here.