For me the hardest thing about extreme couponing is figuring out what to cook with all that food.  In fact, I started posting stockpile meal recipes each week for that very reason.  Because, really, what good is getting everything at rock-bottom prices if you have no idea what to make?
I first heard about once-a-month (OAM) cooking here, on one of my favorite blogs, Under the Sycamore.  The concept intrigued me, but I found it far too overwhelming to even seriously consider.
I mean, really, how do you know what recipes are going to taste good after being in the freezer?  How do you know how to best prepare them for storage?  How do you remember how to cook them once you're ready to eat them?  How do you figure out how much of each item to get? And so on and so on.
I pretty much put it out of my mind until a couple of months ago, when I was contacted by a company called 30 Meals in One Day, wondering if I would be willing to review their cookbooks and software.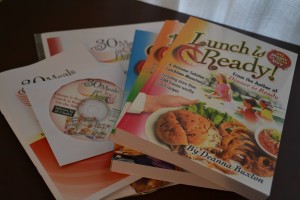 To be honest, I get a lot of requests for reviews.  I almost always say no because a.) reviews are a lot of work and b.) I want to write about things that are of interest to me and (hopefully) you without feeling like I'm trying to sell something.  The whole point of this blog is to spend less, not more!
But I took a look at the company website and I realized that this might be my opportunity to finally try my hand at OAM cooking.  I was curious to see how much time it would take, whether the meals would actually taste good, whether the end result was worth the effort, whether it would actually save time on a daily basis, and, most importantly, whether it would work with coupons.
As soon as I read the intro to the main book, Dinner is Ready, I started to get excited.  It sounded so easy and straightforward and the recipes looked tasty. As a vegetarian, there honestly wasn't a lot for me to choose from, but since I wanted to make a variety of meat dishes for my family, I wasn't too concerned about that.  I did choose several ground beef recipes that I knew I would be able to easily substitute in vegetarian protein crumbles.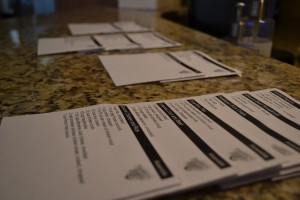 But while the book was very easy to read and did a great job of explaining the whole process, I was especially thrilled about the 30 Meals in One Day software.  Once I picked my recipes in the book, (I was planning to do 10 but ended up choosing 13, for 26 meals), I installed the program, checked my recipes & created a meal plan, then printed a custom shopping list, meal plan, recipe cards (for ease on cooking day), and labels for each meal.  It was super fast and very easy.  In fact, the only problem I had was that my main computer is a Mac and the software is only for PCs, which meant I had to use my very old (and slow) laptop for the program.
Once I had my shopping list in hand, I could then "shop" from my stockpile.  I purposely chose recipes with ingredients I knew I had on hand but I was still amazed how little I would need to buy from the store.  I bought the rest of the items at Walmart for about $60.
The author recommends shopping one day then cooking the next, so I took her advice.  I went shopping on Friday and then woke up bright and early Saturday morning, ready to cook like a mad woman.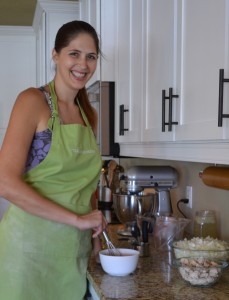 And cook I did!
The whole day went surprisingly smooth, and though I was definitely beat by the end of the afternoon, I was also very happy to see my freezer full of food.  I really got into a groove and it was actually a very fun and relaxing day.
And the food is really good!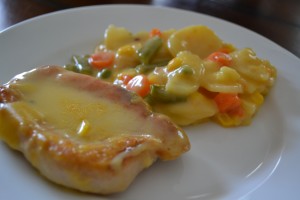 Husband sampled a few of the meaty items while I was cooking & gave them all high marks.
We have since eaten 2 of the frozen meals–Scalloped Pork Chops and Ground Beef Stroganoff–both of which were a big hit with the whole family, which is quite an accomplishment.  They were a snap to prepare and there was virtually no mess.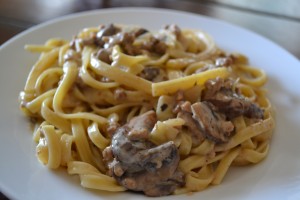 After all is said and done, I pretty much think I'm hooked.
I can't wait to try it again.  Next time I will probably plan my meals at least a month in advance so that I can print my shopping list ahead of time and work harder on matching up the store sales to my needed items.  I am also trying to convince a couple girlfriends to join me next time & make a girls day out of it–we'll just triple the recipes and divide them into 6 portions instead of 2.
And now that you're all dying to try this OAM thing for yourselves, I have some really good news!  One lucky reader will win their own copy of the Dinner is Ready book and software from 30 Meals in One Day. (And for those of you who can't wait to see if you've won, here is some more good news:  Get free shipping with promo code CAROUSEL.  If you make a purchase from 30 Meals in One Day and then win the giveaway, they will issue a full refund of your purchase price!)
This Giveaway is Now Closed
Affiliate links may be used in this post. Printing a coupon or ordering a product through this link may result in a commission, which helps pay for the cost of running this site and keeps the content free. Read my full disclosure policy here.