It was a very good trip.  And I'm exhausted, but happy.
I was reminded of how important it is to just play sometimes.
I too often get caught up in all the things I "need" to do and forget that my most important job is "Mom."
We had a lot of fun.
We met up with some close friends from Seattle who were vacationing in Florida.  As you can see, we share a fetish for dressing our girls in matching outfits.  Because if 2 matching girls are cute, 4 matching girls are even cuter.
They matched at Sea World, too.  (Even Shamu was impressed.)
I was going to take the girls to Walt Disney World for a few hours again today before heading home, but when I checked out my WDW app (free with the purchase of my very favorite Disney book, The Unofficial Guide Walt Disney World
), I discovered the crowd level was rated a whopping 10 out of 10.  No thanks!  We are very blessed to live only a few hours from one of the best family vacation destinations in the country, but next time we'll try to avoid going during Spring Break.
We decided to go with plan "B."
Nordstrom.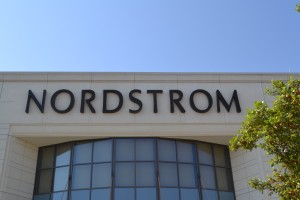 In my pre-couponing life, I was, for lack of a better term, a Nordstrom junkie.
I had a serious problem.
So walking in there today was a bit like letting a recovering alcoholic into a bar.
But I'm proud to say I didn't go crazy.
Not even a little.
Everything I bought was on sale.  I even used coupons.  Well, technically they were vouchers, but practically the same thing.  I saved almost 70% and didn't break the bank.  And that's what living well and spending less is all about!
Affiliate links may be used in this post. Printing a coupon or ordering a product through this link may result in a commission, which helps pay for the cost of running this site and keeps the content free. Read my full disclosure policy here.