I woke up this morning full of shopping ambition.  The girls were invited over for a play date, which meant a rare morning of child-free shopping for me.  I prepped lists for Target, Walmart, Publix, CVS, & Walgreens, certain that alone I'd have no trouble tackling all 5 stores in just a few hours.
Unfortunately I was so enthralled by the luxury of actually being able to smell the roses (literally), I got quite distracted by the incredible selection of herbs in the garden department at Walmart and completely lost track of time.
I decided to scrap the rest of my plans, made a quick stop at CVS for eggs and milk–the only 2 things I actually needed this week–and made it home with barely enough time to hide all the Easter goodies.
Here is what I got: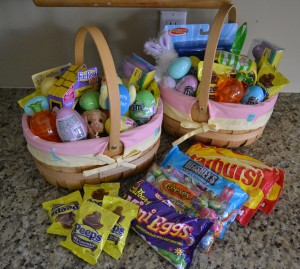 At Walmart I spent $24.59 for $44.59 worth of Easter basket fillings. ($12.29 per daughter).
The baskets, plastic eggs, play-dough filled eggs, and small stuffed animals were left over from last year.  Had I started a little earlier and planned a little more, I probably could've done their baskets for a lot less, but considering I left it to almost the very last minute this year, I'm pretty happy with that total.
Breakdown
8 Chocolate Covered Peeps @ .98 each
(4) $1/2 Chocolate Peeps (got from table next to the Easter Bunny at mall)
Final price: $0.48 each
1 Strawberry Shortcake Toy @ $6.44
(1) $3 off Strawberry Shortcake Mini Doll in Purse (Time to Play insert 4/10/11)
Final price: $3.44
1 Travel Size Connect 4 Game @ $5.24
(1) $3 off Connect 4 Game (Time to Play insert 4/10/11)
Final price: $2.24
1 FurReal Snuggimals Toy @ $8.47
(1) $2 off Snuggimals or Furry Frenzies WYB any PEEPS Chocolate product (Time to Play insert 4/10/11)
Final price: $6.47
3 Cadbury/Hersheys Candy @ $2.68 each
(1) $1/3 Cadbury or Hershey's Easter Candy
Final price: $2.35 each
2 Starburst Jelly Beans @ $1.78
(1) $1/2 Starburst or Lifesavers Jelly Beans
Final price: $1.28 each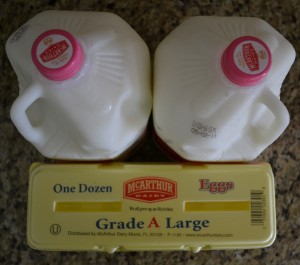 At CVS I spent $0.38 for $11.36 worth of groceries, a savings of 97%.
Transaction 1
(2) Get $1 Extra Care Buck WYB Gallon Milk @ $3.19 1 Dozen Eggs regularly priced @ $1.99
Used $5, 1, 1.99 ECBs (from last week)
, paid $0.38 OOP,
Got back $2 ECBs
Transaction 2
1 Dozen Eggs regularly priced @ $1.99
Used $2 ECBs
, paid $0 OOP
Altogether, today I spent $24.97 for $55.95 worth of groceries and Easter basket fillings, an average savings of 55% for the day (and the week.)
Now it's your turn!  Seeing others' examples is one of the best ways to learn new couponing strategies, hints, and hot deals.  If you have a blog, pleas link up your coupon savings here.  If you don't have a blog, feel free to share your shopping experiences in a comment below.
P.S.  Don't forget to enter my 30 Meals in One Day giveaway for your chance to win the Dinner is Ready Cookbook and corresponding Dinner is Ready software.  Click here to enter!
Affiliate links may be used in this post. Printing a coupon or ordering a product through this link may result in a commission, which helps pay for the cost of running this site and keeps the content free. Read my full disclosure policy here.