I'm going to start this post with fair warning: stamping is strangely addictive.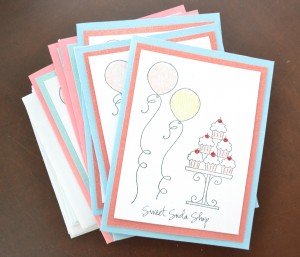 I first discovered the joy of stamping last November when I did this 30 Days of Holiday Cheer giveaway from my friend Crystal.  A few months later I ordered some Valentine's Day stamps so Princess and I could make pretty little cookie packages to give to her preschool class.  We had a blast making them, and although both Christmas and V-day have long since passed, we still pull out the snowflake and heart shaped stamps quite frequently.  Even Trouble has fun!  (A word to the wise: we only use washable stamp pads
!)
I was practically dying for an excuse to order some more, so almost as soon as I picked Trouble's Sweet Soda Shop birthday party theme, I started searching for the perfect stamp set to use for the invites.  There were lots of cute ideas to choose from, but I settled on a set called Crazy for Cupcakes because I loved the look of the little cupcake tower.
When my stamps arrived, I could hardly wait to start working on the invitations.  Princess was pretty excited too. (But because we didn't want our crafting date to be a complete fiasco, we waited until the little one was asleep to get started!)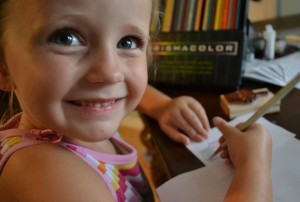 I first played with the stamps on some scrap paper, to get an idea of what I wanted to do for the layout.  I then printed out the invitation details and card fronts on sheets of cardstock and cut them to size with my paper cutter.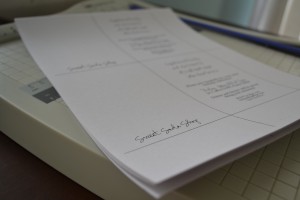 Once the cardstock was cut, I began the stamping, coloring, & glittering process.  And it was quite a process.  But that is not a complaint.  The great thing about crafting is that once you get into it, it is so relaxing.  (And fun!)  I don't do it nearly as much as I should.
(I pretty much look for excuses to use my Martha Stewart glitter pack
any chance I can!)
And I don't know about you, but I think the end result was totally worth the effort.
And the very best part about this project is that aside from the Stampin' Up stamp set, which can be used over and over again, all my other craft supplies came from items I had on hand, almost of which were purchased on clearance with coupons at various times.  (Which just goes to show that stockpiling is not only for food and toiletries!)
So now that you've seen my sweet soda shop party inspiration, paper party hats, and these invitations, what do you think of the progress so far?  I'd love to hear any ideas you might have!
Affiliate links may be used in this post. Printing a coupon or ordering a product through this link may result in a commission, which helps pay for the cost of running this site and keeps the content free. Read my full disclosure policy here.