I've always loved throwing parties but I have to admit that I haven't always been so budget conscious about them.  It wasn't that I would purposely go spend as much as possible, I just didn't give it much thought.  The cost was often the means to the end goal, which was throwing a fabulous bash.
In this new thrifty life of mine, cost is a factor, and yet I can't help but think that being budget conscious has actually made my parties better.  Yes, the preparation is probably more work, but the end result is so much more fun and creative.  It never ceases to amaze me that some of the cutest decorations can be made for next-to-nothing.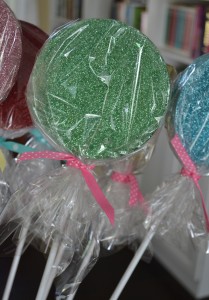 For Trouble's Sweet Shop Party, I wanted something to line the sidewalk leading up to the house.  I found some foam discs and cellophane at the dollar store a few weeks ago, which gave me the idea of oversized lollipops.  When I finished, I had a few wooden dowels leftover, so I thought I'd make a few oversized paper pinwheels as well.  I'm not quite sure what I'm going to do with the pinwheels yet, but they sure are purdy!
Both projects were super easy & the total cost was well under $10 for everything.
For the lollipops:
Step 1: Spray 1 side of foam disc with adhesive.  Sprinkle with glitter, then shake off excess.  Repeat for opposite side, then spray edge and roll in glitter to cover.  Let dry for 1 hour. (Hint: you may want to wear gloves for this step!)
Step 2: Use a sharpened pencil to poke a hole in edge of disc, then insert wooden dowel (I spray painted mine white before starting this project.)  Cut a piece of cellophane to fit over disc, then secure with scrap piece of ribbon.  Trim excess.
For the pinwheels:
Step One: Choose two pieces of complimentary (but not identical) scrapbook paper.  I used 12×12″ but you could also use 8×8″ for a smaller pinwheel.  Use spray adhesive to glue pieces together back to back.
Step 2: With a pencil, draw 2 diagonal lines from corner to corner, making an x. Measure out a 2 inch square in the middle of the paper and clearly mark each corner (which should fall on the lines of the X).  Cut each line up to the corner of the center square, then punch 4 holes, one at each corner.  (Be sure to do this carefully so that the holes are all to the same side of the cut.)
Step 3: Carefully bend over each prong of the pinwheel, securing with a brad through the punched holes.  Poke brad through center of pinwheel, then fold over prongs in back to secure.  Use a hot glue gun to hold stick in place (note: pinwheel will not turn!), then secure with tape.
The party date is getting close!  Are you as excited to see it all come together as I am?
Affiliate links may be used in this post. Printing a coupon or ordering a product through this link may result in a commission, which helps pay for the cost of running this site and keeps the content free. Read my full disclosure policy here.