Wow, two trips to Publix in two days–I hardly know what to do with myself!  Lucky for me, my sister-in-law is visiting this week and kindly offered to watch the girls both days so I could grocery shop in peace.
Today's savings were slightly better than yesterday, though in my newfound Weight-Watchers enthusiasm I couldn't help but go a little crazy stocking up on all the yummy-looking berries that were on sale this week!  I also took advantage of the sale on block cheese since it doesn't go on sale nearly as often as the shredded stuff.
On a whim–perhaps some kid-free-induced high–I also decided to make a little video of my shopping trip.  I think it is important to show that not only is it possible to shop with coupons and still find healthy options, it is also okay if not every shopping trip is some dramatic 90% mega savings bonanza.
I get a lot of emails from readers frustrated that they aren't saving more, thinking that they are doing something wrong.  I say this all the time, but I will say it again.  Dramatic savings take time.  In the meantime, you still have to eat.  Be consistent and disciplined (meaning stay away from impulse buys) and you will see your monthly bills start to drop substantially.  It will happen, but not overnight.
And now that the lecture is over, here is what I got on my shopping trip today: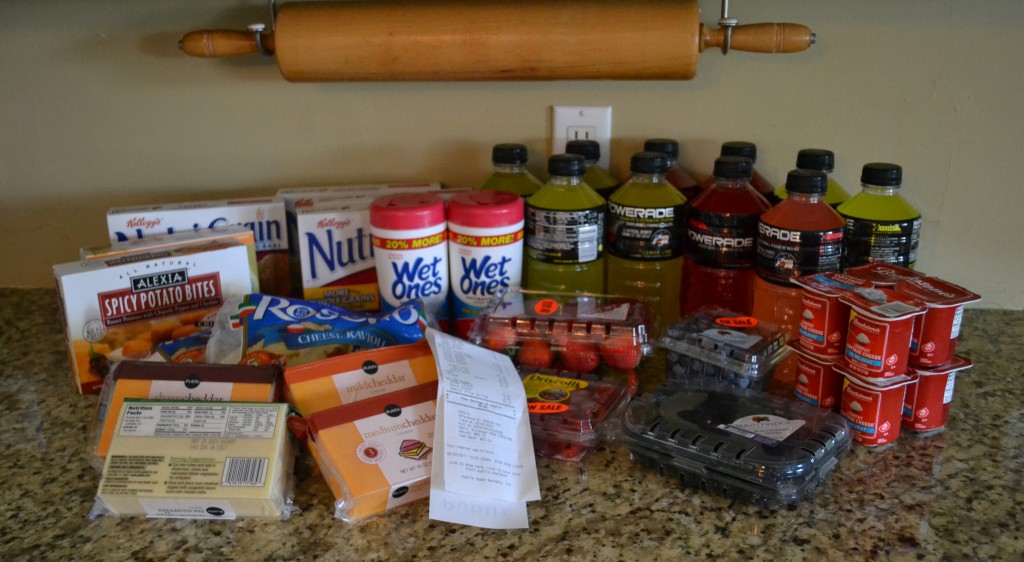 At Publix I spent $39.76 for $86.42 worth of groceries, a savings of 54%.
Grocery Breakdown:
Powerade ION4 or Powerade Zero, 32oz, BOGO @ – $1.25
$1/5 Powerade ION4 or Powerade Zero printable
Final price: $0.42 each
Kellogg's Nutri-Grain Bars, 7.8-10.8oz, BOGO @ – $3.49
$1/2 Kellogg's Nutri-Grain Bars Target printable
Final price: $1.24 each
Alexia Frozen Snacks, 7.7-8oz, BOGO @ – $3.59
$1/1 Alexia Frozen Item Facebook printable
$1/1 Alexia Frozen Items printable
Final price: $0.80 each
Rosetto Ravioli, 19-25oz, BOGO @ – $3.99
$1.50/2 Rosetto Frozen Pasta Printable
Final price: $1.25 each
Wet Ones Moist Towelettes, 48 ct, BOGO @ $2.59
Final Price $1.29 each
Publix Chunk Cheese or Shredded, 16 oz – $3.99
$1.00/1 Any Brand Cheese 1 pound or larger
Final price: $2.99
Breakstone's Cottage Cheese Cups-$2.79
$1.00/1 Breakstone's Cottage Cheese Cups (SS 5/22/11)
Final price: $1.79 each
Red Raspberries, 5.6-16oz – $2.00 Blueberries – $2.00 Blackberries – $2.00 California Strawberries – $2.50 each
And now it's your turn! Seeing others' examples is one of the best ways to learn new couponing strategies, hints, and hot deals.  If you have a blog, please link up your coupon savings here.  If you don't have a blog, feel free to share your shopping experiences in a comment below.
Shopping list prepared at:
Affiliate links may be used in this post. Printing a coupon or ordering a product through this link may result in a commission, which helps pay for the cost of running this site and keeps the content free. Read my full disclosure policy here.