Happy Monday!  I hope you all had a wonderful & relaxing weekend.  Ours was action-packed & went way too fast and now I'm facing this Monday morning with a messy house to clean, 2 (still!) jet-lagged girls to contend with, a huge stack of yet-unopened mail & bills to sort through, several weeks' worth of coupons to organize, & a mountain of laundry yet to fold.  Sometimes I wonder if going on vacation is really worth dealing with the aftermath.  Sigh.  I'm going to need a lot more coffee…
And now that that the whine fest is over–I just had to get it out of my system–here is what I got: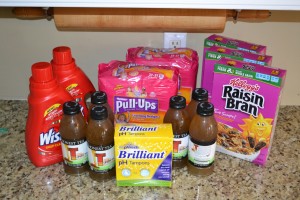 At CVS I spent $17.11 for $77.97 worth of groceries & drugstore merchandise, a savings of 78%
I always hate spending more than $10 OOP when I go to the drugstore, but I didn't have any ECBs to start with, so there wasn't much I could do.  It also killed me to not have any coupons to use for the Raisin Bran I found on clearance but $0.99 is still a great price, and since Raisin Bran is Husband's favorite cereal, I grabbed it anyway.  On a brighter note, everything I got was stuff we really needed (or wanted, in the case of my all-time favorite drink, Honest Tea!)  Sometimes I feel like I come home with a load of stuff that I will use eventually, but don't necessarily need in the immediate future.
Transaction 1
Get $6.79 Extra Bucks WYB RepHresh Brilliant Tampons, 18ct (limit 1) @ – $6.79 (bought 1)
(1) $1 off RepHresh Brilliant Tampons Printable
Final price: FREE + $1 profit
Get $2 Extra Bucks WYB (5) Honest Tea, 16.9oz (limit 1) @ – $1.00 (bought 6)
(6) $1/1 Honest Tea printable
(recyclebank)
Final price: FREE + $2 profit
Total OOP: $6.62,
got back $6.79 & $2 ECBs
Transaction 2
Get $4 Extra Bucks WYB (2) Huggies Pull-Ups (limit 1) @ – $9.00 (bought 2)
(2)
$2/1 Huggies Pull-ups printable
Final price: $5 each
Used $8.79 ECBs
, Total OOP: $6.47,
got back $4 ECBs
Transaction 3
Wisk Laundry Detergent, BOGO – $8.49 (bought 2)
(2) $2/1 Wisk Laundry Detergent, exp. 6/26/11 (RP 05/15/11) or (RP 06/26/11)
Final price: $2.25 each
Kellogg's Raisin Bran, CLEARANCE-$0.99 (bought 3)
Used $4 ECBs
, Total OOP: $4.02, no ECBs leftover
*   *   *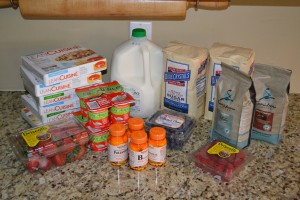 At Publix I spent $31.65 for $82.16 worth of groceries, a savings of 62%.
Once again, my focus was on healthier Weight-Watchers friendly items.  I decided to grab some more cottage cheese and was shocked to discover that the regular price had gone up by $0.40 since I bought it 4 days ago!  Food is definitely getting more expensive, which makes saving money with coupons that much more important!
Grocery Breakdown
Lean Cuisine 7.5 to 10.87 oz – $2.00
$1/3 Lean Cuisine Product, exp. 7/10 (Publix, Summer Pleasures)
Final Price $1.67 each
Breakstone's Cottage Cheese 4-pack-$3.09
$1/1 Breakstone's Cottage Cheese 4 pack (SS 5/22/11)
Final price: $2.09 each
Sundown Natural Vitamins – $3.79 (Green Advantage Flyer)
$1/1 Sundown Naturals printable
$6/2 Sundown Naturals or Osteo Bi-Flex Product, exp. 7/15/11 (Publix Green Advantage Flyer)
Final price: FREE + $0.21 profit!
Caribou Coffee – $5.99 (Yellow Advantage Flyer)
$2/1 Caribou Coffee, exp. 7/18/11 (Publix Smart Saving Booklet)
$1/1 Caribou Coffee Printable
(use zip 60514)
Final price: $2.99
Dixie Crystals Sugar, 5lb bag-$2.99
$0.55/1 Dixie Crystals Sugar, 5lb or larger (Publix Smart Savings Booklet)
$0.50/1 Dixie Crystals Granualated Sugar, 5lbs or larger printable
Driscoll's Raspberries-$2.00
$0.50/1 Driscoll's Berries printable
(subscribe to receive email coupon)
Strawberries-$2.50 Blueberries-$2.00
$2.00 off Publix Produce printable
(sign up & then share with 3 friends)
Publix 2% Milk, 1 Gallon-$3.85
*   *   *
Altogether I spent $48.76 for $160.13 worth of groceries and drugstore merchandise, an average savings of 70% for the day.
*   *   *
Shopping lists prepared at:
Be sure to check out next week's Publix matchups posted today!  It is going to be another awesome week!
Affiliate links may be used in this post. Printing a coupon or ordering a product through this link may result in a commission, which helps pay for the cost of running this site and keeps the content free. Read my full disclosure policy here.