There is much I love about my home, and I hope this post won't make me seem like I'm complaining.  Every day I count my blessings, and this home is definitely a big one.
That said, it's not perfect.  It's also not quite done yet.
About a year and a half ago, Husband and I finally decided to tackle the major remodeling project we had spent the previous three years talking about, obsessing over, & saving for.  It was major remodeling, the kind where you have no furniture, floor, or kitchen for two months, the kind where you have drywall dust everywhere and your 9 month old baby has skinned knees from the rough concrete.  We replaced the floor, added walls, reconfigured the kitchen, added lots of built-ins, & bought a lot of new furniture & appliances.  We got the house to a point where it was livable & then took a break.
A loooooong break.
But amazingly enough, it doesn't really bother me that our trim isn't painted or that my kitchen still needs a tile backsplash, or that our armoire-turned-intended-wetbar is little more than a place to quickly stash things before guests arrive.  I know those things will get done eventually, and, in the meantime, we are more than comfortable.
What does bother me is that although I really do love the way everything turned out, love the contrast of the white against the dark wood, I can't help but notice that the one thing my house lacks is COLOR.
I think the problem is that accent decorating is so unessential to my day-to-day functioning that no matter how I'd like to add color to my world, it is always the last thing on my priority list and the first thing to be shoved aside.  Case in point: I've been wanting to write this post for over six months now!
But a few months ago I discovered Pinterest, and although I haven't had a chance to play with it too much (though I can see how easily it could become addictive!), I did finally take some time to gather some of the ideas I've been collecting over the past year.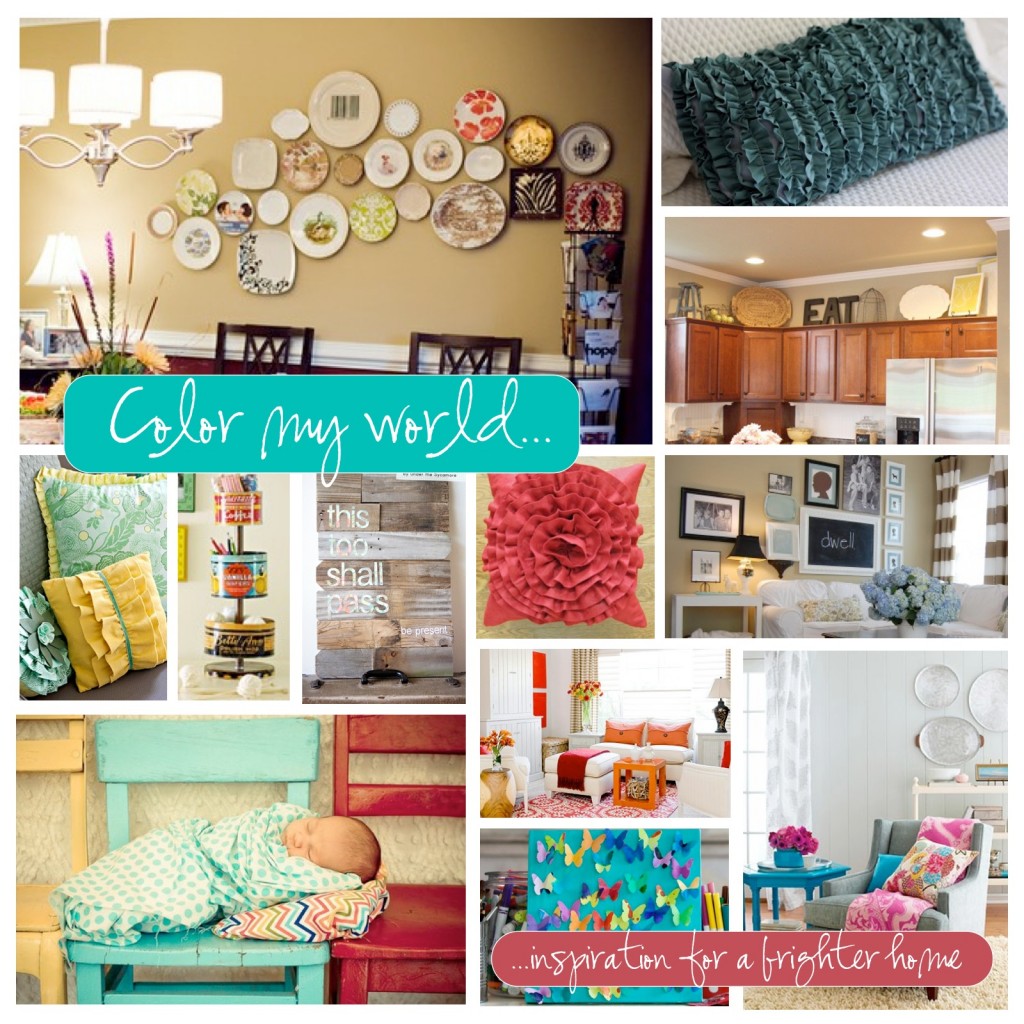 Photo credits:
ashleyannphotography.com
,
megduerksen.typepad.com
,
bhg.com
, 
thriftydecorchick.blogspot.com
, 
thecottagechick.com
, 
ohsocrafty.blogspot.com
,
tadaastudio.com
,
amysandovalphotography.com
,
thenester.com
. (For more information & inspiration,
visit my Pinterest page.
)
I fully realize that it will probably take me another year to incorporate these ideas into my space, but I'm going to try.  My goal is to complete one home accent project a month, with a budget of $100 a month.
My top 10 projects:
1.  accent pillows 2.  plate wall 3. big wall in living room 4. coffee table 5. barstools 6. space above cabinets 7. original artwork 8. side table 9. cushion for entry bench 10. decorative accessories
I'll keep you posted on my progress, but I'd love to hear ideas and inspiration from you!  If you have written a blog post with any colorful decorating ideas, please post it up here.  If you don't have a blog but you've seen a great idea somewhere, feel free to link it up here, leave a comment below, or post a picture on the LWSL facebook page!
Affiliate links may be used in this post. Printing a coupon or ordering a product through this link may result in a commission, which helps pay for the cost of running this site and keeps the content free. Read my full disclosure policy here.