After 3 weeks of Weight Watchers®, I honestly can't say enough good things about the program.  It is easy to follow, takes very little time, is very flexible, and I never feel like I'm starving, which means I don't spend all day obsessing over the things I'm not eating.  And best of all, in 3 weeks I've lost 7 pounds!*  Only 8 more to go and then I swear you won't have to hear me talk about it anymore.
That said, when it comes to baked goods, there are a few adjectives that do NOT appeal to me at all:
Healthy. (Bland.)
Vegan. (Tasteless)
Whole Wheat. (Terrible texture.)
High protein. (Ew!)
Diet-Friendly (Unsatisfying.)
Sugar-free. (Why bother?)
I am a big believer in butter and sugar and white flour.  To me, taste should be the only consideration when baking.  So for all practical purposes, this banana bread, which is in fact healthy, vegan, sugar-free, high-protein, AND diet friendly, should taste, well, awful.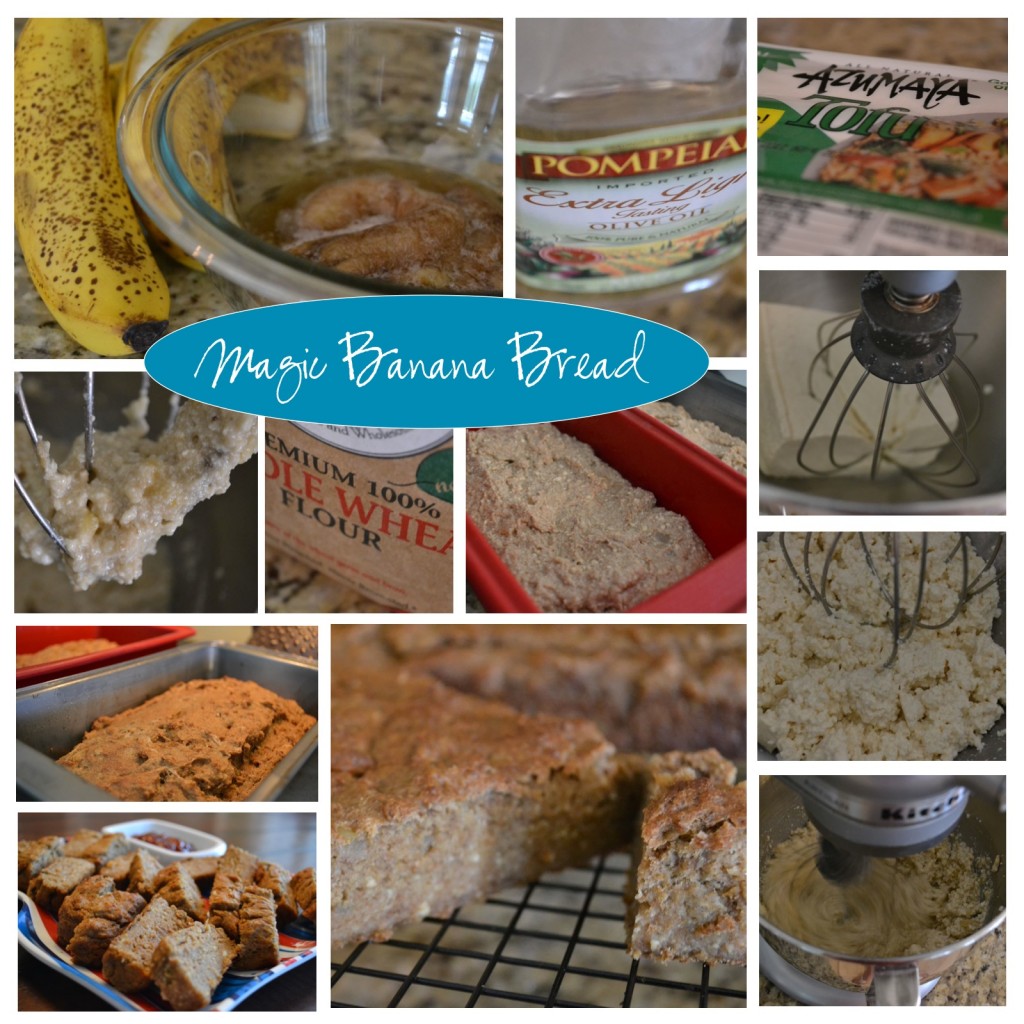 But that's why it's called "Magic" banana bread.  It's delicious.  And moist! And not in any way a "compromise."
Even Husband was fooled.
I've been tweaking this particular recipe for years but in order to make it a little more Weight-Watcher friendly, I decided to use Splenda (or the Walmart generic version) instead of sugar and whole wheat flour instead of white.  I couldn't believe how great it turned out.  I HATE artificial sweeteners and normally refuse to eat them, so I was fairly certain it wouldn't be edible.  I was amazed to discover I couldn't taste the difference.
Here is the recipe:
5 medium ripe bananas (I used 3 fresh and 2 I had stored in the freezer) 1 pkg. soft tofu, drained 1 cup Splenda (or sugar if you don't mind the extra calories) 4 teaspoons vanilla 2 containers stage 4 baby food, chunky apple flavor (or 1 c. applesauce) 4 cups whole wheat flour 1 1/2 tsp. baking powder 1 1/2 tsp. baking soda 1 1/2 tsp. salt 1 1/2 tsp. cinnamon
Preheat oven to 350 degrees.  Spray 2 loaf pans with cooking spray.  Beat the tofu until crumbled and softened; add bananas, blend until relatively smooth.  Add sugar substitute, applesauce, and vanilla; mix well.   In separate medium bowl, mix together flour, baking soda, baking powder, salt, & cinnamon.  Slowly add dry ingredients to wet mixture; mix just until smooth.  Pour into loaf pans.  Bake approximately 30 minutes, until a toothpick inserted in the center comes out clean.  Makes 24 servings.
And because I know you're dying to know, here's the nutritional breakdown per serving:
137 calories, 3.5 grams of fat, 22 grams of carbs, 3.4 grams of fiber, & 4.3 grams of protein.
Doesn't that make you want to get baking?
Have a fabulous weekend!
*   *   *
*Individual results may vary. Average weight loss is 1-2 pounds per week. Affiliate links used.
Affiliate links may be used in this post. Printing a coupon or ordering a product through this link may result in a commission, which helps pay for the cost of running this site and keeps the content free. Read my full disclosure policy here.