I've gotta be honest with you, I'm having a heck of a time getting settled into this new school-centric-drop-of-pick-up schedule of mine.  On the one hand it has been great to have a few hours to myself each day, but between the morning rush of getting ready, then picking up one child at noon and another at 3, I feel like my day has suddenly been chopped into bite-size pieces, none of which I'm managing very well.  Change is hard.
Needless to say, I was a little crunched for time this morning and decided to try & "wing-it" at the grocery store.  I wanted to first swing by Walmart to take advantage of the $5 Ben-Gay coupons and the $2 Glidden paint sample coupons I printed earlier this week, but when I couldn't find the $4.23 Ben-Gay cream anywhere, I finally just gave up and left without buying anything.  First stop: fail.  I'm just not a wing-it kinda gal, which I think is why I don't shop at Wal-Mart very often.
There were luckily were only a few items I wanted to get at Publix this week and that trip went much smoother, even if I was a bit of a disaster at the checkout line.  Thankfully it was early so the store was slow AND I had my favorite cashier, Alex, to check me out (who you may remember from his famous words of advice in this video).  He didn't even mind that I was actually clipping coupons as I was checking out.  (Yes, pretty much everything I tell people NOT to do, I did today.) Oh my, what a dork I am sometimes!
But, despite my chaotic checkout I did manage to stock up on two things that are ALWAYS needed in this house: Morningstar products and kids yogurt.  Here is what I got: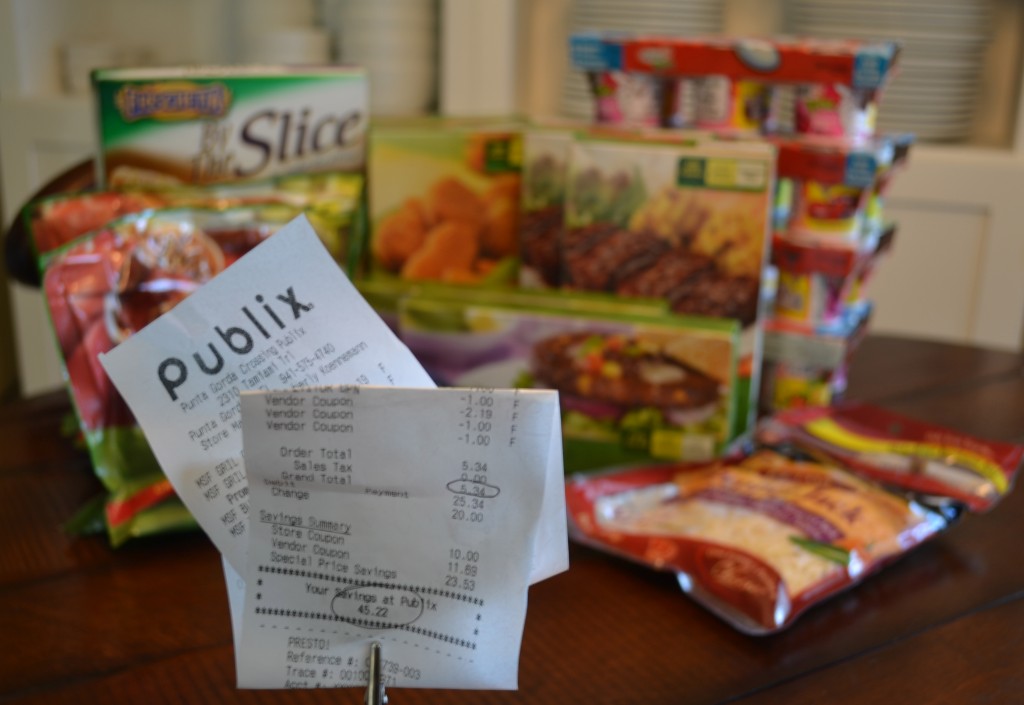 At Publix I spent $5.34 for $50.56 worth of groceries, as savings of 90%.
The Freschetta coupon was a freebie coupon I got in the mail a few months ago.  It came in handy today when I needed to bump my pre-coupon total over $25 so that I could use the $5 Save-A-Lot coupon.
Grocery Breakdown
$5/$25 Save-a-Lot Competitor's Coupon
4 Yoplait Trix Multipack Yogurt, assorted varieties, BOGO @ – $2.87
(2) 

$0.75/2 Yoplait Go-GURT, Kids Cup Yogurt or Trix printable
Final price: $1.06 each
8 Morningstar Farms Frozen Entrees, BOGO @ – $4.19
(4) 

$1/2 Morningstar Farms Frozen Products Target printable
(8) 

$1/1 Morningstar Farms Product printable

or

$1/1 MorningStar Farms printable
Final price: $0.52 each
1 Sargento Natural Shredded Cheese – $2.50
(1) $1.00/1 Sargento Shredded Pepper Jack Cheese Publix Store Q (Coupons.com, NLA)
Final price: $1.50
1 Freschetta Singles, Regular price @ $2.19
(1) FREE Freschetta Singles (Received in mail)
Final price: FREE
*   *   *
 Altogether, this week I spent a whopping grand total of $13.22 for $95.62 worth of groceries & supplies, an average savings of 86% for the week.
*   *   *
And now it's your turn! Seeing others' examples is one of the best ways to learn new couponing strategies, hints, and hot deals.  If you have a blog, please link up your coupon savings here.  If you don't have a blog, feel free to share your shopping experiences in a comment below.
Shopping list prepared at:
Affiliate links may be used in this post. Printing a coupon or ordering a product through this link may result in a commission, which helps pay for the cost of running this site and keeps the content free. Read my full disclosure policy here.