I had every intention of making it to Publix first thing this morning, but I just couldn't seem to pull myself together!  Ever have one of those days?  I'll blame it on the heat.

There wasn't a lot I needed or wanted today besides some cheap peanut butter (yum!)  I did want to get some of those BOGO Aunt Jemima pancakes, which my kids love, but I had a printing malfunction on one of the coupons, so I'll have to wait until Husband gets home and I can use his computer to print another one.  I think that is the 2nd or 3rd time now I've had a Smart Source coupon come out of the printer all messed up.  Has that happened to any of you?
I have also had a lot of you tell me about trouble printing Coupons.com or Bricks coupons occasionally–that you will get a message saying you haven't installed the coupon printing software even though you have.  I actually get that message sometimes too, but I always just go ahead and hit the green "print coupons" message that comes up on the screen and it prints just fine.  I have no idea why that happens, but that's what works for me.
Anyway, it was going to be a pretty small trip until I got to the store and discovered that the Chef Boyardee was on sale again this week AND it matched up to the very fabulous Conagra Stock Up For College coupons & rebate that I found in store, which meant after rebate I ended up getting 18 cans for a total of $0.02 (That's .001 each!)  Woo hoo!  Had I bothered to print any of the $1/3 MQs that is available here, they would've been a money maker.  Maybe some of you had more forethought than me and can get lucky.  In any case, it was still a great deal.
Here is everything I got: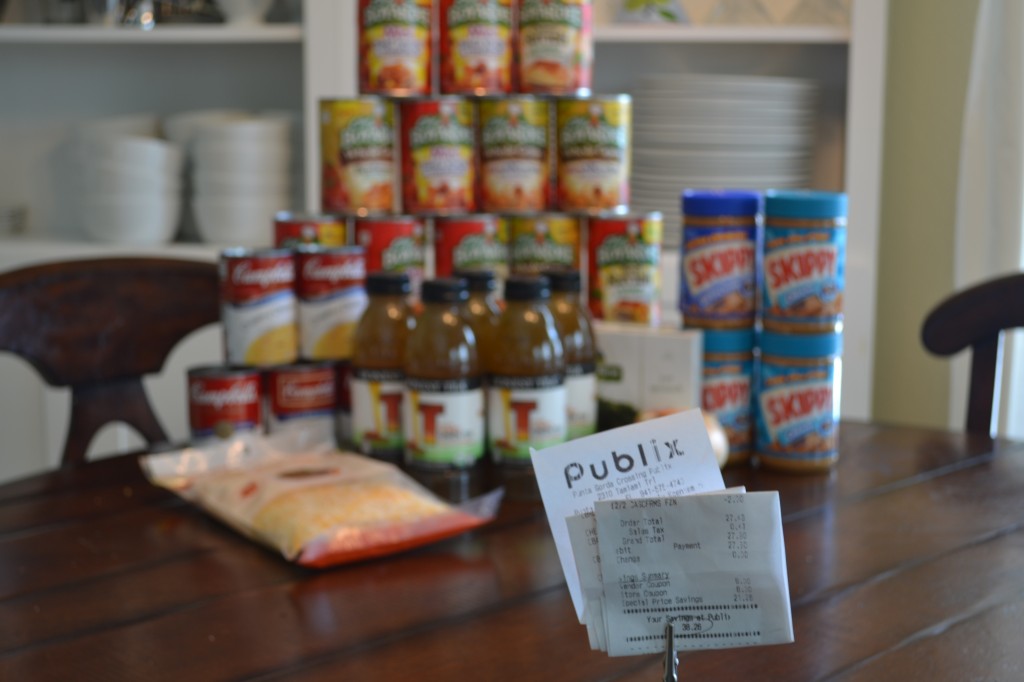 At Publix I spent $17.90 (after rebate) for $66.16 worth of groceries, a savings of 73%.
Grocery Breakdown
4 Skippy Peanut Butter, 15 or 16.3oz, BOGO @ – $3.05
(4) $1/1 Skippy Peanut Butter Product, exp. 8/28/11 (RP 07/31/11)
Final Price: $0.52 each
5 Cambell's Condensed Soup, assorted varieties, 10.5- 11.5 oz @ – $1.00
(1) 

$1/5 Campbells Condensed Soup Printable
Final price: $0.80
 5 Honest Tea 16.9 oz – $1.33
(5) $1/1 Honest Tea Single Bottle

(Recyclebank)
Final Price: $0.33 each
1 Publix Shredded Cheese, assorted varieties, 16oz @ – $4.49
$1/1lb Any Cheese Printable

 (33950)
Final price: $3.39
18 Chef Boyardee Pasta, 14.5- 15 oz, @ – $0.89
$1/3 Chef Boyardee Products (Publix College Care Flyer)
$10 MIR Publix Gift Card WYB $15 in Conagra Products with a $30 purchase (Publix College Care Flyer)
Final price: <$0.01 each after MIR
 2 Cascadian Farm Spinach @ $2.69
(1) $2.00/2 Cascadian Farm Organic Frozen Vegetables, Potatoes or Fruit, 8- 16oz (Publix YAF)
(2) 

$1/1 Cascadian Farm Product printable

 
Final price: $0.69 each
Sweet Onion, per pound @ – $1.49
Final price: $0.97
*   *   *
Altogether, this week I spent $31.13 for $154.40 worth of groceries & drugstore merchandise, an average savings of 80% for the week.
*   *   *
And now it's your turn! Seeing others' examples is one of the best ways to learn new couponing strategies, hints, and hot deals.  If you have a blog, please link up your coupon savings here.  If you don't have a blog, feel free to share your shopping experiences in a comment below.
Shopping list prepared at:
Affiliate links may be used in this post. Printing a coupon or ordering a product through this link may result in a commission, which helps pay for the cost of running this site and keeps the content free. Read my full disclosure policy here.