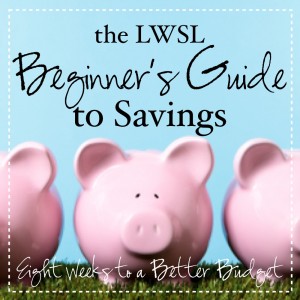 Part 7:  Save for the Future
The Future.  Big.  Undefined. Non-immediate.  Nebulous.  Scary.  If you're anything like me, saving for this vague entity known as "the future," is the hardest part of all.  After all food, clothing, vacations, housing, and yes, even shoes are all real.   They are tangible and immediate.  Saving on–or for–those things affects us right now.
(Before we go any further, if you are new to my blog or missed out on the last six weeks, you might want to start at Week 1: Stop Spending before starting this week's assignment!)
Saving for far-off things like retirement or college or putting money aside for an emergency fund is hard, especially when money is tight.  It is so much easier to look at the here-and-now rather than focus on the big picture.  But rather it feels real or not at the moment, it will eventually catch up to you.
Perhaps your kids, like mine, are small and college seems far, far away.  You can barely even imagine them going off to Kindergarten, much less leaving the nest.  The sad truth is that time flies and they will be grown before you know it.  While it might not be possible to foot the entire bill, when the time comes for your child to go off to college, wouldn't it be nice to to have something to give them?
Retirement is an even scarier prospect, albeit one that is very hard to imagine for those of us only in our twenties and thirties.  By now we've all heard the scary statistics on how Social Security is on the verge of bankruptcy, and how there is no guarantee that anyone paying into Social Security right now will ever see anything out of it.  Do you really want to take the risk of having nothing when you enter your golden years?
And then there's the emergencies, those unplanned, expensive crises that none of us want to think about!  Our roof starts leaking and needs to be replaced, our child needs braces, or we have to unexpectedly fly cross-country to help a friend in need.  As much as we want to hope those kind of things won't happen, we all know they can.  Emergencies are stressful enough as it is, but wondering where we will get the money to pay for them is even worse.
This week's assignment:
1. Commit to save.
Together with your spouse, make a tangible, specific commitment to save money for the future–retirement, college, and an emergency fund.   If you haven't yet taken the Savings Pledge (or even if you have–you can take it more than once for different things!), this is a great way to make it real.  Decide how much you will put away each week–even if it is just $10–and then be ready to follow through no matter what.
2. Open a savings account, or better yet, open three.
If you don't already have a savings account, it is time to open one.  You can't put money aside if if you don't have a safe place to put it, and under the mattress just doesn't count, nor does keeping it all in your checking account.  It needs to be a separate account that you only put money into, not take out of.  Ideally your retirement savings account will be separate from your kids' college funds, which will be separate from your emergency fund.
3. Participate in your company's 401(k) plan
This one is almost a no-brainer, so hopefully if this is an option you are already doing it.  If not, you need to start ASAP.  If your company has a 401(k) plan & will match your contribution, start putting money in right away, as much as you can possibly afford, or as much as the company will allow.  Never say no to free money.  You'll thank yourself someday.
And in case you're not totally sure about what a 401(k) plan is, I found this helpful graphic to explain it.  (Click the picture to view it larger):
Thank you, Mint.com Personal Finances
4. Do some serious financial planning research
Figure out exactly what you need to do to prepare for the future. Here are some great places to start:
Top 10 Ways to Prepare for Retirement
How to Save for Retirement on a Low Income
How Much Should I save for Retirement?
Lessons Learned: Saving for Retirement–Am I On the Right Track? 
5 Tips on How to Save for College
How to start an Emergency Fund
*   *   *
And that's all for this week.  Can you believe there is only ONE week left?  Stay tuned for your very last saving challenge next Wednesday and don't forget to let me know how you're doing!  How do you plan to save for the future?
*   *   *
The LWSL Beginner's Guide to Savings
Week 3: Save on the Big Things
Week 4: Save on the Necessary Things
Week 5: Save on the Fun Things
Week 6:  Save on the Special Things
Affiliate links may be used in this post. Printing a coupon or ordering a product through this link may result in a commission, which helps pay for the cost of running this site and keeps the content free. Read my full disclosure policy here.