Coupons have been getting a lot of attention lately.
A few months ago, TLC aired a special called Extreme Couponing and now has created a series of the same name.  I'm not sure if this is a good thing or not.  TLC's show purposely tries to make Extreme Couponers look just that–EXTREME.  The portrayal leans towards obssessive-compulsive hoarders, rather than just savvy shoppers who are saving money for their family.
The truth is that Extreme Couponing is not about being an extreme person, it is about extreme savings.  And there is absolutely no shame in saving money!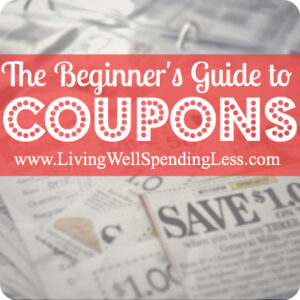 If you have been reading this blog for a while, you are probably already very familiar with the LWSL Beginner's Guide to Coupons.  It is my 8 week how-to-use-coupons series that breaks down the extreme couponing process into manageable "baby steps."
And I have a little gift for you.  Beginning today, it is available as a FREE downloadable eBook:
Whether you are brand new to coupons and want to learn everything you can, or you have been using coupons for a while but are in need of a concrete guide to help you maximize your savings, the BGTC can help!
If you haven't yet dared venture into the world of couponing, I hope this great book will help encourage you to give it a try.  The savings make it well worth the effort!  And as always, please feel free to leave comments or questions below.  I do read each and every comment, and I try to answer any questions as best I can.
Happy couponing!
Affiliate links may be used in this post. Printing a coupon or ordering a product through this link may result in a commission, which helps pay for the cost of running this site and keeps the content free. Read my full disclosure policy here.