Is it just me or has this week flown by?  I can hardly believe the weekend is almost here!
I had a fun little shopping trip this morning.  After Sunday's fiasco with the girls, it sure was nice to shop all by myself while they were at school.  I was so relaxed that I even had time to make a little video!
But first, just a little reminder to head on over to the PrintHotCoupons.com Facebook page this week for another chance to win your very own Qubie Coupon Organization System just like the one I use (a $49.99) value!
Remember, entering is super easy.  Just click on the "GiveAway" link found on the lefthand menu (clicking from here should take you right to that page), then follow the instructions.
(If you really want a Qubie but don't want to wait, you can go ahead and order one.  If you happen to win the giveaway, Qubie will refund your purchase price.  Use coupon code LWSL5OFF to save $5 on your order, but only through TODAY 9/15/11!)
I will pick & announce a winner over at PrintHotCoupons.com on Saturday, September 17th!
But now on to shopping….
Here is what I got: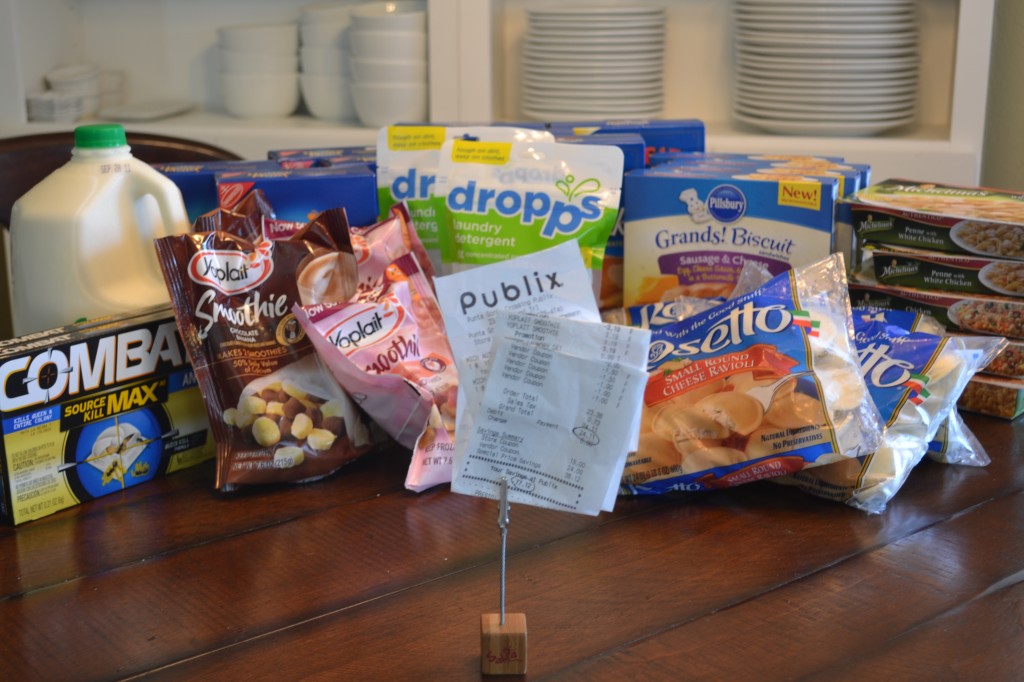 At Publix I spent $24.11 for $101.23 worth of groceries, a savings of 75%
4 Yoplait Frozen Smoothie Mix, assorted varieties, 7.6 oz, BOGO @ – $3.19
(4) $0.75/1 Yoplait Frozen Smoothie, exp. 10/1/11 (GM 08/07/11)
Final Price: $0.84 each
4 Pillsbury Biscuit Sandwiches @ – $2.50
 (4) 

$1/1 Pillsbury Egg Scrambles or Biscuit Sandwiches printable

or 

printable

or printable
(4) $1/1 Pillsbury Toaster Strudel Pastries or Toaster Scrambles, 10- 11.5 oz (Publix YAF) 
 Final Price: $0.50
4 Krusteaz Pancake or Waffle Mix, assorted varieties, 24- 32 oz, BOGO @ – $2.49
(2) 

$1/2 Krusteaz Product printable
Final Price: $0.74 each
4 Rosetto Ravioli, Stuffed Shells, or Tortellini, assorted varieties, 19- 25 oz, BOGO @ – $4.33
(2) 

$1.50/2 Rosetto Products Printable
Final Price: $1.41 each
4 Nabisco Honey Maid Grahams, assorted varieties, 12.2- 14.4 oz, BOGO @ – $4.31
(4)

$1/1 Honey Maid Grahams Printable
Final Price: $1.15 each
2 Dropps Laundry Detergent, 20 ct, BOGO @ – $5.99
$1/1 Dropps Detergent (Received in Mail after requesting from company)
Final Price: $2.99 each
2 Combat Ant Bait @ $4.69
(2) 

$2/1 Combat Product Printable
(2) $3/1 Combat Ant or Roach Bait/Gel Kill (Publix Yellow Advantage Flyer)
Final price: FREE + Profit
5 Michelina's Assorted Entrees, 5.5- 9.5 oz @ – $1.00
(1) 

$1/5 Michelina's Entree printable

or

printable

or

printable
Final Price: $0.80 each
1 Milk, Gallon 2% @ $3.89
(1) $1.00/1 Any Milk (Received in mail)
Final Price: $2.89
*   *   *
Altogether, this week I spent $32.35 on $132.72 worth of groceries, an average savings of 76% for the week.
*   *   *
And now it's your turn! Seeing others' examples is one of the best ways to learn new couponing strategies, hints, and hot deals.  If you have a blog, please link up your coupon savings here.  If you don't have a blog, feel free to share your shopping experiences in a comment below.
Shopping list prepared at:
Affiliate links may be used in this post. Printing a coupon or ordering a product through this link may result in a commission, which helps pay for the cost of running this site and keeps the content free. Read my full disclosure policy here.