Life has been a little hectic lately.
I feel beyond blessed that this little blogging project of mine has taken off, and I honestly couldn't ask for a better job.  I LOVE waking up in the morning to a day full of writing & finding hot coupons & helping others save.   I look forward to reading your comments and emails, and there is almost nothing about doing this work that I don't enjoy.
But I have been BUSY!  I've had to let a lot of things around the house slide.  Husband definitely pitches in and does a lot to help out, but because he is super busy with work and family obligations,  it seems like we can never quite get it all done.  There are only so many hours in the day, ya know?
I can't stand clutter, so I have very bad habit of shoving things in a closet, drawer, or cabinet just to get it out of the way.  Out of sight, out of mind, right?  The problem with this habit is that done repeatedly, over the course of several months, eventually every hidden space in the house becomes an out-of-control nightmare.
That is the point I find myself now.  And it is making me CRAZY!
Something must be done.
This past weekend I decided to start with our Master Bedroom, which also serves as my home office and craft/sewing area.  It was a disaster.  I'm almost too embarrassed to show you the "before" picture of my closet, but I will anyway.  I just hope it doesn't ruin your good opinion of me!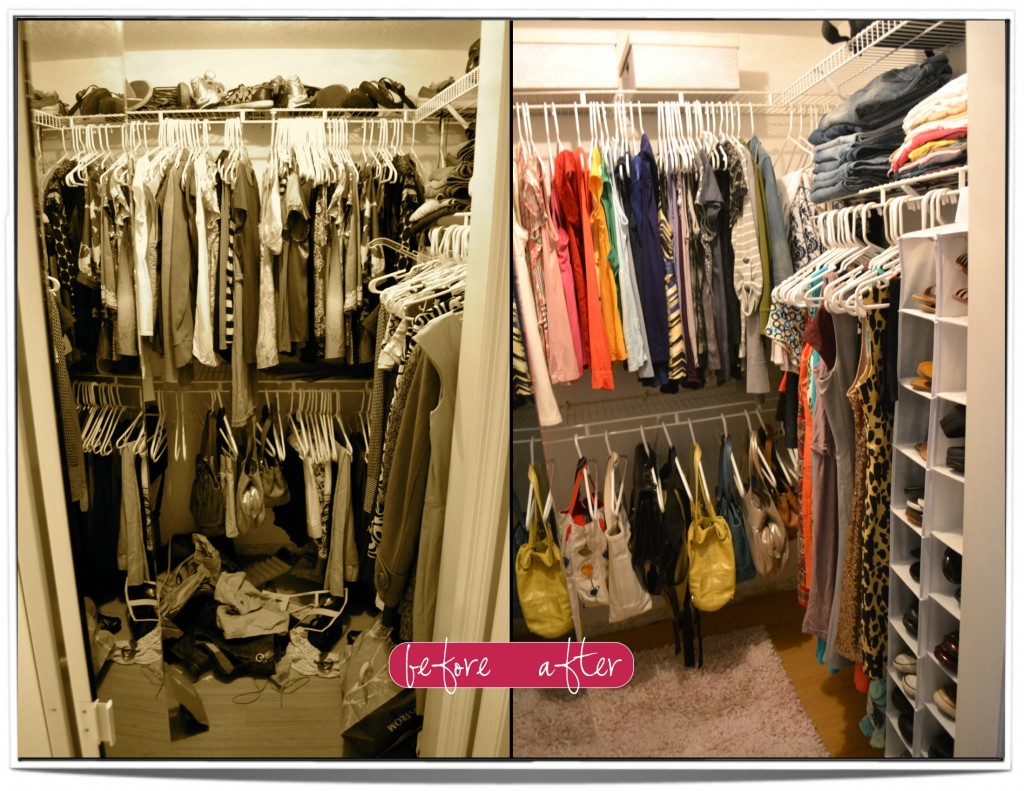 It took me about 7 hours–an eternity, it seemed–to do my closet, 2 dressers, and desk.  I filled up a large garbage bag and 5 paper grocery bags full of items for Goodwill.  I also found LOTS of items that belonged in other areas of the house or in storage.  It was tedious, but MAN, did it feel good to get it done!  I felt like I reorganized my pysche, not just my closet.
Kathy Waddill's The Organizing Sourcebook : Nine Strategies for Simplifying Your Life
is one of my all-time favorite books.  If you are looking for a common sense, easy-to-follow approach to calming the chaos in your life, I highly recommend it.  I read it a few years ago, and I am re-reading it again as I have been trying to apply her "9 Strategies of Reasonably Organized People" to my life.
They are:
Make your systems fit you and your life.
Sort everything by how you use it.
Weed constantly.
Use the right containers and tools.
Label everything.
Keep it simple.
Decide to decide.
Get help when you need it.
Evaluate honestly and often.
Hopefully now that I have a proper place for everything (at least in my bedroom), I will actually be able to keep it that way!
So now tell me, I the only one that struggles to stay organized when life gets chaotic?  What's your biggest problem area?  Do you have any great tips for getting or staying organized you could share?
P.S.  Thank you all so much for your sweet comments on yesterday's post.  You guys are the best!
Affiliate links may be used in this post. Printing a coupon or ordering a product through this link may result in a commission, which helps pay for the cost of running this site and keeps the content free. Read my full disclosure policy here.