Happy Monday!
We picked up our 15 empty Operation Christmas Child boxes at church over the weekend & the whole family is excited about starting to fill them.  I thought for sure I'd be able to pick up some stuff this weekend, but neither Walgreens or CVS had very exciting sales this week.
Remember to go and leave a comment here if you are planning to fill an OCC box this year or do any other sort of charitable giving this holiday season.  2 lucky readers will win $50 worth of FREE product coupons from Fast Fixins, Kid Fresh, Cool Juice, Freschetta, & more!
I did spot a fairly decent deal on Huggies Slip-On diapers at CVS that I wanted to take advantage of, since that style is perfect for Trouble right now.  In addition to two expired $3/1 coupons (My CVS store still accepts up to 30 days expired coupons–check with your store manager) I was able to use both a SavingStar and a Upromise eCoupon.  Even though the "sale" price was still pretty high, the combination of coupons brought it down to just $4 a pack.
At Publix I was thrilled to take advantage of the super high value $8/2 Cover Girl coupons that were found in last weeks P&G insert.  I grabbed some much-needed some new powder & concealer & then stocked up on money-making blushes & bronzers with the rest of the coupons.  (FYI–Cover Girl is also B1G1 50% off at Walgreens this week, so if you haven't used those coupons yet & need some new makeup, you may want to pop in!)
Here is what I got: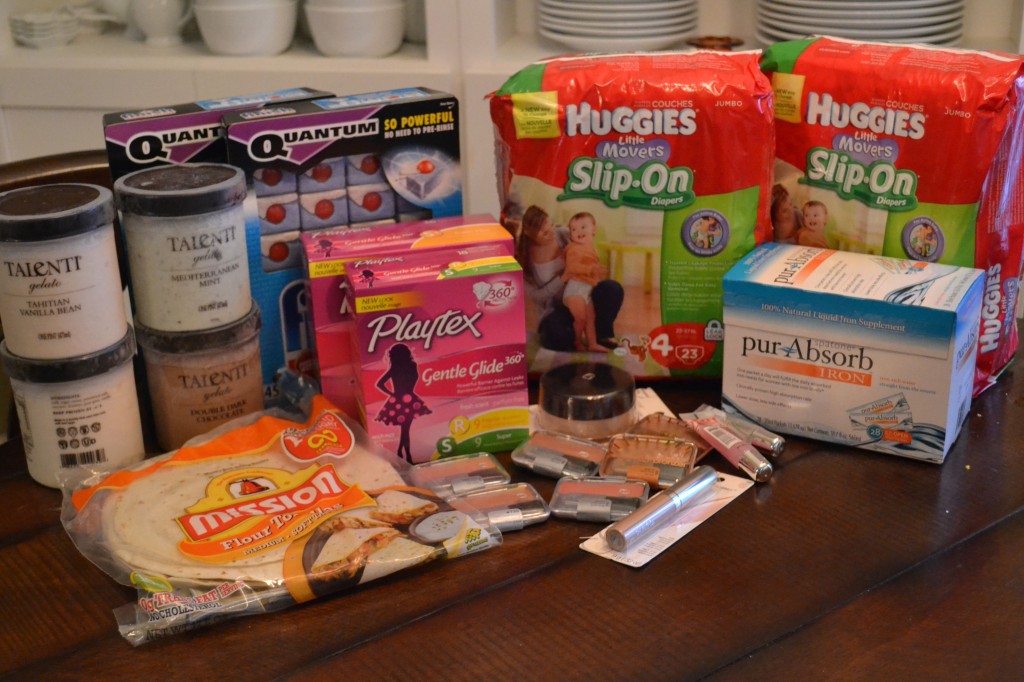 At CVS I spent $13.27 for $59.74 worth of merchandise (after Upromise and SavingStar deposits), a savings of 78%.
Transaction 1
Get $15.99 Extra Bucks WYB Pur-Absorb Iron Supplement, 28ct (limit 1) @ – $15.99
Final price: FREE Total OOP: $15.99; Got back $15.99 ECBs
Maybelline Cosmetics – Buy One, Get One 50% Off
Bought 2 Lip Gloss @ $6.99 each
$2/1 Maybelline New York Lip Product, exp. 11/11/11 (RP 09/11/11 R) $3/$10 Cosmetics Purchas (CVS Coupon Kiosk) Final price: $1.74 each
Huggies Slip-On Diapers – Buy 1, Get 1 50% Off
Bought 2 @ $11.99 each
$2/1 Huggies Little Movers Slip-On Diapers via
Upromise Deposit
$3/1 Huggies Diapers, (SS 9/11/11) EXPIRED** $2/1 Huggies Little Movers Slip-On Diapers
(SavingStar.com)
  Final price: $3.99 each Used $15.99 ECBs; Total OOP: $1.28 **My CVS still allows expired coupons but the 'official' CVS policy does not.  Check with your own store manager.
At Publix I spent $22.67 for $92.83 worth of groceries & cosmetics, a savings of 76%
1 Playtex Gentle Glide 36ct @ $7.99 and 1 Playtex Gentle Glide 18ct @ $4.99
(1) Buy 1 Playtex 36 ct, Get 1 18 ct Sport or Gentle Glide Tampons FREE (Publix Green Advantage Flyer)
(1) $4/2 Playtex Gentle Glide 360 or Playtex Sport Tampons, 14 ct or larger Printable Coupon (NLA)
Final price: $1.99 each
4 Talenti Gelato or Sorbetto, assorted varieties, 16 oz, BOGO @ $4.79
(4) 

$1/1 Talenti Gelato or Sorbetto (EarthFare Manufacturer's Coupon) 
Final price: $1.39 each
2 Finish Quantum Powerball Capsules, 45 ct, BOGO @ – $11.99
(2) 

$1/1 Finish Quantum Automatic Dishwasher Detergent Product print

able

 or 

 printable
Final Price: $4.99 each
1 Cover Girl Loose Powder @ $4.79
1 Cover Girl Concealer @ $4.39
6 Cover Girl Blush @ $3.59
(4) $8/2 Cover Girl Face Products (P&G 10/2/11)
Final price: FREE + $1.28 Profit for all
1 Mission Tortillas @ $1.79
(1) $1.00/1 Mission Artisan Tortillas Printable (NLA)
Final price: $0.79
 *   *   *
Altogether, I spent $35.94 for $152.57 worth of groceries & drugstore merchandise, an average savings of 77% for the day.  I will be out of town on Thursday, which means that is also my total for the week.  (And there will be NO shopping linky this Thursday!)
DON'T FORGET: If you are new to coupons & struggling to learn the ropes, you can sign up for either my online class (1st session starts October 18th) or  my  in-person coupon workshop here in Punta Gorda, FL on November 5th.  Contact me at Ruth@LivingWellSpendingLess.com for more details.
Affiliate links may be used in this post. Printing a coupon or ordering a product through this link may result in a commission, which helps pay for the cost of running this site and keeps the content free. Read my full disclosure policy here.