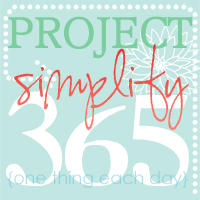 On Monday I promised to tell you all about my new endeavor for the year, Project Simplify 365.  Even though I'm still working out the final details, I am so excited to share it with you that I just can't wait another day.  In a nutshell, Project Simplify 365 is based on the idea that consciously doing one small thing each day towards creating a simpler life can ultimately add up to a big change.
The older I get, the more oppressed I feel by the excesses in my life. The past few weeks, as I took some time off to devote to spending time with my family and create some order amid all the chaos, the problem became clear:  There is too much stuff, too many distractions, too many things to do & too many places to go.
I see my kids becoming caught up in a world of constant distraction, where every time we turn around there is a new activity to participate in or something shinier to buy.  I've realized that they can hardly sit still for 5 minutes without becoming bored.   And as a family, we have become so busy trying to manage it all that we have lost the ability to enjoy the simple pleasures in life and focus on the things that truly matter: honoring God, spending time with family & friends, & giving to others.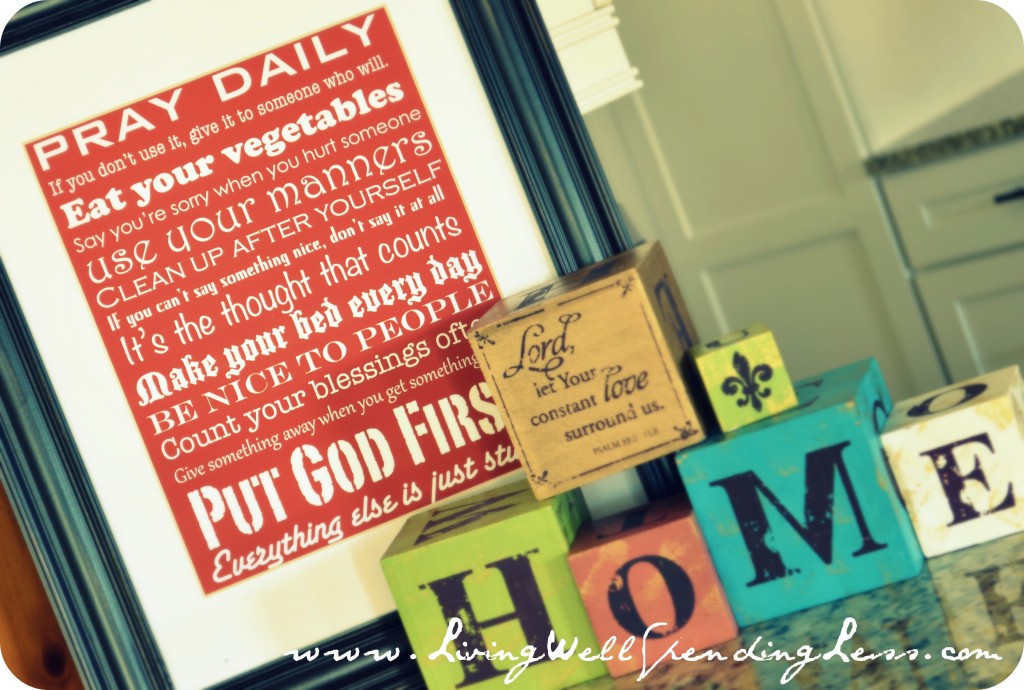 My goal this year is to scale it back, to purge my life of unnecessary extras, whether it be too much stuff, too many things to do, too much mindless time in front of the television or computer, or too much work, and focus on the essentials:
Putting God first and spending time each day in prayer
Spending quality time with family and friends
Homeschooling my kids
Cooking healthy, well balanced, non-prepackaged meals (at least most of the time)
Nurturing my own creativity and that of my children
Giving to others & teaching my children what it means to give
I am making a commitment to do one thing each day, however small, towards reaching these goals and eliminating the excess.  I am writing about it because to me there is no bigger motivation than public accountability.  I don't know if I'll be successful, but I am going to try.
I'll be updated my progress daily on my new Project Simplify 365 Facebook Page and on a new (very basic) website, www.ProjectSimplify365.com.  And while I am mostly doing this for the sake of my family and our sanity, I hope that it helps inspire you to make some changes this year too.  Your priorities and goals don't have to be the same as mine, but hopefully we can encourage and motivate each other to do just one thing each day
And finally, as a daily reminder for myself, I made a list of "Simple Rules" to hang on our wall.  I thought it turned out pretty cute so–just because that's the kind-of girl I am–I thought I'd make it a fun little download for y'all so you can print it and hang it on your wall too!  I even made it in 3 different colors so you can choose the one you like the best.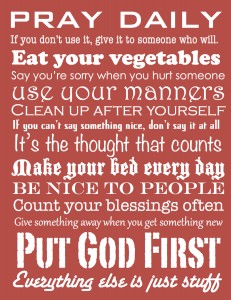 Simple Rules PDF in Light Red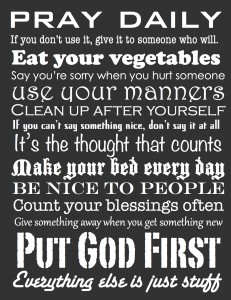 Simple Rules PDF in Black
So who's with me?  

Happily linking up this post at Life Made Lovely
Pin It
Affiliate links may be used in this post. Printing a coupon or ordering a product through this link may result in a commission, which helps pay for the cost of running this site and keeps the content free. Read my full disclosure policy here.