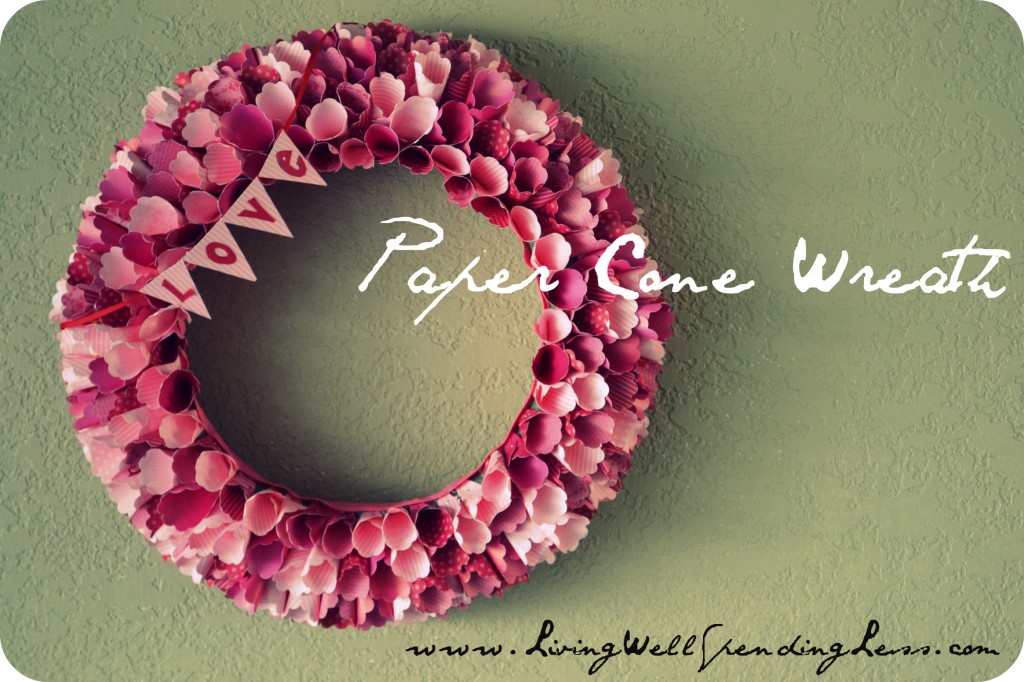 I stumbled across this gorgeous paper cone wreath a few months ago and have been wanting to make one of my own ever since.  Then, last month, when I was cleaning out my craft closet, I discovered several sheets of dual sided Valentine's Day scrapbook paper (from last year's projects), as well as a 12″ foam wreath form, and I figured the craft gods were sending me a message:  Valentine's Day Paper Cone Wreath!
With no instructions to follow, I just made it up as I went along.  It wasn't at all difficult but I'm not going to lie:  it was very time-consuming!  I probably spent at least 8-10 hours, spread out over several weeks, working on it, which is almost unheard of for me.  I'm more of a get-it-done-in-an-hour kind-of crafter most of the time!  But I love the way it turned out, so I'd say it was definitely worth the effort!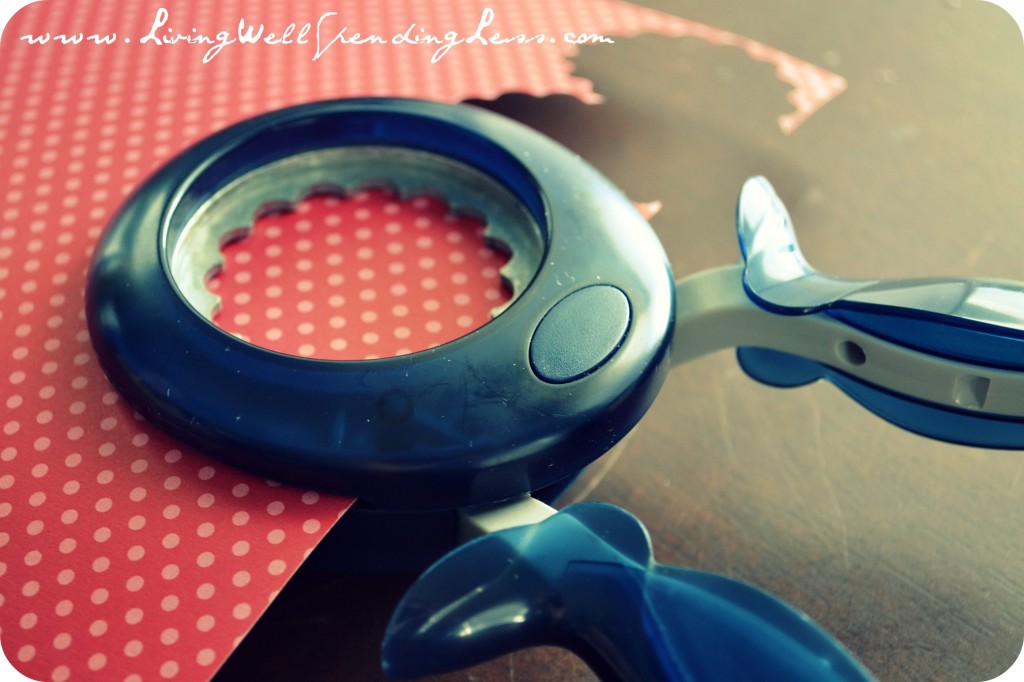 1.  The first step was punching out a whole bunch of scalloped circles using an extra large 2″ paper punch. I think a 3″ punch probably would've worked too, just made bigger cones, but a 2″ punch is what I had, so that is what I used.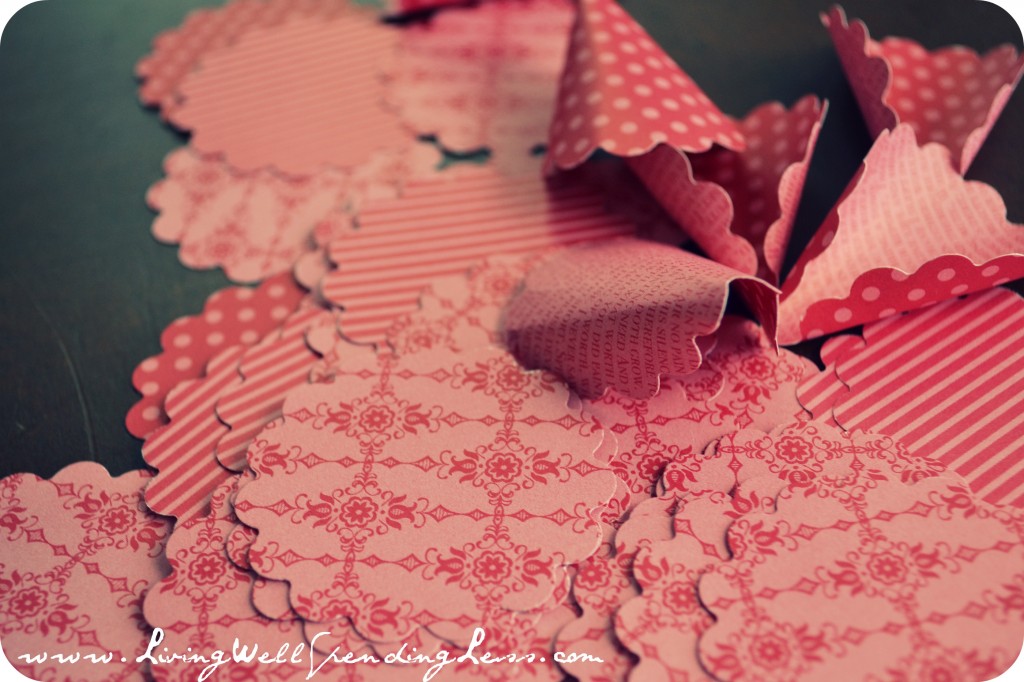 It takes a LOT of circles to fill a 12″ wreath!  I started with 9 pieces of 12×12″ scrapbook paper and I used every last piece.    I wouldn't recommend cutting it quite that close!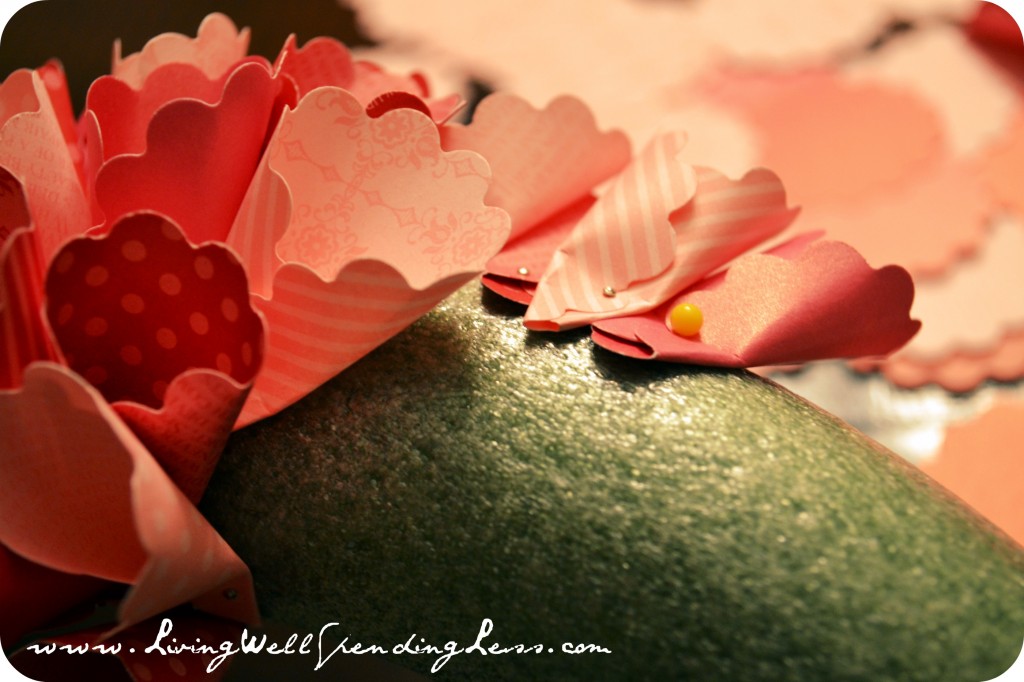 2. Once you've punched out your circles, roll them into cones and attach the base of the cones to the foam wreath using straight pins.  It is better to use the pins that don't have a colorful ball at the end, but I had to make do with what I had, so I hid the ball pins in the back rows and saved the small headed pins for the front.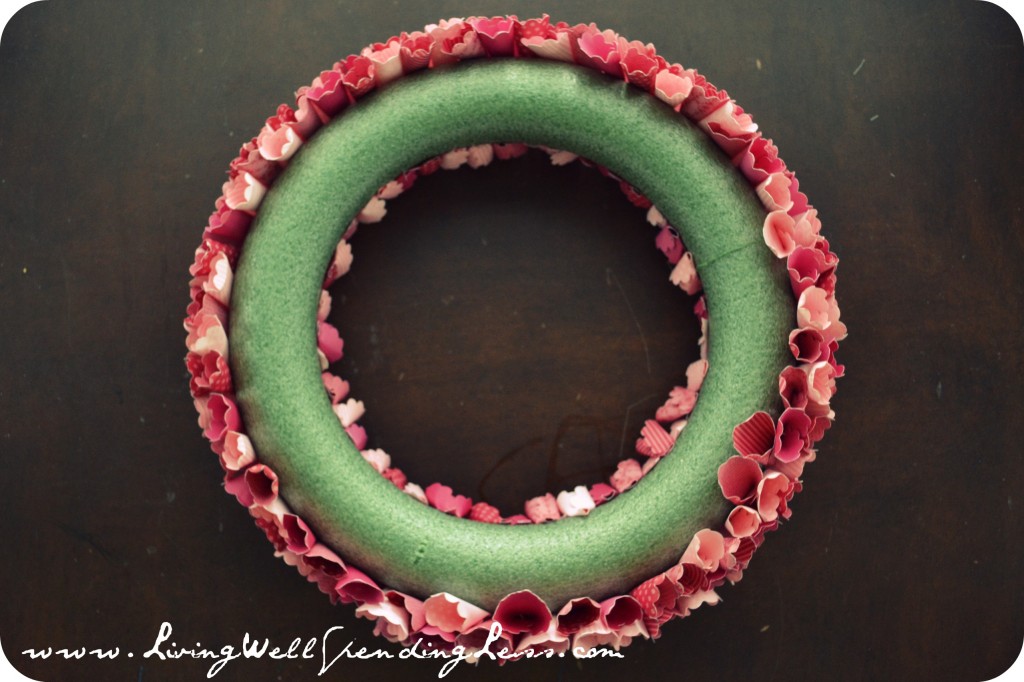 3.  Once you've covered the front of the wreath with cones (have patience–it will take a while!), turn it over and glue some overlapping circles to the back to cover the remaining green.  This is optional, I just think it makes it look more finished.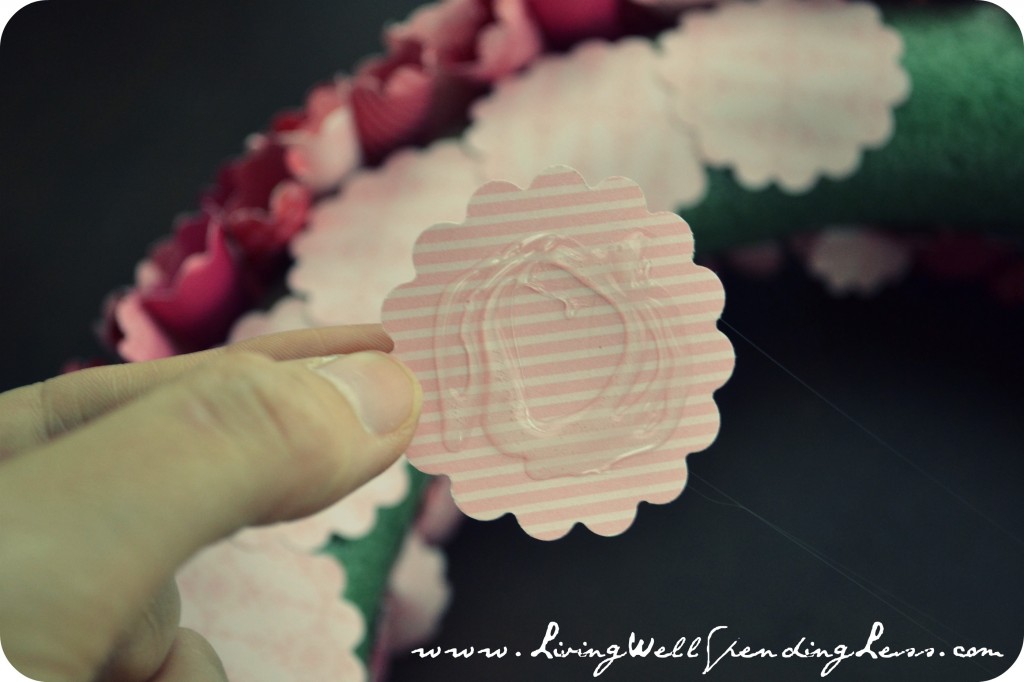 4.  Hot glue a scrap piece of 1″ ribbon to the inside of the wreath, covering the bottoms of the first row of cones.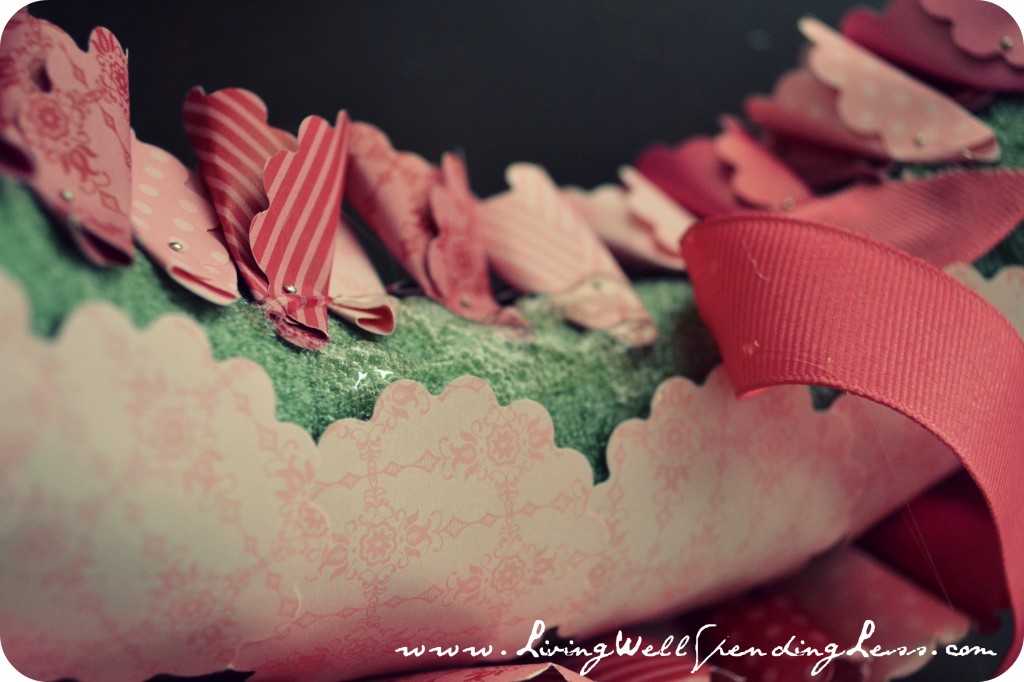 5.  Roll the remaining circles into cones, using a drop of hot glue to secure each one in place.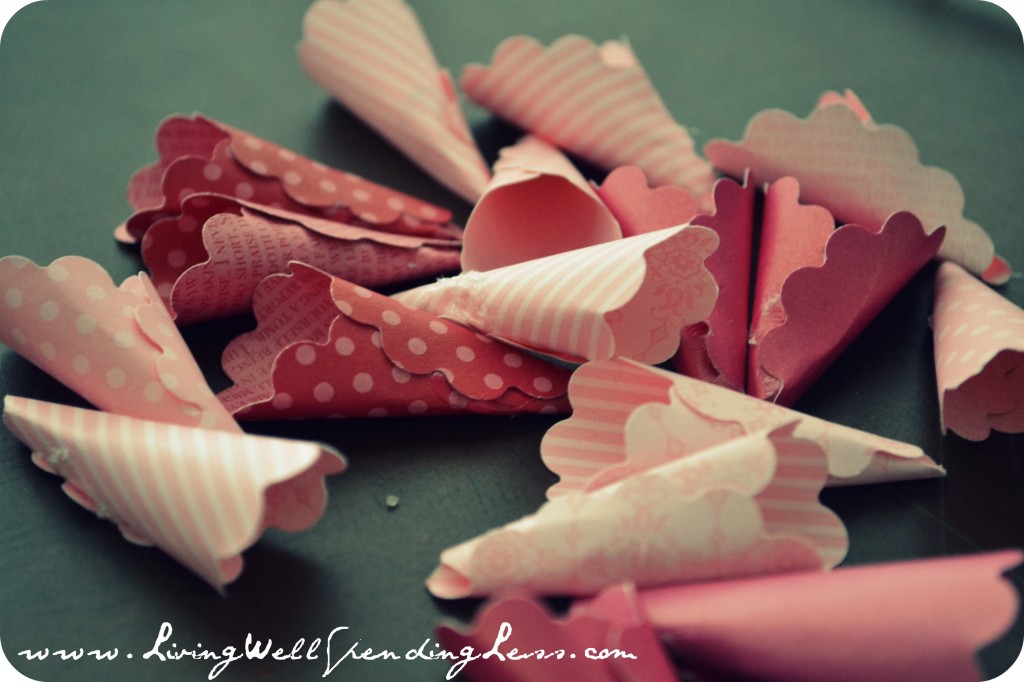 6.  Use these loose cones to fill in any "holes" in the wreath and to add extra depth by having them "stick up" a little further than the other cones.  Use the hot glue gun to hold them in place.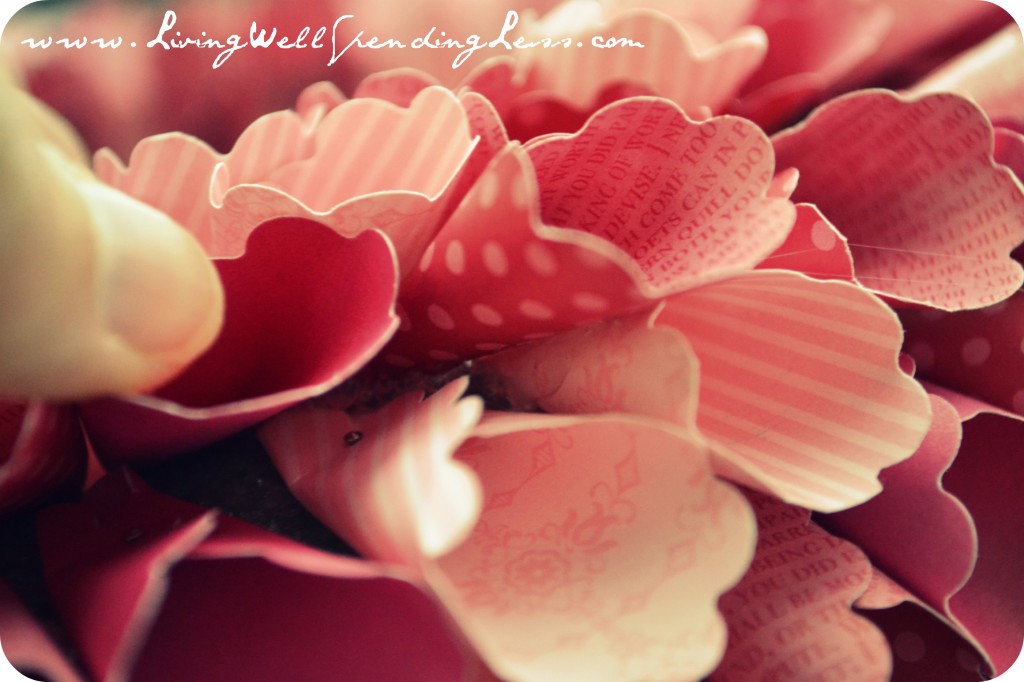 7.  Pin a small piece of ribbon to the back to use as a hanger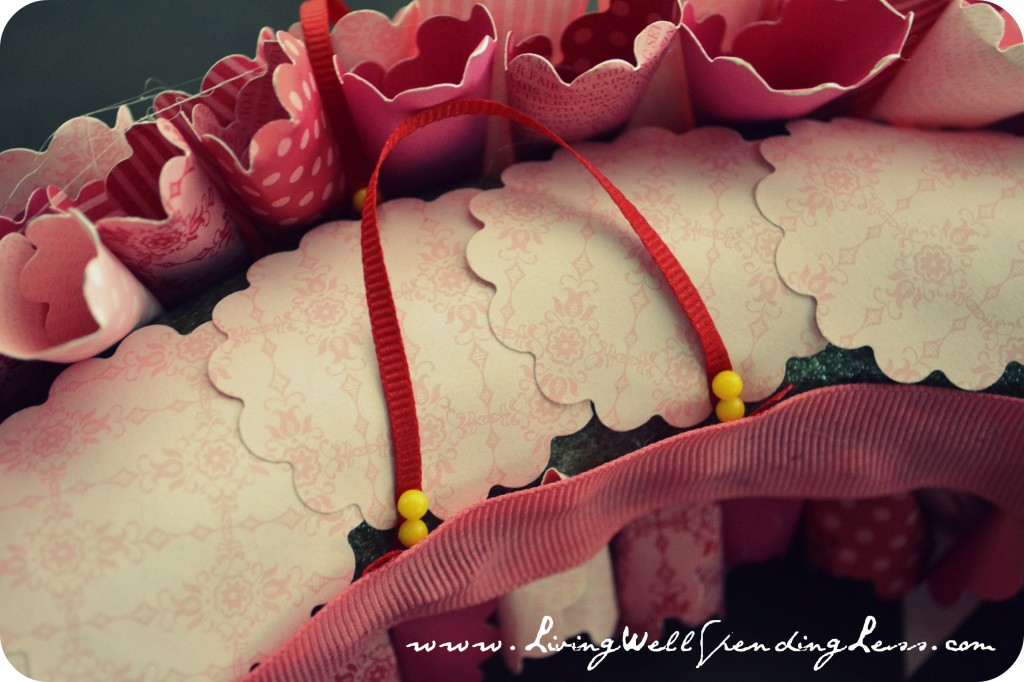 8.  To make the flag, I just hand drew some letters then cut them out using an exacto knife.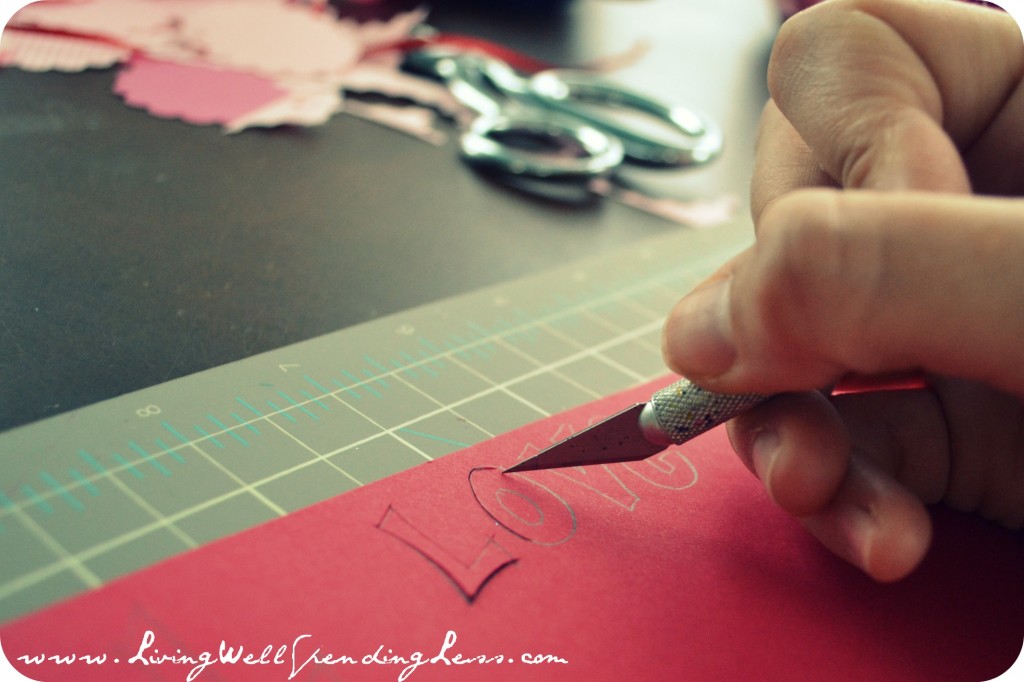 9. I then cut out 4 small triangles out of scrapbook paper, glued the letters to the triangles, and glued the triangles to a short length of ribbon, which I then pinned in place.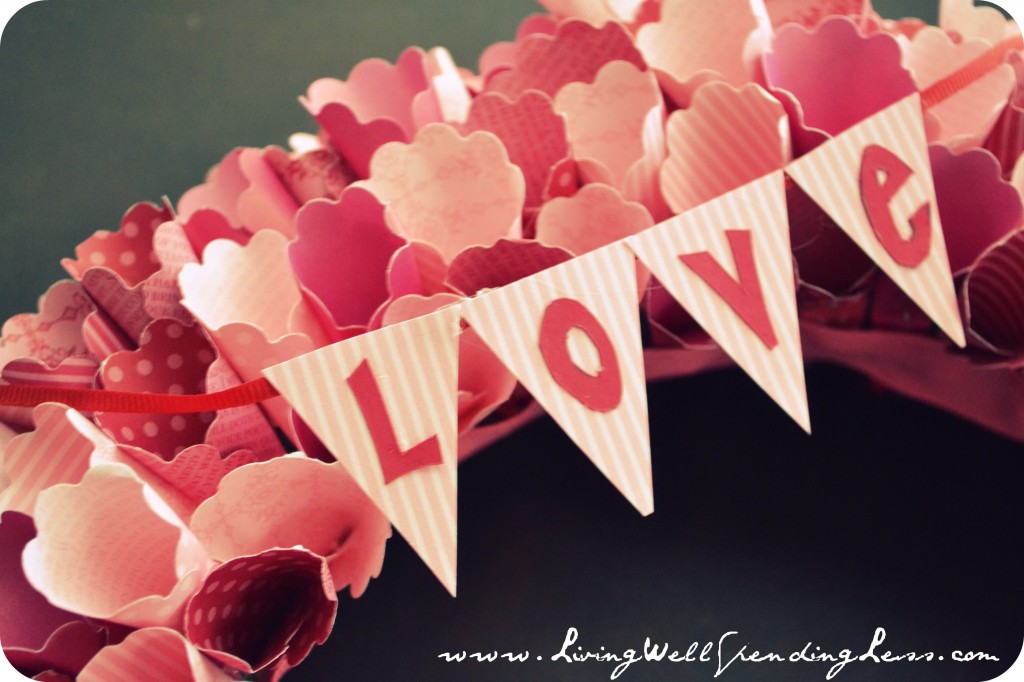 The thing I love most about this project is that you can change it to match any decor or for any holiday–I'm already plotting one for my kitchen using this paper. 😉
So what do you think?
Pin It
Affiliate links may be used in this post. Printing a coupon or ordering a product through this link may result in a commission, which helps pay for the cost of running this site and keeps the content free. Read my full disclosure policy here.