It's been a while since I've thrown a party and now suddenly I have TWO of them coming up next month!  Yay!
This year Trouble picked her own theme for her 3rd birthday party: CAKE!  I found it only fitting since the girl is currently obsessed with all things baking-related & spends hours building cakes and cupcakes out of Legos.  My only concern was that it might be too similar to last year's Sweet Shop Party theme, but Husband ever so kindly pointed out that no one would remember last year's theme anyway, least of all Trouble.  The man has got a point.
Maybe I've just been going through party withdrawals or something, but I am SO excited for this party (and for the fun baby shower, which I am keeping the details under wraps for now).  I forgot how much I love planning these kind of things!
Here is my inspiration: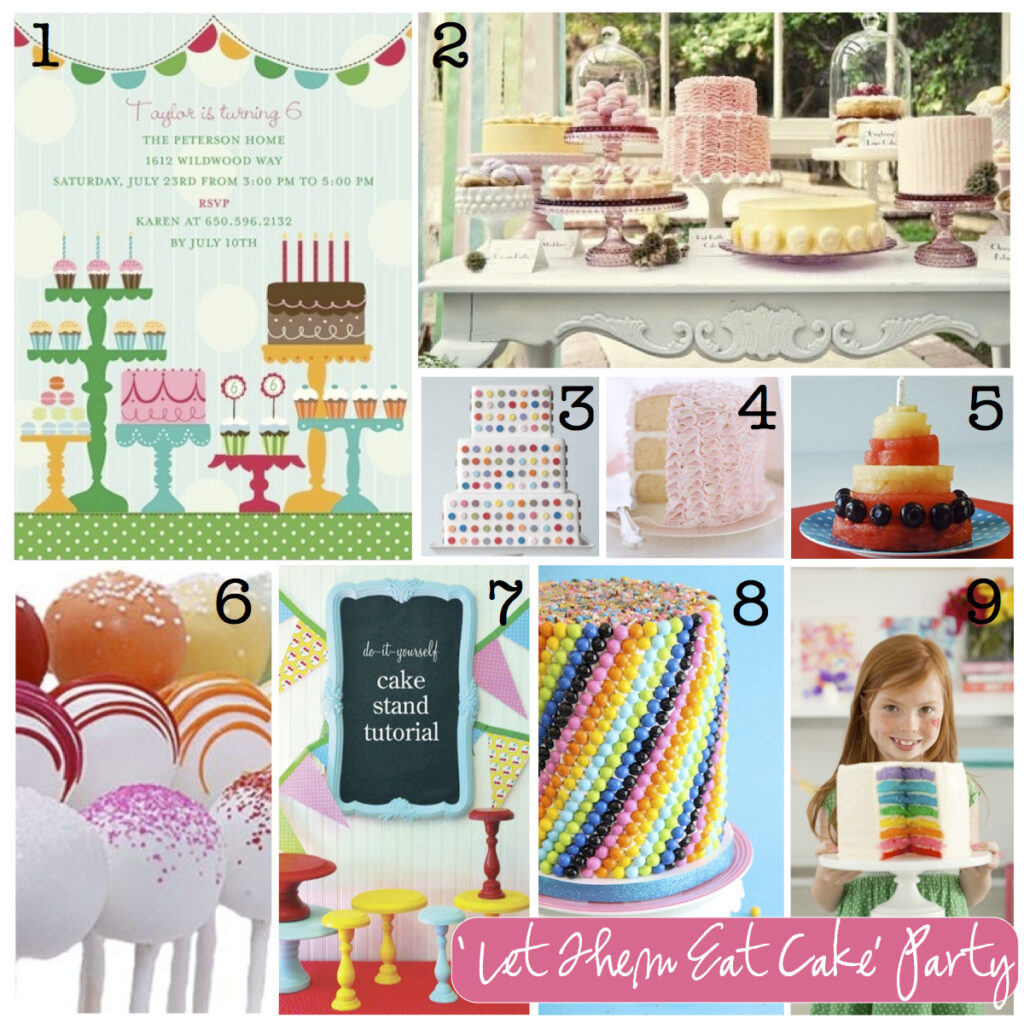 Photo Credits:
Here are some of my ideas so far:
I love the color scheme from the invitation.  I don't normally buy invites, but the ones from Tiny Prints are super cute and this one is just fits the theme so perfectly that I can't resist.  I will probably make some paper buntings with the same color scheme and shape as the invites to pull it all together.  I probably also won't be able to resist making some matching paper party hats–the kids always love 'em!
A dessert table filled with cakes and cupcakes will be the centerpiece of the party, and I've got the perfect place to set it up now that I've moved my home office to the living room.  I'll try to make most of the cakes myself, but I may buy a few as well–that is a LOT of baking!
I briefly considered having a cupcake decorating station but Husband–again my voice of reason–quickly vetoed that idea, reminding me what a mess it is to decorate cookies on Christmas Eve with just a handful of kids.  Instead I think we'll do paper cakes that the kids can glue different elements onto.  Other activities will include swimming & watching a movie on the projector once it gets dark.
Like last year, when we served hot dogs, we will keep the food simple and easy.
I am in LOVE with those homemade cake stands, so for party favors I plan to make a bunch of cupcake sized ones for all the kids to take home.  So fun!
Stay tuned for DiY projects and party updates!
Pin It
Affiliate links may be used in this post. Printing a coupon or ordering a product through this link may result in a commission, which helps pay for the cost of running this site and keeps the content free. Read my full disclosure policy here.