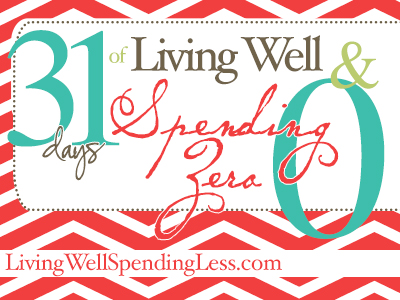 First of all, I just have to say a huge thank you to all of you for your kind words, tweets, Facebook shares, comments & emails after Friday's post.  Seriously, WOW!  Who knew there were so many people on board with the idea of completely ruining our children's childhoods? 

And now…..on to business!  If any of you read The Nester (and if you don't, you should–she is awesomesauce in a jar!) you probably already know that every October she hosts a series called 31 Days of Change, where she writes a 31 day long series on some profound topic and invites other bloggers to do the same.
Last year I thought about participating but I was too lazy to blog every day for 31 days straight, er, worried that my topic wouldn't be relevant to my readers.  Yeah, that's it.
But THIS year I've got something relevant to blog about and minus 2 blogs, I am UP for the challenge!  My topic is 31 Days of Living Well & Spending Zero and I am SO excited to share with y'all the fun stuff–and darling free printables–I've got planned.
If you're wondering why I am telling you this now, when there are still TWO WHOLE WEEKS to wait before all this awesomeness, it is because I need you all to get ready to join me!  I know when I mentioned our spending freeze this month I didn't give you any warning, and, let's face it, sometimes you just have to gear up for a big lifestyle change like that.
So consider this your warning.  Get your ducks in a row, stock up on anything you absolutely can't live without for an entire month, convince your friends and family to join you….whatever it is you gotta do, just do it.  But come October 1st, I want as many of you as possible to commit to 31 days of zero spending.  My job will be to make it as fun and painless as possible.  Oh, and don't forget to grab some ink for your printer–you'll need it!
If you are a blogger, I hope that you will join me and blog about your progress.  I will provide weekly link parties so that we can all check in.  Grab a button below to let everyone know.  Those of you who don't have blogs will still be able to share in comments and in the LWSL Facebook Group.
Can you tell I am excited?  'Cause I am.  And if you're wondering if I am going to do it too, even after doing a spending freeze THIS whole month, the answer is yes, yes, YES!
So who's with me?
,
Affiliate links may be used in this post. Printing a coupon or ordering a product through this link may result in a commission, which helps pay for the cost of running this site and keeps the content free. Read my full disclosure policy here.