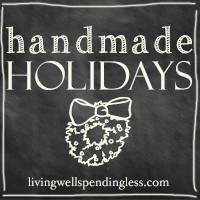 My family is on a mission to worry less about stuff and instead craft our way to Christmas this year!  We are sharing some of our DiY projects & ideas throughout the next month in a casual series called "Handmade Holidays"  You can check out the rest of our projects here.

I first tried making my own cake stands for Trouble's let them eat CAKE party earlier this year.  They were so easy that I thought it would be a fun way to deliver holiday goodies this year.  It was another great project for the girls to help with and they were received to rave reviews.  After all, who doesn't love receiving a cute plate full of yummy goodies?
It was one of those projects that needs to be done in stages to allow for drying time, so be sure to allow yourself a couple of days to complete it!  We used some cute sparkly gold & silver snowflake melamine plates we found at Target, but you could use any sort of plate for this project–vintage plates from the antique store or Goodwill would be super cute as well!  You could also skip painting the candlestick to make the project go a little quicker.   Any cookie or bar recipe will do, but we chose 7-Layer Dream Bars because they are a.) our favorite and b.) the girls love making them "by themselves."
They make a fabulous hostess or teacher gift!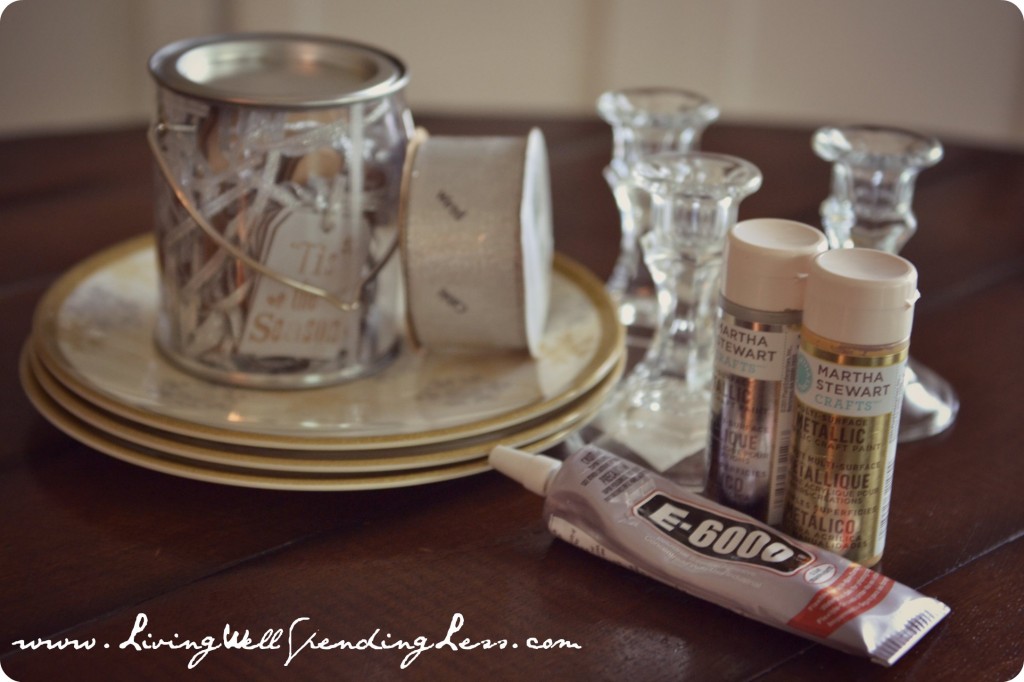 Here is what you will need:
Holiday plates (We got our cute gold & silver snowflake ones at Target for $1.99 each) Glass candlesticks (from the dollar store) Martha Stewart Metallic Paint (or any kind that works on glass) paint brush E-6000 industrial strength adhesive (get it at Home Depot) 7 Layer Dream Bars (recipe below) Clear Cellophane (from dollar store) Ribbon & gift tags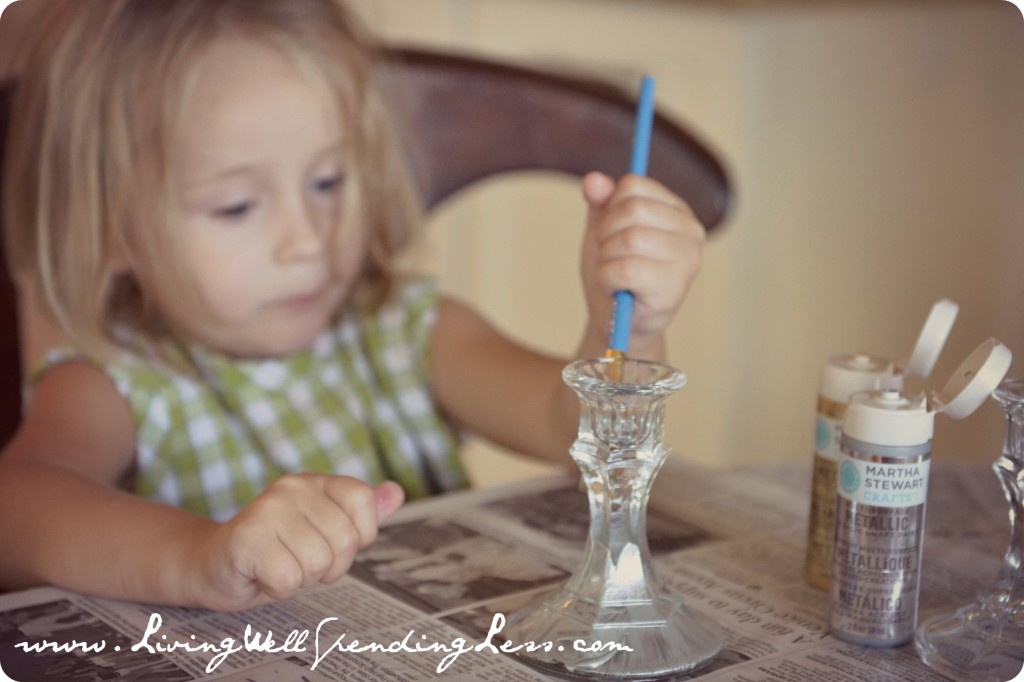 We started by painting our dollar store candle sticks with the Martha Stewart metallic paint (we had it leftover from another project.)  The girls tended to glop it on a little thick, so I helped them smooth it out.  It required 3 coats to cover completely.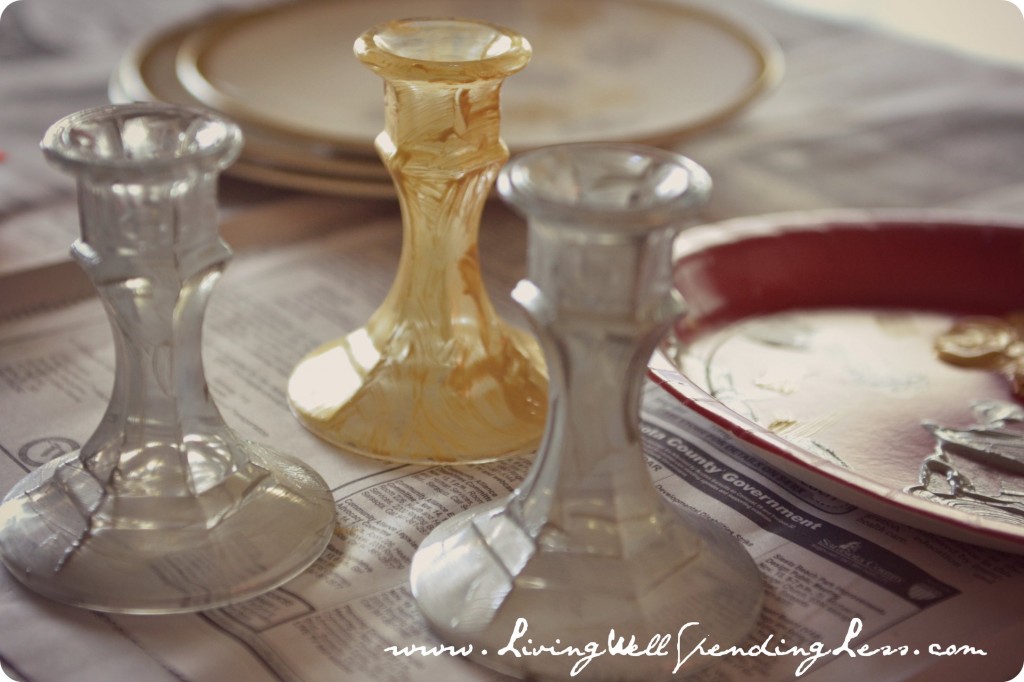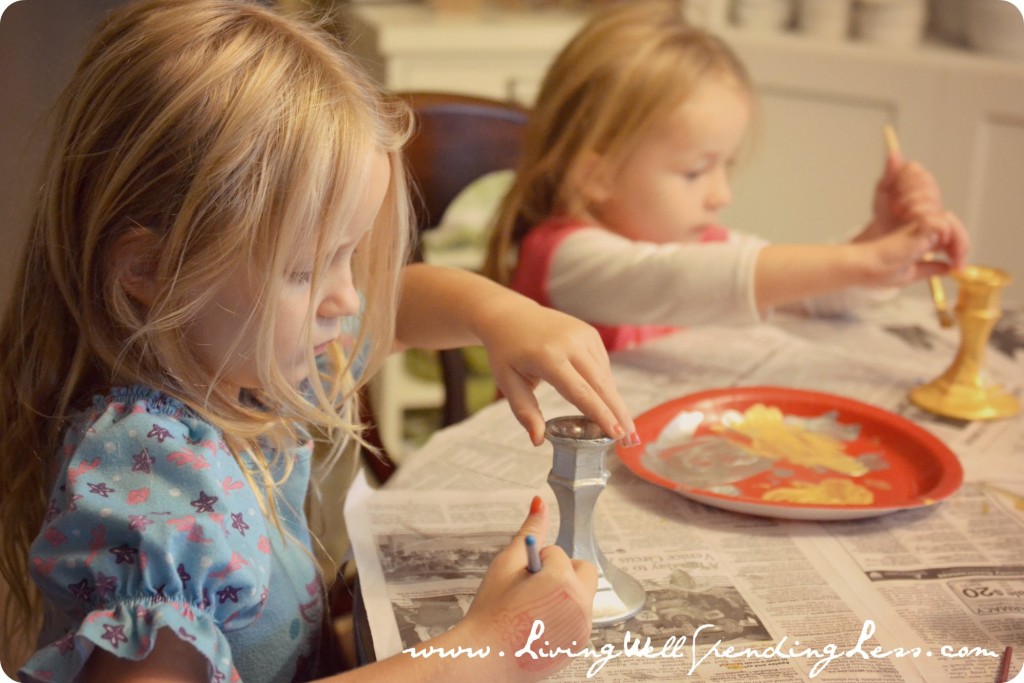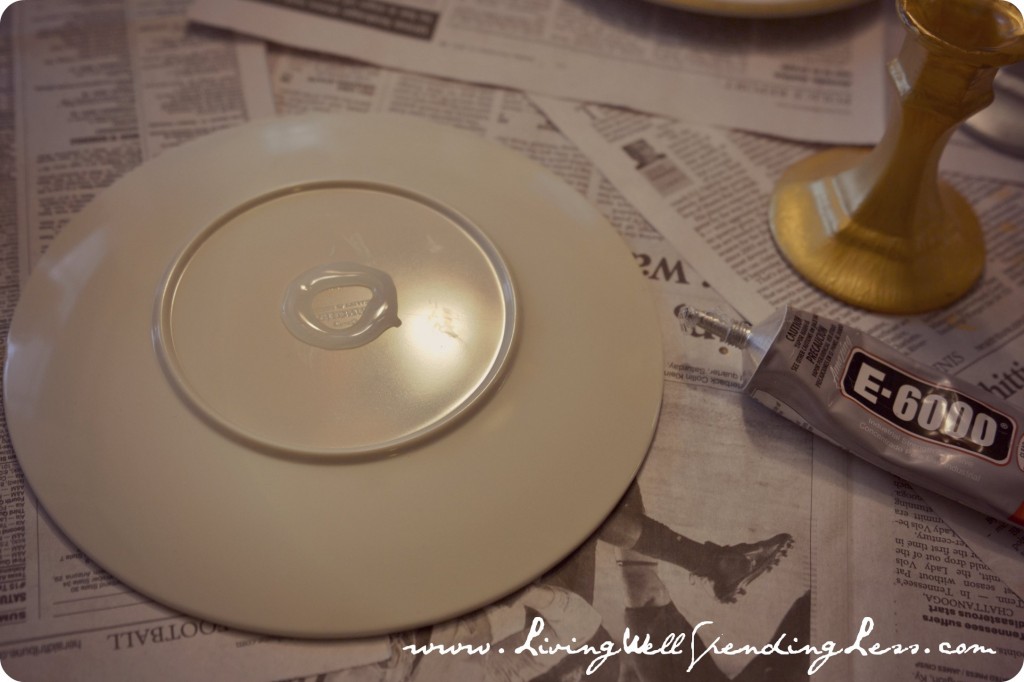 Once the final coat of paint was finally dry, we glued the bottom of the plates to the top of the candlesticks, following the instructions on the tube of E-6000 adhesive.  I then carefully weighed down the candlesticks with a stack of plates and let them dry for 24 hours.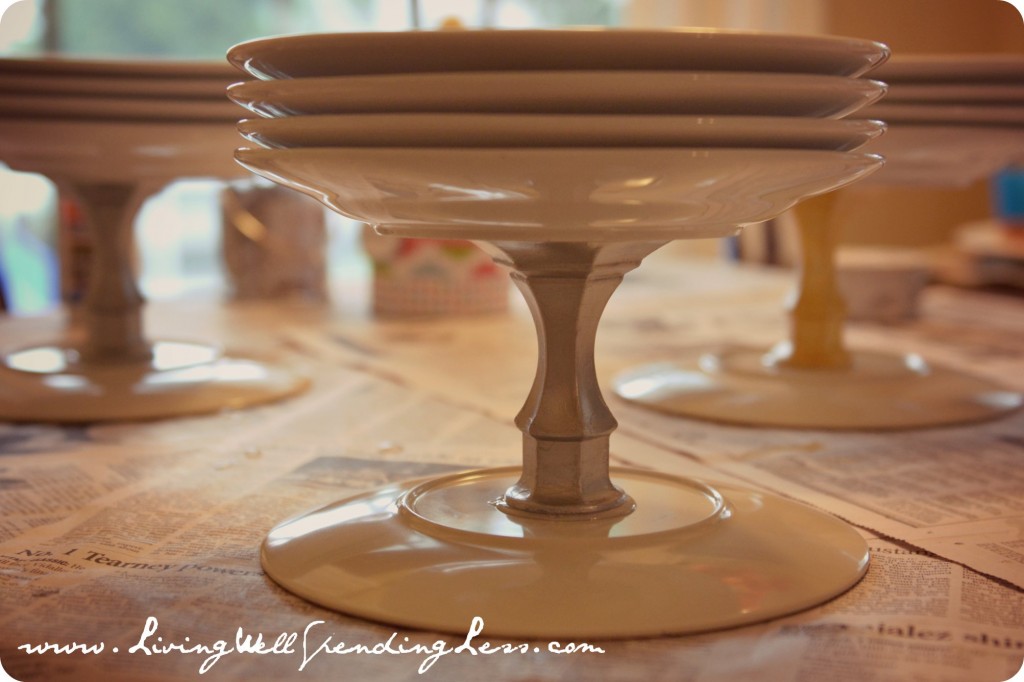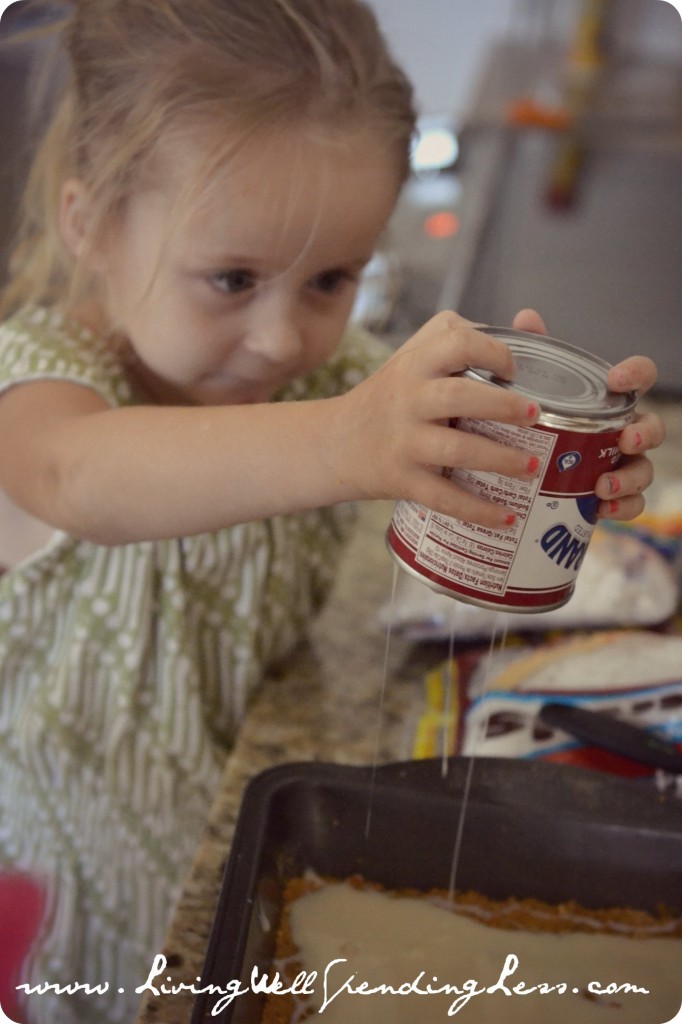 After the plates had dried, we made our bars.  The "recipe" is below, but feel free to use it as a rough guideline–we don't really measure any of the ingredients.  The girls just sort-of throw everything on top and I try to even it out as best I can.  They always turn out delicious!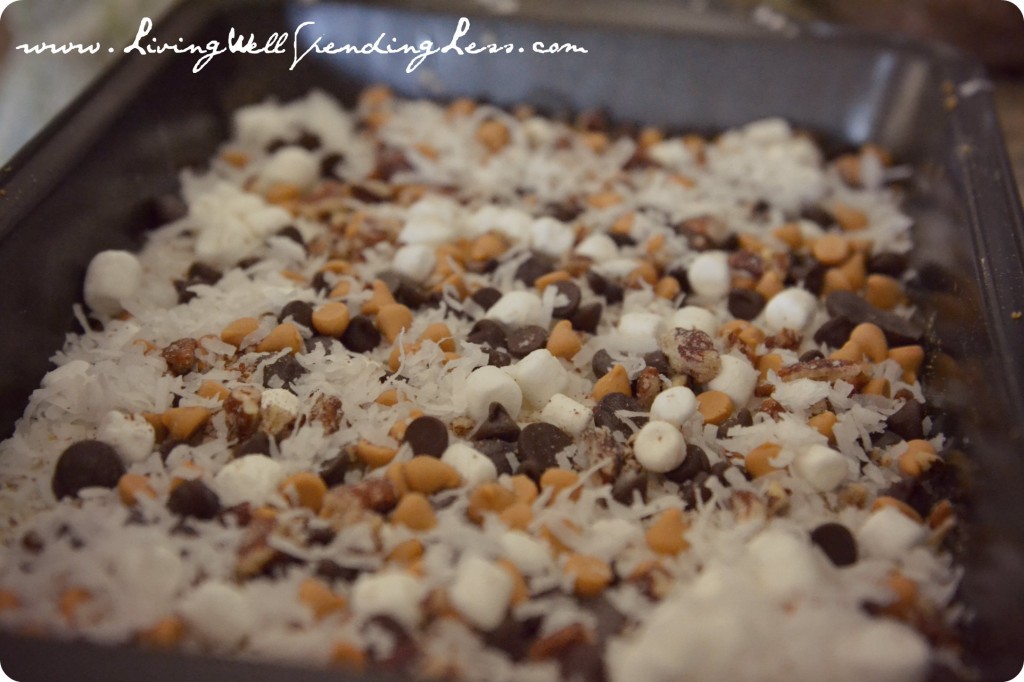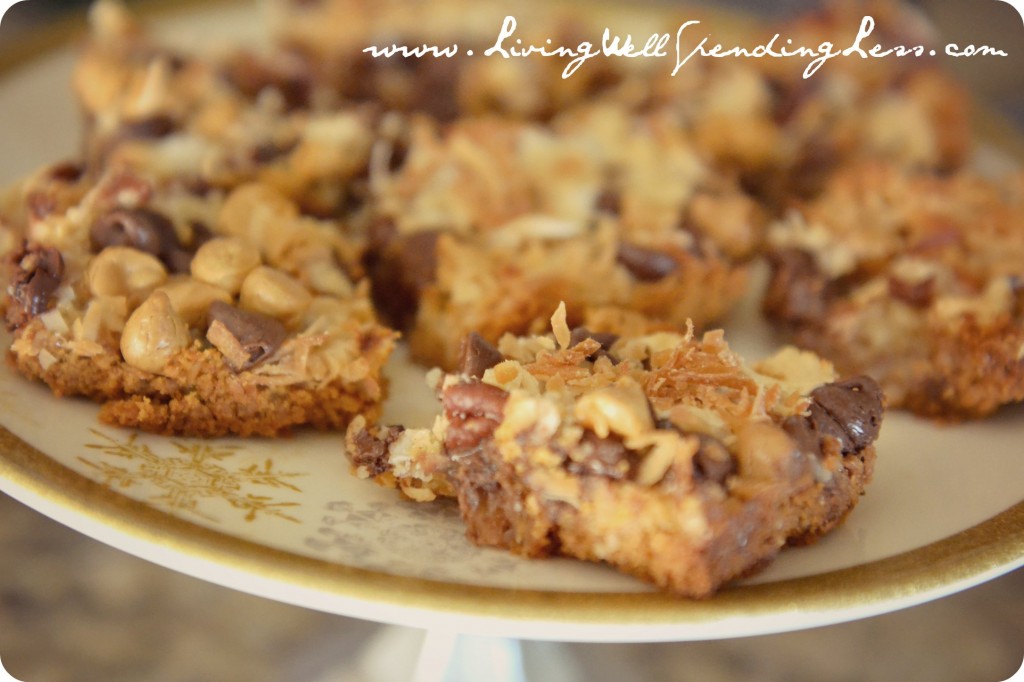 After the bars have cooled completely, cut them into squares and arrange them on the plate.  Cut a small slit in the bottom of a square of cellophane, then place the candle stick through the middle so that the plate and bars are covered in cellophane.  Secure with a ribbon and a cute gift tag.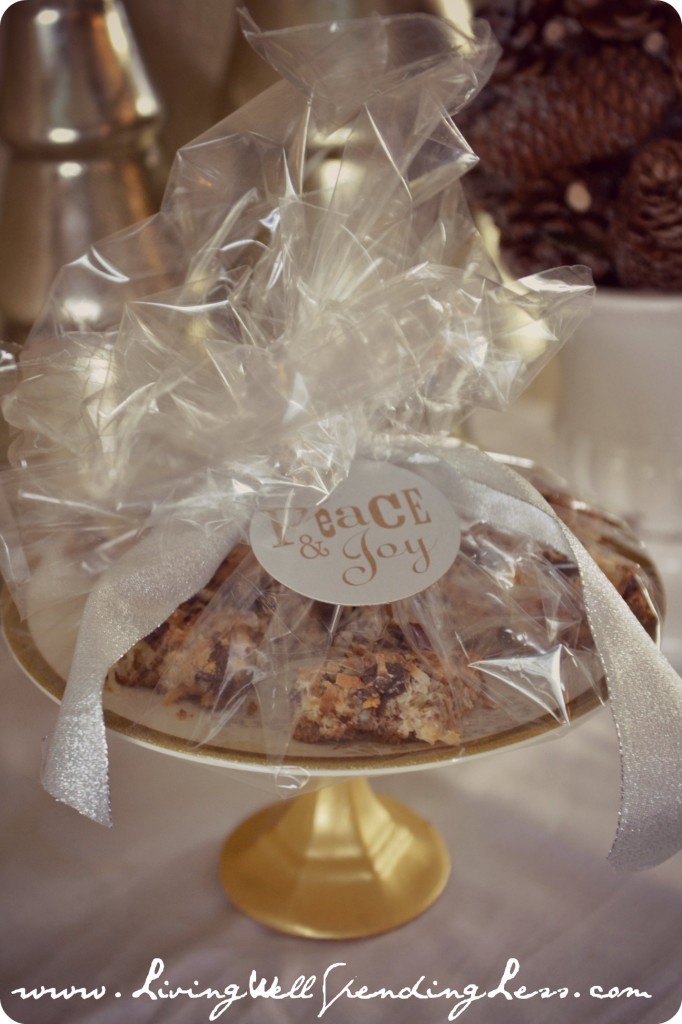 You can also use the plate to hold another small gift instead of treats–we gave this one as a hostess gift for Thanksgiving!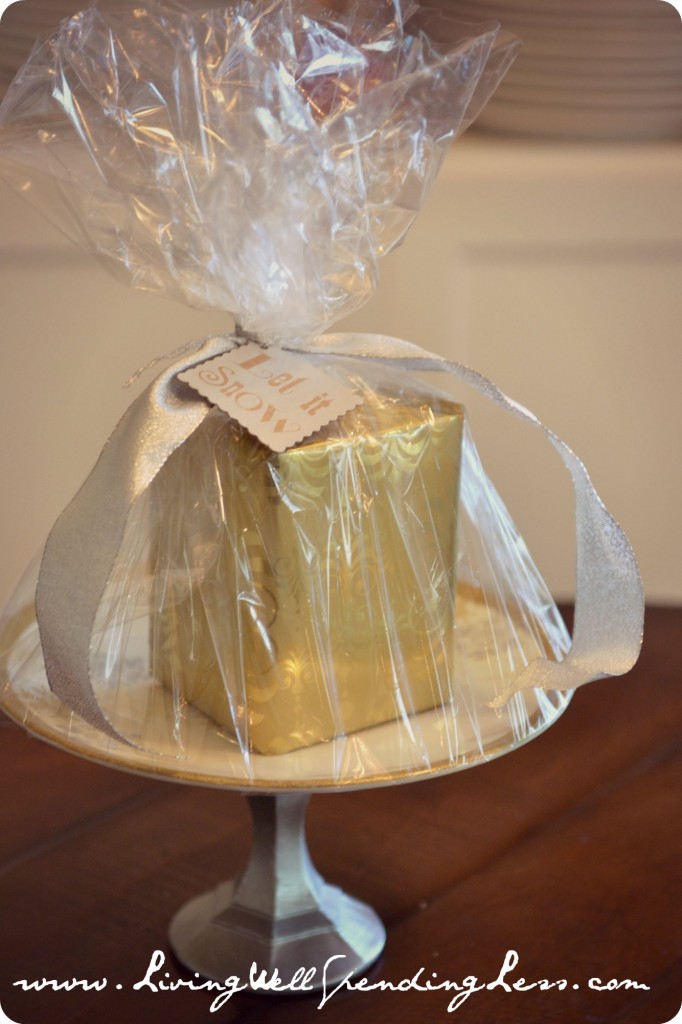 Recipe: Magic 7-Layer Dream Bars
Summary: The kids will love helping with this super simple recipe!
Ingredients
1 3/4 cups graham cracker crumbs
1/2 cup (1 stick) butter, melted
1 can sweetened condensed milk
1 1/2 cups coconut
3/4 cup chocolate chips
3/4 cup butterscotch chips
3/4 cup mini marshmallows
1/2 cup chopped pecans or walnuts (optional)
Instructions
Heat oven to 350 degrees
Spread graham cracker crumbs evenly on bottom of 9×13″ pan; drizzle melted butter over crumbs, then mix until crumbs are all evenly coated with butter. Use back of spoon to press crumbs firmly into pan to form crust for bars.
Drizzle sweetened condensed milk evenly over crust. Sprinkle remaining ingredients evenly over condensed milk.
Bake approximately 25 minutes, until coconut and marshmallows are toasty and chocolate chips are melted.
Let cool completely, then cut into bars.
Preparation time: 10 minute(s)
Cooking time: 25 minute(s)
*   *   *
What handmade projects do you have planned for the holidays?  
Pin It
Affiliate links may be used in this post. Printing a coupon or ordering a product through this link may result in a commission, which helps pay for the cost of running this site and keeps the content free. Read my full disclosure policy here.