I got back last night from a 3 day whirlwind at the SheSpeaks Intensives conference in Charlotte, NC and now my little head is so full I'm afraid it might bust open if I try to squeeze in one more thought.
It was life changing, and if you have ever wanted to write a book or become a public speaker, you should go.  I got to hear amazing talks from Lisa TerKerk and Ken Davis, and spend lots of time picking the brilliant (and hilarious) brain of Karen Ehman, who was my small group's leader.  I even made two new BFF's….Crystal and Angie, who are without a doubt two of the sweetest, funniest, & most inspiring gals around.
There is SO much more I want to share with you about the experience but for today I am just thankful that spending the day in my pajamas, snuggling in bed with my girls as we read all our favorite books, counts as "school."
But speaking of BFFs, my dear, dear friend Edie has done something this week that is INCREDIBLE!  She just launched her first eBook, "31 Days to a Heart of Hospitality" and it is SO good.  I have written so much about Edie here and here and here that y'all are probably sick of hearing about how fantastic she is, but I just can't help myself.  She is SO inspiring in the very intentional way she lives her life and cares for her family.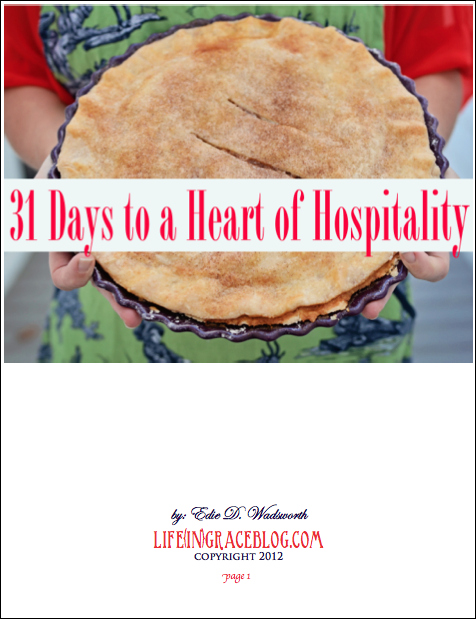 Buy the book. It is only $5, which is less than a latte at Starbucks, and so much better.  Seriously.  It will change you.
Happy Wednesday!
Affiliate links may be used in this post. Printing a coupon or ordering a product through this link may result in a commission, which helps pay for the cost of running this site and keeps the content free. Read my full disclosure policy here.