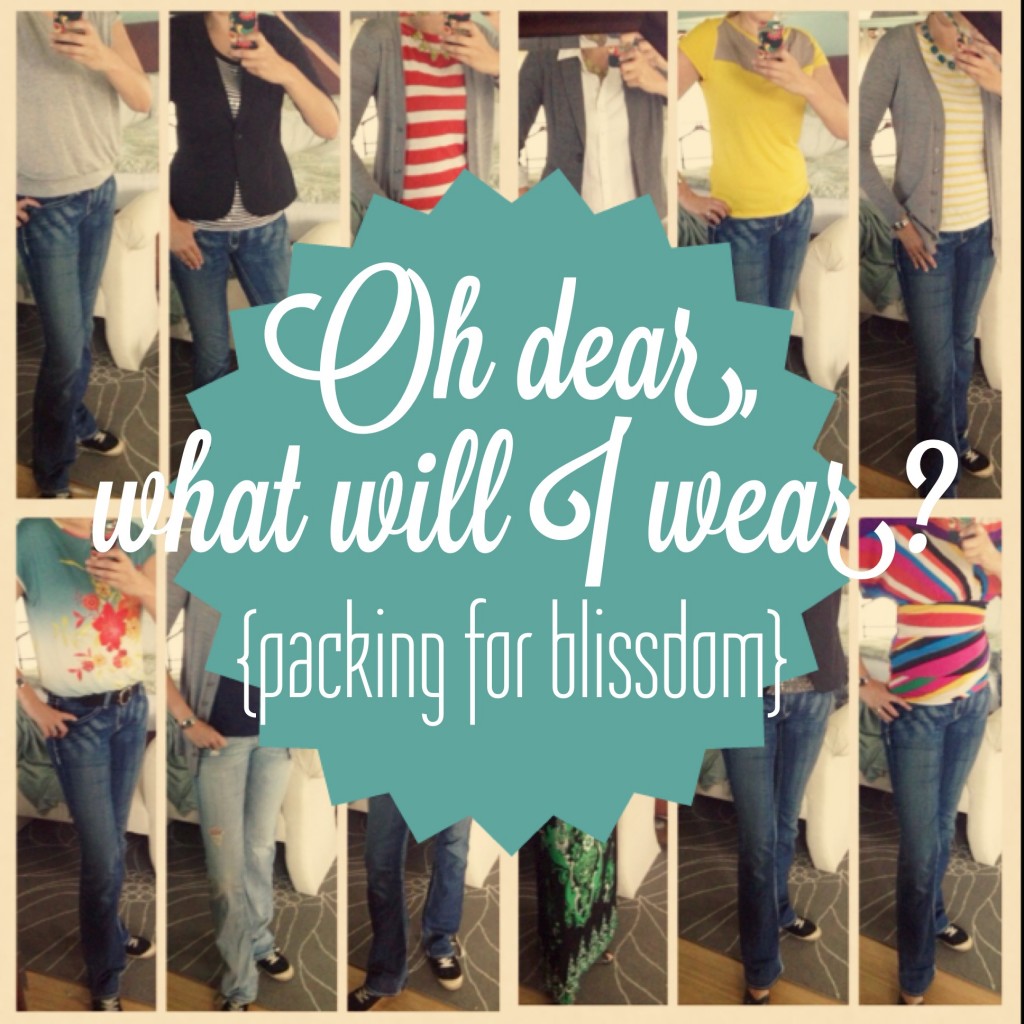 I'm heading off to Blissdom in just a few days, which means I am suddenly feeling very anxious about the most critical of all travel-related questions:
What will I wear?
Don't get me wrong, on a day-to-day basis I truly don't worry that much about what I wear or what I look like.  I work from home, we homeschool…..most days I don't have a lot of incentive to even get dressed, much less put on makeup or do my hair.  Yoga pants are my friend.
But this is different.
Not only will I be surrounded by 700 dynamic, creative, savvy, and undoubtedly uber-fashionable women, I am not kidding you when I tell you that every waking moment of this conference will be Tweeted, Re-Tweeted, Facebooked, Pinned, Instagrammed, You-Tubed, and Google +'d.  We're bloggers, for goodness sake.  Sharing everything–even my bad fashion choices–is what we do.
Oh, the pressure.
The old Ruth wouldn't have thought twice about heading to the mall to pick up a few new things whole new wardrobe.  But that was then and this is now.  This new Ruth foolishly writes an article about how to be more content the day before remembering that despite having a closet full of clothes,  I have nothing to wear!  What was I thinking?  Couldn't that whole contentment thing have waited another week?
But my friends, that is why I write this blog.  You are here to hold me accountable and now, to offer your fashion expertise.
Because guess what?   For perhaps the first time ever, I didn't go shopping.  Instead I tried on everything in my closet and came up with 12 outfits I could live with.  I'm pretty sure I won't be making any best-dressed lists this year, but I've made my peace with it.  Truth is, even if I had gone shopping I probably still wouldn't have made the list.  I'm just not that fashionable.  And besides, I don't think there actually is a best dressed list (outside my own pitifully insecure mind.)
But I now have 12 outfits that I need YOU to help me narrow down to 3 daytime outfits and 2 evening outfits.  And yes, I realize that all my outfits–even the so-called "evening" looks–involve denim and most of them involve sneakers.  That's just how I roll.
So lay it on me……which outfits do you like best?
Affiliate links may be used in this post. Printing a coupon or ordering a product through this link may result in a commission, which helps pay for the cost of running this site and keeps the content free. Read my full disclosure policy here.