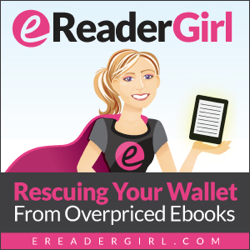 I am absolutely thrilled to introduce you to this month's featured site sponsor, eReaderGirl.com, and I know that those of you who love your Kindle as much as I do will be especially excited!  eReader Girl.com is a free website created specifically to help you find all the best FREE and discounted eBook deals for women.  Each day they highlight 15-20 different FREE books in three basic categories, Nonfiction, Children's books, and Christian Fiction.
I love reading in the evenings, and I also love the convenience of my eReader.  I don't even have to leave my seat to get a new book! Of course all that convenience can add up to a lot of books–and a lot of money if I'm not careful–over the course of the year.  Taking advantage of free book deals on Amazon is a great way to cut costs, but only if you can find them.  That's where eReader Girl comes in–she's already found and selected all the best free book deals each day.  All you have to do is download them.  Genius.
My favorite thing about eReader Girl is that she only features the really good stuff that is actually worth your time.  There are a lot of free books that can end up being really junky & poor quality.  eReader Girl sifts through the junk to get to the good stuff so that you don't have to.
Even if you don't have a Kindle (yet) you can download the free Kindle reading app onto your computer, tablet, or smartphone.  You can even use the same account on multiple devices so that you can have your whole library with you everywhere you go.  Love that feature!
Be sure to go check out eReaderGirl.com, then add it to your daily reading list so you don't miss any great free books!  While you're there be sure to say thanks for supporting LWSL this month!
*   *   *
Do you use an eReader?  Why or why not?
Pin It
Affiliate links may be used in this post. Printing a coupon or ordering a product through this link may result in a commission, which helps pay for the cost of running this site and keeps the content free. Read my full disclosure policy here.