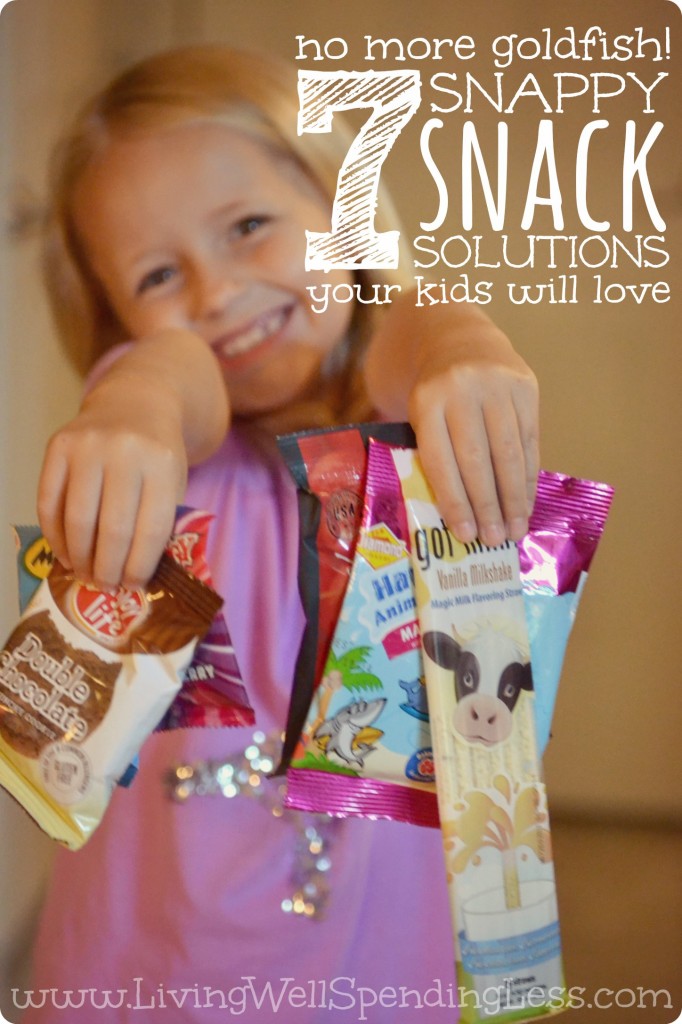 Between trying to provide well-balanced lunches and satisfying mid-afternoon tummy grumblings, coming up with easy, tasty, and (relatively) healthy snack options can sometimes be a challenge.
A few weeks ago, when I discovered that my kids were so tired of goldfish that they wouldn't even eat them anymore, I knew it was definitely time to break out of our snack time rut.  Naturally, like any tech-savvy modern mom, my first step was to start a Pinterest board dedicated to finding some new ideas that could put a little snap back into our snacks.
My next step, of course, was convincing my kids to try something new.  Since we have a rule that they have to try something three separate times before they are allowed to say they don't like it, this actually  wasn't too tough.  Amazingly enough, we came up with some great (and super easy) new ideas (or variations on old ones) that have made snack time a lot more fun
Here are our seven favorite new snack time solutions:
Roll It Up
Spread a tortilla with peanut butter or cream cheese, then add anything from turkey or ham to raisins, bananas, olives, pickles, or even jelly, roll it up, and call it a snack.   These make a great alternative to a sandwich in school lunches, or slice the rolls for a quick & easy after-school snack.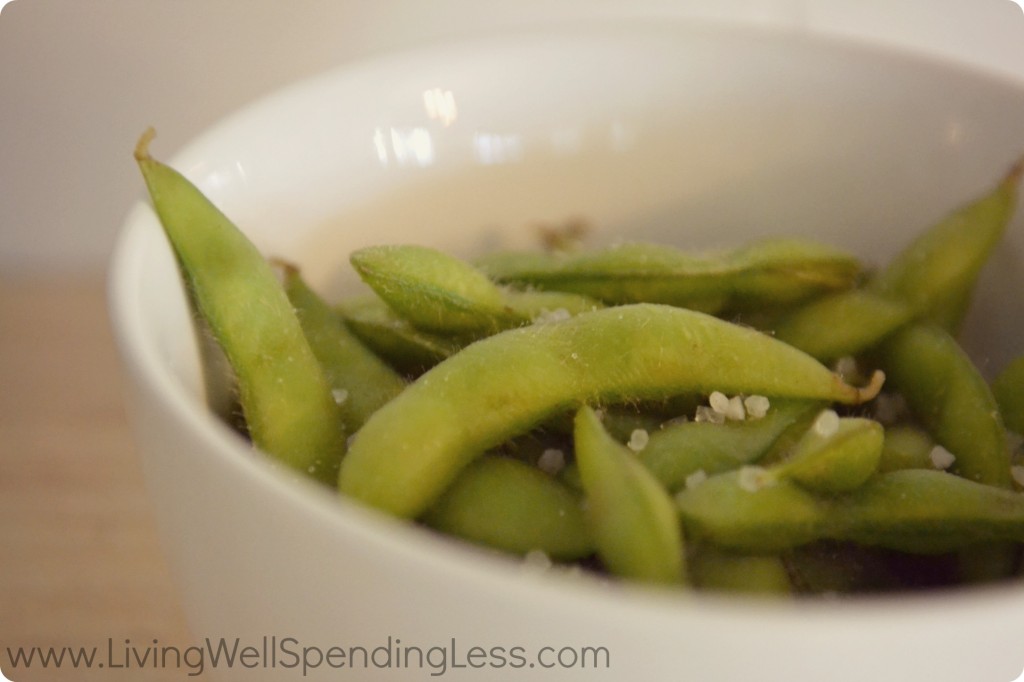 Make It Edamame
Who knew these little green soybeans with the funny name could be such a hit with the kiddos?   Not only are they packed with protein and fun to eat, they are absolutely delicious.  We keep a stash of frozen individual-sized microwave steam packs on hand in the freezer for quick lunches or a hearty snack at home.  They are also great roasted & salted to pack along on the road.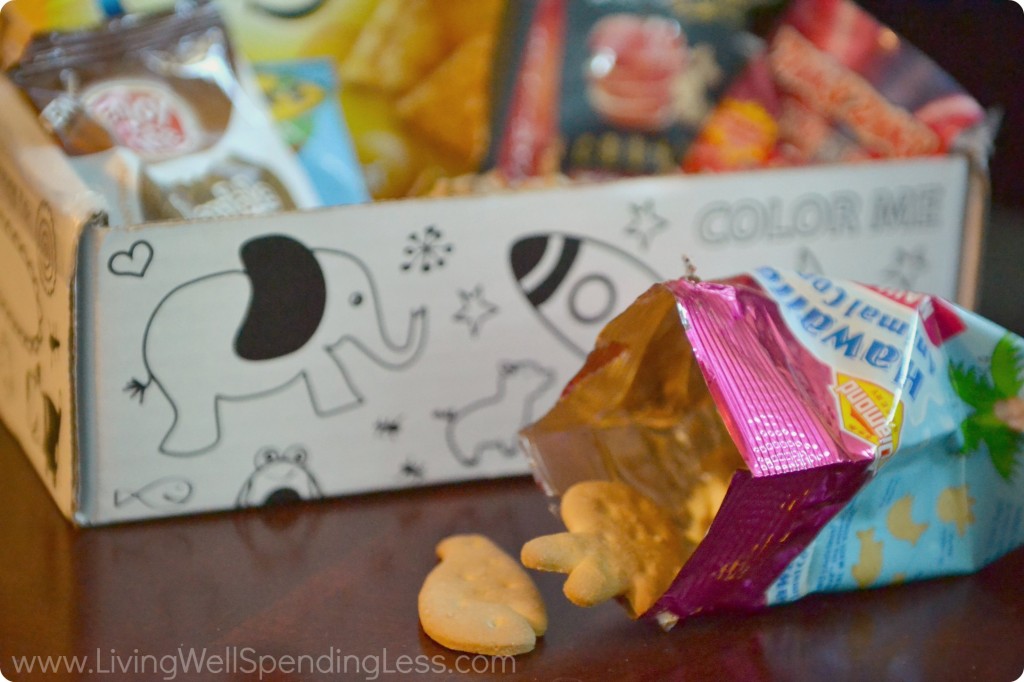 Ship It
Did you know that for only $7 a month (including shipping!) you can receive a whole box full of new kid-friendly snacks to try?  Goodies.co was launched by Walmart last fall as a subscription service for receiving a taster's box of new snack products, and I have to say, the concept is seriously BRILLIANT!  How great is it to be able to try a whole variety of snacks in one shot?
The service has been so popular that they are launching a KIDS version this August with a fun box full of kid-friendly snacks to try out.  Can I just say that my kids thought they had died and gone to heaven when our sneak-peek box arrived?  Even the box itself, which came ready-to-color, was a huge hit and they are already asking when their next package is going to come.  I can't think of a better–or more fun–way to try out a selection of new snacks.  (Note: The sign-up deadline for receiving the August box is July 25th–you can get signed up here and use promo code LIVINGWELLSPENDINGLESS to bypass the waiting list.   Score!)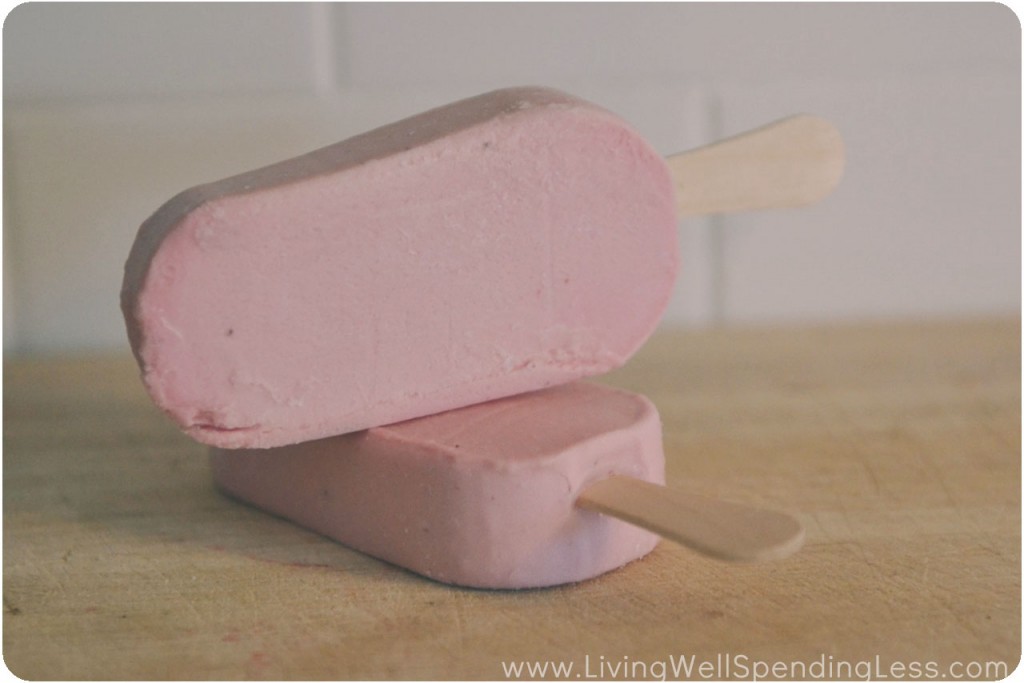 Freeze It
Maybe it is just that we live in Florida, but somehow frozen treats just taste better.  Make your own frozen yogurt or fruit pops by blending yogurt, fruit, or juice (or all three), then pour it into a paper cup, pop in a paper straw or popsicle stick, and freeze over night.   If that seems like too much effort, look for yummy frozen greek yogurt pops, or simply freeze some grapes and call it good.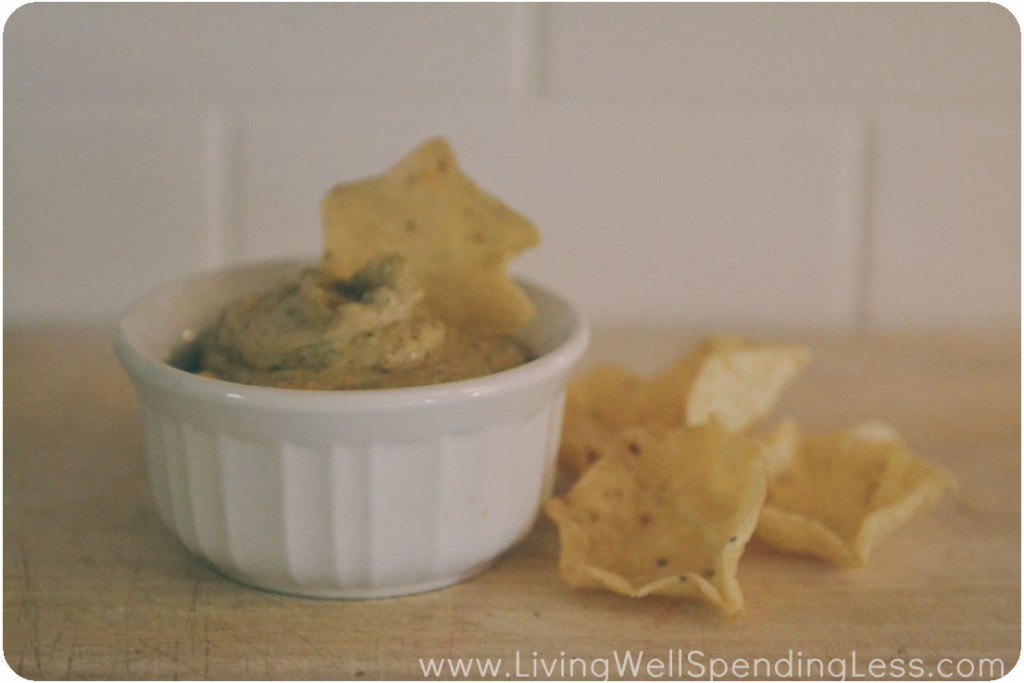 Make It Hummus
Hummus is a simple but delicious dip made from pureed chickpeas mixed with a little tahini, garlic, and olive oil.  My kids can't get enough of it!  It is super simple to whip up from scratch, but the store-bought stuff is pretty tasty too.  It has tons of healthy protein and tastes great served with pita chips or carrot & celery sticks.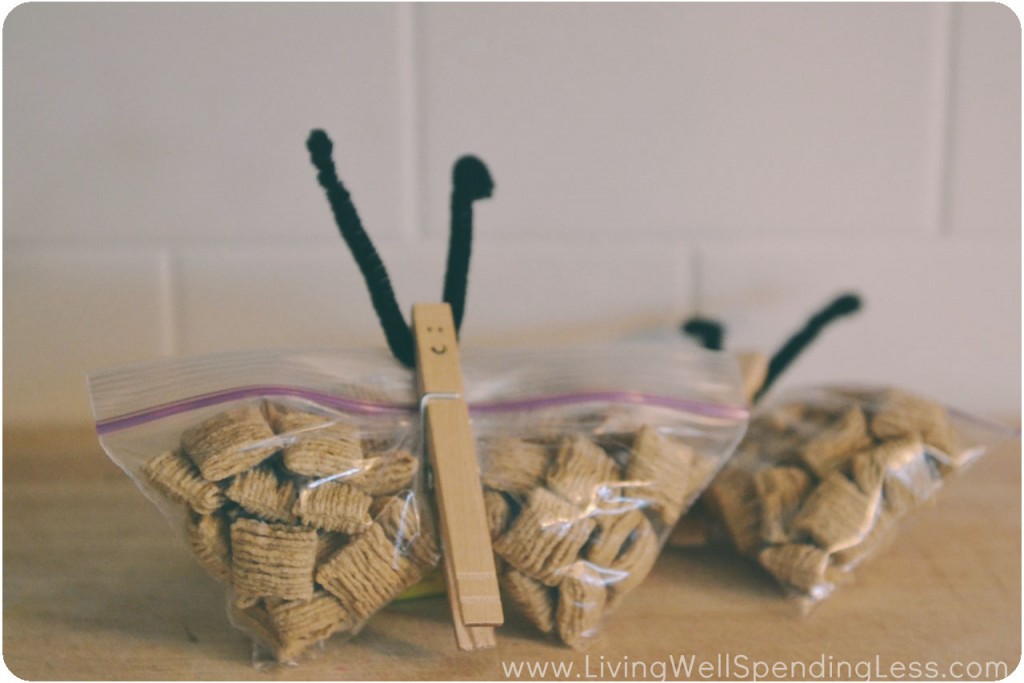 Jazz It Up
If you have to keep on serving the same old stuff, why not at least market it better?  Snack-size bags filled with nuts, raisins, cereal, or other small stacks can be cinched in the middle with a clothespin to make an instant butterfly.  For another fun idea, try writing on a banana with a toothpick so that a message shows up a few hours later.  What kid wouldn't love that?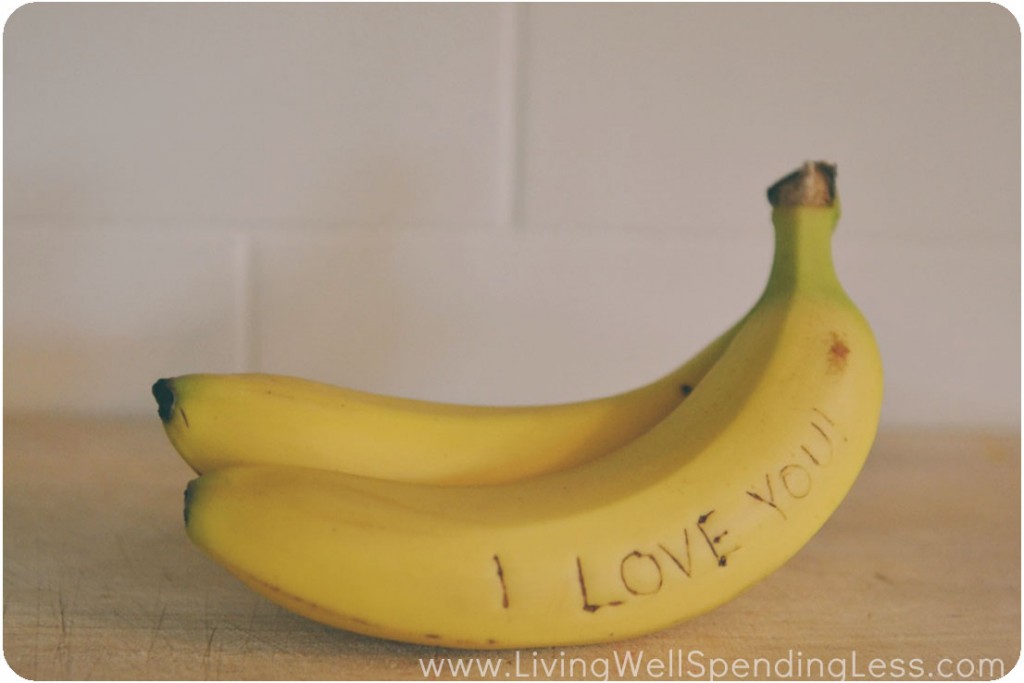 Kebab It
It is a scientifically proven fact that fruit, cheese, or veggies on a stick just taste better.  Okay, maybe not scientifically proven, but pretty much a foregone conclusion in this house!  The happy reaction is definitely worth the very small amount of effort.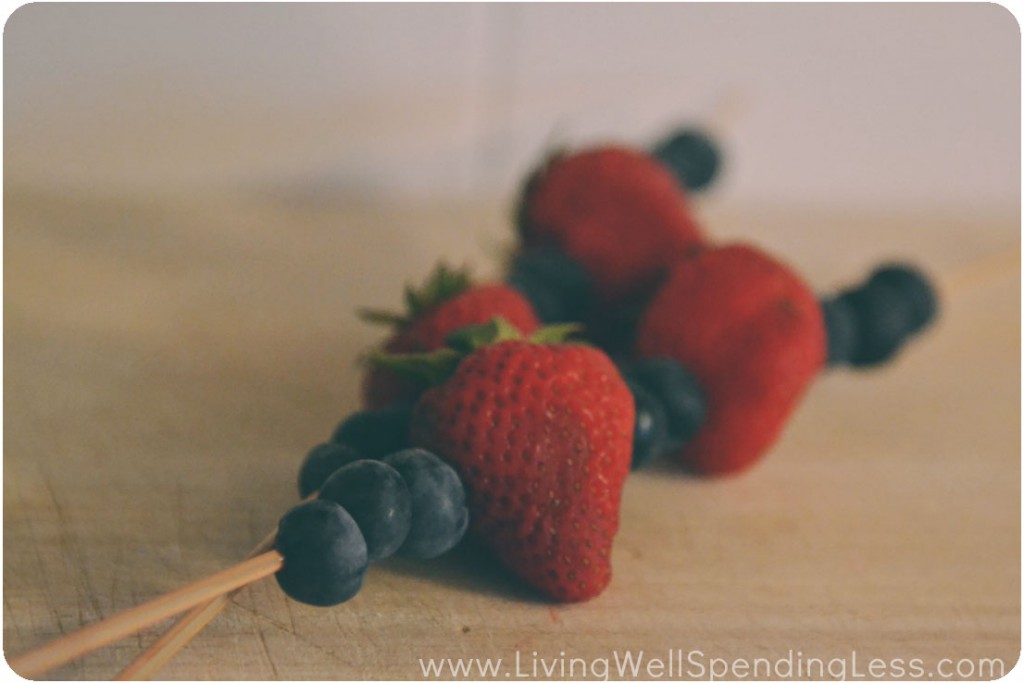 Transform It
If your kids are constantly begging for candy, cake, & other junk food, why not find a few healthy (or healthiER) recipes that can satisfy their sweet tooth without sabotaging your efforts to fill their bellies with nutritious meals.  Instead of a candy bar or brownies, try these amazing-looking no-bake chocolate oatmeal bars, or swap out grease-filled potato chips for some yummy oven baked fries.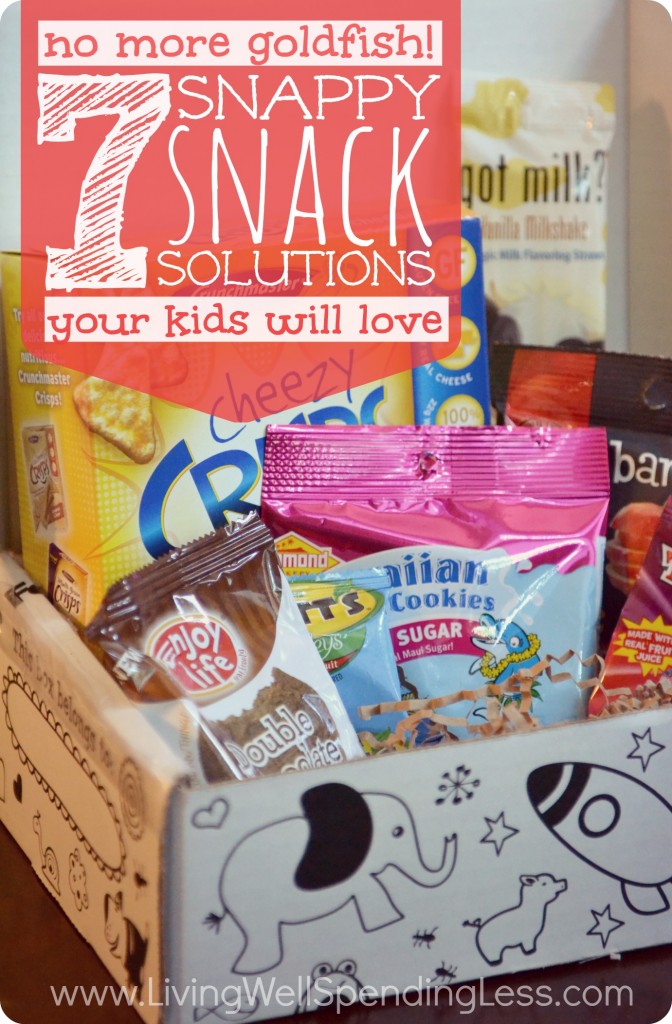 This post was underwritten by Goodies.co.  All opinions are mine.  Goodies.co snack boxes are a fun & thrifty way to "try before you buy" a variety of great new snack products geared towards kids ages 5-8.  For just $7, get a whole box of goodies conveniently shipped straight to your door, then enjoy watching your kids' anticipation build as they wait to find out what yummy snacks are in their box each month.

There is currently a waiting list for this service, but right now you can skip the line and sign up for your snack box here, using promo code LIVINGWELLSPENDINGLESS.  The last day to sign up in time to receive the August box is July 25th; sign-ups after that will receive your first box in September.   UPDATE:  The August box has sold out.
*   *   *
What are your favorite snack time solutions? 
Pin It
Affiliate links may be used in this post. Printing a coupon or ordering a product through this link may result in a commission, which helps pay for the cost of running this site and keeps the content free. Read my full disclosure policy here.