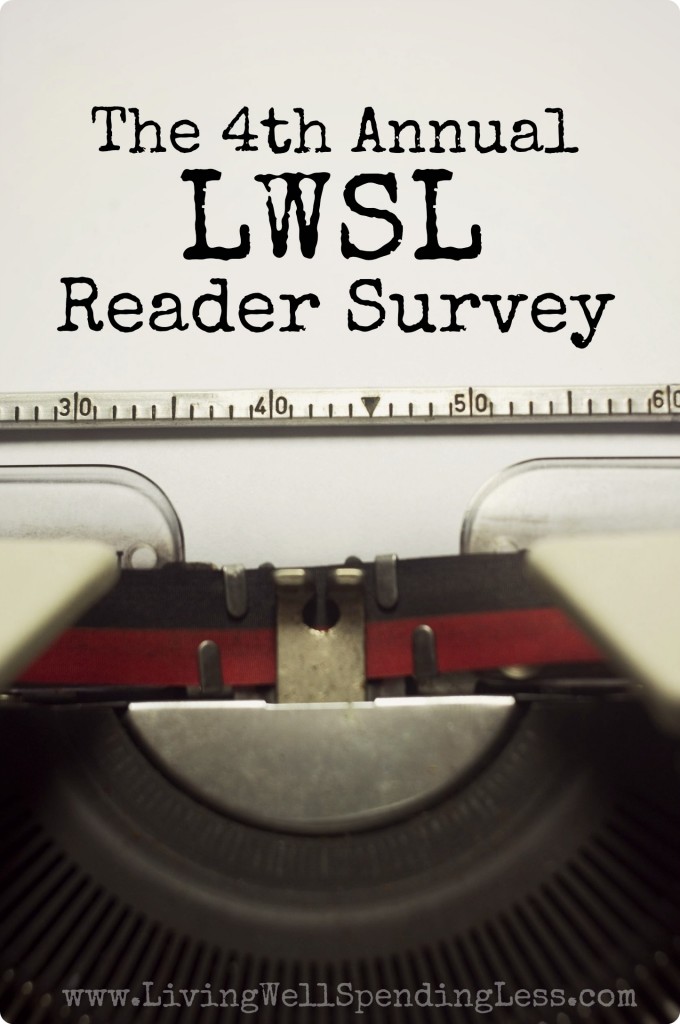 It's that time again!  Once a year I like to do a little reader survey to get a clearer picture of what you all think about this blog & what keeps you coming back for more.
The vast majority of you will never leave a single comment, which is why your feedback in this survey is so important to me.  I use this to help me gauge what type of posts you'd like to see more of and what things you're not that crazy about.  Past years' surveys have helped shape this blog into what it is today, and your feedback will only make this blog better in the months and years to come.
I hope you will humor me and take a few minutes to answer these questions honestly.  I promise it won't take long!   You can answer them anonymously, or, if you'd like, you can leave your email address at the end of the survey, and I will randomly pick one respondent to win a $50 Amazon gift card on September 30th.  Thank you all in advance for your help and for your feedback.  It means the world to me!
UPDATE:
This year's reader survey is now closed, but if you have specific feedback about this site you would like to share please leave a comment below or contact me at admin@livingwellspendingless.com.  Congratulations to reader Ganel, the winner of the $50 Amazon Gift Card!
It was so great to get your feedback on what you love about LWSL (and what you could live without).  Not surprisingly, there was a lot of variation, but it looks almost all of you love money saving tips, so I will definitely try to provide more of those when I can.  Cleaning & organizing posts were also very popular, followed closely by recipes, DIY Projects, & parenting posts.
The most interesting response to this year's survey for me was the feedback about Thrifty Thursday, which is new this year.  About a third of you LOVE it, a third of you could live without it, and the last third is completely confused by it.  For those of you who don't get it, I thought I would take a minute to explain.
Basically, this weekly link party is an opportunity for other blogs to share their own budget-friendly blog posts, anything from recipes to DIY projects, to money-saving tips & other household ideas.  It is also a way for you, the reader, to possibly discover some great new blogs by scanning the photos & descriptions below, then clicking on any that catch your eye.  Over the years I have found some of my favorite blogs through link parties, and I wanted to provide a place to gather other frugally-minded bloggers as a resource that we all could enjoy.  Hopefully that helps now make more sense!
I was surprised to realize that more than 60% of you have never left a single blog comment, and that many of you don't understand how to do so.  Commenting here on LWSL is super easy and it is a great way to stay connected and join the conversation, and I do read each and every comment!  Here is a quick graphic that explains how to comment, in case you've been wondering: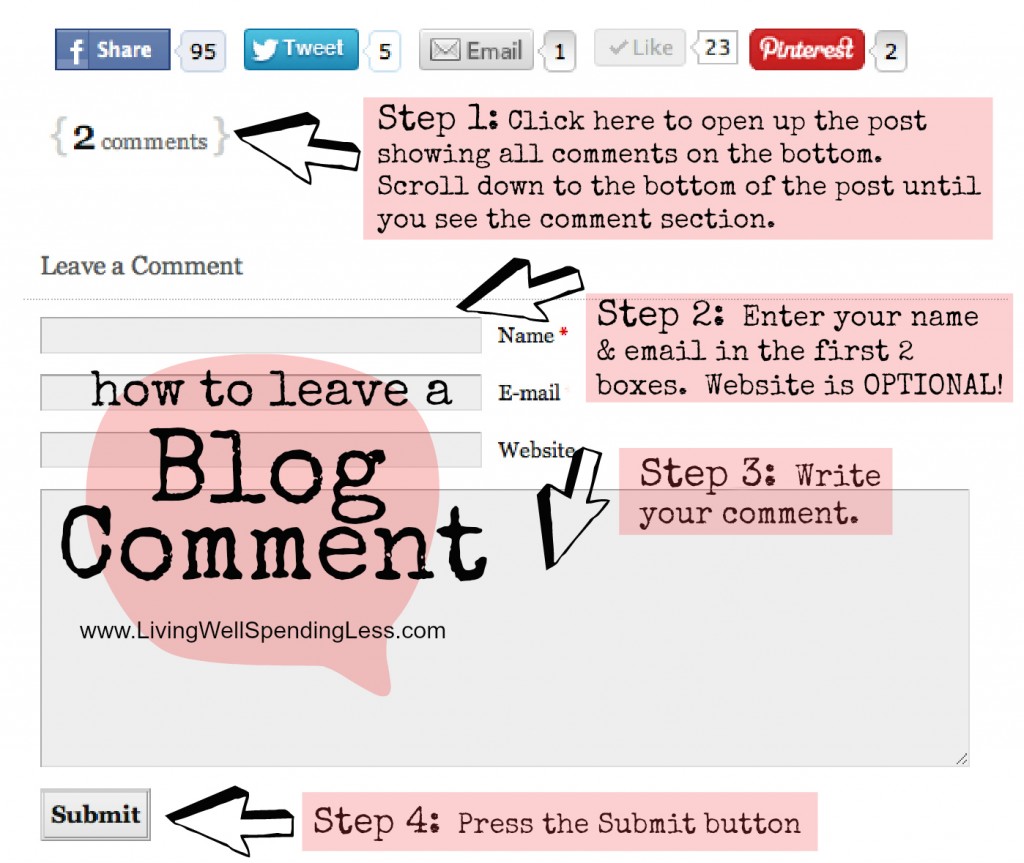 Easy right?  :-)
The responses to what you like most about LWSL definitely ran the gamut, from the money saving & coupon tips to the recipes to the fact that I am so "real."  (Does that mean flawed?  If so, YES!)   I'm actually so relieved to know that is how I come across because it is definitely important to me to be completely authentic and real with you guys!  My life is not perfect, my kids are not perfect, and my house is certainly not sparkling clean all the time.  Thank goodness for grace!
There wasn't a lot of stuff you wanted to see changed, but the one thing that did come up a few times was that there are too many ads.  I'm very sorry because I know they are not very pretty sometimes, but the ads have to stay because they keep this site running.  Please know that the companies & advertisers I work with get absolutely no say in what I actually write, and I promise it will stay that way!
Finally, you all had some AWESOME ideas for future post ideas you'd like to see, and my mind is turning!  There were a few requests for gardening tips, of which I have NONE.  People, I have the brownest thumb of anyone I have ever met, and trust me, the minute I learn how to make a plant live long enough to produce something, you will be the first to know!  There were also some great ideas for budgeting, cleaning & organizing, & saving money that I will try to get to soon.
Thank all again for your feedback, and thanks so much for reading!
xoxo,
Ruth
Pin It
Affiliate links may be used in this post. Printing a coupon or ordering a product through this link may result in a commission, which helps pay for the cost of running this site and keeps the content free. Read my full disclosure policy here.