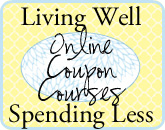 You read the blog.  You've read through my Beginner's Guide to Coupon series.  You still don't get it.  Maybe you watched TLC's Extreme Couponing or Extreme Couponing All Stars and now are ready to start saving money on your grocery bill.  You wish you could attend a workshop, but Florida is far, far away.
Sound familiar?
If so, than an online class might be for you:
The LWSL Beginner's Guide to Coupons Online Course is a six-week class that will start with the very basics of extreme couponing–getting organized–and then move on learning how to use coupons to begin saving 50% or more off your grocery bill.  It will also cover building a stockpile and learning how to shop the drugstores.
The class is facilitated through Growth Education.  Each week your lesson & assignment will be available online, and will feature exclusive videos in addition to the class text, as well as access to a class Skype chat room where you will be able to ask questions of me and other class participants.  All in all, it should be a lot of fun!
2012 Class Start Dates:
Tuesday, January 17, 2012
Tuesday, February 14, 2012
Tuesday, March 06, 2012
Tuesday, April 03, 2012
Tuesday, April 24, 2012
Tuesday, June 12, 2012
To enroll, click on the following link:
Course price: $49.99
Affiliate links may be used in this post. Printing a coupon or ordering a product through this link may result in a commission, which helps pay for the cost of running this site and keeps the content free. Read my full disclosure policy here.