Want to give your space a lift while you're at home during this time? You don't need a crazy budget for a full-fledged makeover! Don't miss these 7 smart ideas to decorate with things you already have on hand.
I am not a decorator. Not even close. And while my home is lovely, I know it will never be featured in House Beautiful or Better Homes & Gardens. And the thing is—I am totally okay with that. My goal is not to win any decorating awards, but to have a functional, cozy space that I love. For me, that means a space that is organized, free of clutter, and reflects my family's interests.
And most of the time, I feel like it does, but every few months I start getting an itch to do a little redecorating. While it's usually inspiration from Pinterest, a magazine photo, or remembering something cute during the last visit to a friend's house, right now I definitely think it's because we're currently quarantined at home due to the global pandemic. Over the years I've realized that change and beauty are necessary to keep us inspired and motivated, so I am always on the lookout for new, fun, and inexpensive ideas to breathe a little fresh air into my décor, without having to leave the house.
As anybody who's gone through the pain of a remodel knows: real, serious, redecorating can be quite an undertaking—not only because of the schedule disruption (and spatial disruption), but also the mounting costs to your pocketbook. The whole process can wreak havoc on your budget…and your sanity! But sometimes we all need a little refresher to our living space. Rather than going wild at Pottery Barn or even IKEA (which we can't do right now), there are simple ways that anyone can enjoy a new look, even on the tightest shoestring budget.
Here are 7 Ways to Decorate with Things You Already Have
1. Rearrange
One of the easiest, least expensive things is do rearrange the furniture you own. Try something different—split up your sectional, put your bed on the opposite wall, or change the end table to the other side of the chair.
Enlist the help of a husband or patient friend, and try switching things up. If you're very particular about the process, you'll want to use a measuring tape and sketch out your plan beforehand. If you're moving very large items, keep in mind the placement of artwork, wall hangings and lighting.
Rearranging can be a simple undertaking or a day-long project. If you're really set on the arrangement you have or if your furniture really only works in one set up, try changing out table items. Move the accessories from the living room to the dining room or move in a lamp from the bedroom to a corner of your office.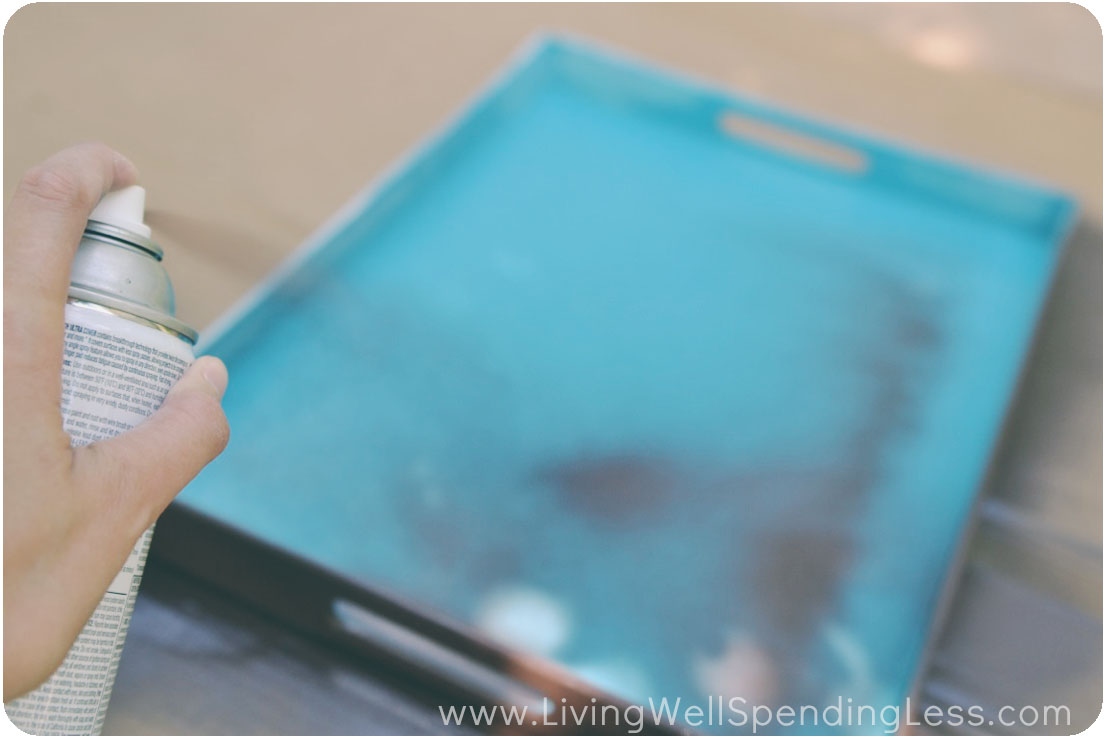 2. Apply a Fresh Coat
Have any paint lying around? Adding a new paint color to anything can change the whole look of a piece. Watch for a thrift store or flea market piece, sand it, add a fresh color—and voila! Tea-carts, end tables and plant stands can be a great place to start. Bookshelves really stand out when the back is painted. The effect is subtle, but definitely gets noticed.
Many stores offer small "sample" paint bottles that have enough paint to cover a very small item. Spray paint can also work beautifully and can really add a lot of oomph for just a few dollars.
If you have a box of outdated knickknacks somewhere, you'll be amazed what a coat of white paint can do. Cover picture frames and a few vases or flowerpots with a glossy white paint and you suddenly have a collection of fine "porcelain" accessories that look amazingly uniform and chic on a bookshelf. Try black, red or any solid color. (Watch out though—painting can get addicting!)
Fabric can also be painted. Any canvas-like fabric will take well to latex paint. Rugs and pillows (although not as comfortable) can be easily covered. The old standby of Rit Dye can be used to dye washable fabrics, like throws, as well as curtains. Be sure you test the dye first and don't color anything you're too attached to. Mistakes can happen, of course, but so can happy accidents.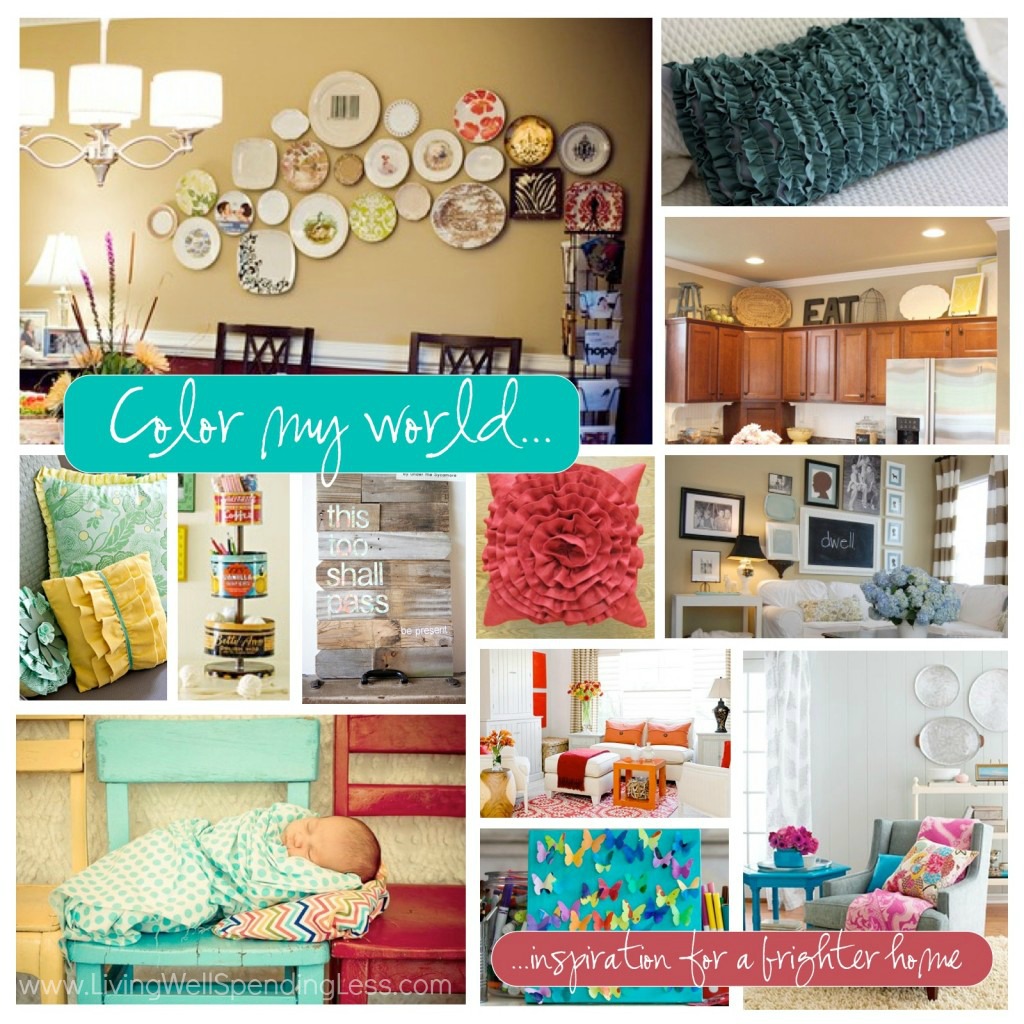 3. Add Accent Colors for POP!
Assess your room and look for a contrasting color to add some life—a few strategically placed items in red or orange, or a rosy, happy hue can punch up a room. Add red ribbons as tiebacks on blue curtains or add them to trim the edge of a white lampshade in a fun color.
If you aren't sure what goes with your current color scheme, check out a fabric store (many have ship to home options now). Look for swatches that contain the main colors from your décor, plus an accent. Often remnants can be purchased for deep discounts. Try covering a few throw pillows for a great and easy look. If sewing just isn't your thing, try covering a dining chair seat. Believe it or not—just a little stretching and stapling can give you an instant room makeover with absolutely zero sewing.
Also look for subtle colors already in the room, like a hint of yellow in an accent rug, or a bit of blue in a piece of artwork. Once you've found a color that speaks to you, add it here and there, and watch as it stands out.
When in doubt, metallic can make a huge statement—plus, it really goes with everything. Chrome paint, silver trim or brass accents can be achieved with a little paint. New vintage-look drawer pulls or handles can be purchased at home improvement stores and closeouts, adding a lot of bang for your buck.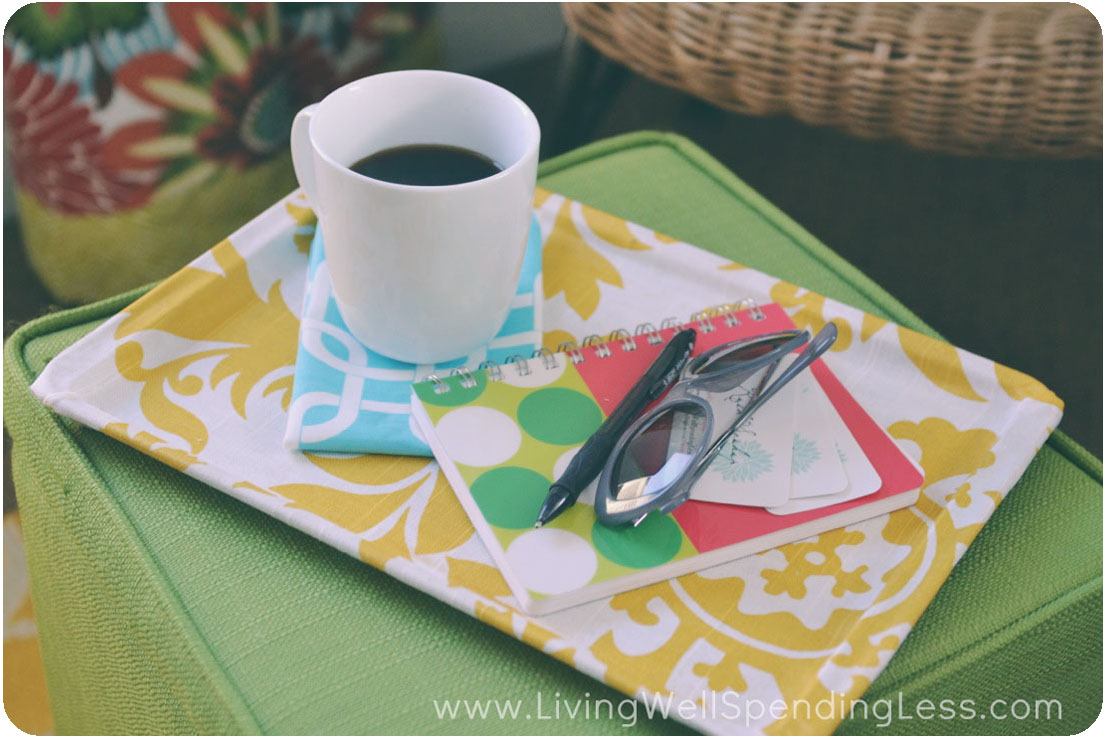 4. Get Artsy with Decoupage
Everything old is new again…the 1960s and 70s trend of decoupage can be used in surprisingly fresh and interesting ways to give new life to all sorts of items. A bottle of Mod Podge is just a few dollars and available online. Simply follow the instructions and hit the final product with a coat of polyurethane to finish.
Try covering some clear bottles (you can reuse candle jars) with tissue paper and decoupage medium. The effect is surprisingly glass-like and beautiful and it can really bring out an accent color. Use washi tape, scrapbook or origami papers in pretty patterns to cover aluminum cans to spice up a desk or to use as a cute herb planter in a kitchen window, or use pretty fabric to cover an old cookie sheet for an instant tray.
Frames and boxes also look beautiful with a decoupage cover made of wrapping paper or decorative paper. For something a little funkier, try maps or vintage magazine pictures and clippings. Go really wild and cover a tabletop or surface. The trick to keeping things fresh is to use a uniform color scheme, such as black and white with blue accents.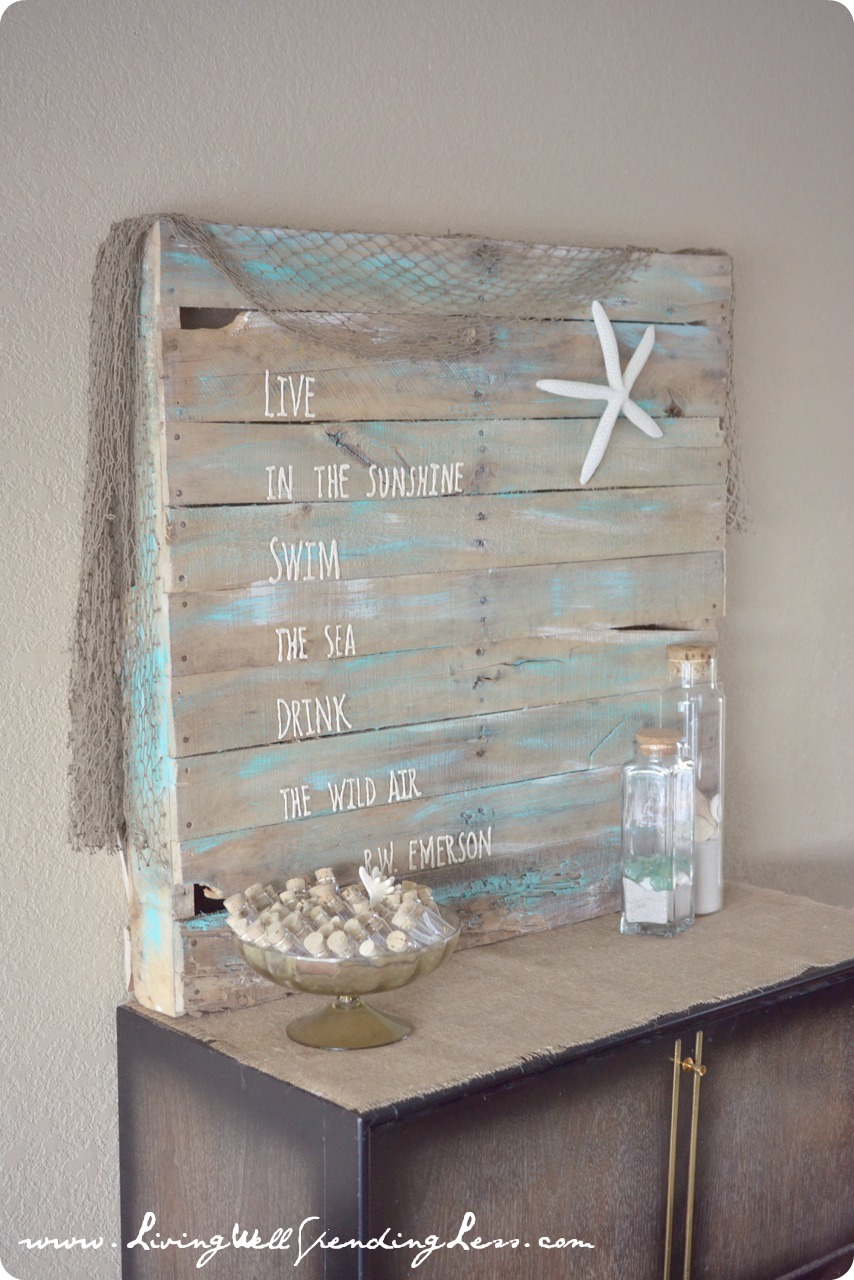 5. Share Meaningful Memories
Decorate using items that are meaningful and important to you—it's one of the most impactful ways to decorate any space. Framed pieces created and drawn by a child? A framed map outlining the route of a recent family vacation? Some of the best "art" I've ever seen!
Bring the outdoors in. The next time you go on a family hike or trip to the beach, collect seashells, rocks or other small items and group them on a bookshelf. Mount a wine cork from your anniversary on a piece of white foam core, include the date and frame in an inexpensive shadow box.
The impact of like-items is huge. Frame the tickets from a sporting event and group them with your son's prized bobble-head and signed ball. Every time you pass the shelf you'll smile and remember that day.
On the same token, avoid feeling too "themey" or tied to one idea. Themed rooms can quickly become dated or feel too contrived. By adding just a few items that are meaningful and cherished, you can be sure that your house reflects your family and doesn't feel cluttered or overwhelming.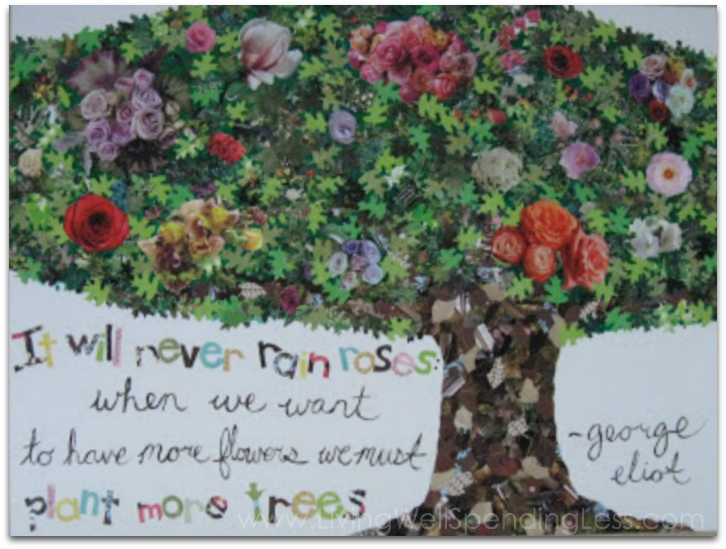 6. Go Big
If you want a lot of impact for very little cost, try a DIY art project on one wall of a room. While this is not for the faint of heart, it can offer a huge return with little investment. The canvas above is one I made to fill the huge wall above our library. It is very large and it took forever to make, but five years later, I still love it. It is also the first thing most people comment on in our home!
Try a modern look by painting a few canvases with a solid color or adding a gradation effect by fading one color into another. Young Picassos can try their hand, too! Your kids will be thrilled when their work is receiving compliments as the modern wall hanging in the dining room.
Black and white photo prints literally make everything look great. Try converting some family favorites to black and white, then grouping them together on a wall. Printing them out and placing several together in dollar store frames can make quite a statement. To add a little more to the look, try painting a series of different vintage frames a uniform color.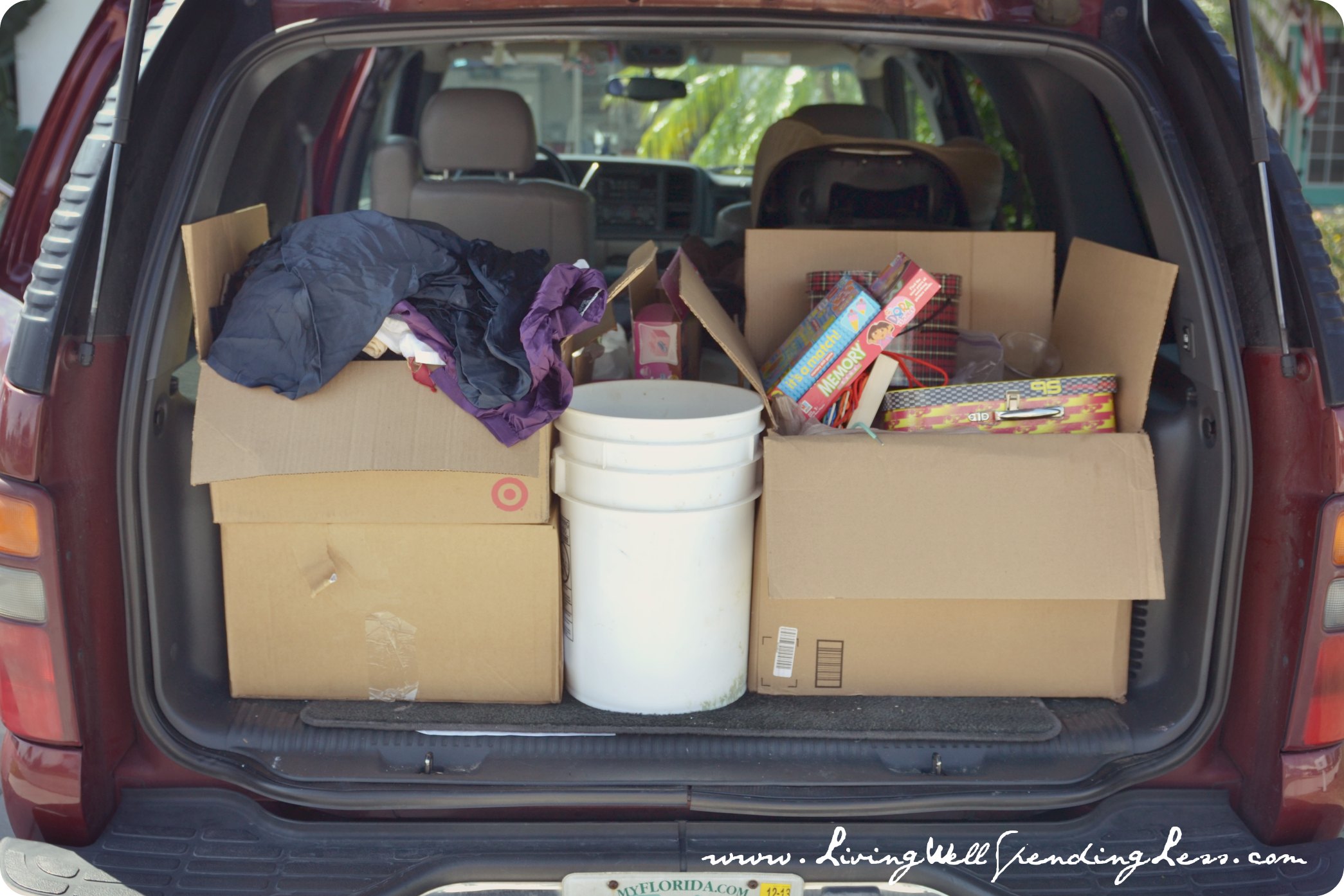 7. Declutter
Sometimes we forget that the best decorating doesn't come from adding new things, but from paring down to the items you really love. As much as I tell myself that a quick trip to Target will be the answer to my slump, the truth is that most of my restlessness in decorating comes from having too much stuff, not too little. It is always amazing to me how much more I love and enjoy my spaces after I have spent some time getting rid of the things I don't really like that much.
To summarize, here are the 7 effective methods to decorating with items you already have:
Rearrange
Apply a Fresh Coat
Add Accent Colors for POP!
Get Artsy with Decoupage
Share Meaningful Memories
Go Big
Declutter
Take it Slow….
With just a little bit of time and effort, you can have the change you crave without spending a fortune. And don't worry about doing everything all at once. Decorating isn't about expensive designer items, but about using the items that are important, meaningful and joyful to you and using them to inspire within your home. Figuring out what you really like can take a while. I know it has for me!
Share your ideas with others and look on Pinterest and or design blogs for ideas. Keep notes on things you like. What doesn't work for your house in the summer may really warm it up in the winter. Find inspiration in nature and from your family and those around you, then incorporate that beauty in your home to make it exactly what you want it to be.
Inexpensive Decorating Projects
Still not sure where to start? I've done a lot of cheap or free decorating projects over the years! Here are some of my favorites:
PIN FOR LATER: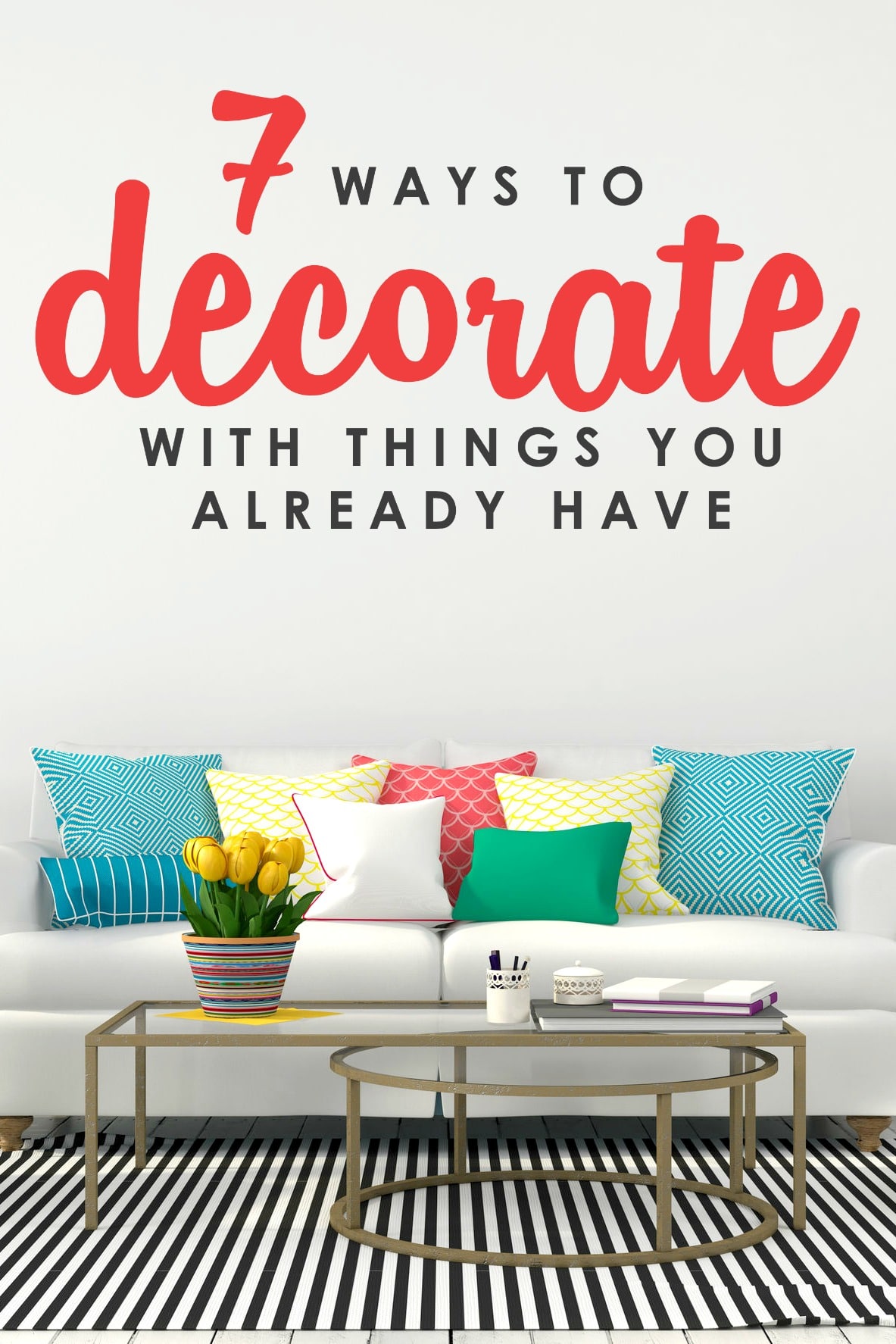 TAKE BACK CONTROL OF YOUR HOME LIFE
---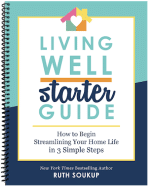 Ever feel like you just can't keep up? Our Living Well Starter Guide will show you how to start streamlining your life in just 3 simple steps. It's a game changer--get it free for a limited time!
If you love this resource, be sure to check out our digital library of helpful tools and resources for cleaning faster, taking control of your budget, organizing your schedule, and getting food on the table easier than ever before.