Save money on these key, must-have household dollar store deals by stocking up at Dollar Tree. But there are a few items to skip. We have the scoop.
It's no secret that costs are rising and people are readjusting their budgets. While everyone has their favorite go-to products, some of them just aren't worth spending more on. So how can you get the same quality for less? Head to your nearest Dollar Tree, of course! Check out the must-have items you can find for a fraction of the cost, and a few you should definitely spend a bit more on!
15 Dollar Store Deals You Should Always Buy
1. Dish sponges
If you like to wash dishes by hand, it's important to have a sponge that can keep up with the grease and grime from dinner. However, spending upwards of five dollars for a good pack of sponges at the leading general retailer just isn't fiscally responsible. Find the same quality for half the price at Dollar Tree!
2. Facial tissue
It's still cold, flu, and Covid season, which means runny noses are everywhere! Stock up on facial tissue without breaking the bank. It may not always be name-brand at Dollar Tree, but it's still name-brand quality!
3. Glassware
For cute cups to sip your favorite cocktail in, glassware can be expensive! If you're looking to save money while still finding products that your friends will fawn over at your next party, spend some time in the Dollar Tree aisles.
4. Food storage
Whether you're a Pyrex person or just like to go with your basic plastic, the Dollar Tree is a great place to find cost-effective ways to store freezer meals and leftovers! See how much you can save before hitting add to cart somewhere else!
5. Aluminum foil / parchment paper
There's no doubt about it, cooking supplies can add up and make a real dent in your budget. Items like foil and parchment paper can be pricey at a local retailer, but we found them for almost two dollars less at Dollar Tree.
6. Hair accessories
Scrunchies are back, y'all! Whether that's exciting or cringey for you, hair accessories are back in full force for all ages. So, how do you stay fashionable without spending your wardrobe budget on hair ties? You already know where we're going to go! You can get a pack of claw clips at Dollar Tree for under two dollars, where one claw clip at a place like Urban Outfitters is upwards of five dollars!
7. Lighters
As we head out of winter and into spring, we still want to keep fireplaces and candles burning, but we also want to get ready to grill. If you're looking for lighters, pinch your pennies and check Dollar Tree first. We found one for $1.25, where it was over four dollars at our local grocery store! That's a pretty big difference!
8. Cotton swabs / cotton rounds
We all know skincare is important, but between face creams and cleansers, it can add up! So what about things we use to spot treat or apply toners, like cotton rounds and cotton swabs?
You can find the same high-quality makeup removal rounds at Dollar Tree for $1.25 that you would find at somewhere like Target for at least two dollars! Saving a few cents may not seem like it will make a difference in your budget, but over the course of a year, it can really add up!
9. Gift bags for all occasions
Have you ever gone to wrap a present and realized you're going to spend half the cost of the gift on the gift wrap? It's so frustrating.
While a local convenience store sells gift bags for over six dollars a bag (depending on size), Dollar Tree has them for less than two dollars, and some in multi-packs! That is a huge saving, and allows you to give more without having to factor in the cost of wrapping!
10. Greeting cards for all occasions
In the same vein as gift bags, greeting cards can be pricey! With some as high as seven dollars, it's no wonder the art of sending cards has gone out the window! Luckily, Dollar Tree has options as low as 50 cents, and they're Hallmark cards!
Think of how many cards you give in a year for everything from baby showers to thank yous, to birthdays, and how much you can save.
11. Party decor
If you're decorating for a party, it can be easy to spend hundreds before you even fill up your cart! Don't let the cost keep you from throwing a bash that no one will forget. Find everything from themed decorations to candles for cakes for as low as a dollar at your local Dollar Tree.
12. Helium balloons
Speaking of decorating for parties, find items like helium balloons for $1.25 at Dollar Tree. Not only do they have plenty of designs for all sorts of parties, but you won't have to skimp on snacks just to make things look good! (By the way, a local party store was showing prices of over two dollars for helium balloons.)
13. Gardening gloves
As the weather turns and the days grow longer, you can spend more time in the yard without spending a ton on Amazon. We found similar styles for (you guessed it), $1.25 at Dollar Tree which would be almost five dollars on Amazon!
14. Flossers
We're all about doing whatever we have to to get kids (and ourselves) to floss. However, individual flossers can get expensive! Why spend four dollars a pack at Wal-Mart when you can spend $1.25 at Dollar Tree?
15. School / office/ mailing supplies
Notebooks, pens, envelopes, paper. It adds up quickly, especially if you have multiple kiddos in school or a home office. Head down the aisles of Dollar Tree and see how much your budget will thank you when you save.
Remember, the quality can be just as good, even if the brand is a name you don't recognize.
5 Dollar Store Items to Avoid
Now, we're all about saving around here, but there are some items we suggest doing your research on and spending a little more. Here are a few items to avoid getting at Dollar Tree:
1. Body care
What you're putting on your skin matters, so always look into ingredients and choose things your dermatologist will thank you for, even if it's a bit pricier!
2. Vitamins/ supplements
What we put in our bodies is as important as what we put on them, so do your due diligence when it comes to vitamins and supplements. Look for fillers and added ingredients. Quality matters!
3. Makeup
The U.S. has very loose restrictions on what can be put in our makeup, and that can lead to bad skin and even illness. Before you buy, look and see why something is so cheap. Odds are there are a lot of additives.
4. Tech products/ accessories
We've all cut corners on tech products and we've all been disappointed. This is an area we say to spend a little more on, even if you need to save up, and always read reviews.
5. Trash bags
The last thing you want is to be hauling a bag of food scraps to the trash can and have it break all over your kitchen floor. Don't skimp on the quality of your trash bags, you'll thank us later!
We know you want to give your family the best, and that you want to save as much as possible. That's why we are always on the lookout for ways to balance your budget but still enjoy a lifestyle of simplicity and ease when possible. Dollar Tree can help with that.
Saving a few dollars may not look like much at first, but it adds up over time and can save you hundreds over the course of a year! Just remember to do a little planning beforehand to make the most out of every shopping trip.
You've got this!
You may also want to check out:
PIN FOR LATER: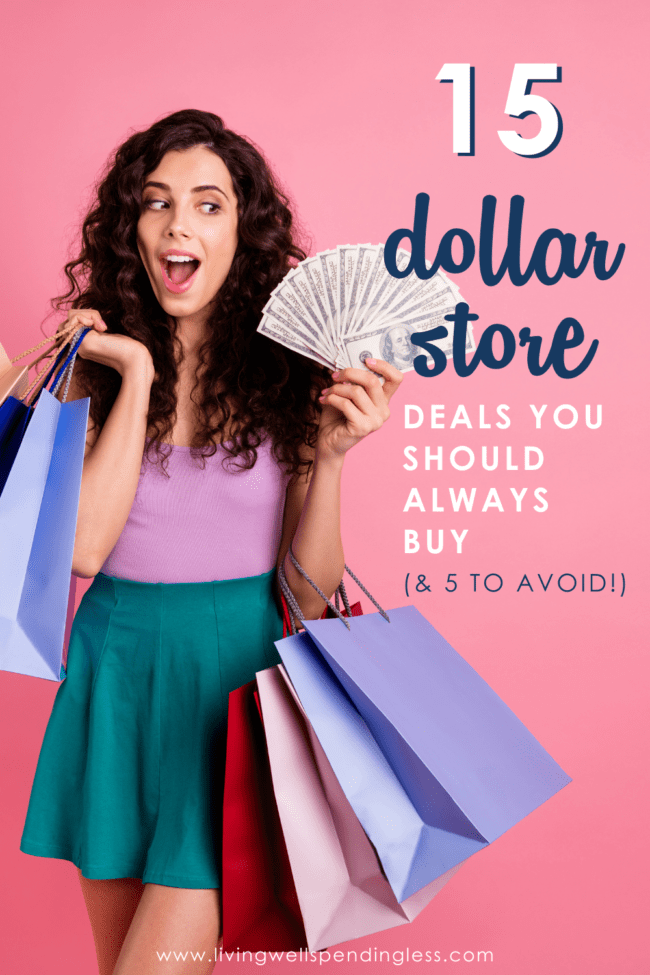 TAKE BACK CONTROL OF YOUR HOME LIFE
---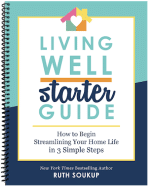 Ever feel like you just can't keep up? Our Living Well Starter Guide will show you how to start streamlining your life in just 3 simple steps. It's a game changer--get it free for a limited time!
If you love this resource, be sure to check out our digital library of helpful tools and resources for cleaning faster, taking control of your budget, organizing your schedule, and getting food on the table easier than ever before.