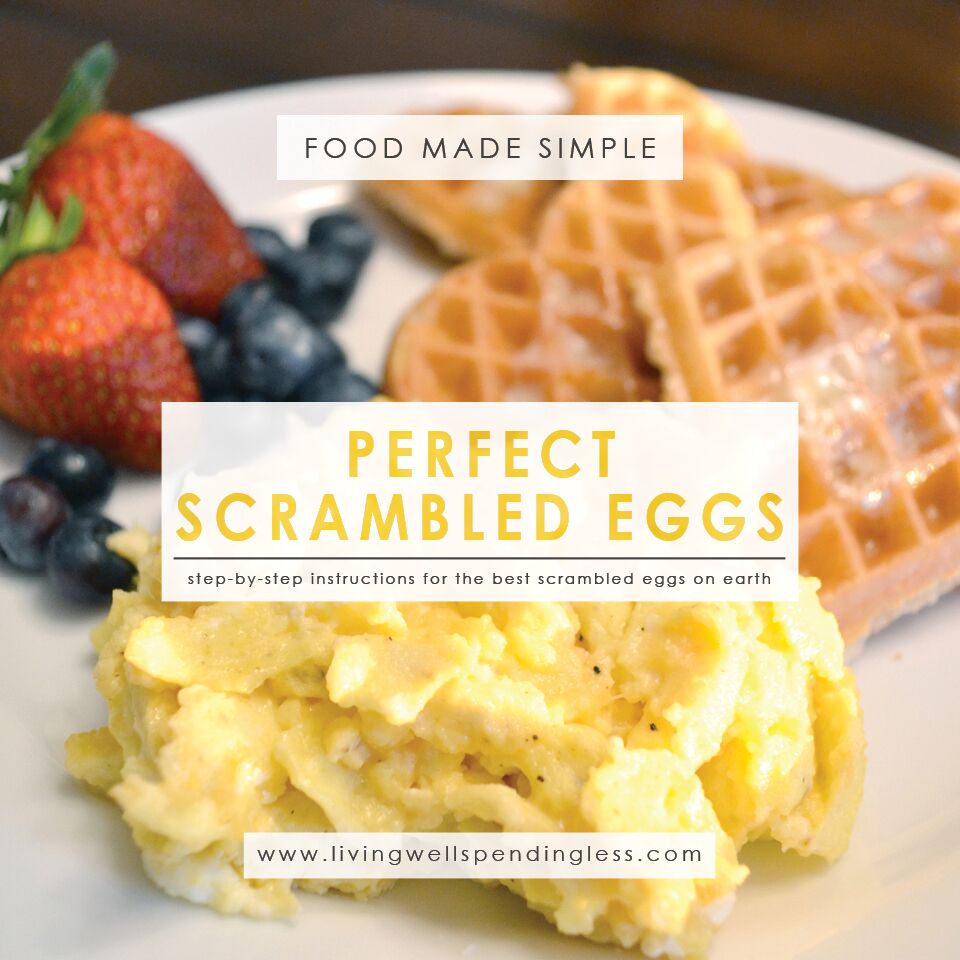 My husband is normally the breakfast maker in our house, but there are a couple of things that only I can make.  One is Dutch Babies.  The other is really, really, really good scrambled eggs.
I mean really good.
Make-you-want-to-cry good.
Okay, maybe you won't cry, but still.  They're good.  I promise.
Scrambled eggs are not difficult to make.  In fact, this time around the girls did all the leg work for me (though Trouble didn't quite grasp the concept of breaking the egg before throwing it in the bowl.)  The trick to perfectly fluffy eggs is patience.  I learned that in 9th grade Home-Ec.  Thank you Mrs. Mouw.  That little nugget of information has served me well.
Here is what you need
8 eggs 1/3 cup heavy cream (half & half or milk will work too, but cream is the best) 1/2 teaspoon salt 1/4 teaspoon pepper 7-10 "dabs" of cream cheese 1 cup shredded cheddar butter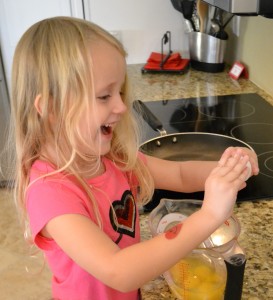 Step 1:  Crack your eggs into a bowl (or a 4 cup measuring cup like we used here.)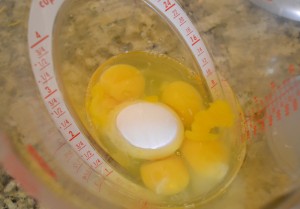 (Annie's contribution.)
Princess was a little nervous to crack her first egg, but by her 3rd, she was cracking 'em like a pro.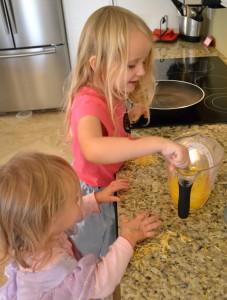 Step 2:  Whisk eggs until all yolks are broken and well blended.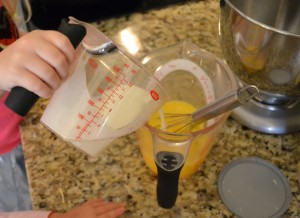 Step 3:  Pour in half & half and add salt & pepper to taste; whisk well.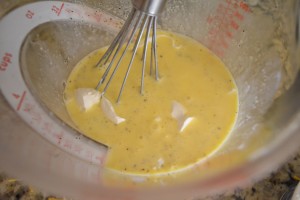 Step 4:  Add dabs of cream cheese.  Don't try to whisk any more.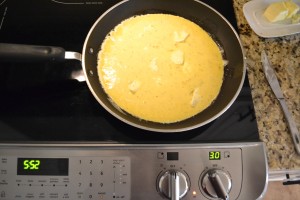 Step 5:  Melt butter in pan over medium-low to low heat. Pour in egg mixture.  Using knife or whisk, spread out cream cheese dabs so they aren't all clumped together.  Let set for a minute or two.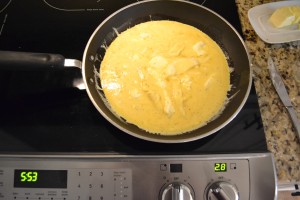 Step 6: After eggs have set; stir ONE time.  Just once.  This is very important!  Over-stirring scrambled eggs is the mistake most people make.  The LESS you stir them, the fluffier and better they will turn out.
Step 7: After another minute, stir ONE time, then add shredded cheese.  Wait another minute then stir once more.  Lower heat if necessary.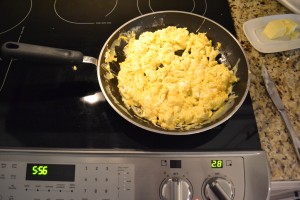 Step 8: Wait another minute then flip eggs upside down to make sure they are evenly cooked.  Cook for about one minute longer and they are done!  Remove from heat and enjoy.
Recipe: How to Make Perfect Scrambled Eggs
Summary: Step-by-step instructions making the fluffiest, yummiest scrambled eggs ever!
Ingredients
8 eggs
1/3 cup heavy cream (half & half or milk will work too, but cream is the best)
1/2 teaspoon salt
1/4 teaspoon pepper
7-10 "dabs" of cream cheese
1 cup shredded cheddar
butter
Instructions
Crack your eggs into a bowl.
Whisk eggs until all yolks are broken and well blended.
Pour in half & half and add salt & pepper to taste; whisk well.
Add dabs of cream cheese. Don't try to whisk any more.
Melt butter in pan over medium-low to low heat. Pour in egg mixture. Using knife or whisk, spread out cream cheese dabs so they aren't all clumped together. Let set for a minute or two.
After eggs have set; stir ONE time. Just once. This is very important! Over-stirring scrambled eggs is the mistake most people make. The LESS you stir them, the fluffier and better they will turn out.
After another minute, stir ONE time, then add shredded cheese. Wait another minute then stir once more. Lower heat if necessary.
Wait another minute then flip eggs upside down to make sure they are evenly cooked. Cook for about one minute longer and they are done! Remove from heat and enjoy
Preparation time: 5 minute(s)
Cooking time: 10 minute(s)
Number of servings (yield): 8