I first met Valerie Rowencamp, today's uber-chic guest blogger when we sat next to each other during a blogging seminar.  I remember taking in her absolutely adorable outfit–a striped shirtdress paired with Chuck Taylors–and feeling utterly frumpy and inadequate in comparison.  And then I found out she was a fashion blogger and I was even more intimidated.

Luckily she was so sweet that I quickly got over my insecurities and simply became an admirer of her awesome blogs. At CharmedValerie.com she shows off her daily personal style, while at MomStreetStyle.com she highlights the unique real-life fashion of other moms & kids.  I just love that she manages to look incredible every single day without breaking the bank.  After today, I'm pretty sure you'll love her too.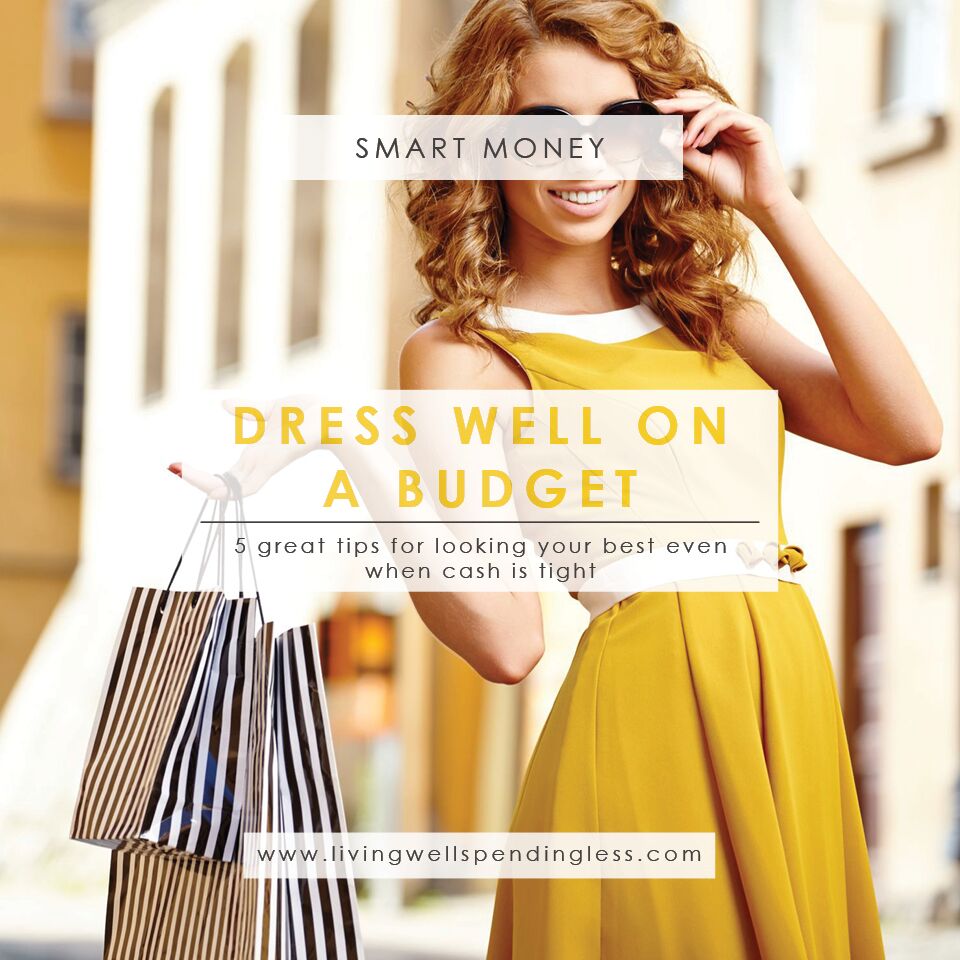 This is a Guest Post from Valerie @ Charmed Valerie
Fashion and style are normally thought of as luxuries. I mean, who really has the time and money to keep up with frivolous, superficial trends that are constantly changing? You do….seriously. I promise. Looking your best and being stylish is totally within your reach no matter what your budget is and I have been living it and loving it for most of my life.
DIG DEEPER
---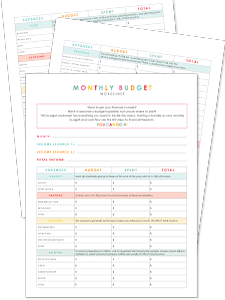 Get your budget in order with the Monthly Budget Worksheet. Simply opt-in below to have the Monthly Budget Worksheet sent straight to your inbox!
Here are a few budget-friendly tips that I've learned firsthand while blogging about my own personal style journey.
1. BE CREATIVE
Fashion and style is all about creativity. Creativity really comes in handy when you're trying to get the most style for your buck. Your entire wardrobe will magically expand as soon as you realize the variety of ways to maximize what's in it. Seek inspiration and adapt it to fit your body/lifestyle/budget. I think Pinterest is great for keeping track of inspiration while you're on the internet and clipping ads/pictures from magazines works nicely as well.
Here is an example of the time I adapted a sundress to wear this winter. The style was influenced by a mom in my MOMS group and the most expensive thing I'm wearing is the $20 (on sale) dress.
2. KNOW THYSELF
Become very familiar with what works for your body type, skin tone, lifestyle. etc and it will reduce the time it takes for you to shop and get dressed in the morning. You'll be able to shop with more focus which is really helpful when your hunting for treasure in the clearance section 😉
I am just about as "pear" shaped as you could possibly be (small chest and waist with a large butt and thighs). I always aim to accenuate the my top half and minimize the bottom half. Own your "flaws" and let them work in your favor.
3. ACCESSORIZE
Shoes, jewelry, brooches, belts, and scarves can instantly take an outfit from frumpy to fabulous and you can always find them at low prices. Adding a trendy accessory to a classic piece can keep your style updated without the need for a new wardrobe every 6 months.
Here is a more current picture of me wearing secondhand maternity clothes with some great accessories to make it more fashionable.
4. DRESS IN PALETTES
Color choices can make or break a good outfit. Keep your outfits under 4 colors and keep your eyes peeled for your favorite combinations. I learn about which colors look best together from store displays, interior design trends, the color wheel, and Pantone. One of my current favorite palettes is yellow + gray (and in this outfit, I added a deep purple cardigan).
5. USE YOUR RESOURCES
This is the information age and expertise is abundant (and FREE!). Some of my favorite fashion resources are fashion blogs, YouTube, Pinterest, and online magazine sites. Stitch Fix has a ton of great ideas as well, and their affordable personal shopping service is definitely one you might want to consider if you struggle with putting outfits together!  (Check out this post for more details!)
In this day and age, anything you could possibly want to know can be instantly at your fingertips. Utilize search engines (or just ask me via facebook, twitter, my blog, or email).  You CAN be as stylish as you want to be without breaking the bank.