A few weeks ago I shared my disastrous attempt at making pie crust (and all-around disastrous day.)  Your response was overwhelmingly encouraging and kind, and I promised the quiche recipe would be forthcoming.
I am happy to report that yesterday's attempt at homemade pie crust was a success and at last I was able to make the quiche I've been craving for weeks.  Of course, quiche is one of those dishes that people either really love or really hate which meant in this house it was received to mixed reviews.  Husband insists quiche is "chick food," and while he eats it because he eats everything, it certainly wouldn't be his first choice.  The girls are currently adverse to anything green, mushy, or new.  Let's just say it was a good thing I scored such a great deal on Chef Boyardee the other day.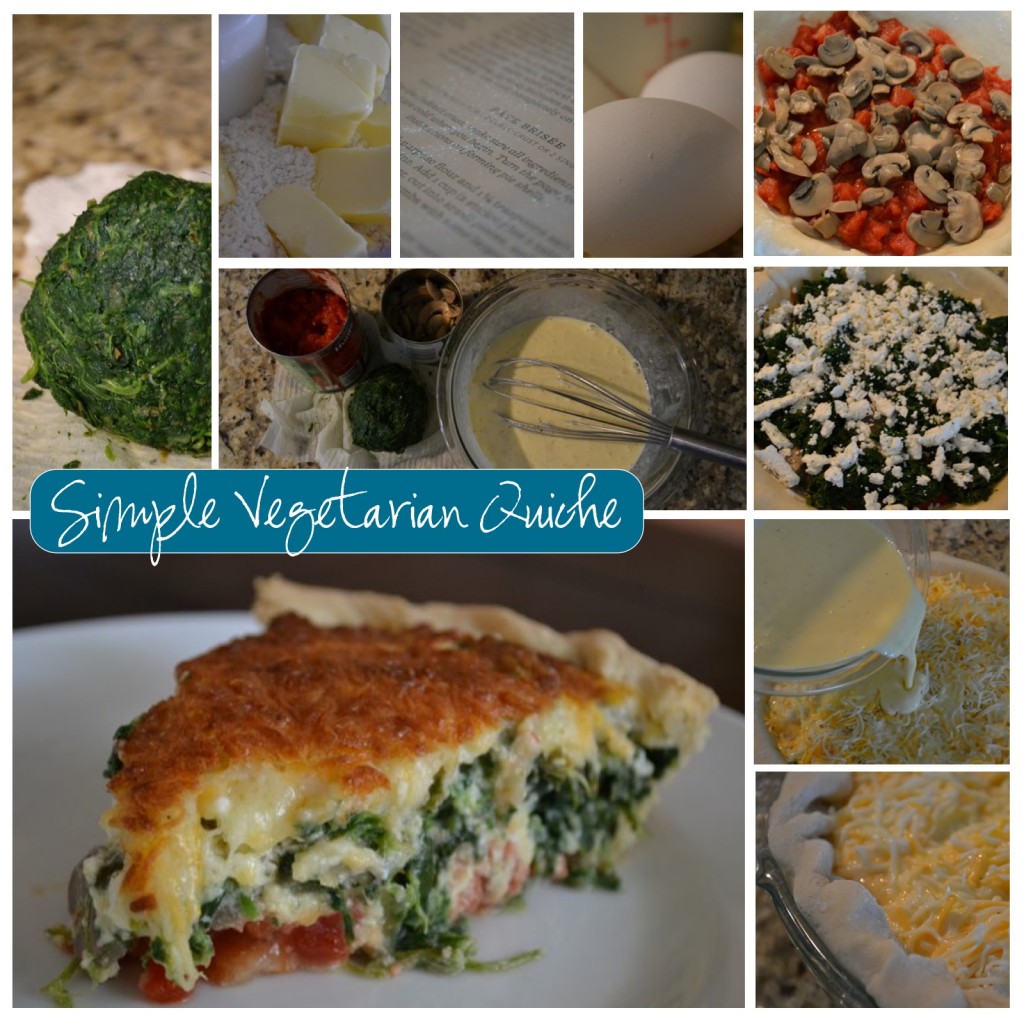 For some reason the idea of making quiche used to always scare me–maybe it's the fancy name–but it is actually very easy and pretty fool-proof (as long as you can avoid any crust-making disasters.)  I originally got this recipe from my dear friend Shannon, who inherited it from her very adorable and very French Mother-in-Law.  For this particular version, I used a frozen spinach, canned mushroom, canned tomato, & feta combination, but you could literally throw in pretty much any vegetable (or even meat!) that you have on hand.
As far as the crust goes, you can use a ready-made rolled refrigerated version (easy!), or you can make your own (cheap!)  I always use Martha Stewart's amazingly simple Pate Brisee recipe.  It  is heavenly.  Someday I'll do a post showing the steps to make a perfect pie crust, but in the meantime just remember this: make sure ALL your ingredients are well-chilled!
Vegetarian Quiche
1 pie crust 
4 eggs
1 cup milk or cream
salt & pepper
assorted vegetables**
shredded cheese
Preheat oven to 350 degrees.  Place crust in pie plate.  Whisk eggs until well blended.  Add milk & whisk again.  Add salt & pepper to taste (I use approximately a half-teaspoon of salt and a quarter teaspoon of pepper.)  Layer vegetables in over crust in pie plate.  Top with generous layer of shredded cheese.  Pour egg mixture over cheese, then trim or fold over crust edges as desired.  Bake for approximately 30-40 minutes until set in center.  If cheese is browning too quickly, cover with foil.  Let stand for 10-15 minutes before serving.
**Vegetable tips:  If using fresh vegetables, blanch them for 3-4 minutes before placing in pie dish so that they are fully cooked when the quiche is done.  Frozen vegetables should be thawed and drained before using.  Canned vegetables should be drained well.