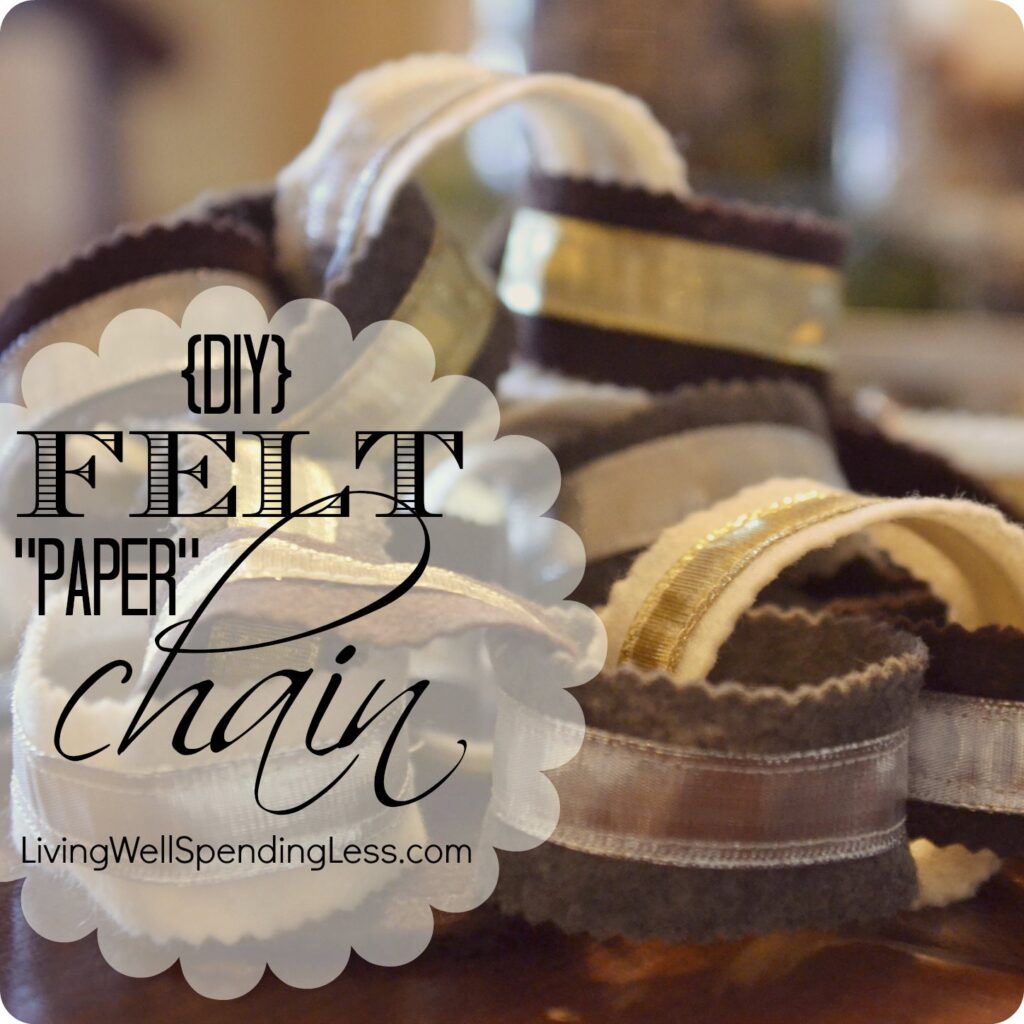 I think I might have a slight felt problem.  I love it almost as much as I love ModPodge, and so far this year it has played a starring role in many a Christmas decoration.  But seriously folks, what's not to love?  It is super cheap (only $0.20 a sheet when it goes on sale), doesn't fray, & can be used for SO MANY things!  I wish I could say this was going to be my last felt project of the year, but we both know that's probably not true, so please, please just humor me a little bit longer.  Pretty please?
This felt "paper" chain was inspired by a super cute multi-colored one I spotted at Target a few weeks ago.  That one was a little bright for my decor–I'm going with a more neutral look this year–but I just knew I could make one that was even better (and cheaper!)  It was a pretty quick project–about an hour in all–but the chain didn't turn out nearly as long as I had hoped (the finished chain was about 60″ long).  I think I will probably stop by Michael's for more ribbon so that I can extend it.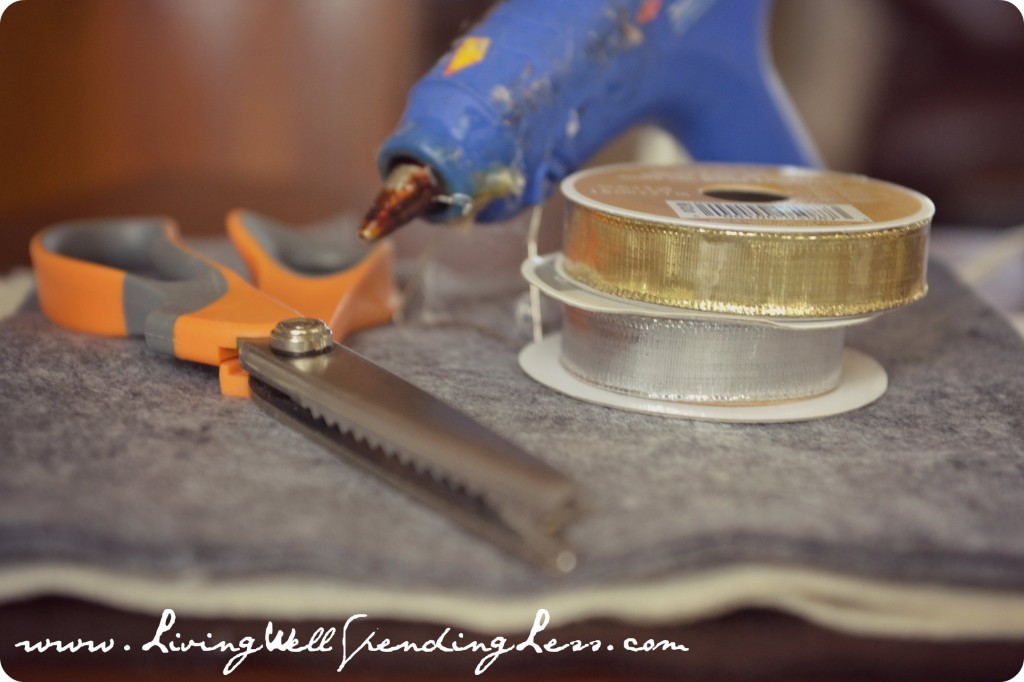 Here is what you will need:
sewing machine pinking shears 1/2″ wired ribbon (I used 2 rolls for a 5′ chain) felt (I used about 1 1/2 sheets of each color) glue gun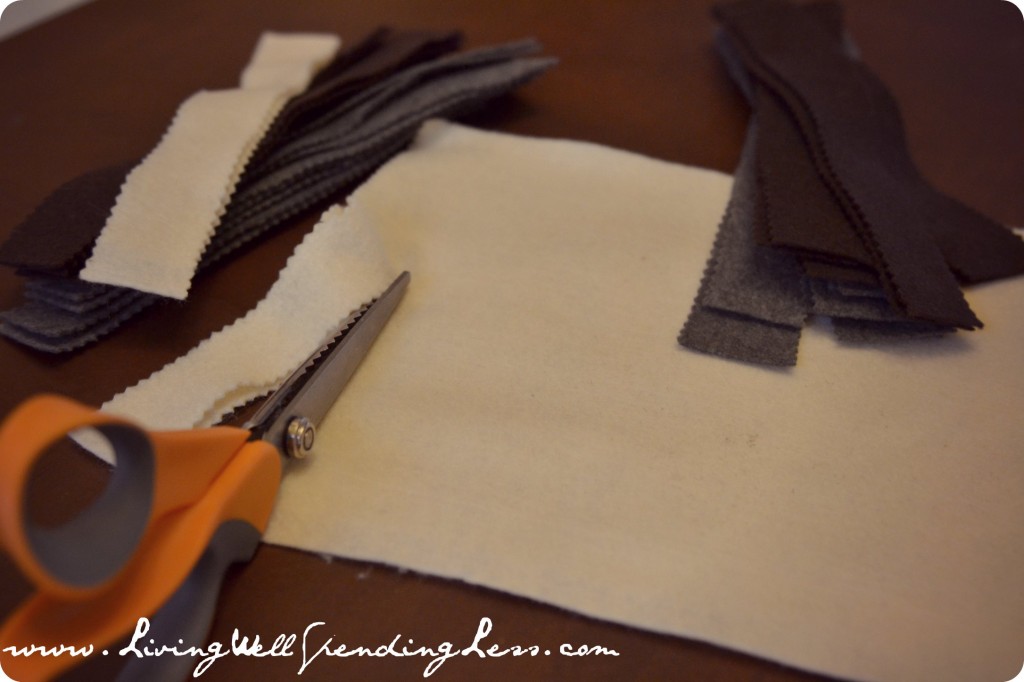 Start by cutting strips of felt with pinking shears.  I didn't really measure them–just eyeballed it.  I would say they were about 1 1/4″ wide.  I cut 2 sheets of each color but I had quite a few strips leftover.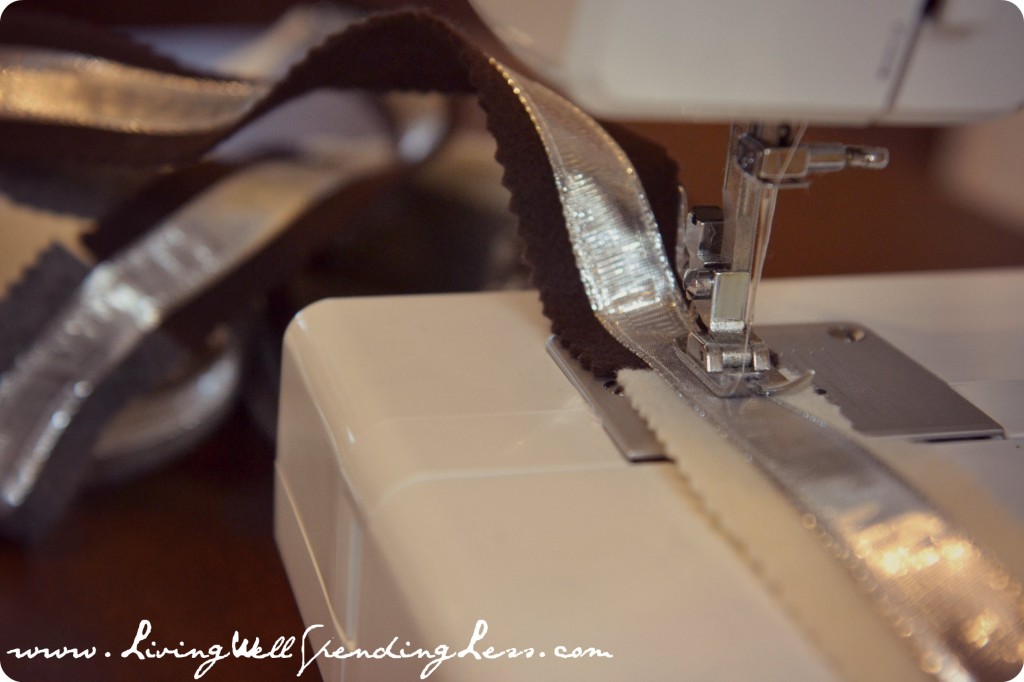 Next, sew the wired ribbon to the center of the felt strips.  I alternated colors so that I would have the same amount of each, and I did them all in one big line, not bothering to cut the ribbon between them.  I stitched along the edge of one side of the ribbon, then turned it around and stitched along the other side.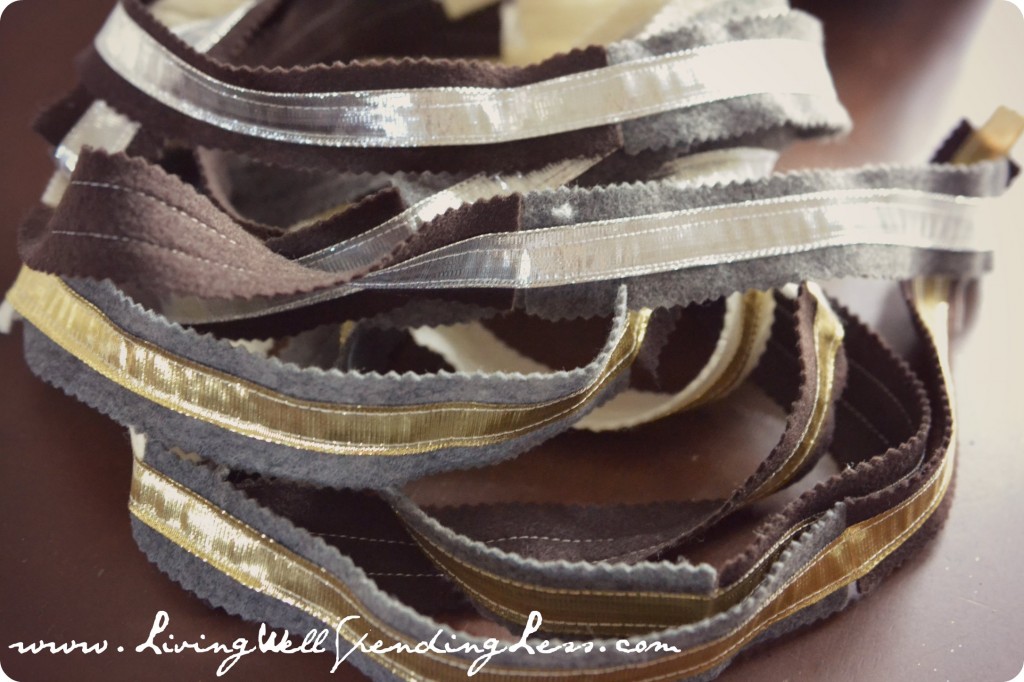 Repeat this step for the additional ribbon so that you have multiple strings of felt strips that look like this.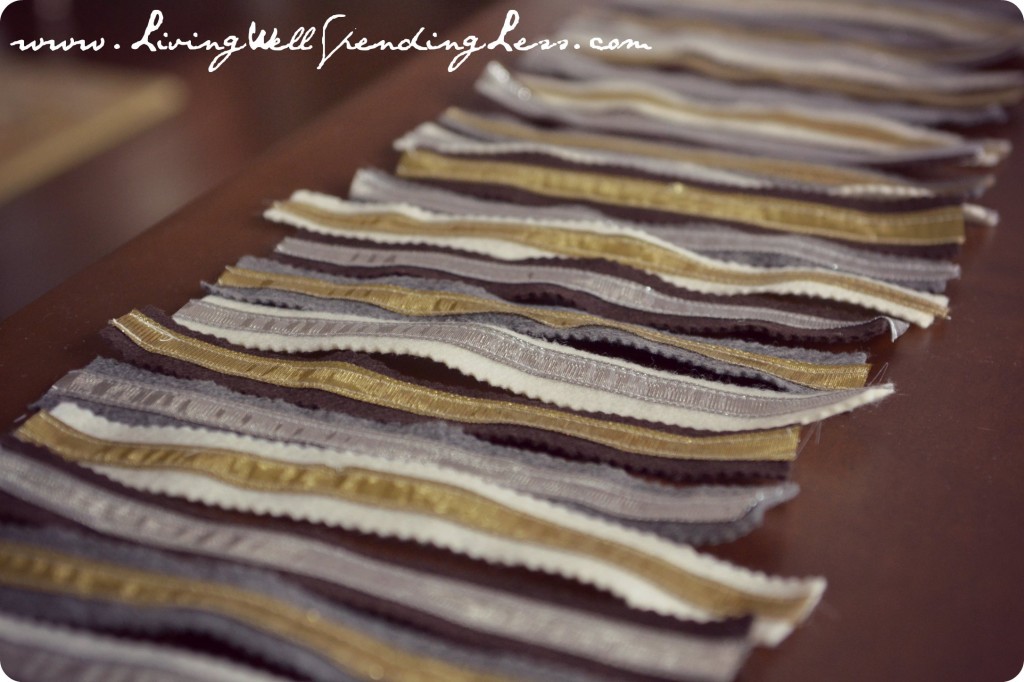 Cut the strips apart and line up the pattern.  I used two different colors of wired ribbon because I am using a lot of silver and gold in my decorations this year, but it would be just as pretty with one color of ribbon, or you could match the ribbon color to the felt like the one from Target.  For some reason I had 2 more silver strips than gold, even though they were the same brand of ribbon.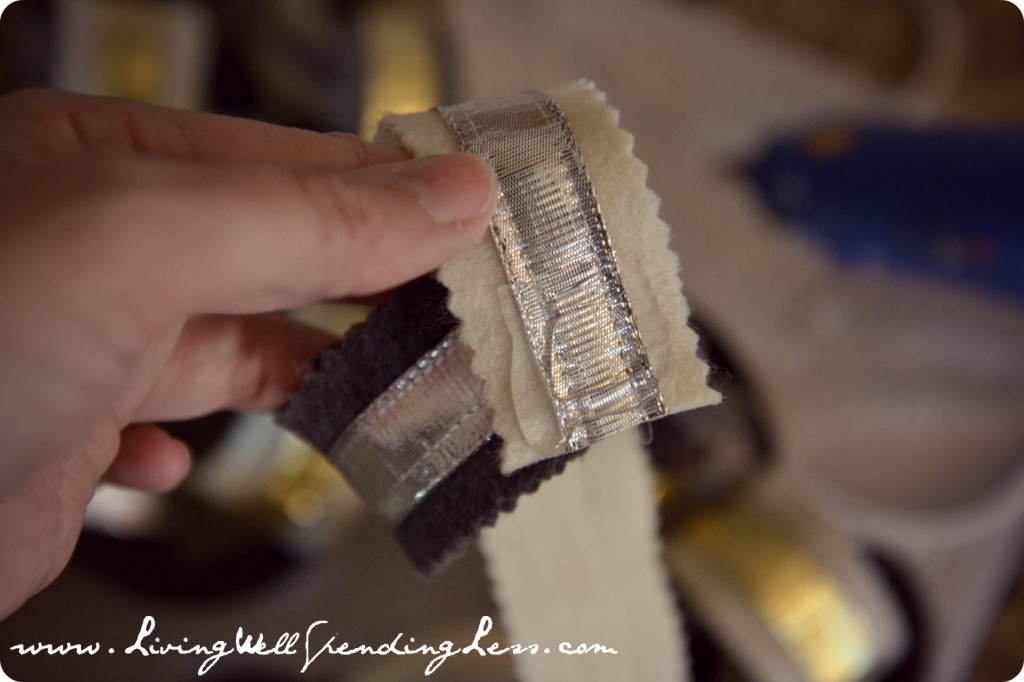 For the final step, assemble the chain by hot gluing the strips into connecting circles, trimming the ends as you go so they are nice and straight.  I just put a square of hot glue on the end, then pressed it in place.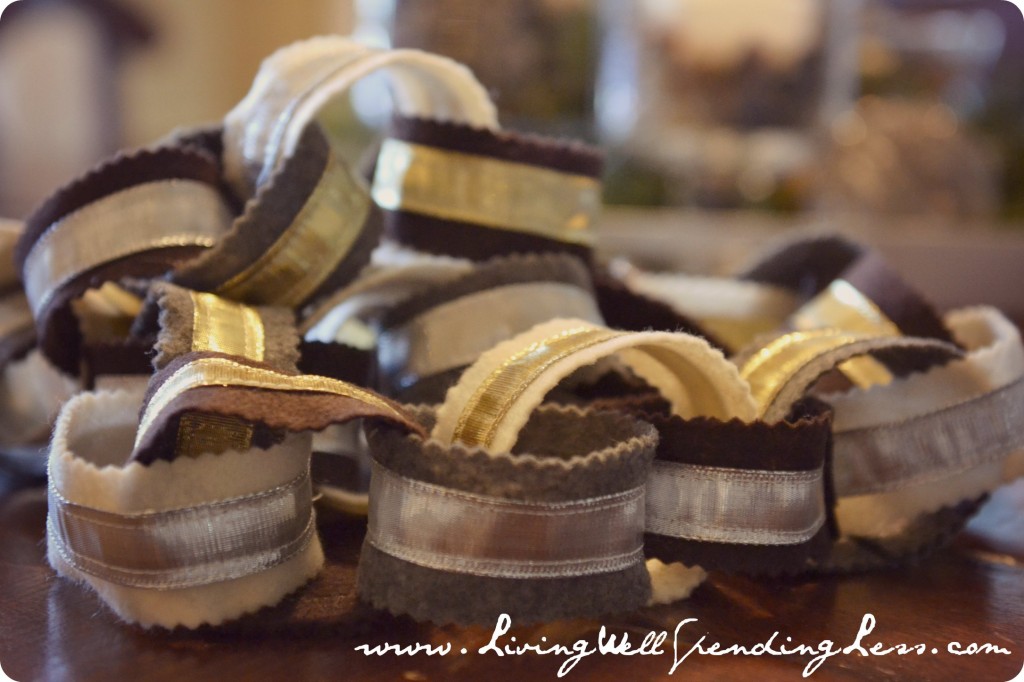 Be sure to let the hot glue cool completely before hanging so that your felt circles don't come apart!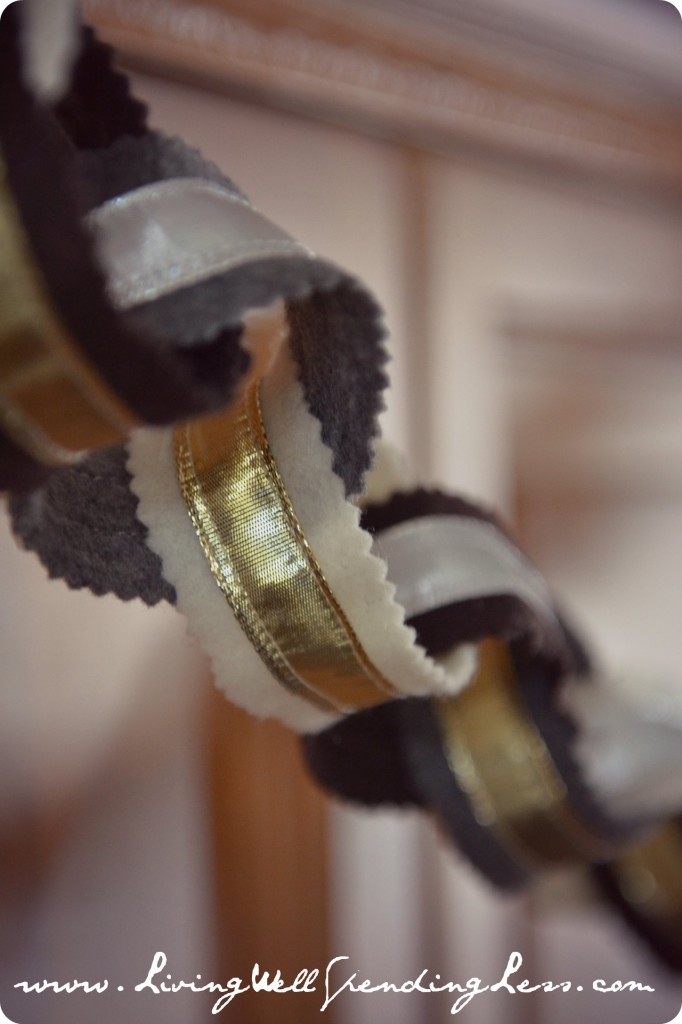 I hung mine on our living room armoire but I think it would've been stunning on the Christmas tree!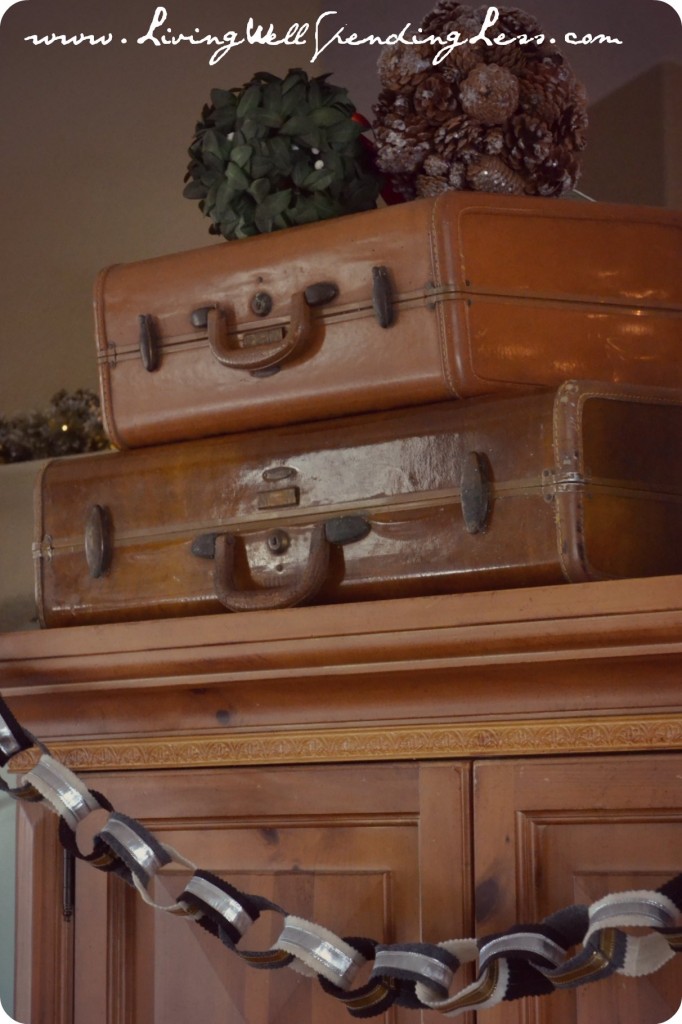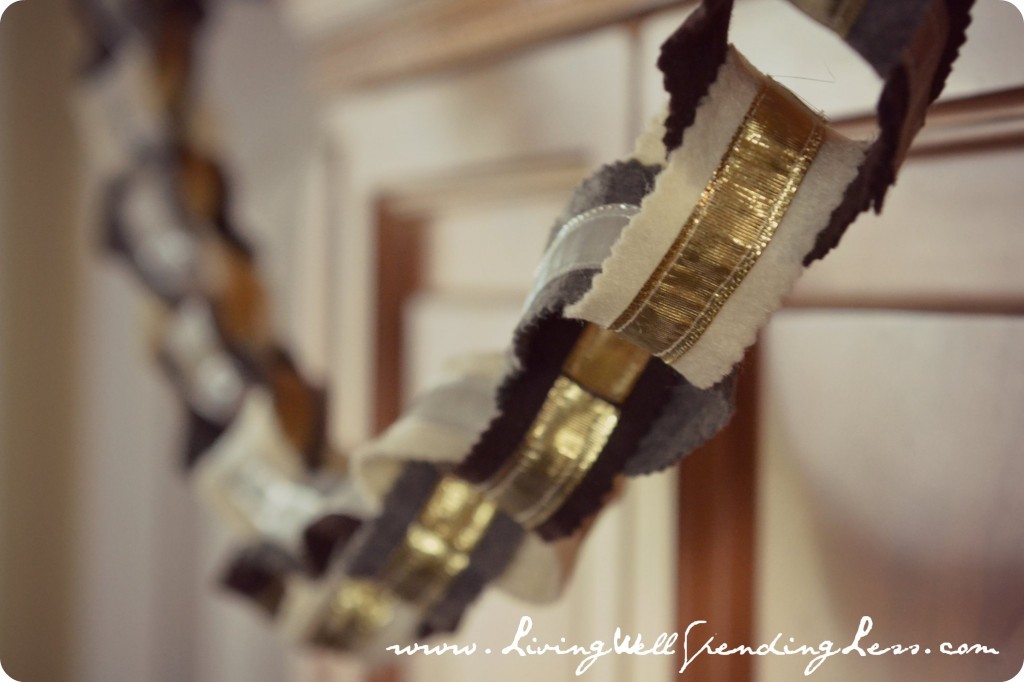 *   *   *
What handmade projects do you have planned for the holidays?