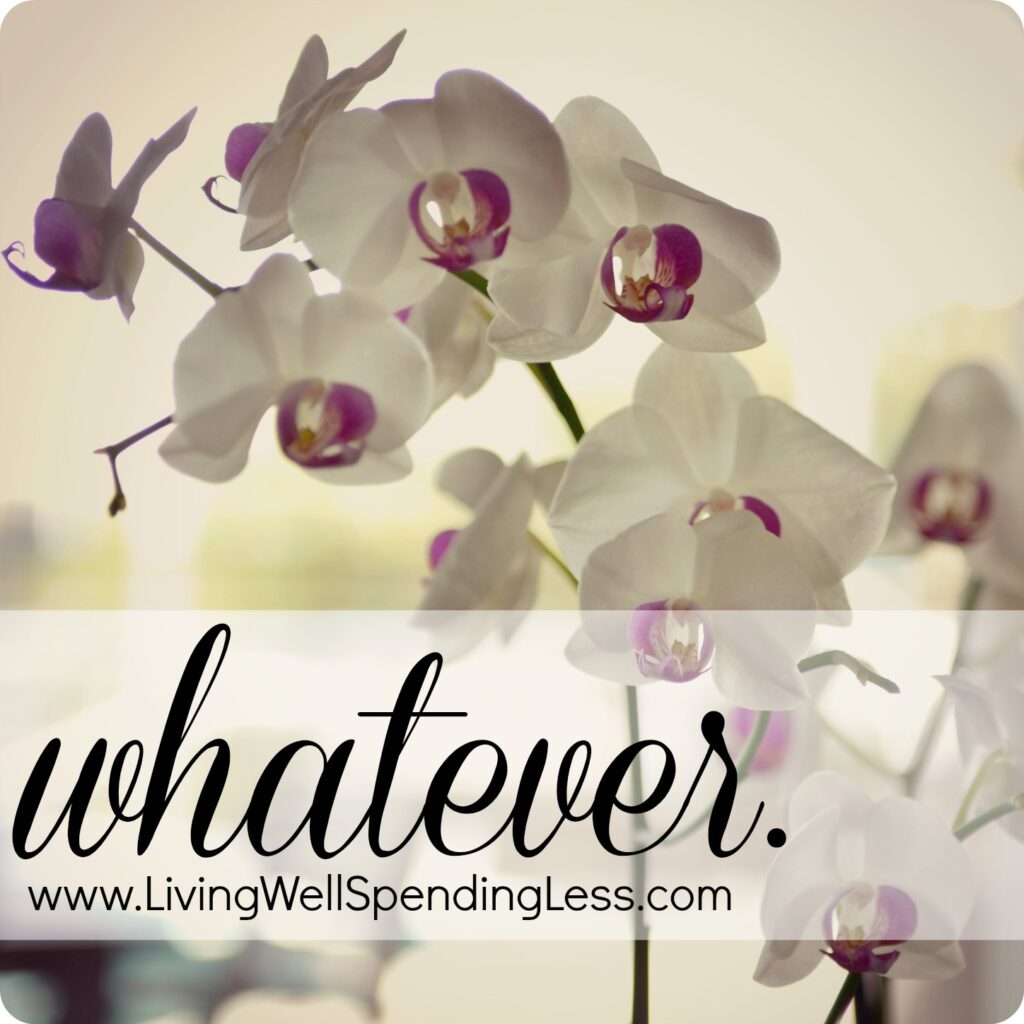 A couple of weeks ago Princess proudly announced that she already knew what she was going to ask Santa for Christmas next year.
"I'm going to ask for a magic wand." 
Trying very hard not to spit out my coffee–an American Girl doll bed was one thing, after all, but this Santa momma was going to have a very hard time coming up with a magic wand–I asked what she was planning to do with it.
"Oh Mommy, I would wave it around every morning and then the house would clean itself and we wouldn't have to do it anymore!"
Wouldn't that be nice?
How many times have I wished for a magic solution to all the tedium of day-to-day life, especially the cleaning and cooking and laundry and bill-paying?  For a cure to all those menial tasks that take up so much time, only to be done over and over again?
Every January I can't wait to make my list of New Year resolutions.  I just love the idea of a fresh start, a clean slate, and I always know that THIS will be the year I get it right.  THIS will be the year I really accomplish something.   And every year I tend to overestimate my abilities, taking on just a few too many goals.  It's not that I don't ever accomplish any of them–I do–I just never come close to finishing the list.
But I read something last spring in the the Resolution For Women by Priscilla Shirer that has forever changed the way I think about goal-setting and balance.  Shirer explains that our lives are full of imaginary boxes, each holding the different activities and goals and obligations that fill our days.  She writes:
"Our tendency is to to try keeping them….equally filled with identical amounts of ourselves and our effort.  This, we think is what balance looks like.  But in reality, this is the picture of a woman overworked, frustrated, and exhausted.  A life out of balance.  The way we achieve balance is to consider prayerfully God's priorities for us in this current season of life and then rearrange the boxes accordingly–pushing some of them into the background, bringing others to the front.  Into these primary boxes we place the best of ourselves and our effort, while perhaps totally emptying some of the others–at least temporarily–not because they're of any less overall significance but because they're not where we need to be allocating the best of our abilities and attention for the time being.  Balance is not when the boxes are equally filled, but when we are free to fill only those that are important for now, without feeling guilt over the ones that we've left for another place and time."
When I first read those paragraph my only response was confusion  How could I possibly know what boxes to focus on? I want to do so many things!  There are interesting activities, incredible opportunities and endless possibilities everywhere I look.  How do I say no to something fun or exciting or life-enriching when I really just want to do it all?
I read those words and tried to blow it off because I didn't really get it, but it stayed there deep in my subconscious just the same.
I didn't realize how it had stuck with me until I was chatting with a friend earlier this week.  We lamented about getting older and discovering that our bodies just aren't quite as naturally taut as they used to be.  She told me about the new fitness and diet program she was doing this year, and asked if I was working out or dieting at all.  I explained that I wasn't because I only have a few hours each morning to get my word done, and I could either spend the first part of the day in prayer or working out, but not both, and this year I had chosen prayer.
I even joked that prayer was my new diet plan–I would just pray that God wouldn't let me get fat!  As we laughed, I suddenly remembered the boxes and the book I had read so many months before.  And all of the sudden, I got it.
The answer was there all along, of course, I just didn't see it: PRAY. Prayerfully consider God's priorities for us in this current season of life.
It is only through prayer that God's path will become clear.  Over the course of the past year, as I have spent more time in prayer then ever before, it has become painfully obvious to me that my primary box right now is taking care of my family and my home, and tending to the two precious little people that He has entrusted me with.
It is not always the most exciting box, to be sure.
Our days at home are sometimes tedious and filled with repetition.  Each morning we clean the house from top to bottom.  We make the beds and clean the toilets, windex and do dishes and fold laundry and put stuff away.  We start our school day, learning the same lessons, making the same crafts, cooking the same foods, reading the same books, and then 4 nights a week we are rushing off to dance or church or gymnastics or dance again.  By the time we get home it is time for dinner and baths and pajamas, and by the time the girls are in bed, the house is a disaster and I am exhausted and ready for bed myself.  So I let the mess go for a few more hours and wake up the next morning to do it all over again
And while sometimes I wish I had a magic wand, I do know it won't be this way forever.  This is my season and someday soon I will look back and wonder where that time went.  And all the other things I want to do, all those life goals and aspirations and interests will have to wait.
Because here's the thing:  God's plan is never boring.
As a classic Type-A overachiever and certified control-freak, I tend to think, for the most part, that I have all the answers. I often believe that If I can just work a little harder, do a little more, I'll be able to achieve all my goals and get all the things I want out of life.
Letting God take the reins is perhaps the scariest, most exciting thing I have ever done.  It is terrifying and exhilarating all at the same time.
I wish it meant I didn't still make mistakes or get aggravated or frustrated or just plain sick of doing the dishes or cooking dinner or trying to get my kids to pick up their room for the gazillionth time, but I do.  All. The. Time.  Thank goodness for Grace.
But even as the future looms unclear, even as many of my hours are spent doing the most unglamorous and tedious of tasks, even in the midst of all those mistakes, taking the time to listen and follow instead of simply forging ahead with my own stubborn plans has brought more joy and peace and contentment than I ever thought possible.
My prayer for you, my friends–and I really do pray for you all–is to find that same joy and peace this year.  Let God lead you, and embrace the role he has for you right now, in this season of life.   A couple of weeks ago my pastor summed it up beautifully in just one word:  Whatever.  He gave us the following prayer, which I will now leave with you: