Holiday Flash Sale!
---
For 4 days only, get the Living Well Planner® + 2 free gifts for just $39, our lowest price of the year! PLUS get free shipping in the US on orders of $50 or more!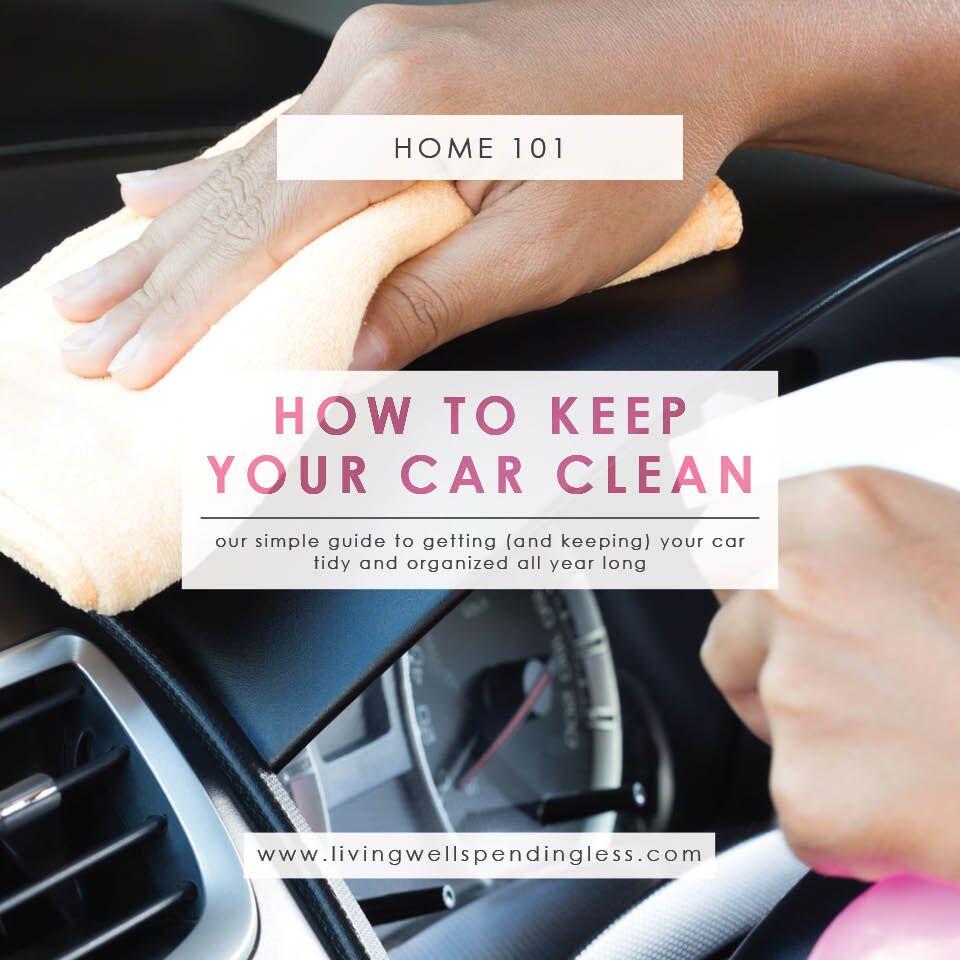 I don't know about you, but sometimes it feels like we live in our car.
Okay, not literally of course—but you might think so if you looked in there! Between backpacks and schoolwork, snacks, games, shopping bags, sports bags, paperwork, extra jackets, and who knows what else, the family car gets a little cluttered and, well, messy.
As busy moms, our cars become our home, office, closet, and more while on the road. Plus, on top of all the "stuff," there's this mom-need to be prepared for any scenario, so we keep all kinds of stuff in our cars "just in case."
But eventually, it all adds up and it's just TOO MUCH. After way too many cringe-worthy incidents (like a fellow mom getting out of my car with crumbs on her pants from my car seat—eek!), I devised a plan to help me commit to keeping my car clean all year long.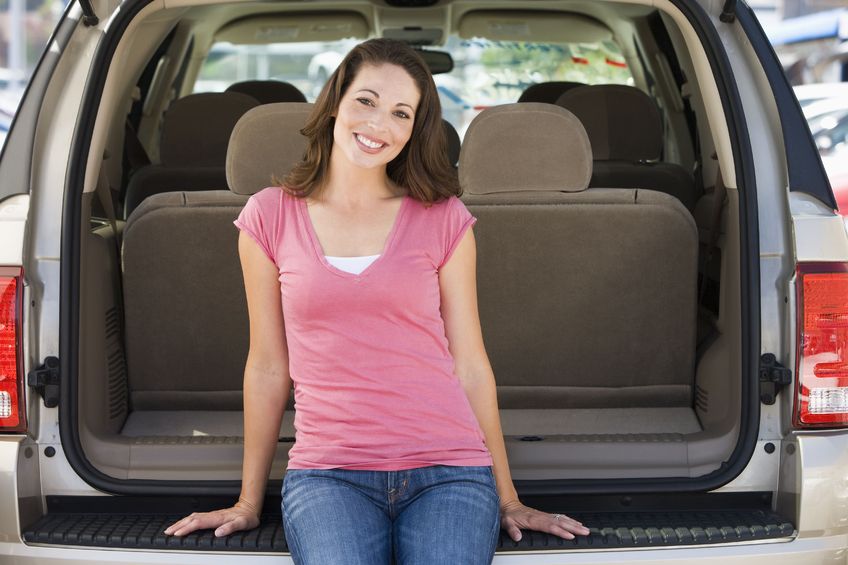 Ruthlessly Purge and Clean Out Your Car
First up, set aside an hour or two and do a deep clean of your car. With some garbage bags on hand, divide everything up into the following categories: goes into the house to be put away, goes into the garbage, or stays in the car (which should be a very small pile).
Ruthlessly purge your car. Tackle the backseat, the trunk, the glove compartment, and that space under the seat where empty cups and change collect. Pull out car seats and remove any organizers on seat backs. Don't forget to check the center console.
Throw away all garbage. Take items like change, extra clothes, paperwork and toys into the house to be dealt with and put away. Any remaining items you'd like to keep in the car should be removed as well.
Take everything (everything!) out of your car.
Once the car is completely empty, vacuum and wipe down all surfaces. Take out all floor mats and shake them. Hose down rubber mats and vacuum off upholstered ones. Spot treat any stains or spots on the seats of your car.
Vacuum the dashboard and console of your car. Using a butter knife or another thin object wrapped in a damp cloth, clean cracks in the console and in your dashboard. Use window cleaner to clean all glass surfaces from the inside of your car. Watch especially for fingerprints in the back windows.
Wipe down each door and check for any lingering wrappers, bottles or little pieces of paper that made their way into the door's cup holders and pockets. Wipe off window buttons and all handles and touchpoints with a damp cloth.
Vacuum the glove compartment and the console. Clean out the little change holder and wipe it out completely. Really get down in the cracks of the seats and be sure all seatbelts are pulled out and in good working order.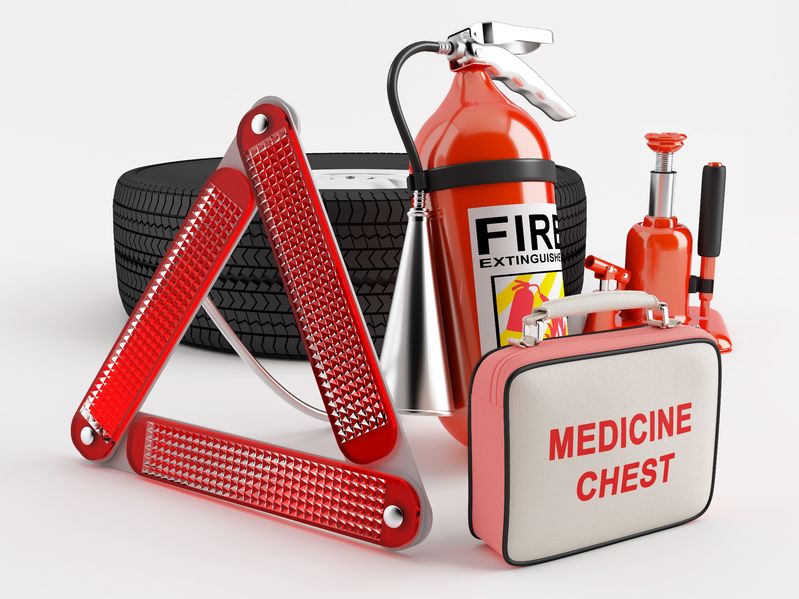 Prioritize Your In-the-Car Needs
After your car is all cleaned out, it's time to go back through the pile of items you'd like to put back in the car. Ask yourself if you really, truly need each item you've determined "belongs" in your car.
Again, I get the mom-need to be prepared, so don't feel like you have to skimp on preparedness—just be reasonable. We keep two canvas bucket tote bags stocked for the car: one for winter and one for summer. In our winter tote, we keep items like an extra set of mini gloves, an ice scraper, a sweater, and a small fleece blanket. In our summer bag, I've packed sunscreen, an extra pair of flip-flops, an umbrella, and a spare t-shirt. Both tote bags also include an extra garbage bag (which can serve as a poncho, a seat protector, or a myriad of other things), a small pack of hand wipes and a $10 bill.
In the trunk, I keep a car emergency kit, which contains jumper cables and an old towel. In the winter (especially in cold climates), you may also want to include deicer, a small shovel, and a heavy-duty blanket.
In our glove compartment, we keep the paperwork for the car, including our AAA information, insurance information and registration. There's also the car manual, a tire gauge, and a roll of quarters for emergencies. I've also packed a small flashlight and a phone-charger cord (our car has a USB port).
In the center console, I keep a pocket pack of tissues, and a small first aid kit with rubber gloves, bandages, pain relievers and alcohol prep pads. In the first aid kit there's also a small pocketknife and matches. I keep a couple of chocolate-free (no melt) granola bars in there as well and a reusable shopping bag that folds up into a tiny pocket.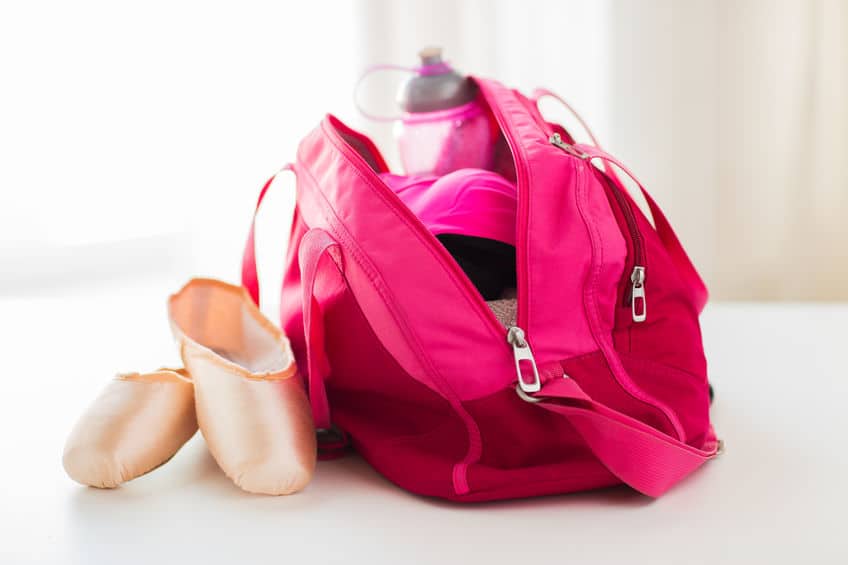 Plan to Stop Using Your Car as Storage
As a family, we've made a commitment to bring in everything from the car whenever we go to and from the house. This means backpacks, purses, sweatshirts, shopping bags, lunches, water bottles—EVERYTHING. This rule is a concerted effort to fight the flow of stuff and end the "car as storage" mentality.
When we go to dance lessons or a craft activity, we bring the bag of supplies we need with us. If we're heading to the gym, to church or to a work meeting, I have various bags that go with me, each containing everything I'll need. Each of these bags leaves the car with me when I exit.
In my purse, I try to carry items we may need that don't store or hold up very well in a hot car, like lip balm, gum, lotion, and sunscreen.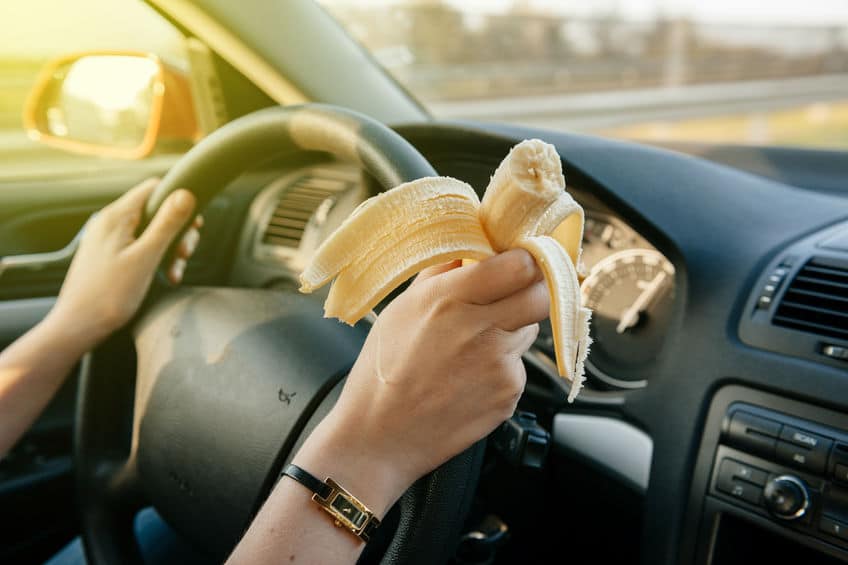 Consider a "No Eating in the Car" Rule
One of the biggest car mess-busters I've found? I know this won't be a popular answer, but we've simply stopped eating in the car. I swear, when we eat in the car, no matter how careful we try to be, we always end up with crumbs and spills. It's inevitable and nearly impossible to avoid in a moving vehicle!
In this day and age, with fast food joints on nearly every corner, it's tempting to go through the drive-thru and munch along on your road trip. We've actually found it slows us down and helps us appreciate the experience more when we sit together as a family and eat. We'll find a picnic table, spread a blanket out on the grass at a park, or pull over at a rest stop and get out to enjoy our snack and our time together. It helps us avoid a stressful "mad rush" feeling when we're trying to get to a destination and it keeps our car clean.
If you absolutely MUST eat in the car for whatever reason, try sticking to dry, non-sticky snacks like pretzels or carrot sticks. Enjoy water rather than sticky soda or juice, and keep coffee in a spill-proof travel mug. These little precautions really help us keep our car crumb and sticky-spill free!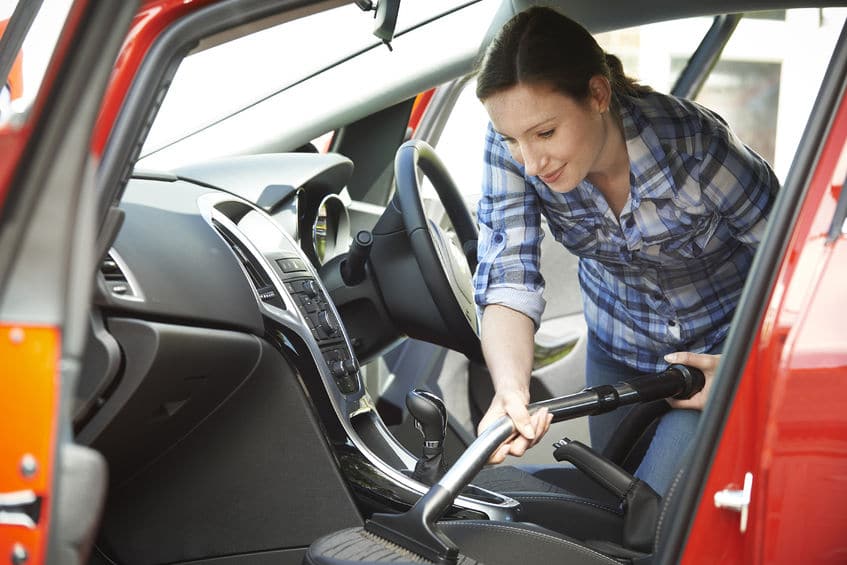 When Your Passenger Has an Emergency…
With kids, life happens. Someone will have an accident, a spill, get wet, get muddy or end up with gum in their hair—it just happens. Your best preparation is to keep the old towel in your "car emergency kit" and the fleece blanket in your "seasonal car bag." Both of these items can be quickly spread out on a seat or used to soak up accidents and spills.
When something happens in your car, clean it up right away or as quickly as possible. Unfortunately, cars get very warm and spills tend to set quickly. If there is a smelly spill (or someone gets sick in the car), clean it up as thoroughly as possible, and then sprinkle baking soda over the area of the smell. Allow it to set for a few hours or overnight, then vacuum up.
If you travel with pets, always keep them in a carrier for their safety, as well as yours. Not only will this dramatically cut down on pet hair, but pets can be very distracting in the car, potentially causing accidents. If your pet isn't secured, they might be injured during a sudden stop. Never leave a pet (or anyone for that matter) in a car, even for a short time. The temperature in your car can climb quickly. In just ten minutes, an 80-degree car can climb to over 100. Keep everyone safe by never ever leaving anyone parked, even for just a minute.
If you're ready to commit to ending your car clutter, way to go! Even though so many of us busy moms spend so much time in our cars (so much that for some of us, they end up becoming our traveling "home base"), we're sure to feel lighter, more relaxed, and more prepared when we commit to fighting the flow of car clutter. While we all use our cars to move items and people, with a clean and organized car, we can tackle any situation that comes our way!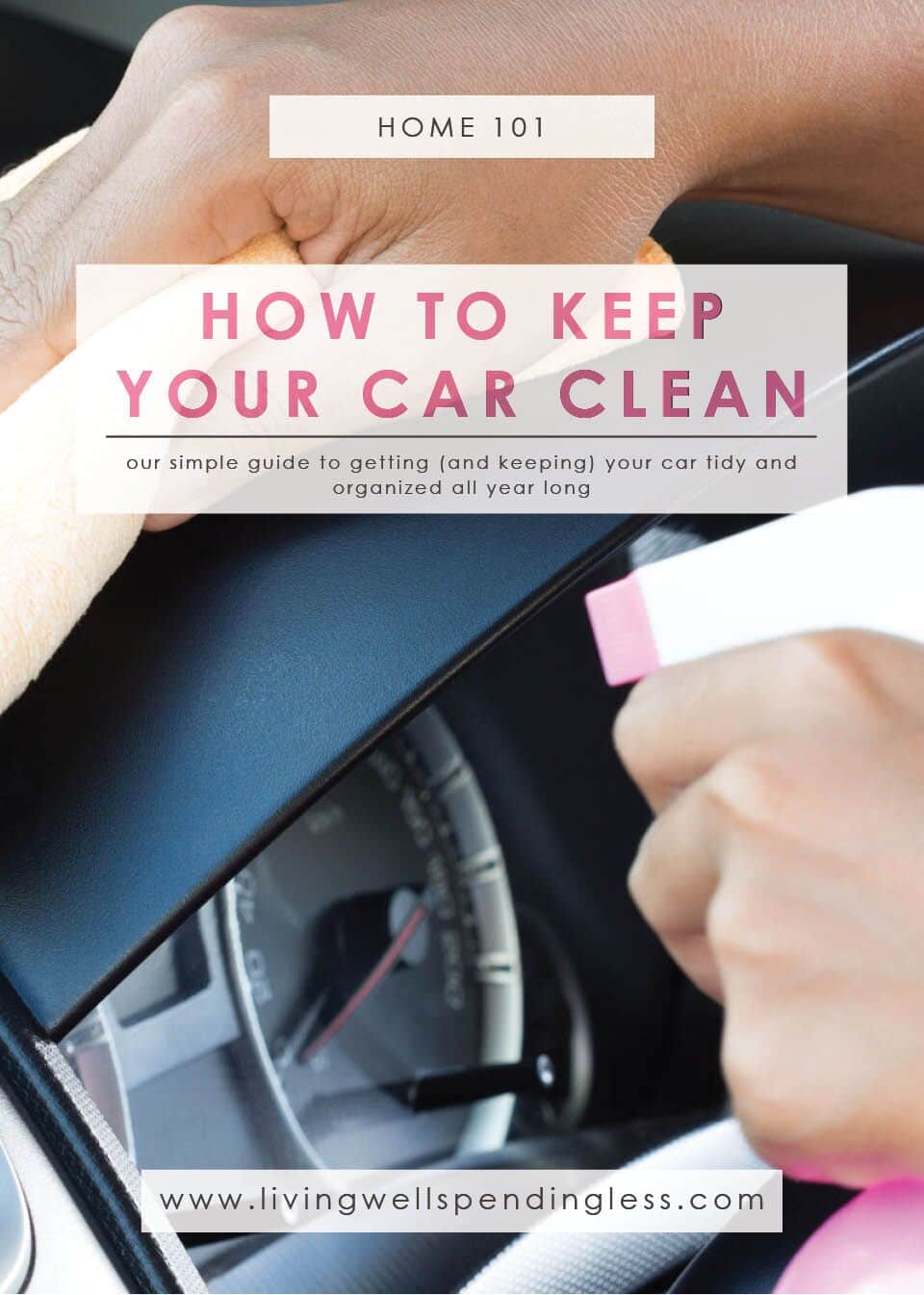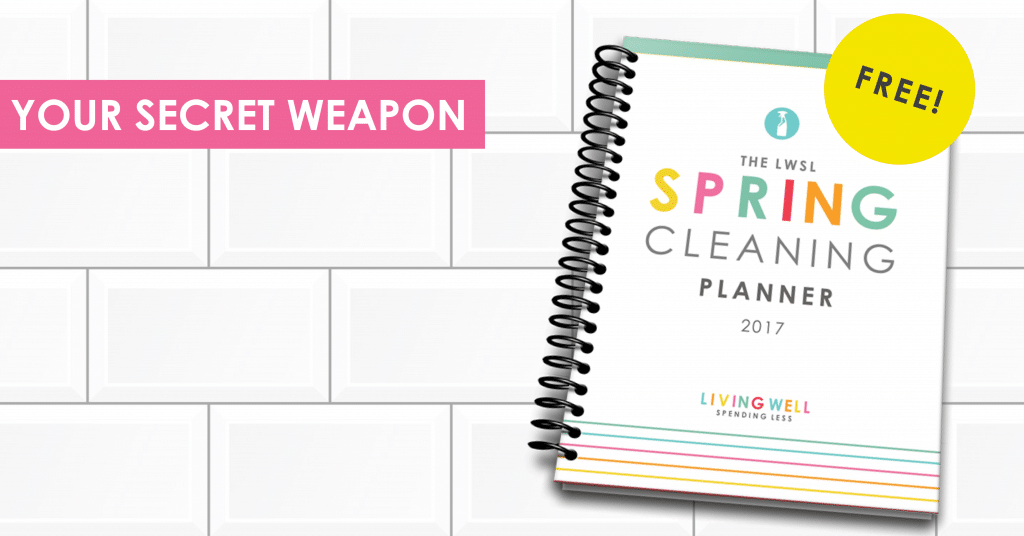 Ready to chase away the winter blahs with a freshly cleaned house? Packed with helpful tips, checklists, and the right amount of motivation to get you going, our 2017 LWSL Spring Cleaning Planner is just the tool you need to get started! For a limited time, get it free from Living Well Spending Less®–just our little way of saying Happy Spring! Be sure to print our brand new 2017 LWSL Spring Cleaning Planner. You can get it HERE, or simply click the button below!