Holiday Flash Sale!
---
For 4 days only, get the Living Well Planner® + 2 free gifts for just $39, our lowest price of the year! PLUS get free shipping in the US on orders of $50 or more!

When did we decide it that was okay to settle for ordinary?
After all—none of us start out our lives hoping for average.  For a marriage that is just okay.  For a career that we tolerate, but don't really love.  For friendships that are superficial.  For hobbies and pastimes that don't really excite us.  For most of the time, just trying to make it through the day.
But what if you really could create a life you LOVE?
Not a life that is perfect, because perfection doesn't exist, but a life that fills you up and makes you feel whole.
What if you could be the wife and the mom and the friend you want to be, the one you know you are inside.  What if you could do the work you've always wanted to do, the work that sparks your passion and allows you to live in your sweet spot?
What if you were finally able to manage and keep track of all those details that so often get you off track and make you feel like you are failing?  What if getting dinner on the table was effortless, a natural extension of your day, or you were finally able to get a handle on your finances and begin making your money work for you instead of the other way around?
What if you dared to give yourself permission to go after your goals and dreams?  To stop putting them off for fear of failure and instead had the courage to do it scared™?
What if?
This is what the Living Well Planner® is all about.  It's the practical tool that can help you harness the power of WHAT IF.
It is your daily reminder that anything is possible.
When it first debuted in 2015, I knew the Living Well Planner® had the potential to be life changing. It was the first of its kind—an all-in-one tool not just for planning your days, but for keeping track of your budget, managing your home, planning your meals, and reaching your goals.
And in the years since, the feedback we have received has been pretty incredible. This amazing tool really has changed lives! But I also knew we could do even better.
And so we've continued to refine.
I can't even tell you how excited I am to let you know that our newest edition of the Living Well Planner® is almost here!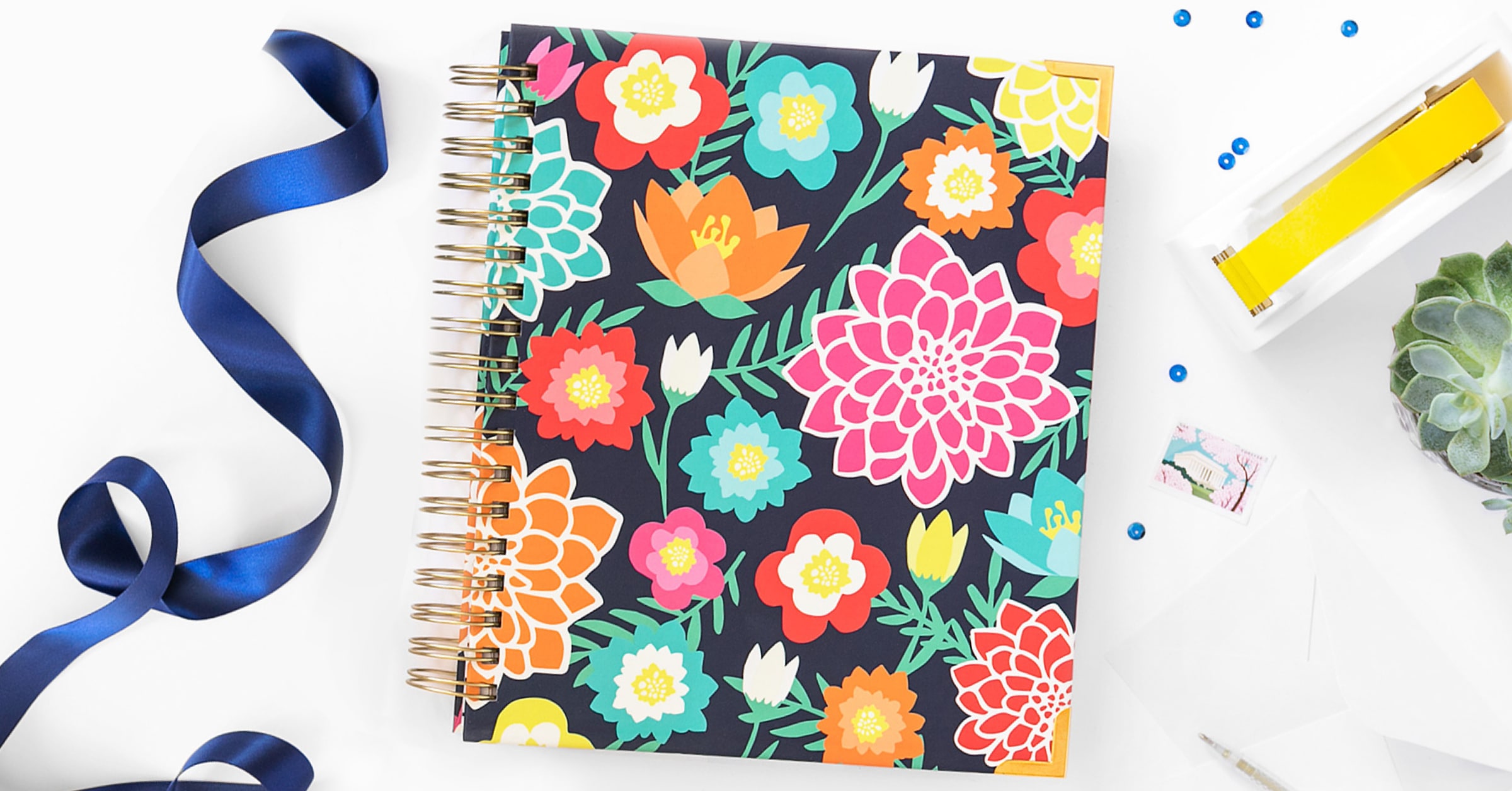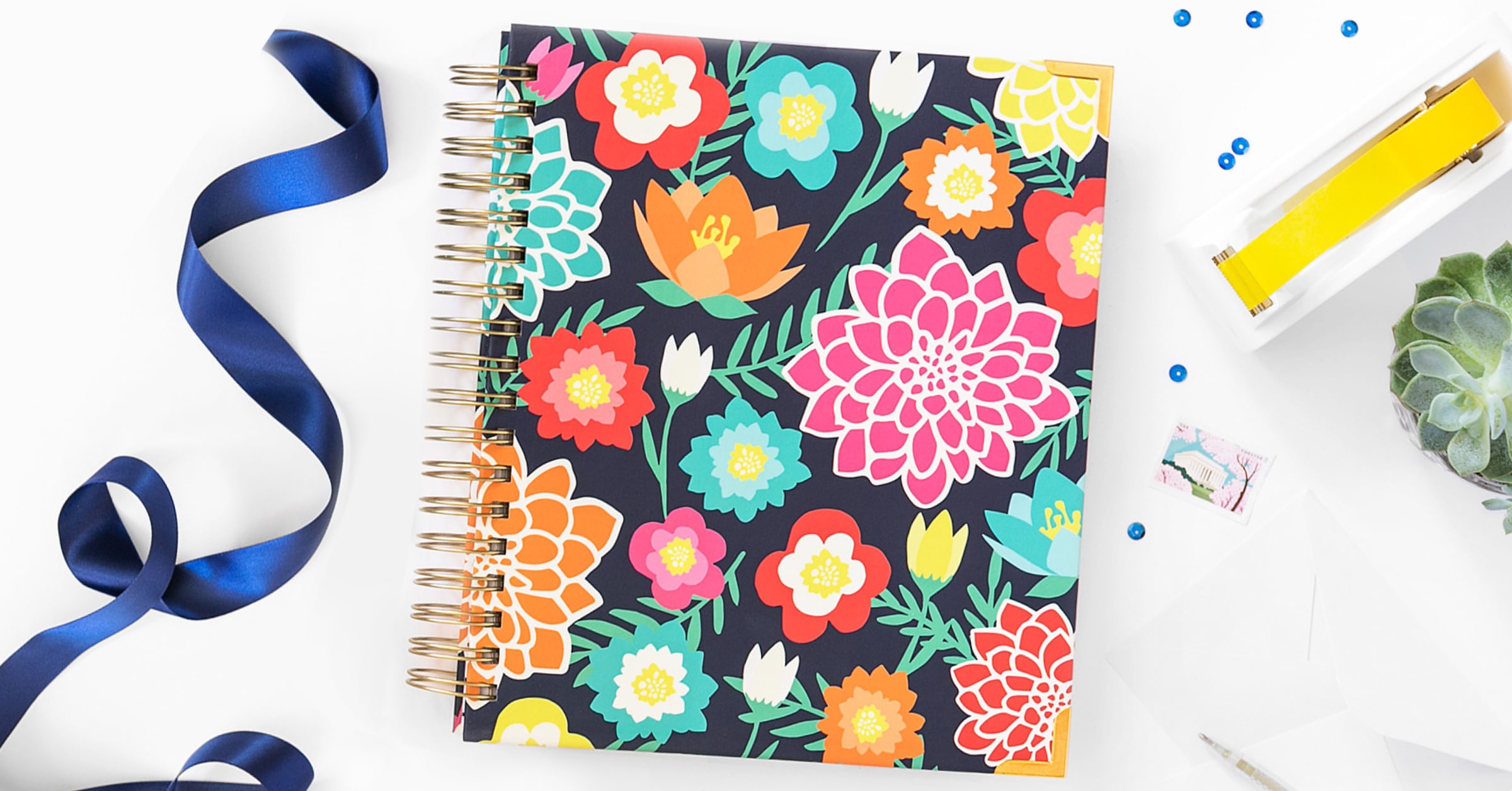 This year our design team completely outdid themselves, and hand-crafted our own signature floral pattern—a collection of bright & beautiful hand-drawn flowers on a sophisticated navy blue background.   It's both colorful and refined, and we think it is the perfect way to take your planning to the next level in the coming year.
Here are just a few of the improvements that we've made this year:
THICKER PAPER: We took it from 70# weight to 100# weight, a dramatic difference for increased durability, giving you an even higher quality planner experience.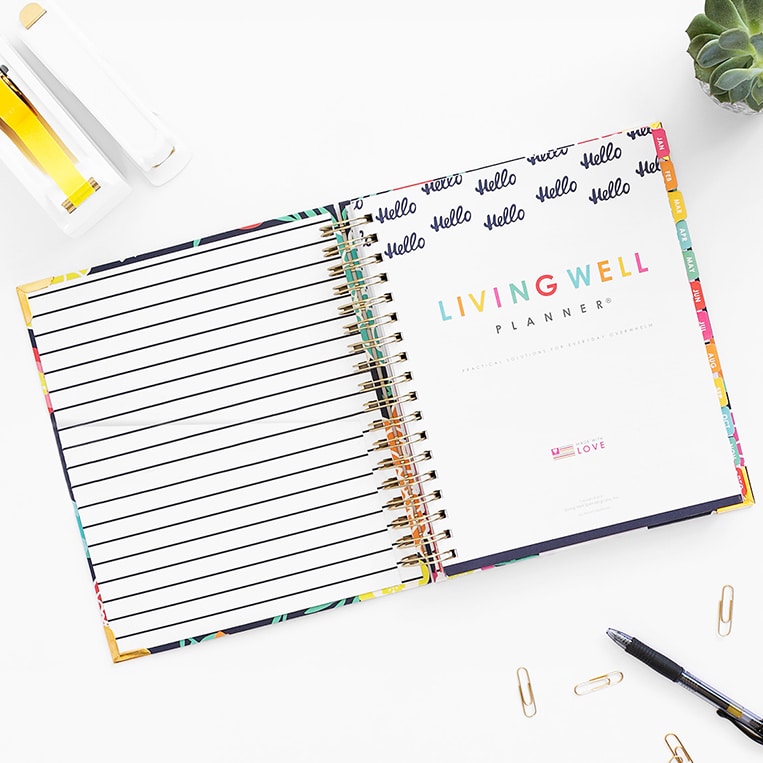 REFINED DESIGN: In addition to our new floral cover option, we've updated our interior with pretty-yet-sophisticated florals, stripes, and navy accents.  It's the same planner you know & love, just a little more grown up.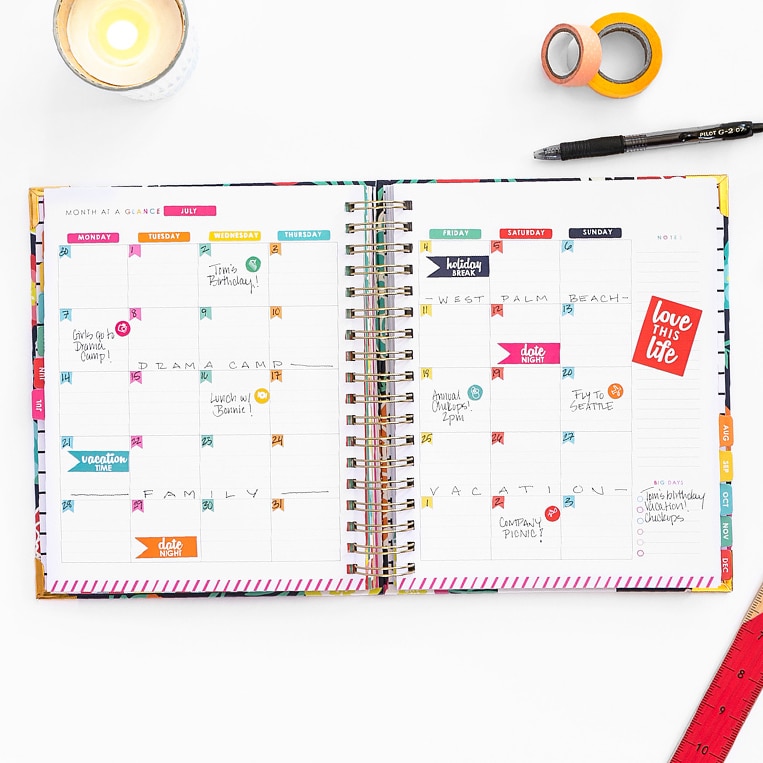 CUSTOMIZABLE MONTHLY PLANNING SPREAD: Because some people prefer a traditional Sunday start monthly calendar, while others prefer a Monday start to match the work week! Since our customers have always been split down the middle on this issue, we decided to make it work for everyone!  Your planner now comes with an additional set of stickers to make your monthly calendar work for you.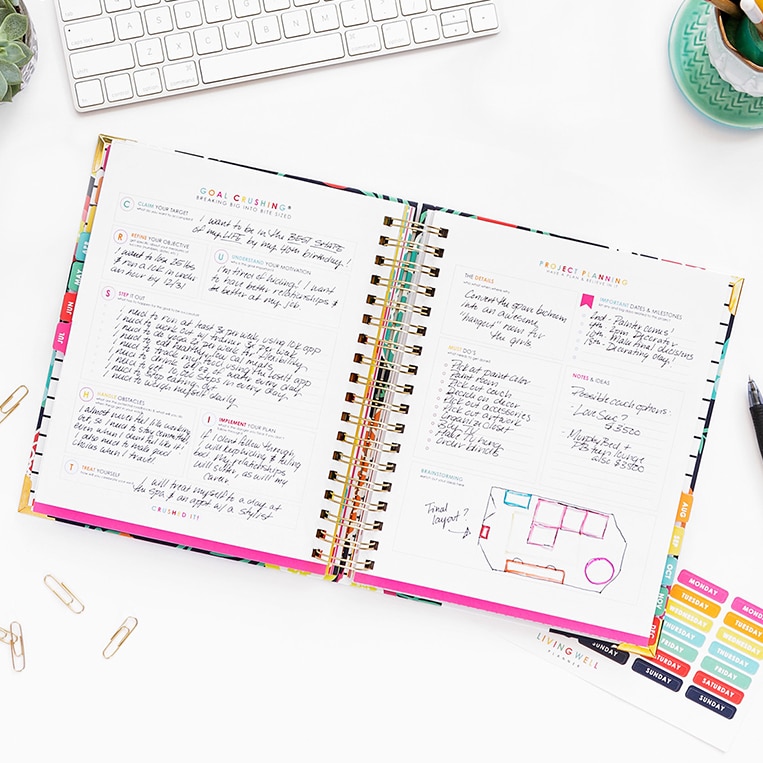 IMPROVED GOAL CRUSHING & PROJECT PLANNING PAGES: Our exclusive Goal Crushing® system has transformed the way our planner users get things done, and so many of our users report that these two pages—found in each and every monthly section—are their very favorite part of the entire planner.  Even so, we knew we could make them even better and more intuitive, and so we did! We promise they will rock your world!
As always, the Living Well Planner® is printed in full color, and comes undated so that you can begin using it at any time.  It offers space for planning out the year, as well as monthly goal-setting and monthly budget pages. It also includes labels for customizing your planner, including wrap-around monthly tab stickers that actually help reinforce the tabs while allowing you to easily find the month you are looking for.
The Living Well Planner® offers a tangible solution to the chaos of a busy life, and it will empower, enable, and inspire you to take back your time and manage your schedule, allowing you to focus on your BIG goals while still navigating the daily, weekly, and monthly responsibilities of running your home.
It is designed to help you become the best version of yourself—the mom and wife and friend and person you want to be—while giving you permission to make your biggest goals and dreams a reality.
In other words?
It is the sanity saver we've ALL been waiting for!
But that's not all!
You see, we're also throwing in an AWESOME pre-order bonus that is going to blow your mind!
As your special pre-order gift, you'll receive my 2 very favorite sticky note pads FREE with your planner purchase—the Weekly Wizard™ (an $8.50 value) and the Daily Do-It™ (a $9.50 value).  Both are designed to work with the planner to help you better organize your week and your days, respectively, by helping you prioritize your to-do lists to make sure that the most important things get done first.  Best of all, you can stick the right into the weekly planning pages of your planner to keep yourself on track all week long! Pre-order gifts available if you order by 8/31/18.
Still not sure if the Living Well Planner® is right for you? Check out this 3D flip book and learn more about how our planner can help you organize YOUR life!
**IMPORTANT UPDATE**: Please note that the September 1st shipment of our floral Living Well Planner® is now sold out. Our last shipment of the year will begin shipping on November 15th.
You can still place your order now to take advantage of our preorder pricing, but you will not receive your planner until November. Please be aware that all planners are shipped in the order received.
Because quantities are limited and selling faster than anticipated, we recommend placing your order as soon as possible.
If you need a planner sooner than November, you can still order our Limited Edition Blue Stripe planner HERE.
It IS possible to crush your goals and create a life you love.