GET AHEAD FOR THE HOLIDAYS!
---
If your holiday season is already overwhelming, grab our FREE Holiday Planner to help you plan with peace. Fill your holidays with more joy and less stress today!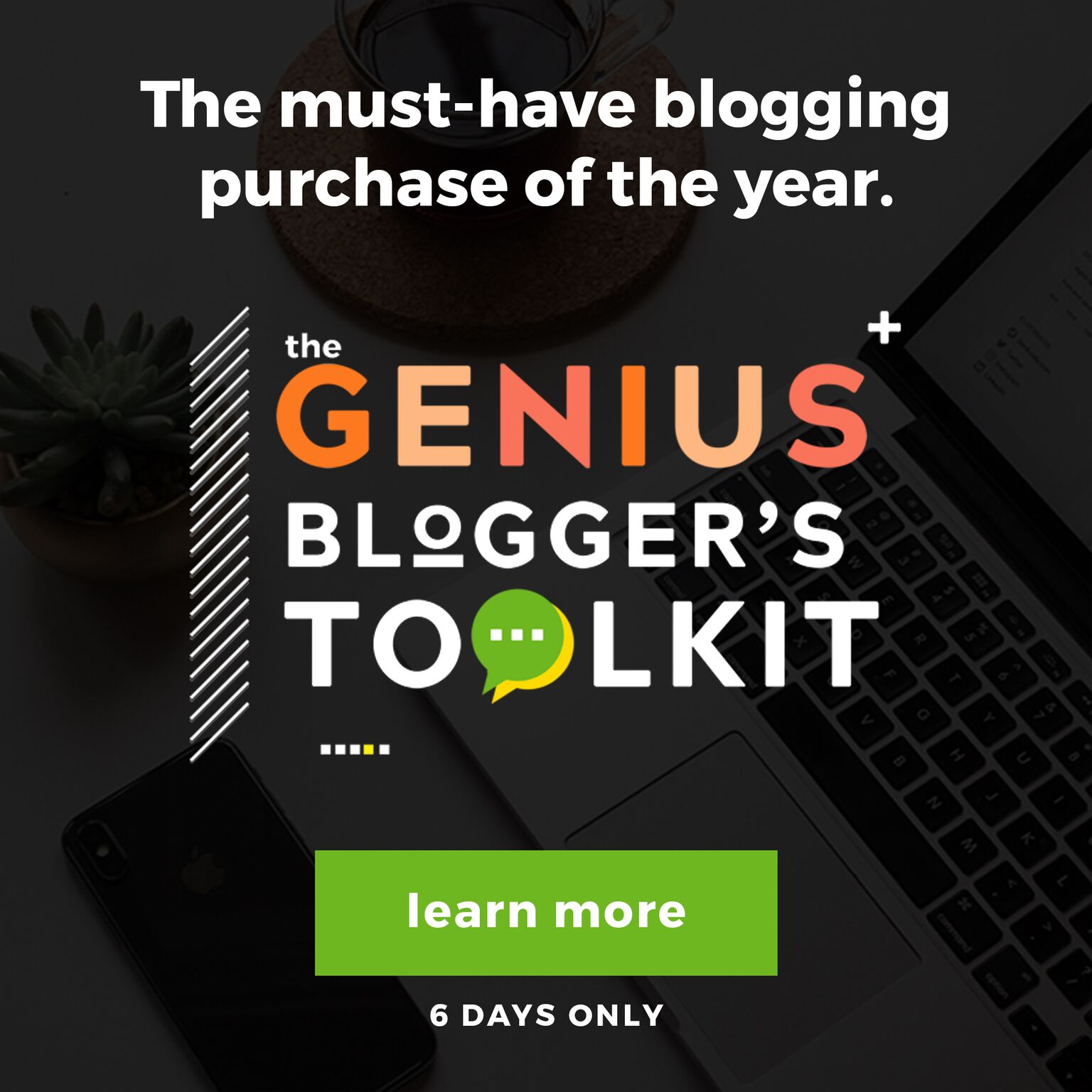 While I don't often talk about blogging here at Living Well Spending Less, it is a huge part of my life, and what started out as a place to talk about the adventure of trying to live well and spend less has turned into a pretty incredible business.
It has also allowed me to write my bestselling book, How to Blog for Profit Without Selling Your Soul, and launch the wildly successful Elite Blog Academy.
Blogging is pretty incredible, and these are a few of things that I would never have dreamed of doing before I started blogging.
Maybe you too have been toying with the idea of blogging…but you aren't sure where to start. Or maybe you've already started but aren't sure how to grow. Regardless of where you are at right now, if you have blogging dreams, then I have an amazing opportunity for you this week.
I wanted to let you know that starting today, for six days only, you can get access to a special digital blogging bundle of 77 different eBooks, eCourses, printables, and bonuses called the Genius Blogger's Toolkit valued at more than $5,500 for just $97.00.
There has never been any sort of resource for bloggers like this before, at least not one that I've seen, and certainly not one of this caliber for this price.
It has an insane amount of valuable information, including resources for creating amazing content, expanding your reach on social media, growing your email list, creating products, monetizing your platform, and maximizing your productivity.
It also includes access to our Irresistible Email™ Course, which is a $297 value all on its own.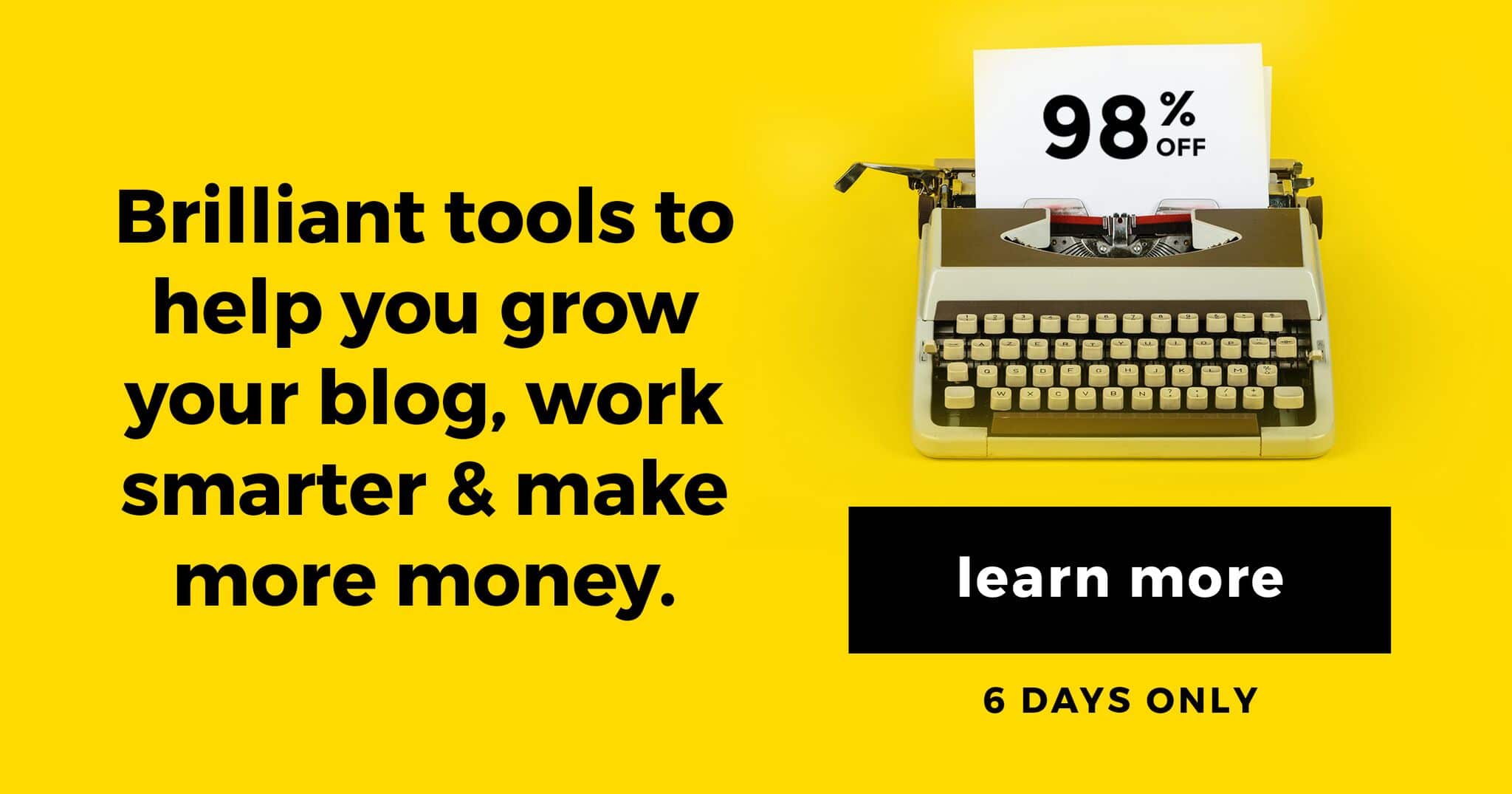 Even if you've only dabbled in the blogging world and are still just getting your feet wet, this bundle is an incredible, once-in-a-lifetime opportunity to get thousands of dollars of incredibly valuable information for less than a hundred bucks.  And if you are serious about blogging, well, then the Genius Blogger's Toolkit is a no-brainer. It's that simple.
But it's not for everyone.
If you are just starting out, you might think it is still way too early to start thinking about this type of opportunity.  I promise you that it is not. On the other hand, if you've been blogging for a while and have been earning a respectable income through ad networks, affiliate advertising, or working directly with brands, you might think you are already doing pretty well.  Why take the risk?
This is a lot of information.
I will be totally honest and tell you that the part I don't love about this bundle—it is almost too much of a good thing! There is so much information that without a good plan, it could easily become totally overwhelming because you won't know where to start or what to focus on first.
What if it's too much?
While this bundle is a ridiculously amazing deal that I do think you would be absolutely crazy NOT to take advantage of, I will be totally honest and tell you that there is actually something I DON'T love about big digital bundles like these.
Do you know what it is?
They can be too much of a good thing!  There is so much information that it becomes totally overwhelming.  You don't know where to start or what to focus on first, and so you find yourself spinning around in circles and unable to apply any of it to your own situation.
In fact, maybe right now there is even a part of you that is looking at all those resources and thinking, "yikes, this seems like way too much information to deal with right now.  I think I'll just wait for EBA. EBA is proven. EBA is simple and straightforward.  EBA is just one thing."
And that's actually a pretty smart way of thinking.  After all, if you let yourself get overwhelmed, you are more likely to quit.  And if you quit, you'll never get to where you want to be.
But that's exactly why I wanted to create something just for you to go along with the Genius Blogger Tool Kit that would help eliminate the overwhelm and get you totally ready to rock EBA 4.0 when it starts in March—a personalized EBA Prep Guide that will help you focus on the very best resources that this incredible Tool Kit has to offer so that you can hit the ground running and find massive success that much sooner.
But that's not all!  I'm SO convinced that this Genius Blogger's Toolkit is going to help prepare you for massive success in EBA, that I am willing to put my money where my mouth is!  And so, when you purchase your Tool Kit, I'll also send you a $97 Voucher that you can use towards your EBA 4.0 tuition in March.
Pretty sweet right?  That's almost like getting the Tool Kit for FREE!
The truth is that there will always be things in our lives that feel really hard sometimes, and blogging is no exception.  Even so, the fact that it is challenging is also what makes it worthwhile. The best things in life are the ones you have to work for.
You see, when you want something, I mean really want it, you can feel it in every bone in your body, that drive, that hunger, that internal pressure to achieve.  You don't need anyone else to push you—you're more than willing to do whatever it takes. And it doesn't feel like work, either.  Oh sure, there might be hard days and annoying moments, but they are worth it because every step you take is getting you closer to that goal.
And if you don't feel that?  Then maybe your goal isn't big enough.
When I first started blogging, I set a goal to make enough money from my blog that my husband—an aerospace engineer—could quit his job and become a stay-at-home dad.  At the time, it was a completely crazy goal that seemed utterly impossible, and my husband told me as much, insisting that I would never be able to make money from a blog.
But I wanted it so bad, I could almost taste it, and I was determined to do whatever it took to make that crazy dream a reality.
And so, with two toddlers at home, I started getting up at 3am every morning—and sometimes even earlier—in order to work on my blog before anyone else was up.  I took advantage of every nap time, every weekend, and every spare moment. And when I wasn't working on the blog itself, I was learning everything I could about blogging, from SEO to social media to how to monetize.
I'm not going to lie, it was a pretty exhausting time.  There were lots of downsides. My husband couldn't understand why on earth I was spending all my time on a blog that he was sure would never amount to anything.  My real life friends made fun of me and talked about me behind my back. My kids watched way too much Dora the Explorer. I didn't get nearly enough sleep. I had almost no life.
But to me, it was all worth it, because I could see the vision, even if no one else could.
And eventually, that vision paid off because in 2013, 2 ½ years after starting my blog, my husband was able to quit his job, and we've never looked back.  The blog—and the business that has grown out of it—has continued to grow and flourish.
So. If you've been dreaming of starting your own blog, this is an amazing opportunity to get a huge amount of resources for an insanely small price. But you can't be on the fence with this because it's only available until October 15th.
Here's what to do to get your Tool Kit, Irresistible Email course, EBA 4.0 Prep Guide, and $97 EBA 4.0 Voucher:
1.)  Purchase your Genius Blogger's Toolkit HERE
2.)  Fill in the form HERE with your Receipt # to get access to Irresistible Email, as well as your EBA 4.0 Prep Guide & Voucher
3.)  Check your inbox for your login info, as well as your Prep Guide & Voucher.
Here's to you and your next big adventure–and I'll see you in EBA!