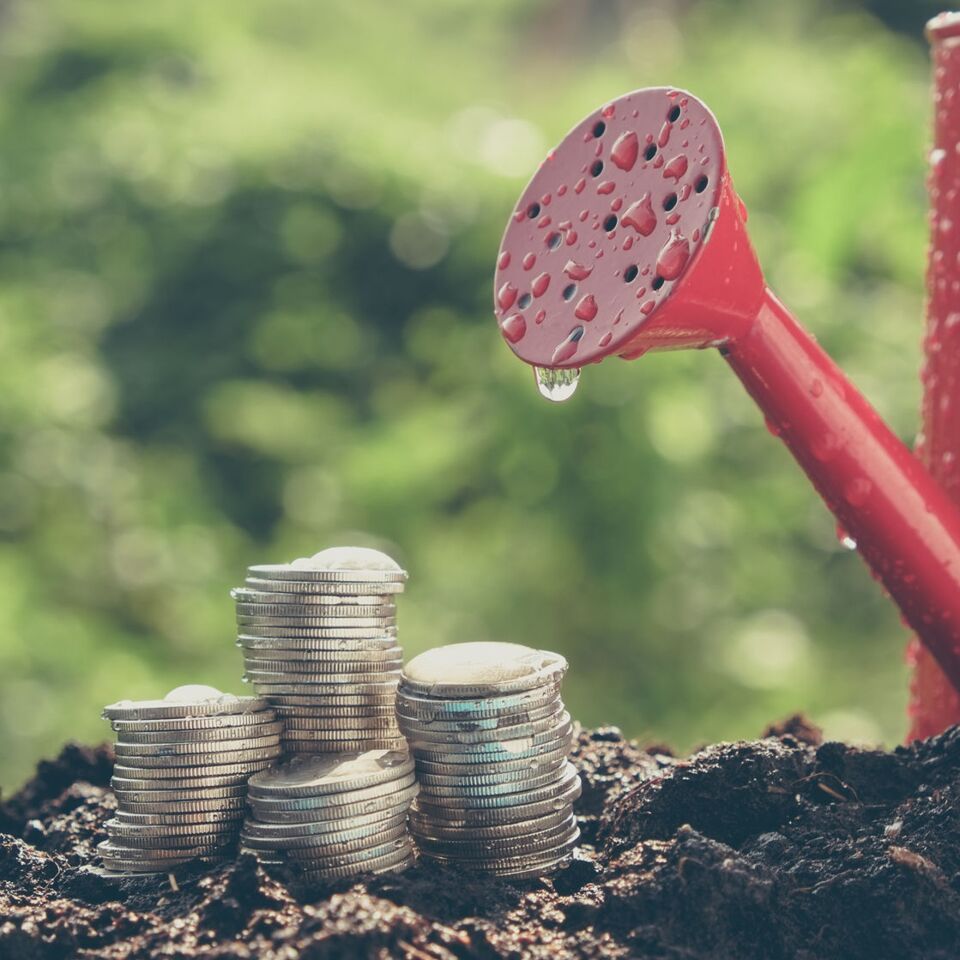 This is a Guest Post from Cherie at Queen of Free
For almost my entire life, I've lived in Indiana. To me, there's nothing like an unfolding cornfield in the mist of an early morning sunrise. Barns and basketball goals break the horizon. If you've never visited the Hoosier state but wondered if those truck commercials about the beauty of the heartland are true, I can vouch for the representation.
We're a state of extremes though. We love the quiet hymn of a Sunday morning in little country church. And in March, there's nothing that compares to the squeak of the hardwood except maybe the sound of a basketball floating through a net with a satisfying swoosh. I love most things about my state.
I'll be the first to admit our climate leaves a little to be desired, though. It follows that extreme pattern of existence. The summers here are humid and hot, while the winters blow brutal and cold. Perhaps this is why each and every spring I clap my hands with glee when the warmer temperatures and sun reappear. Oh how we needed this. The frosts and snow begin to dissipate. Buds and blooms poke their heads from the cold soil. New life returns.
No matter where you live, spring represents a return to new rhythms and patterns. Christians the world over celebrate spiritual and physical resurrection. Sports moms and dads release their pent up children back onto the field. Families open the windows to allow clean breezes to carry fresh air into their homes. Gardening fans pull out their tools and seeds, eager for a new growing season. However, the myriad of choices in the celebration and opportunity easily lead to overspending.
Your spring doesn't have to lead to poor financial choices. From spring cleaning to gardening to Easter and beyond, using these smart strategies can ease into a new season without breaking the bank.
How Does Your Garden Grow?
After a long winter of gray skies and brown grass, the first sign of new life outside causes my heart to leap. Immediately I begin imagining a new landscape for my yard. I dream of a full vegetable garden filled with money saving produce and delicious, healthy, homegrown fare. Don't even get me started on the adorable galoshes and gnomes lining the shelves at my favorite big box retailer. Give me all the outdoor furniture and rugs and firepits because we're pretty much going to live outside from here on out.
Hold up, buttercup.
Your first steps for a beautiful outdoor space begins with the less glamorous steps of cleaning up the winter's leftovers. Downed branches, new weeds, unruly grass – all need plenty of attention before you make a single purchase. So before you buy the galoshes or an adorable garden flag, do the difficult work of creating a blank space in your yard. It's also wise to clean through your garage or storage barn and unearth tools and equipment that hasn't been outside in months.
Service your lawn mower, weed eater, or any other outdoor power tools as early in the season as possible. Change the oil. Sharpen the blades. Wipe the grim from last year's work off. If you have the skill set, endeavor to knock out these tasks on your own. If maintenance isn't your cup of tea, use your social media or in real life networks to ask around for an affordable and reliable referral. Don't put off contacting a servicing company though. The longer you wait, the more flooded with requests a business will be. While such maintenance can be an upfront cost, the benefit of troubleshooting problems and looking after the long term upkeep of equipment saves you a bundle in the long run.
Want some more ideas to keep your garden a lovely shade of green and your budget a beautiful black? The Best Ways to Save on Gardening offers ideas for making your own weed killer, building square foot gardening beds without buying the farm, and saving your veggie seeds from season to season. Simple Tips to Save Money on Spring Gardening offers strategies for starting seeds, purchasing plants, and taking care of tools.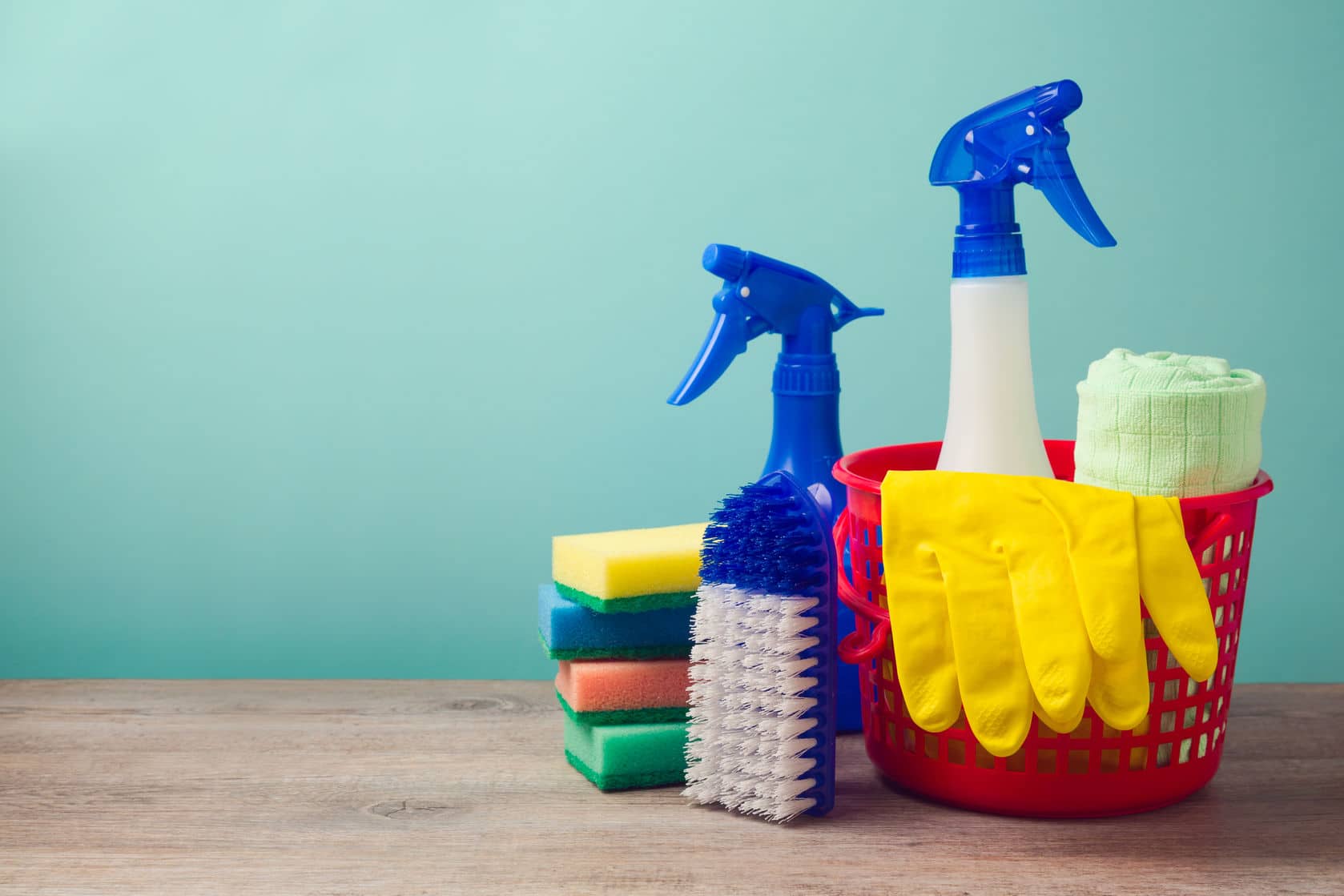 Get Your Clean On
While cleaning during any season will never rank as a hobby for me, spring cleaning does give me a bit of a boost. However, marketers know we're suckers for a revolutionary new product certain to make difficult jobs easier and our homes sparkling clean. The end caps at your grocery store will be filled with every spray, mop system, and cleaning wipe imaginable. Each will call to you with bold letters and big promises.
The truth is, you probably have more than enough cleaning products to get the job done hiding in the depths of your cabinets. Before you purchase a single product, do an inventory of what you already have. Don't forget to peak through the cabinets under your sink, in your bathrooms, and that closet where you tuck cleaning supplies away, too.
DIG DEEPER
---
Our Green & Thrifty Cleaning Products Guide will help your home be chemical free! Simply click the button below to get your Green & Thrifty Cleaning Products Guide delivered straight to your inbox!
After a thorough investigation, build a list of what products you do need to replace and purchase. However, you don't have to spend a bundle. Instead, check out these Green and Thrifty Cleaning Products you can make yourself. Homemade cleaning products are both environmentally friendly and easy on your wallet.
10 Fantastic Frugal Spring Cleaning Tips offers a number of out of the box ideas, too. Did you know that vacuuming out the back of your refrigerator helps remove dust and pet hair, allowing the cooling system to work more effectively and prolonging the life of your appliance? Have you considered cutting sponges in half to stretch the pennies you spend on them further? What about vacuum sealing your bulky winter wardrobe so you can store it neatly under the bed? Don't forget that you can use Amazon to order cleaning products online, too. You can even "clip" digital coupons to save a few bucks. You'll be less likely to be tempted by the cute galoshes and adorable gnomes, too.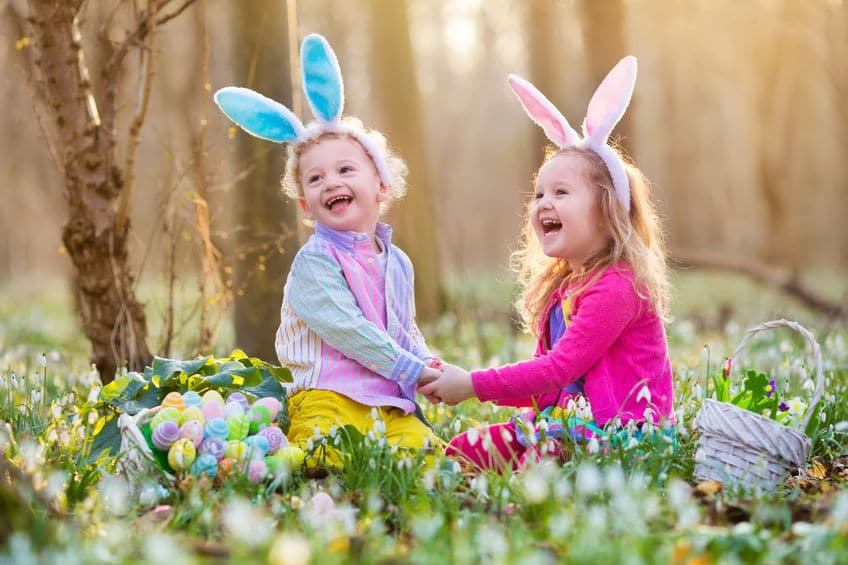 Rejoice For Easter
Oh how I'm tempted to buy every item in the season aisle at Easter. One of my favorite holidays, the entire week of celebration is soaked in time honored traditions and beautiful symbolism of Jesus' death and resurrection. While Easter's extras are fun for kids and adults, they shouldn't be the center of our celebration. After all, Jesus came to set us free from the bondage of sin and spending more money than we make leads us to financial imprisonment.
Does this mean you wear a gunny sack to your church's services and do nothing else to mark the holiday? Probably not. However, you should carefully consider your budget when celebrating Easter. Here are a few strategies to aid your efforts.
Skip the Easter Grass. While shiny cellophane at the bottom of a basket seems a "must" for the season, remember that you are literally purchasing an item with the intention of immediately throwing it away. Consider eliminating it all together or using a practical item like a fun washcloth or towel instead.
Purchase Reusable Baskets. The week after my daughter's first Easter, I purchased a durable metal basket on clearance for her. Each year since, she's used the same one. I repeated the method after her sister's birth. Instead of buying a new basket every year, consider buying one to last a child's lifetime.
Go Easy on the Candy. Oh the chocolate bunnies, the peanut butter eggs, the jellybeans – everyone seems to have a favorite Easter candy. However, you need less than you think. Your wallet and your waistline will thank you for committing to purchasing only one or two bags.
It's All About The Eggs. Whether they're plastic or boiled, you have more options than you realize when it comes to Easter eggs. Consider skipping the dye kits and using Koolaid, Shaving Cream, or even temporary tattoos to decorate your eggs this year. Check out Creative Easter Eggs: Save Money and Use What You Already Have for more ideas.
Each season brings with it tempting spending traps. Perhaps because we've been trapped inside our homes during the long winter months, spring offers both opportunities we've missed and responsibilities we've been avoiding. However, thinking through your needs and focusing on what truly matters yields smarter choices in the store. Spring can breathe new life into your budget, too. Don't get carried away in seasonal spending and miss this opportunity.
Cherie Lowe is an author, speaker and hope bringer. Her book Slaying the Debt Dragon details her family's quest to eliminate over $127K in debt in just under four years. As her alter ego the Queen of Free, Cherie provides offbeat money saving tips and debt slaying inspiration on a daily basis.