These 30 Meatless Recipes are handy when some ingredients aren't on hand, but also help you to serve family meals without stress.
To be honest, I'm not a big meat-eater. In fact, I tend to eat mostly vegetarian/pescetarian. So, for me, meatless meals have never felt like "rabbit food" or "diet fare."
My husband and kids on the other hand, well they definitely veer more toward the omnivore end of the spectrum. Like most parents, I try to encourage my girls to eat balanced, healthy and nutritious meals.
But I also know for my family—if it isn't filling and doesn't taste great, they'll be hungry the minute dinner's over (or will speak up before dinner even starts). So they're a perfect audience for testing out the best meatless recipes.
And it's no secret: meat is expensive. Removing meat from your meals (and your grocery list) is a great way to save money in your food budget. Going meat-free for one or even a few meatless meals a week can really impact your grocery bill and save you in a time of need.
So, I decided to take on a challenge: a month of meatless meals that are inexpensive, easy, and yet still satisfying and family-approved. Could we do it? You bet! Did we see major savings on groceries—yes! In fact, our groceries are about 25% cheaper when meat is off the menu.
If you and your family would like to take the month of meatless meals challenge, here are 30 great recipes to help you get started. And hey, no need to go nuts. If you're simply looking for more Meatless Monday meal ideas—look no further!
30 Meatless Recipes to Save You Money & Time
Many of these meatless recipes are pantry or freezer-friendly, so prepare them ahead of time and have plenty to eat all month long.
Rather than saving the best for last, I suggest starting with the best-for-first! A classic like mac and cheese can't be beaten. In fact, this dish is ultra-satisfying: no meat required. Yes, you could opt for the blue box, but honestly? This is SO much better. I like to prep two pans, so I have one to freeze and enjoy down the road. This dish is easy, creamy and I promise your whole family will love it. It doesn't take much longer than the box and it's well worth the effort.
This is my FAVORITE chili recipe of all time. My kids love it, I love it and my husband loves it. Best of all—it takes almost no time to throw together and it's made from ingredients you probably have in your pantry right now. You can top it off with whatever fixins you prefer: cheese, chips, sour cream, a side of cornbread. It's such a great, easy dinner. I use "beefless crumbles" in my recipe, but that's up to you. If you've never tried the crumbles though, I definitely recommend them, as they add a heartiness to this meal that can't be beaten. This meatless chili is a great starter meatless meal.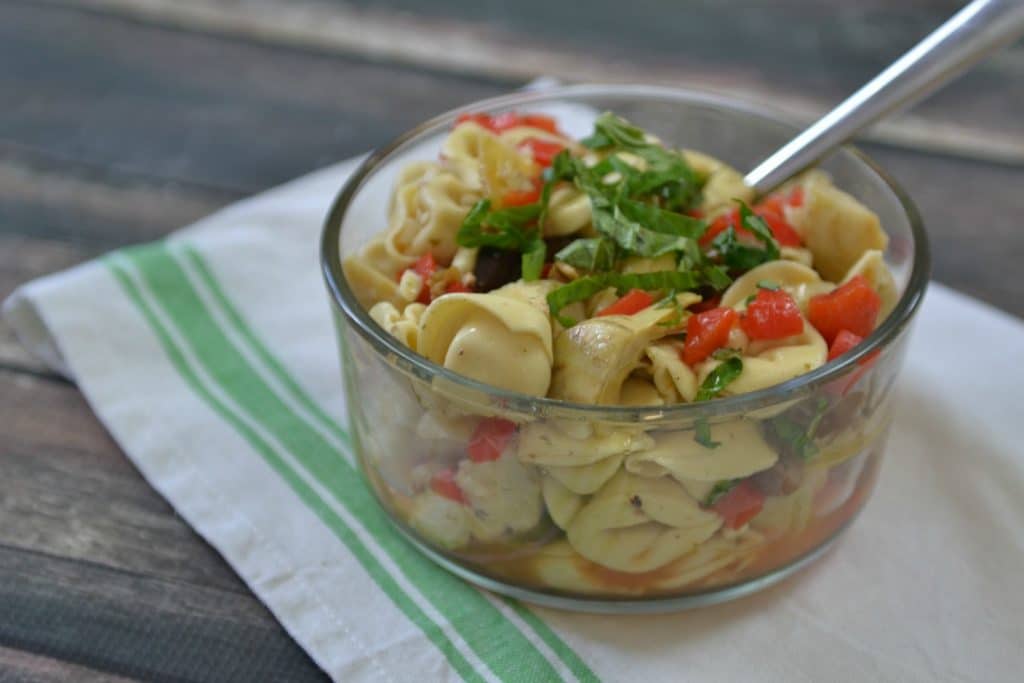 I really tried to avoid including too many recipes with the s-word (salad) in the title, but this tortellini "salad" is SO filling, it had to go on this list (and it's really only considered a pasta salad because it's delicious cold). This is one of my go-to summer recipes. It comes together in no time flat and doesn't require hours at a hot stove. It's low maintenance, simple and delicious. Add this one to your recipe book to have once you're able to get together with friends and family again. You'll definitely get requests for the recipe. It's the perfect blend of salty, savory, satisfying and flavorful.
My friend, Sammi of Grounded & Surrounded came up with these delicious meatless tostadas and they've since become a weeknight family favorite. They're made of ingredients we almost always have in the pantry and topped with oh-so-yummy avocado. These come together fast (as fast as tacos) but they're a little different and a fun change of pace. The combination of the refried beans with the olives, lime and avocado is spot on. These are the perfect crunchy dinner and again, don't require you to spend hours in the kitchen to serve a meal with wow factor.
These protein-packed peppers have it all! They're hearty and full of protein (beans and meatless crumbles). They're make-ahead, freezer-friendly, and they're cooked in your slow cooker: no effort required! I always keep a batch of these tucked away in my freezer. They're a go-to staple. Oh, and did I mention they're delicious topped with cheese and a dollop of sour cream? This is a meatless recipe you should NOT miss out on.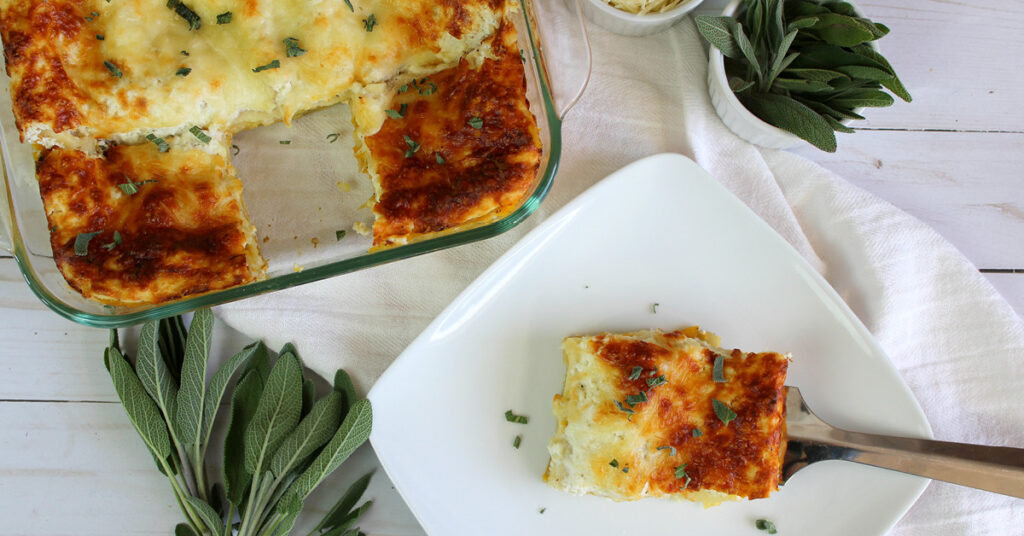 This lasagna recipe is hands down my go-to lasagna. I've been making this recipe for years and it's so good. It's a little different take from the tomato sauce classic, but the squash is a sweet, delicious and creamy addition that goes seamlessly with pasta. This meal freezes up beautifully too (partially bake it first). It's always a favorite for those who try it!
These veggie pot pie pockets are so fun and delicious. I originally came up with this recipe as a kid-friendly take on roasted vegetable pot pie. It's much lower effort than classic pot pie but with all the same comforting flavors. The pocket-style meal boosts the kid-pleasing factor and years later, my kids still love this recipe. In fact, they're old enough now they can mostly create these pot pies on their own!
Does it get any better than broccoli cheese soup? This is the best creamy, cheesy, satisfying soup out there. I highly recommend serving this soup in a bread bowl—it's the perfect presentation. If you decide to skip the bread, it's also great with crackers (or frankly, on its own). This is a great, easy meatless recipe and it calls for ingredients you probably have right in your fridge!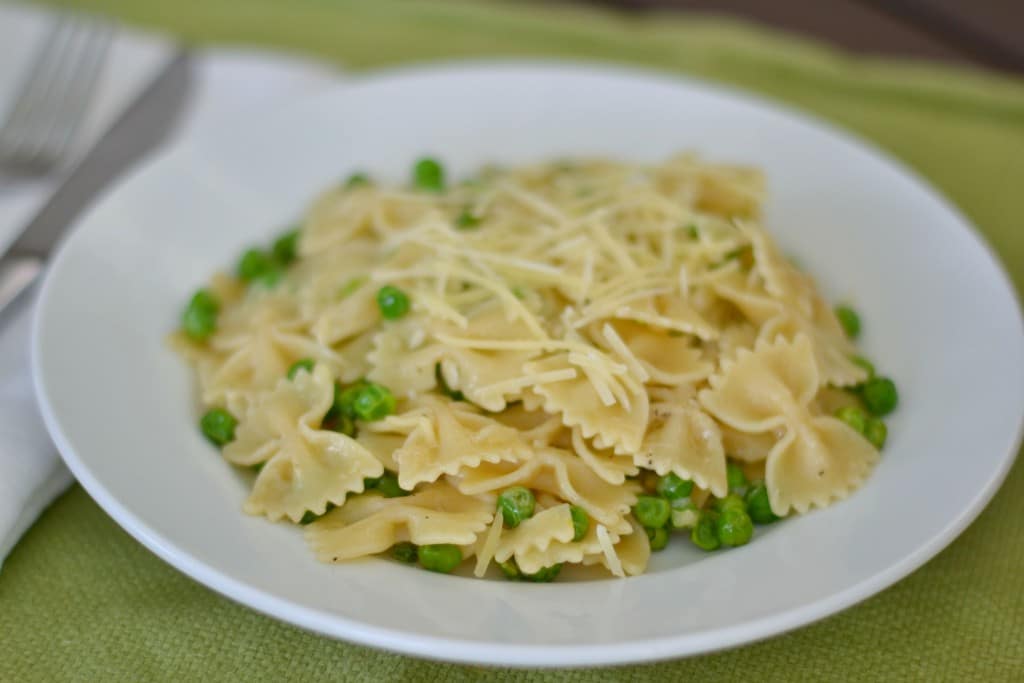 This is one of those super-simple meals you can whip up any time. I almost always have the peas, Parmesan and pasta on hand. The meal comes together really fast. It's simple, easy, kids love it and adults love it too. It's a humble recipe—nothing fancy or exotic here—but it's a family favorite. Full disclosure, this pasta is great with leftover ham, turkey or chicken tossed in as well, but it's not really necessary. It tastes great either way!
It seems every family has a riff on goulash, don't they? This recipe actually came from my sister. I adapted it using vegetarian crumbles and it's become a major crowd-pleaser at our house. It's one of those meals that comes together easily and just tastes like "home." Even better, this is another meal where you probably have most of the ingredients on hand.
This pasta dish is perfect for spring or summer because the flavors are so bright and delightful! There are plenty of vegetables, so it looks colorful and beautiful when it all comes together. Be sure not to overcook the veggies—they should still look fresh and vibrant when they're done (with just a little crunch). This pasta is fast and a great weeknight meatless option.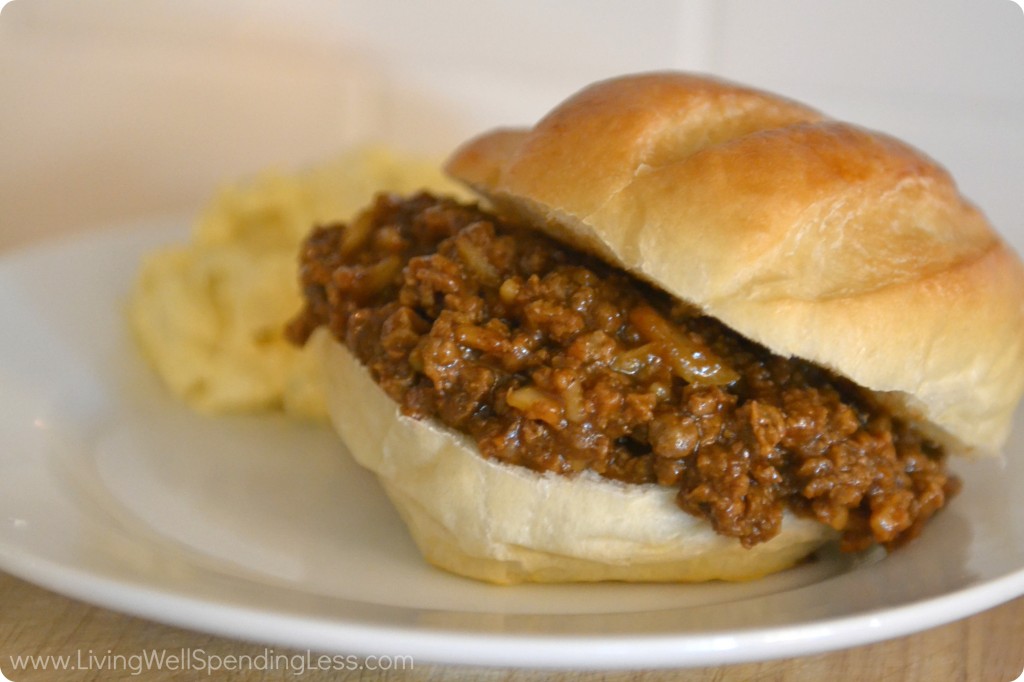 Ready for everyone's #1 dinner choice? Sloppy Joes are a family favorite in our house, how about yours? These super simply "Joes" can be made ahead and are great for the freezer. The kids LOVE these, and they're delicious with a side of coleslaw or crunchy carrot sticks. I use the vegetarian crumbles in these instead of ground beef so they're meatless yet still hearty. With these Sloppy Joes, it's all about the flavor-packed sauce!
This kale and white bean soup calls for the optional addition of sausage. While it adds flavor, this soup is delicious without it too (or you could use vegetarian sausage). The soup freezes beautifully—I always prepare it in multiple batches so we can enjoy some later. The white beans are full of protein and flavor. This soup is great on a cold day with a nice crusty piece of French bread!
Don't let the fancy name "quiche" intimidate you! I always thought quiche was a complicated dish—in truth? It couldn't be easier! Using premade pie crust (which is often on sale or a coupon special) makes it even more simple. It's so delicious and once I figured out how inexpensive and fast it was to whip up a quiche, I started making them a regular dinner around our house. They're a great format for any veggies or leftovers you've got in the fridge too!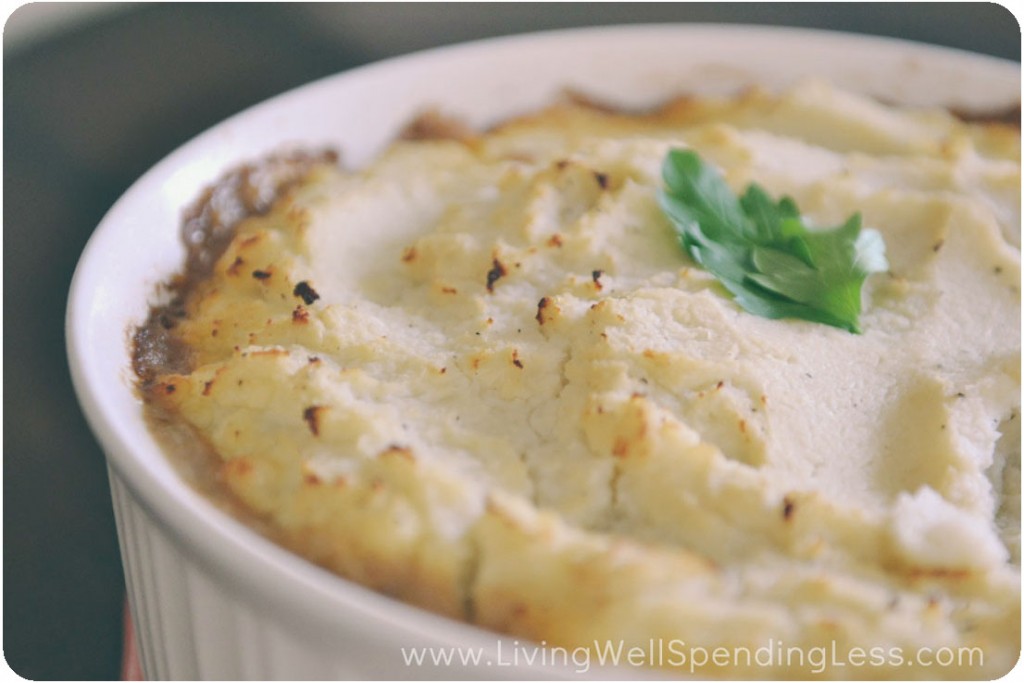 I used to be a shepherd's pie skeptic. I think I had a couple bad experiences with the dish that led me to believe it was sort of sad and boring. Well, after trying this update with mashed cauliflower (a low-calorie potato swap) and vegetarian crumbles, I came around to the idea—this shepherd's pie is wonderful! It's not the prettiest dish (although the cauliflower does brown up rather nicely) but it's a house favorite. It's also a great way to sneak in extra veggies!
Are you ready for a delicious, hearty, awesome soup? The secret to this soup is the HamBeens, which come with their own yummy flavor packet (and is vegetarian despite the "ham" in the name). This dish is Cajun spicy but still kid-friendly. You can add sausage for extra flavor if you like, but it's really good on its own. This soup is freezer and crock-pot friendly. It's a nice change from chili or vegetable soup. It tastes great with rice, topped with cheese, or with a side of warm, golden cornbread.
This dish is perfect for summer. The bright, Greek flavors beg for a meal on the patio in the sun. I love the addition of salty crumbled feta. It really rounds out the dish. This pasta is a one-pot meal, so you don't need to do much washing after. You can use it as a side or enjoy it as a light dinner. It's perfect, simple and so satisfying!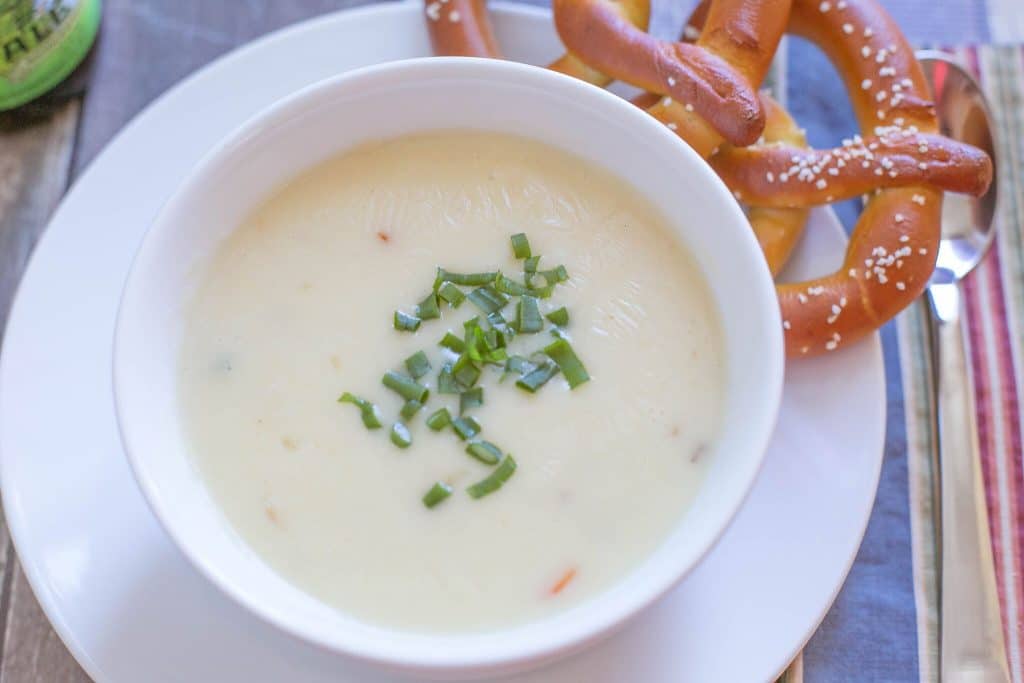 Man, oh man, it doesn't get any better than beer cheese soup. Served with a delicious soft pretzel (or with pretzel buns if you prefer), this soup combines two great flavors of cheese and beer. Don't worry though—it's perfectly kid-friendly, as the beer cooks out and leaves behind the distinctive, satisfying flavor. This is great for the next time we can enjoy a game day with company, or any day you need some major comfort food.
This recipe is a super simple, kid-friendly riff on tacos. Something about little bite-sized packages make taco night even better. The best part is these little bites are so pretty you could add a sprig of cilantro to each one and serve them as a party appetizer! These come together in no time at all and your family will LOVE them.
Eggplant Parmesan always seemed like a restaurant dish to me. I guess I assumed it was labor-intensive and involved. It turns out it couldn't be simpler! I use pre-made spaghetti sauce in my eggplant Parm, but you could always use your own too. This dish is so delectable—no restaurant reservations required!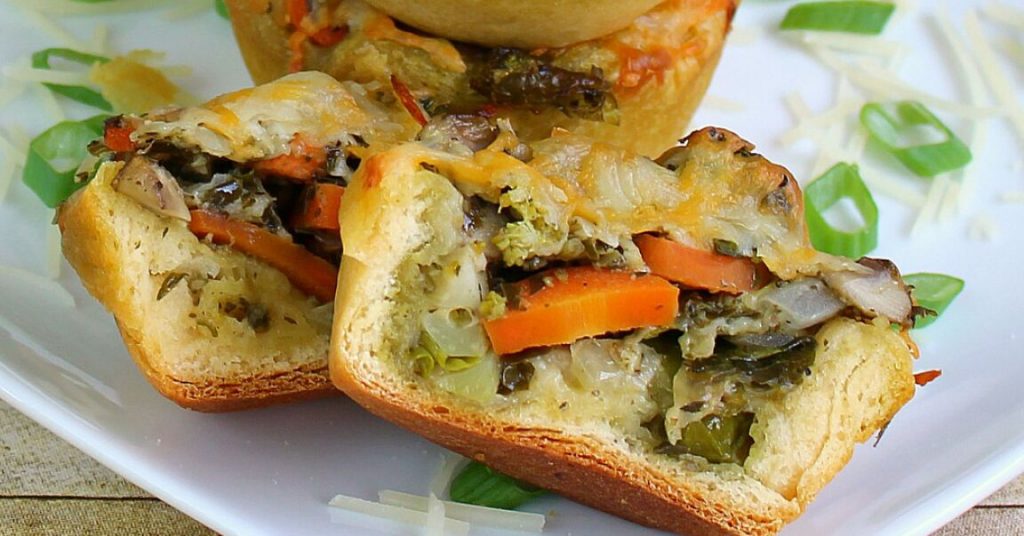 These cheesy, gooey little bites are so amazing. My husband and daughters absolutely loved this meatless recipe and it's FULL of vegetables! The recipe calls for premade biscuit dough (like Pillsbury) and I used a store-bought Pesto Sauce. The flavors are delightful, and you could certainly change the sauce to fit your family's taste.
This is one of my oldest go-to recipes and honestly, I'm still in love with it. I've made other types of meatloaf, but this one is hands down my family's favorite. It's simple, satisfying and classic (and surprisingly vegetarian)! This meatless vegetarian meatloaf can be prepared ahead and then popped in the oven the night you plan to enjoy. Easy-peasy!
Sometimes you need a yummy veggie soup. While most vegetable soups feature a clear broth or tomato base, this soup is creamy, which makes it oh so comforting. I love the inclusion of dill in this recipe too! It's one of my favorite herbs and really tastes so fresh and "green." You could use any vegetables you happen to have but I recommend the leeks and oven-roasted tomatoes I used here because they go so well with the flavors!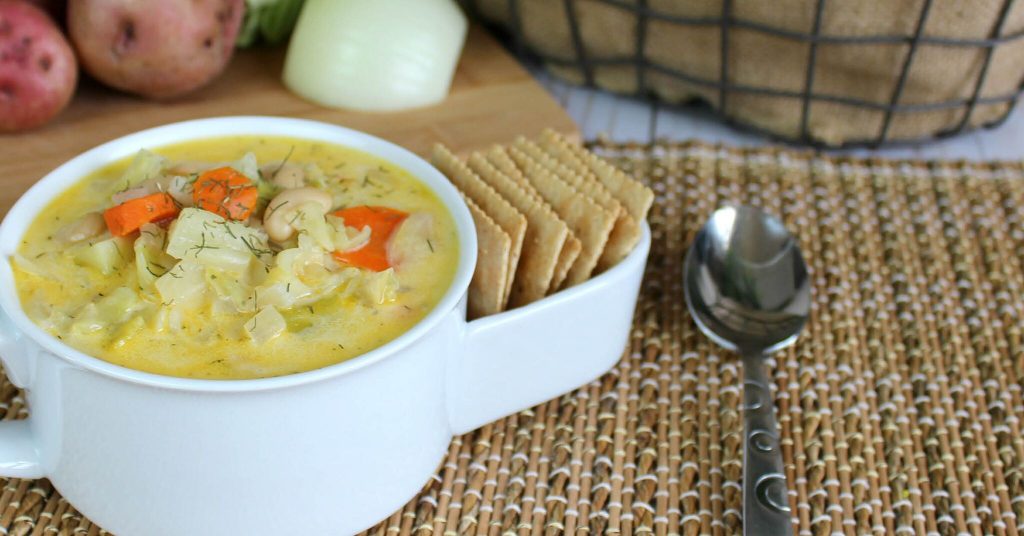 I came up with this soup on a lark. We had veggies to use up and I love to make soup, so I tossed the ingredients together and oh my—it was a huge hit! My kids literally licked the bowls clean and asked for more … cabbage soup!? I know, right? But, honestly, this is a great, delicious soup and has now gone into heavy rotation at our house. It's perfect with a bunch of your favorite crackers on the side.
This Cuban-inspired dish is another one of my personal favorites. The coconut goes perfectly with the touch of spice. The black beans add plenty of protein and I often enjoy this dish on its own. Of course, it also goes well with grilled chicken, fish or another protein if you're looking for something to round out a meal. Personally, give me the bowl of black beans with coconut rice and I'm a happy diner!
Frittatas are always my answer when I can't think of what to make for dinner. All you need is eggs, cheese, milk (or cream) and any veggies. It couldn't be simpler. Yet, frittatas are really filling and satisfying. Top them with a dollop of sour cream, salsa or guacamole if you like. This is an easy dinner that might become your answer too!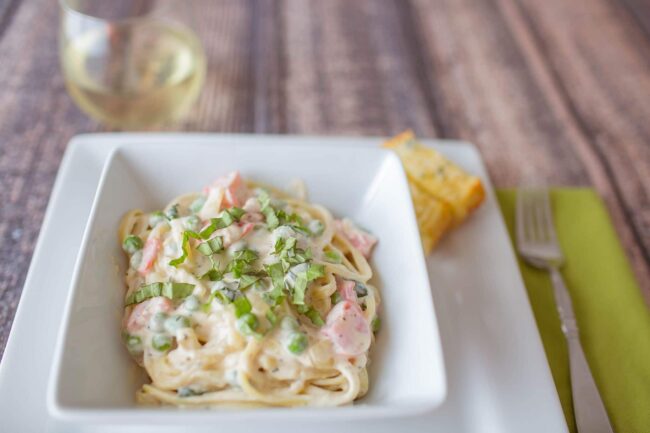 This pasta is rich, creamy and satisfying, not to mention this dish is really beautiful. You could easily serve this for a special occasion and it would feel like a restaurant-worthy meal. There's a secret ingredient in this dish that helps the cream sauce come together in a flash! You won't believe how simple and flavorful this meal is!
Pasties are also known as hand pies (and if you want to get technical about it, they're basically a hot pocket). At most Irish pubs, they're served hot and fresh from the deep fryer. Ours are baked instead but taste amazing. I make these using most of the ingredients I also use in my cream of cabbage soup which is another bonus of meatless meals: many of the ingredients are used in several different recipes. Stock up on staples like cheese and vegetarian crumbles when you see them on sale, and then incorporate the veggies. This is another way meatless meals save you money!
This quick and easy taco casserole was an invention I came up with while we were on a spending freeze. We were hoping to use up all the ingredients we had on hand without going to the store (and spending more money). Well, necessity is the mother of invention and faced with no taco shells and a hungry family, I created this taco casserole. It was a huge hit and has been on our family dinner list ever since. Try it—I promise you'll love this one!
Cream of potato soup is a staple, but incorporating all the flavors of a yummy baked potato? That's a little more unexpected. My kids love choosing the toppings for their loaded cream of potato soup. Chives? Cheese? Sour cream? All the toppings are here, which makes this soup a great option for future get-togethers. People can doctor up their own bowl with as many extras as they like!
There you go! A month of meatless meal options your whole family will enjoy! These super simple recipes will help you save money at the grocery store, come in handy when other ingredients are hard to find and are perfect if you're trying or needing to cut back on meat in your diet. You might end up making Meatless Mondays part of your regular routine!
Other helpful meal prep resources: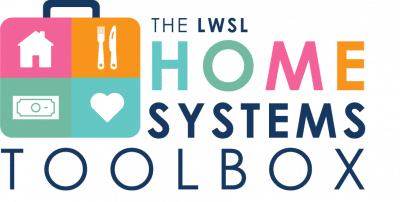 If you love this resource, be sure to check out our digital library of helpful tools and resources for cleaning faster, taking control of your budget, organizing your schedule, and getting food on the table easier than ever before.
Click here to get full access to our Home Systems Toolbox now!
PIN FOR LATER: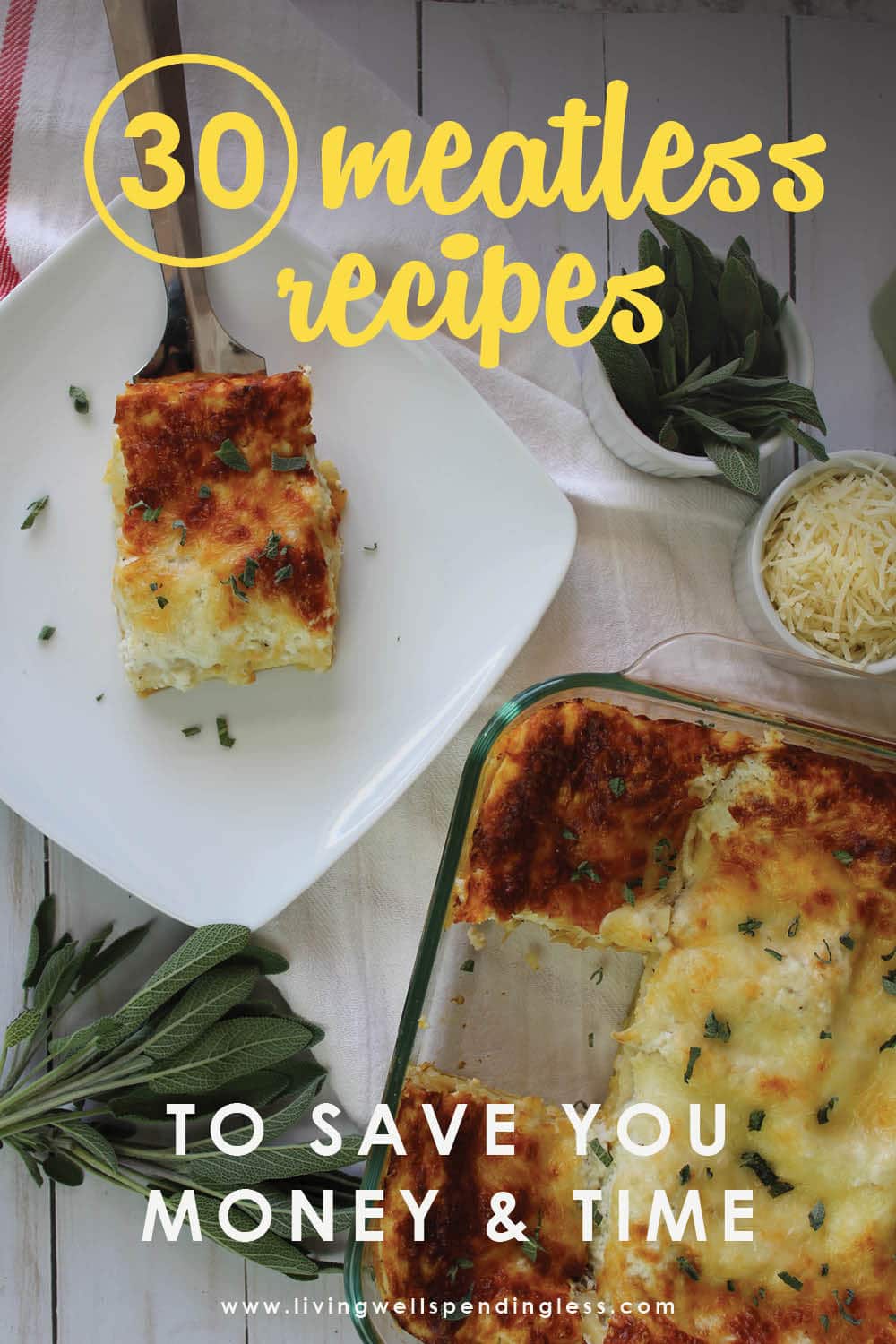 TAKE BACK CONTROL OF YOUR HOME LIFE
---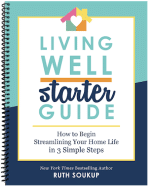 Ever feel like you just can't keep up? Our Living Well Starter Guide will show you how to start streamlining your life in just 3 simple steps. It's a game changer--get it free for a limited time!
If you love this resource, be sure to check out our digital library of helpful tools and resources for cleaning faster, taking control of your budget, organizing your schedule, and getting food on the table easier than ever before.