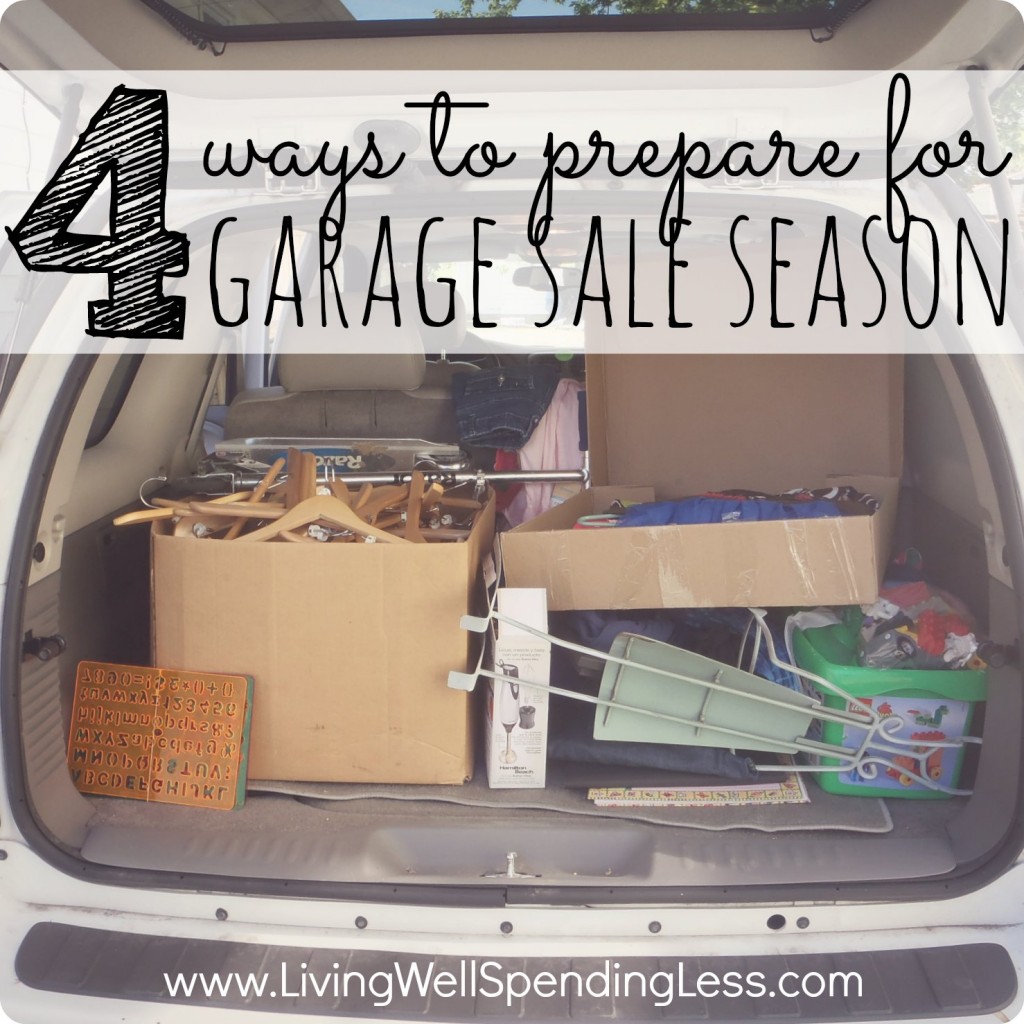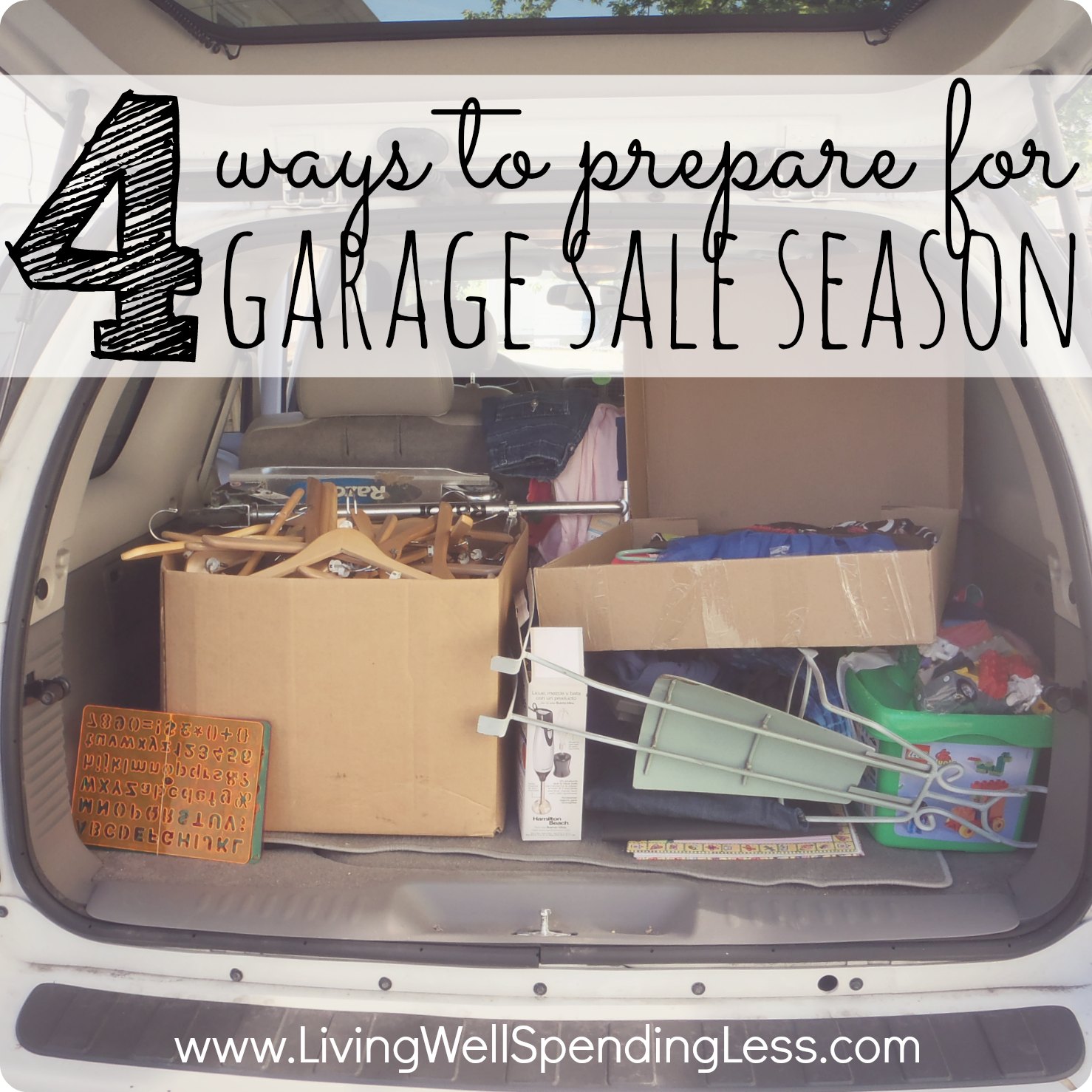 This is a guest post by Victoria @ Snail Pace Transformations
I discovered yard sale shopping as a young mom. I had opened a family day care and needed toys for the kids to play with but had a limited budget. I was told by a friend that yard sales were a great source for gently used and inexpensive toys. I went out that weekend and came home with a trunk full of great finds for my daycare.
15 years later I still return home many a summer weekend with a trunk full of yard sale finds. I am known for my yard sale shopping, in fact I even have a shirt that says " Garage Sale Goddess" that my children bought me for Mother's day one year, and my friends agree it suits me perfectly.
One thing I have learned over my many years of yard sale shopping is the secret a successful yard sale season begins with great preparation.
4 Ways to Prepare for Yard Sale Season:
1. Gather supplies
Each year I assemble a small bag filled with supplies that come in handy while out yard sale shopping.
Inside the bag I keep
A: A small notebook filled with needs, wants, and measurements.
B: A pen to write down locations of sales that had items such as clothes the right size for my children, so I can keep an eye open for them in future years.
C: A measuring tape to measure small furniture finds so I know for sure that my finds will fit where I want them too.
D: A few double and triple A batteries to test toys and electronics.
2. Go through your home room by room and write down your needs and wants
I take one afternoon to go through the whole house room by room and make notes in my yard sale shopping notebook. For instance I might be in the family room and decide I would really like to upgrade our end tables to larger ones, so I will write down "new end tables" with the measurements of the space beside it. When I reach the children's bedrooms I go through their closest and mark down clothing needs and sizes.
3. Decide what you have to spend
Every March or April I set the budget for the upcoming yard sale season. I base it on what needs are on our list and what we can afford for wants. Some years I have been able to pad the yard sale envelope with enough for a few splurges, other years it has been essentials only.
4. Network With Other Yard Sale Shoppers

Once you have yard sale shopped in one community a while chances are you will begin to make yard sale shopping buddies. These buddies are great sources of information. During the season they can tell you what sales are worth stoping at and which ones to skip.
If you are lucky to see them in the off season they can also tell you about annual community sales in nearby towns that you might not know about. Annual sales tend to be held on the same weekend year after year, so if a yard sale buddy leaks one to you in the off sale season be sure to write it down in your yard sale notebook.
These 4 tips will put in you in excellent shape for yard sale season.
Victoria blogs at Snail Pace Transformations on the topics of frugality, food, faith fitness and more. She has a passion for yard sales, and enjoys shopping them with her daughter by her side.
Thanks Victoria! If you are interested in guest posting, please contact me for guest post guidelines.
* * *
Do you enjoy garage sale shopping? What other tips or tricks do you have to add?
TAKE BACK CONTROL OF YOUR HOME LIFE
---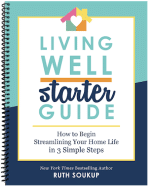 Ever feel like you just can't keep up? Our Living Well Starter Guide will show you how to start streamlining your life in just 3 simple steps. It's a game changer--get it free for a limited time!
If you love this resource, be sure to check out our digital library of helpful tools and resources for cleaning faster, taking control of your budget, organizing your schedule, and getting food on the table easier than ever before.