Welcome WINK viewers! Officially I am still on vacation this week but I wanted to make sure you'd be able to easily find the resources I talked about on air this morning. For those of you who didn't catch the segment, here is a brief overview of my 5 quick tips for getting your post-holiday budget back on track:
1. Freeze your spending.
Once you've gotten into the "spend" mode, it can sometimes be hard to stop, even when you know you shouldn't. If you spent too much this Christmas then the first thing you need to do is STOP spending money! Resist the temptation any way you can.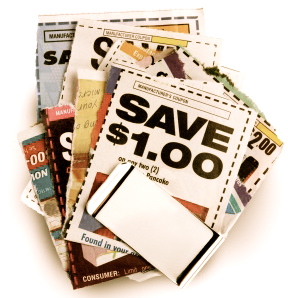 2. Start using coupons
If you haven't yet dared venture into the world of coupons, there is no better time to start. It is a great way to save hundreds of dollars on your grocery bill each month–money that could be used to pay off credit card bills or help pay for other needed items–and although it can seem a little daunting at first, it doesn't have to be!
I wrote my 8 week Beginner's Guide to Coupons series to break down the whole process into easy-to-follow baby steps. Read it here to start saving big on your groceries!
3. Donate items for a last-minute 2011 tax write-off or sell items on Craigslist.
Spend some time cleaning out your closets and clearing the kids' rooms of unused clothing, household items, and toys to donate to charity. You'll be able to help others in the process and get a receipt that you can then use to claim on your 2011 tax return. It's a win-win! Be sure all the items you choose to donate are still working, free of stains, and in good condition.
If you have larger items to get rid of, such as furniture, strollers, bikes, appliances etc., you may want to consider putting up a free ad on Craigslist to earn some instant cash.
4. Don't be afraid to return unwanted or unneeded gifts
If you received any gifts that you know you don't need or won't use, don't feel bad about returning the item or exchanging it for something you do need. If a return isn't possible, consider selling or donating the item, or passing it along to someone who will be able to use it.
5. Find out where your money is going
If your budget is out of control, then you need to crack down and find out where your money is going, then make a plan and set a budget for going forward. A great place to start is with my Beginner's Guide to Savings, which, like the Beginner's Guide to Coupons, is an 8-week series on setting up a budget. It includes lots of tips for finding ways to save money in all aspects of your life, as well as free budget-planning worksheets and weekly assignments.
I hope you all had a wonderful Christmas & I wish you much health and happiness in 2012!