I could've never imagined that I would ever spend time thinking about air. Breathing has just been one of those things I always took for granted. Unfortunately, after becoming far too familiar with the reality of nebulizers, pneumonia, and allergy medication over the past few years, air quality is an issue that has become very important to my family.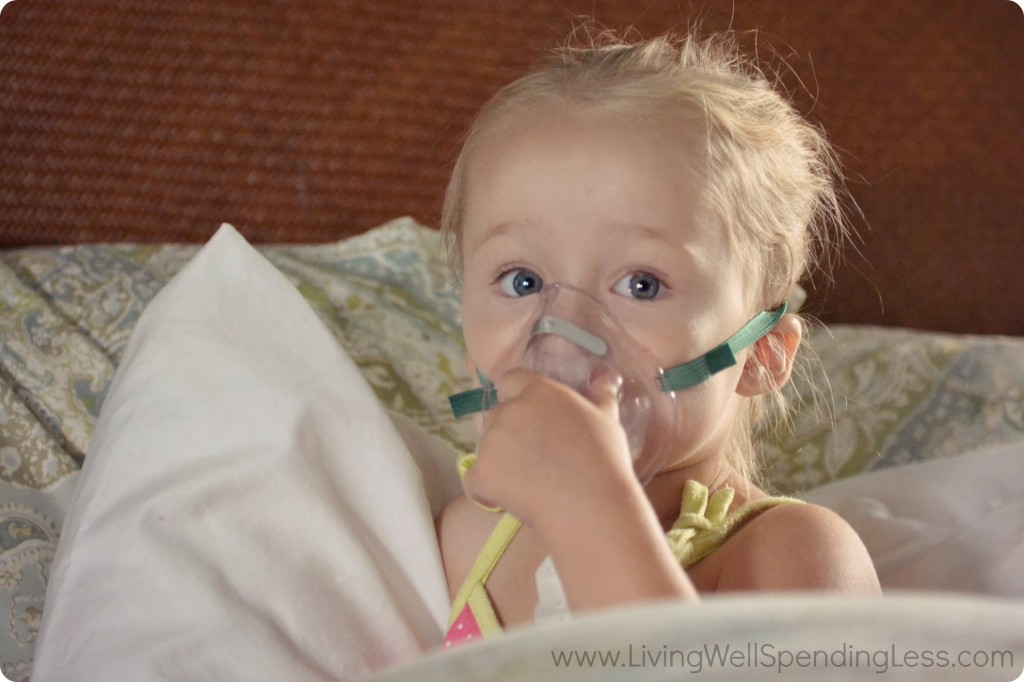 It is almost ironic that so much emphasis in modern society is placed on the importance of living healthier, "greener" lives, but at the same time we forget about air in our homes and how it impacts the health of our families. Most people spend well over half their time indoors, where a variety of allergens and pollutants such as pollen, dust, mold, and pet dander can impact the quality of the air we breathe. These pollutants and allergens can contribute to everything from sore eyes and a runny nose to headaches and fatigue, and they can also worsen allergies & asthma. Between extra insulation that traps pollutants and chemicals that are released by building materials, even new construction can contribute to poor indoor air quality. Yikes!
In my own family, I have seen firsthand how quickly poor indoor air quality can exacerbate existing health conditions. My youngest daughter has what the doctor calls "pre-asthma," as well as a variety of allergies. On three separate occasions we have watched a common cold quickly spiral into pneumonia. Some of my scariest moments as a parent have been watching my daughter struggle just to take a breath. As a mom, I've never felt so helpless and I would do pretty much anything to avoid ever having to be in that situation again. At the same time, I don't want to go overboard and turn our home into an isolation ward either.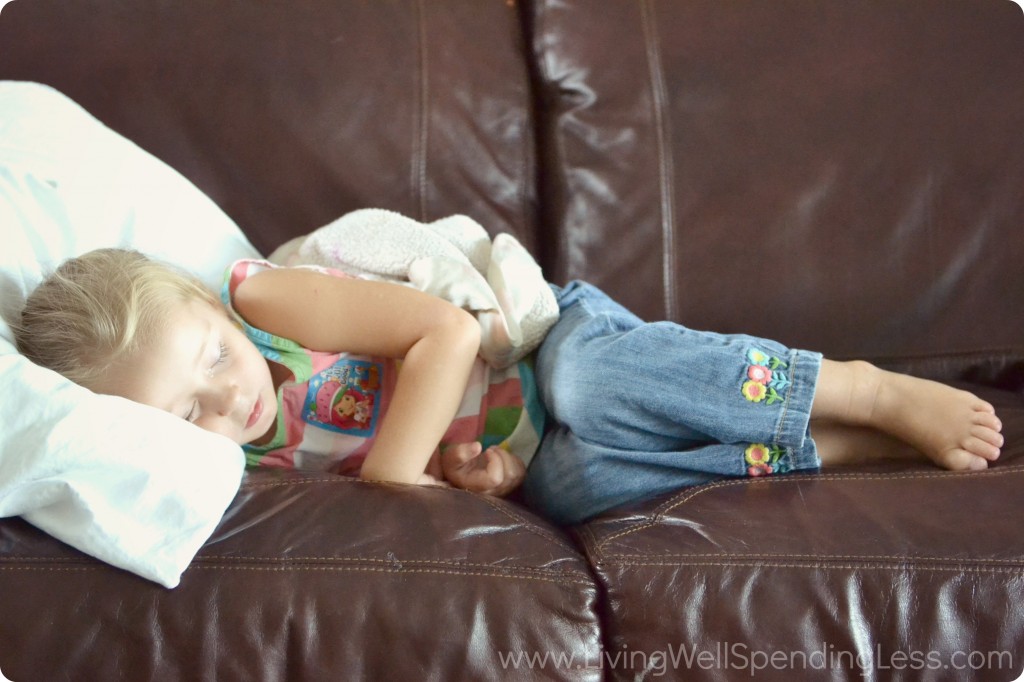 Luckily I am learning that there are some incredibly simple things I can do to greatly improve our indoor air quality. While I know with my daughter's pre-disposition to asthma and allergies I might not be able to prevent every flare-up, I am happy to do what I can to help her breathe a little easier.
Eliminate the Source of the Allergens
Cleaning regularly will help greatly reduce the amount of dust, pollen, mold, and pet dander in the air. Vacuuming carpets regularly–even daily, if possible–is especially important, being sure to change the bag or empty the dirt cup frequently. Dusting surfaces regularly is also very important. This includes often forgotten spots such as high ledges & shelves, ceiling fans, moldings & trim. Problems with dust mites can be tempered through the use of plastic dust-mite proof mattress & pillow covers, as well as by washing sheets and blankets in very hot water. Finally, never allow smoking indoors!
Use a High Efficiency Air Filter
Using a high-efficiency air filter is one of the least expensive – and most effective – things you can do to remove harmful allergens and pollutants from the air in your home, improving indoor air quality and the health of your family. High efficiency filters trap pollutants and allergens, neutralize odors naturally and inhibit the growth of bacteria on the filter using a mineral-based antimicrobial agent.
Changing your air filter regularly is also very important. Most air filters should be replaced every 30-60 days, but if your family has severe allergy problems or if you have an excess amount of dust and pet dander in the air, replacing filters even more frequently can help a lot. Luckily air filters are pretty inexpensive, and the added bonus is that your HVAC system will run much more efficiently, which can actually save you money in the long run.
Get More Fresh Air
Not all home heating & cooling systems are made to bring fresh air in from the outdoors. Opening windows and doors whenever you can to let fresh air circulate can make a big difference in indoor air quality. This is especially important if you are doing any sort of indoor activity that could create additional air pollutants, such as painting, sanding, or cooking.
Avoid Artificial Fragrances
The fewer perfumes in the air, the better. Whenever possible, choose unscented cleaning and laundry products, including laundry detergent, fabric softener, and other cleaners to use throughout the home. Choose aerosol-free cleaning products and avoid most artificial fragrances or air fresheners.
Bring The Outdoors In
Certain houseplants, such as aloe vera, ficus, Chinese evergreen, spider plant, peace lilies, and even the Gerber daisy help filter out allergens and air pollutants, and actually thrive on the same chemicals that are toxic to humans. Even better, many of these plants are not only lovely to look at, but also relatively easy to care for. Consider placing plants in areas where air pollutants and chemical exposure can be the strongest, such as the laundry room, kitchen, and bathroom.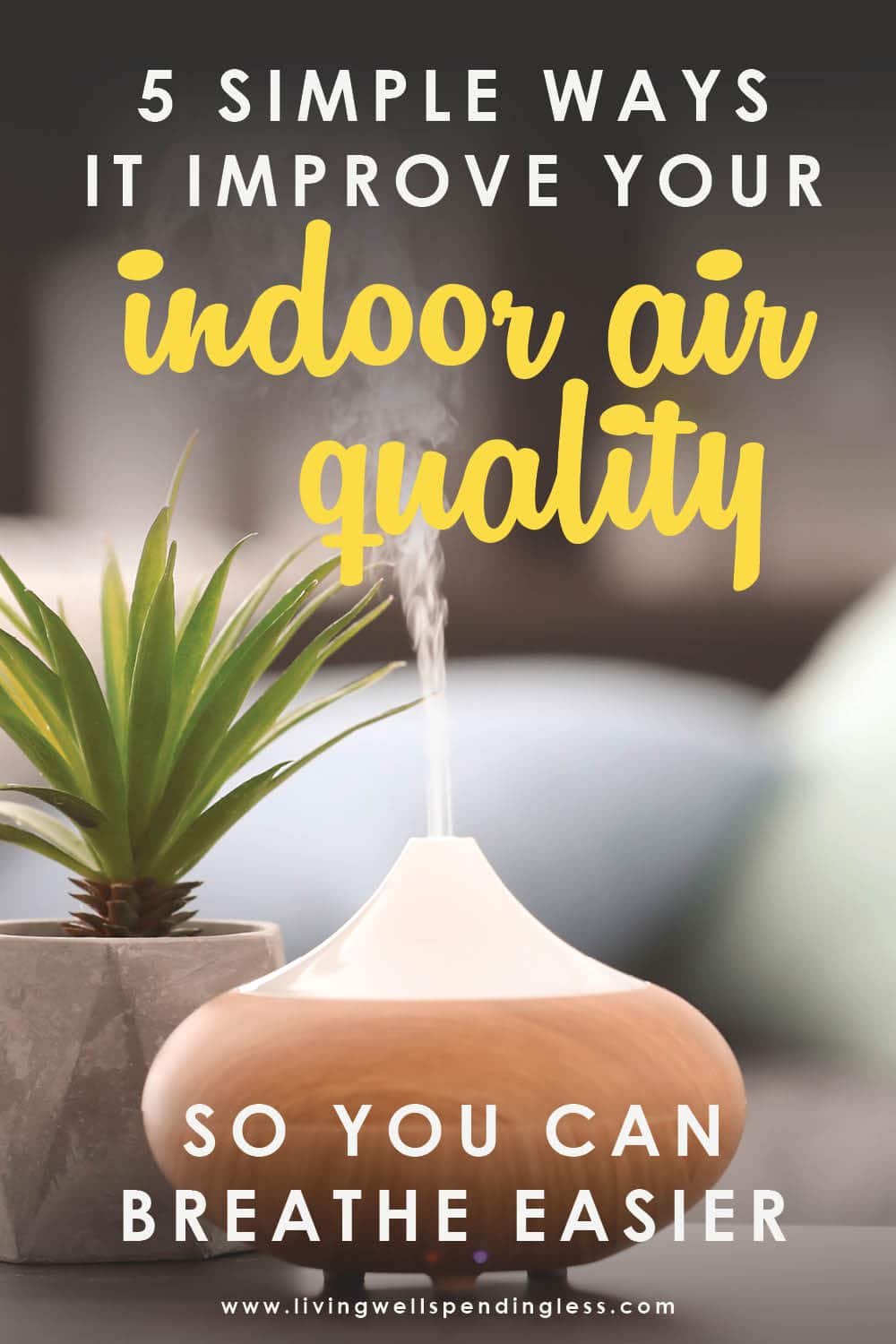 Does your family struggle with asthma or allergy issues? How have you improved your own indoor air quality?
TAKE BACK CONTROL OF YOUR HOME LIFE
---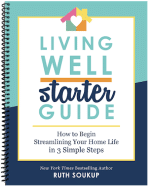 Ever feel like you just can't keep up? Our Living Well Starter Guide will show you how to start streamlining your life in just 3 simple steps. It's a game changer--get it free for a limited time!
If you love this resource, be sure to check out our digital library of helpful tools and resources for cleaning faster, taking control of your budget, organizing your schedule, and getting food on the table easier than ever before.