These 5 ways to break free from social media addiction will help you gain back your time while still keeping in touch with the digital world.
Do you often find yourself staring at your phone for hours, wondering why you never have enough time? These 5 ways to break free from social media addiction will help you gain back your time while still keeping in touch with the digital world.
According to Statista, an estimated 2.65 billion people use social media worldwide and about 79% of the US population is online utilizing social media. Digital Information World goes even further by saying that the average person spends approximately 2 hours and 22 minutes on social media every day!
I personally love social media and happily scroll through my Facebook feed to find out the latest on my friends' kids or reconnect with old friends and family members who live far away. I have also found that Facebook groups can be very helpful as tools to collaborate with other people.
But what I have also personally experienced with social media is that no matter which platform I choose, it becomes a major time-suck. Once I sign in and begin scrolling through my feed or searching for interesting ideas on Pinterest, I don't resurface for quite a while.
I may just hop onto Pinterest with the intention of finding a great recipe for dinner, but before I know it, I'm about 200 pins deep and 30 or 45 minutes have passed. And guess what? I've spent that time finding amazing craft ideas and collecting all sorts of great recipes – except for the one recipe idea that I wanted.
Then I end up feeling stressed at the thought of all I could have accomplished during that time I just wasted.
The problem really isn't social media. Instead, the problem stems from:
How much time we spend on social media

Fear of missing out on the next status update or comment

How easy it is to maintain online "friendships" as opposed to real life friends

The depression or anxiety that we feel when someone says something about us on social media or we can't live up to all those Pinterest-worthy images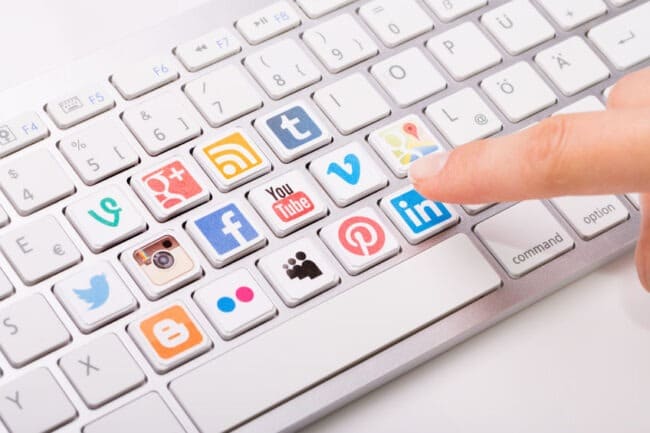 Social Media Addiction
As our society uses social media more and more, we become increasingly addicted to it. And if you're anything like me, maybe you're finding that your mental or emotional health, relationships, and productivity suffer.
Something needs to change.
Have you ever found yourself thinking (or saying) something like this?
I only use social media to waste time

I could take a break from social media whenever I want to; I just don't need a break

I'm not addicted to social media because I only check it a few times per day
Do these statements strike you as being similar to statements that people addicted to other substances (such as alcohol or drug abuse) may say? It may sound silly to compare social media abuse to drug or alcohol abuse, but I believe it's really very similar at this point.
My Personal Experiment Breaking Away From Social Media
A couple of months ago I decided to try taking a break from social media. Although I didn't really have a set amount of time in my plan, in the back of my mind I was thinking about a week.
After a week of not using social media, I noticed that my productivity had increased. My time management improved, and I was getting more done without any extra effort – simply because I wasn't spending time online. I liked it so much that I decided to try going another week to see if I felt differently.
At the end of the second week, I noticed that I felt happier and less anxious. I didn't experience the fear of missing out on whatever was happening on Facebook. That fueled me to keep going to accomplish a third week away from my social media addiction.
During the third week, I noticed that I felt more relaxed. I was getting more downtime and because I was being more productive, I felt less anxious about getting all the things done. I also noticed that I was spending more quality time with my family since I wasn't scrolling through one feed after another.
Around that time, I heard that a friend of mine whom I didn't have direct contact information for was gravely ill and the family was giving updates on Facebook. That's what brought me back to social media.
After my experiment, the goal became "how can I use social media in a healthy way?"
I like to have balance and moderation in my life and sought out ways to apply that strategy to using social media (and enjoying it!) without abusing it.
5 Steps to Break Free from Social Media Addiction
In case you also find yourself struggling to achieve some balance in your life around using social media, here are some ideas to help you engage in it to prevent slipping down the rabbit hole yourself.
Turn Off All Alerts and Notifications
I'm slightly embarrassed to admit that I didn't think of this strategy very quickly. Once I did, it was such an Ah-Ha moment for me!
This is such a simple solution that can make a huge difference! As soon as I stopped getting an alert every time I had a message or I was being tagged, my desire to get on the platform quickly fizzled out.
You can turn off notifications in one of two ways, you can go directly into your social media app and turn off all notifications; or you can go into your phone settings (where you would uninstall an app), go into the app you want, and select turn off notifications.
Sign Off for a Weekend
A little time away from the screen reminds you how rich and full life is without status updates or comparing your life to others' picture-perfect versions. Taking a break also unlocks creativity and productivity.
Get outside. Be active. Hang out with friends in person. Try a new hobby you've been dying to find the time to try.
Warning: a two-day respite won't be enough to cure your addiction, but it is an eye-opening experience that you can use to build upon.
Delete Apps
If you find yourself using social media apps on your phone to kill a few minutes only to find that you have wasted an hour or more, simply delete the apps from your phone.
Instead, use your computer or tablet to check in on social media and check it with purpose.
Respond Off-Line
Did Facebook just tell you it's your pal's birthday? Skip the "Happy, happy!" wall post and pick up the phone or send a personal text.
If a friend just had a baby, resist the urge to send a Facebook message and mail a card instead. Personally reaching out any way other than through social media will be more meaningful to the recipient.
Use A Timer
Rather than denying myself any time on social media, I try to give myself a set amount of time in the morning and in the evening to get on Facebook or Pinterest. And I set a timer to hold me accountable.
Pro Tip: if you use your phone as an alarm clock, I recommend buying an actual alarm clock and ditching the phone – it's just too easy to check in on social media if your phone is right there.
So far, my use of social media has been different since my break because I have boundaries in place to help me keep balance in my life. I enjoy social media and don't want to give it up completely, but with these 5 tips for breaking the social media addiction, I am taking control of my social media use and getting back to enjoying life.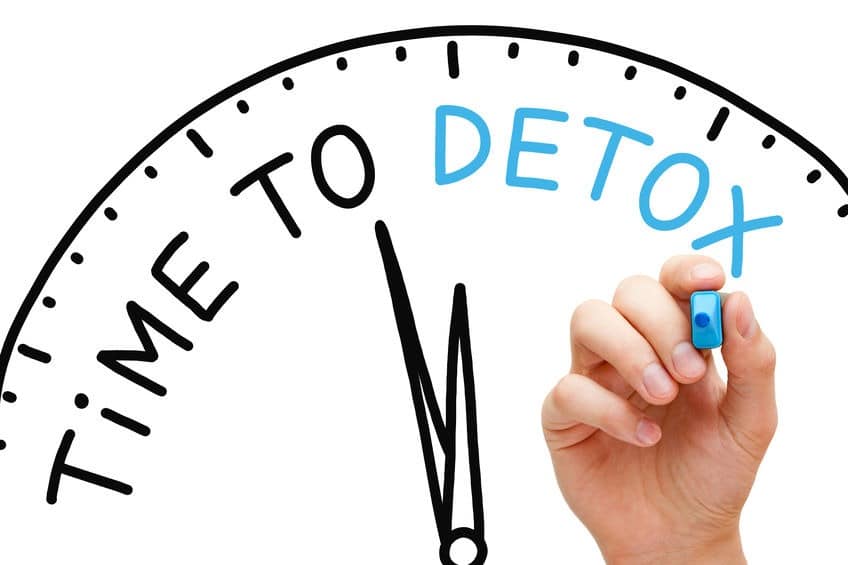 Social Media Detox Tools
If you need a little help detoxing from social media here are a few free tools you can use:
StayFocusd Chrome Extension

– This is the perfect tool if you use Google Chrome as your web browser and want to remove the temptation of checking Facebook, Twitter, etc.

Facebook News Feed Eradicator Chrome Extension

– Instead of helping you do a full detox, this extension works to your Facebook usage more sane by removing the News Feed and replacing it with a quote.

OurPact

– Block social media apps from your phone! Originally created for parents to control their kid's phone usage, but it's also good for adults who can't stop themselves.
If you find your life revolving around being on social media, you may just find that taking a break and putting some rules in place will greatly impact your relationships, improve time management abilities, and productivity levels – for the better.
Wish you could magically add more time to your day? While we all get the same 24 hours, these 10 genius tips CAN help you get more done! For a limited time, get our cheat sheet absolutely free and try it for yourself. Your productivity might never be the same!
To recap, here are 5 Steps to Break Free from Social Media Addiction:
1. Turn Off All Alerts and Notifications
2. Sign Off for a Weekend
3. Delete Apps
4. Respond Off-Line
5. Use A Timer
Other helpful resources:
PIN FOR LATER: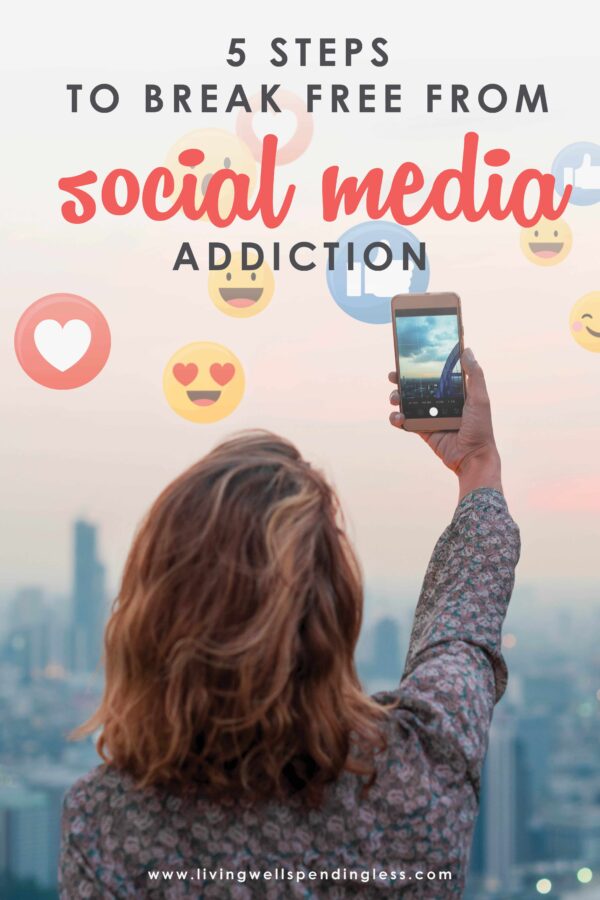 TAKE BACK CONTROL OF YOUR HOME LIFE
---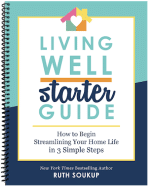 Ever feel like you just can't keep up? Our Living Well Starter Guide will show you how to start streamlining your life in just 3 simple steps. It's a game changer--get it free for a limited time!
If you love this resource, be sure to check out our digital library of helpful tools and resources for cleaning faster, taking control of your budget, organizing your schedule, and getting food on the table easier than ever before.