"How do I save money on produce?"
This is one of my most common reader questions. And, as a vegetarian and as a mom, it is a question that I personally face every week as well. I save an incredible amount of money on my groceries with coupons, but I will readily admit that much of what I buy is often processed or packaged food. It is not unhealthy, per se, but it definitely needs to be supplemented with the nutrients that can only come from fruits and vegetables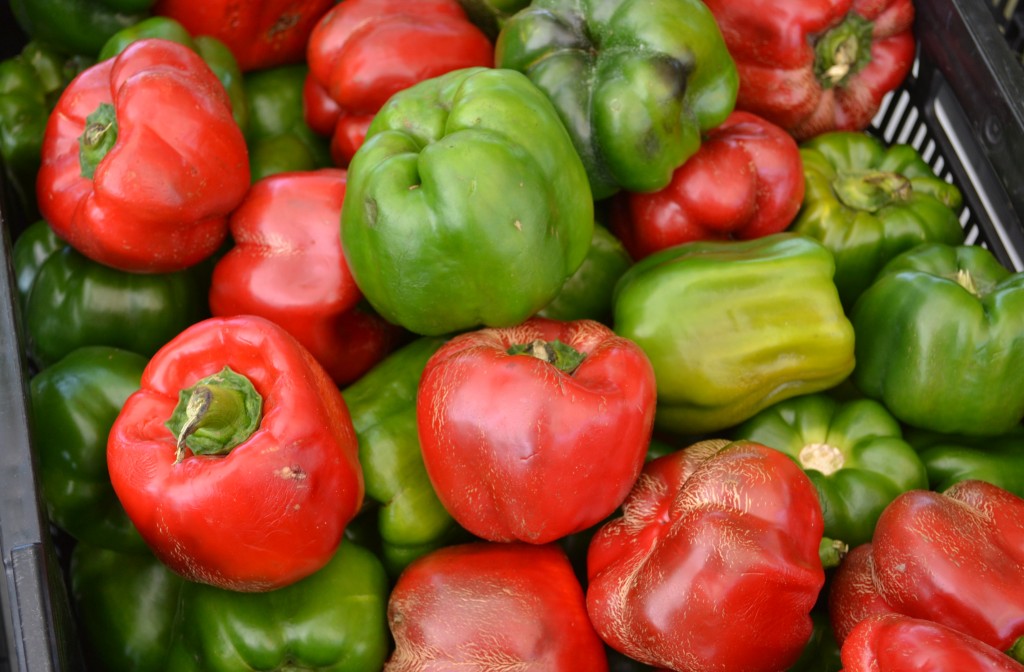 And while I have gotten much better at "shopping" from my stockpile and coming up with creative stockpile meals using the ingredients I have on hand, I still need to buy fresh produce.
Here are 7 ways I have discovered to save on fruits and vegetables:
1. Buy only what is in season and on sale
This may seem obvious, but sometimes we can get so caught up in shopping for a specific recipe or dish that we buy what we think we need, not what is on sale. Learn what is in season when and pay attention to the sale prices.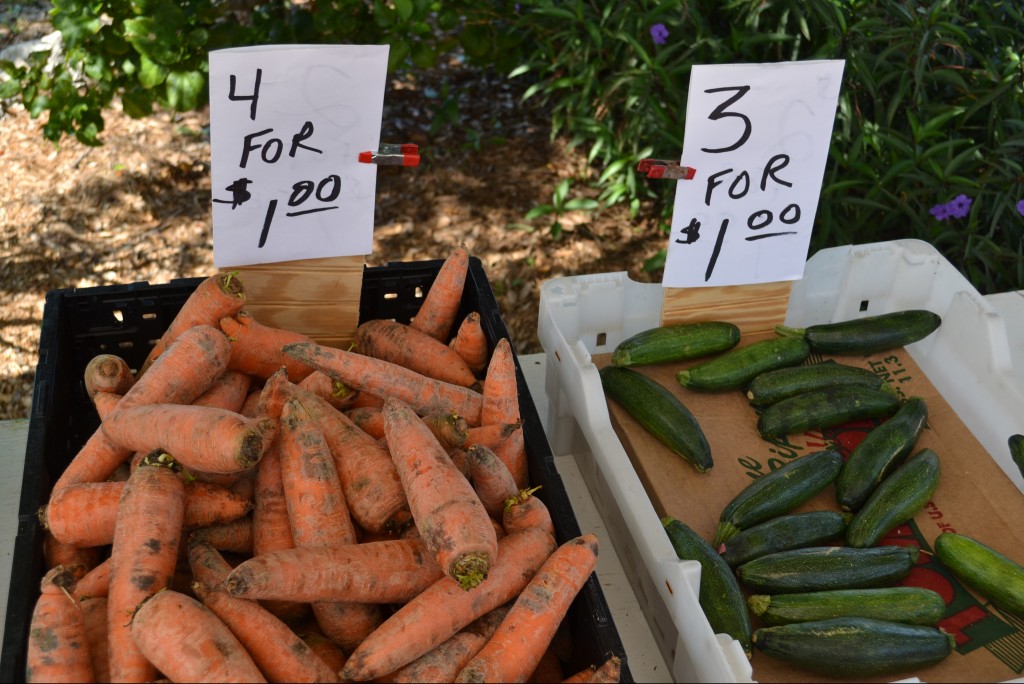 2. Buy from Local Farmers
Farmer's markets have exploded in popularity in the past few years to the point where they are found almost everywhere, and there can be some amazing deals on produce! (But beware, there are also some "trendy" Farmer's Markets out there with a lot of overpriced items. Don't assume that because it is a farmer's market, it is always a good deal.)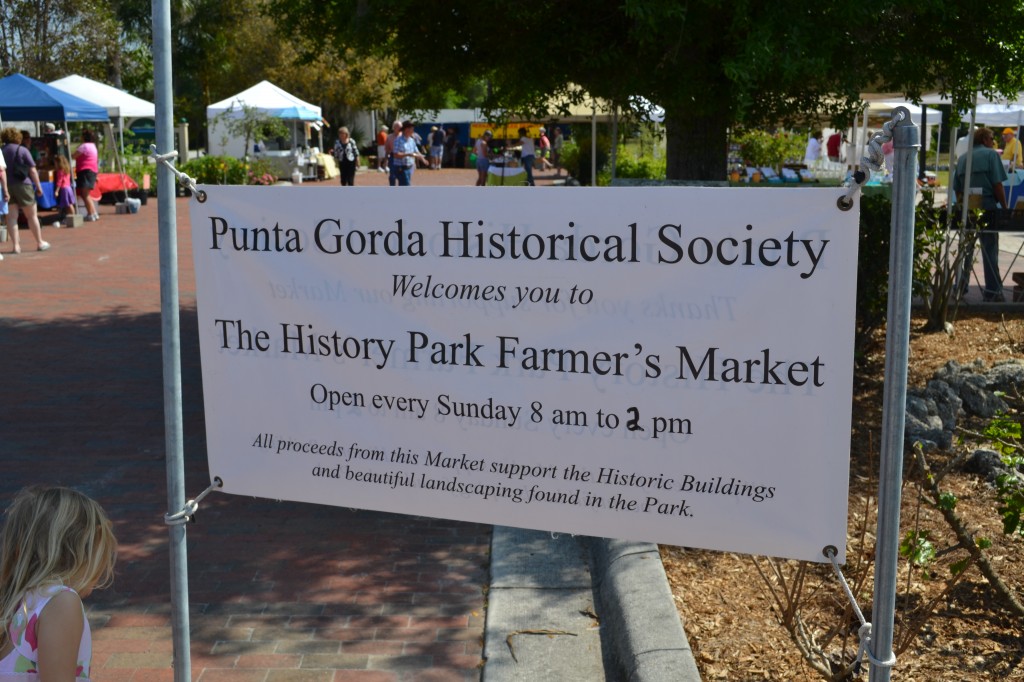 My favorite local market is the Punta Gorda History Park Farmer's Market, which is held every Sunday from 8-2. It just a few blocks from my house but whenever I show up at 1:30 (just before closing), the vendors are ready to bargain! Last Sunday, for instance, I scored this whole pile of fruit and veggies (4 pints of strawberries, 3 eggplants, 4 large sweet onions, a bunch of radishes, a pint of grape tomatoes, a watermelon, & 3 apples) for only $10. These same items would've probably cost me well over $25 at the grocery store.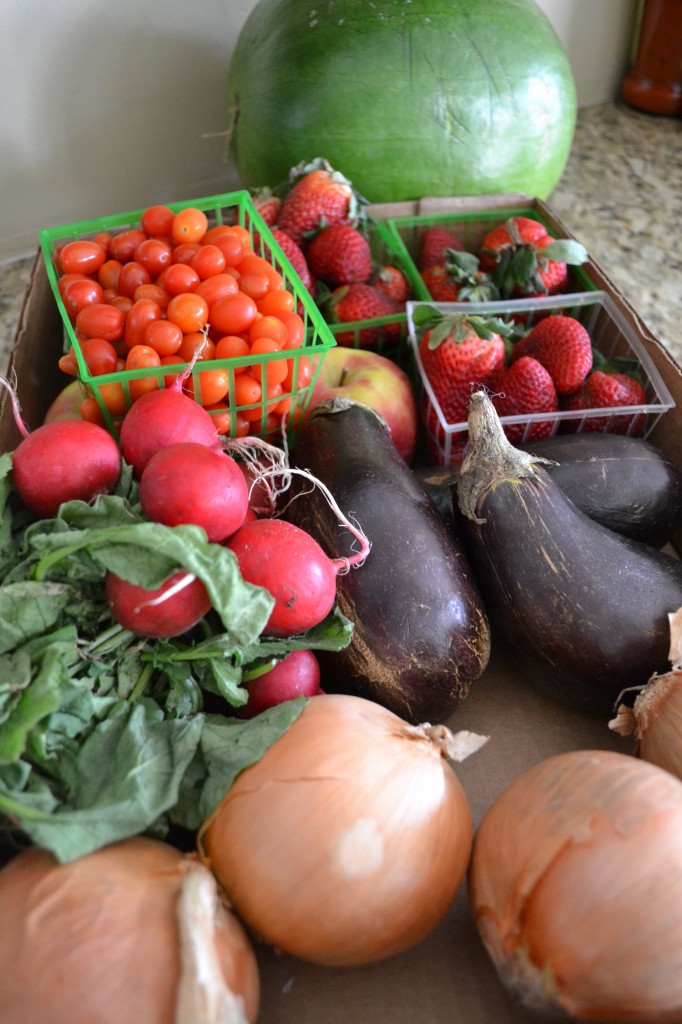 Don't be afraid to ask for a better price. The worst that can happen is they say no, and then you've lost absolutely nothing. Finally, if there are multiple vendors, be sure to shop around and find out which ones are willing to bargain before you buy.
Similarly, roadside produce stands can have some amazing deals on fresh locally grown produce. If you see one, stop for a minute. You never know what you might find!
3. Price Match
This takes a little more effort but it can save you a lot of money on produce. Go through all the grocery sale flyers each week to find the best prices, then bring them with you to a Walmart Supercenter or other store that matches prices. Load up on all the cheapest groceries, than do the rest of your shopping at your regular store.
4. Use Coupons
Okay, so produce coupons are rare, but they are out there. Packaged products like Fresh Express Salad mixes go on sale quite often and can be matched with coupons for some great deals. Target occasionally puts out a $1 off fresh produce coupon (great if you live near a SuperTarget or store that accepts Target as a competitor) and most grocery stores have Baby Clubs or other signups that often mail out coupons for fresh produce, meat, and other store items.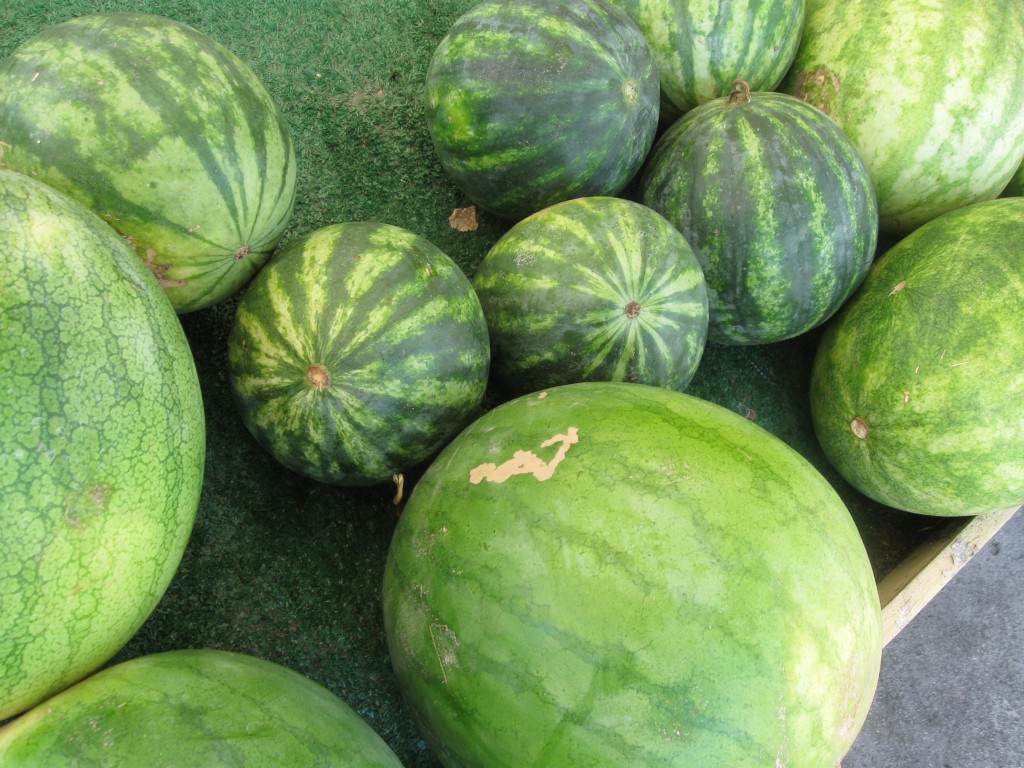 5. Stock up on Frozen Produce
While fresh produce coupons can be hard to find, coupons for frozen vegetables are much more common and easy to match up with store sales. It is a good rule of thumb to stock up on frozen vegetables whenever you can find them on sale. They are great in recipes, contain just as many nutrients as fresh veggies, and can sustain you through weeks where buying a lot of fresh produce just isn't in the budget.
6. Grow your own or join a farm co-op
I am by no means an expert on gardening, so I was hesitant to even add this one to this list. In fact, I probably have the brownest thumb of anyone I know, and my own gardening attempts have been, for the most part, and abject failure. But I do know that even if you live in an apartment or don't want to put in the effort of a larger garden, you can grow herbs and small vegetables in a pot garden.
Another option is to join a local farm co-op. My family has been a member of Worden Farm for the past two seasons. For $30 a week, we get a huge selection of fresh, locally grown, organic vegetables. We've found that not only does it help us save money on produce, but we buy far fewer regular groceries during farm season, which saves us money as well.
7. ALDI or Discount Grocery Stores
If you are lucky enough to live in an area with an ALDI store, this is a great place to score on cheap produce! Other areas will sometimes have discount produce stores or discount grocery stores–keep your eye out and you never know what you might find!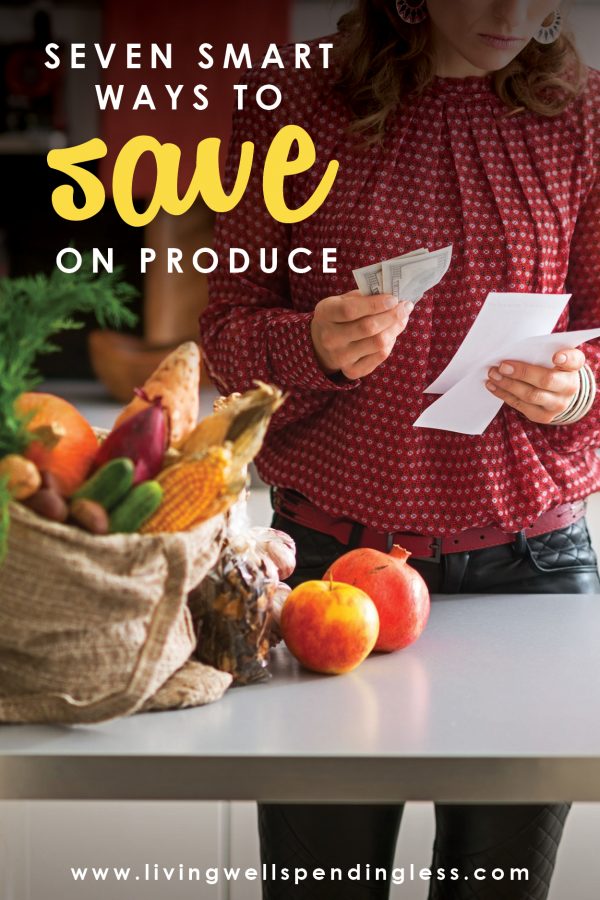 TAKE BACK CONTROL OF YOUR HOME LIFE
---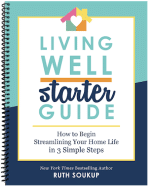 Ever feel like you just can't keep up? Our Living Well Starter Guide will show you how to start streamlining your life in just 3 simple steps. It's a game changer--get it free for a limited time!
If you love this resource, be sure to check out our digital library of helpful tools and resources for cleaning faster, taking control of your budget, organizing your schedule, and getting food on the table easier than ever before.