Ready to make your dreams a reality?
---
Our Doing it Scared® coaching program takes you by the hand and helps you first understand yourself and exactly what's holding you back, then helps you take clear and focused action towards achieving your biggest goals and dreams. Enrollment is open now for just five days only!

The blogging community is an interesting place. We share some of the most intimate details of our personal lives with strangers, and as a result, come to feel as though we have "friends" all over. There are a handful of special blogs that I read fairly regularly, all written by inspiring women. A few are written by people I knew beforehand, but most are written by strangers who feel like old friends, just as I (hopefully) feel like an friend to many of you.
One of these blogging "friends" has had a very rough month. Edie writes Life in Grace, a beautiful and creative blog about her family and her faith. Just a few days before Christmas, her house and everything she owned tragically burned to the ground. Miraculously she and her husband, their four children, and 2 dogs escaped unharmed. You can read her story in her own words here.
I first discovered Edie's blog a few months ago during her 12 Days of Handmade Christmas. She featured 12 absolutely gorgeous holiday crafts, one of which was the inspiration for the star shaped crayon craft I did with the girls.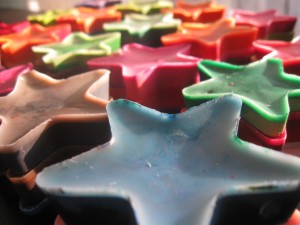 But the reason for this post is that today is Edie's birthday. And even though she doesn't know me, I would like to add my own birthday wish to the dozens of wishes she has received from the blogging community today:
Edie,
I can't even begin to imagine the range of emotions that must be overwhelming you right now. I honestly don't know how I would cope in your situation, and I can hardly think now of what to say that won't sound trite or inconsequential. On your special day, I just want you to know that you are an inspiration to so many, myself included, and I know God has a special plan just for you.
I wish you well–Happy Birthday.
Hugs, Ruth